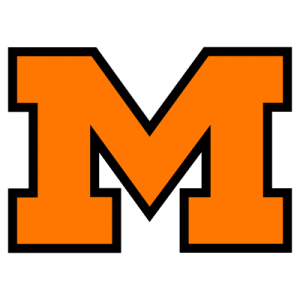 Tigers Take Magic Out Of Barberton 30-0
Benjamin Romps For Three Touchdowns, Averages 17 Yards
By CHARLIE POWELL
It's an exception rather than the rule when somebody in a Massillon Tiger jersey puts on a one-man show.
There was an exception Friday night and that "somebody" was the flashy fireball named Ivory Lee Benjamin.
The kid with dash, daring and 300-horsepower legs gave Tigertown fans a treat and Barberton the treatment as he sparked the Bengals to a methodical 30-0 victory over the not-so-magic Magics before some 7,000 chilled rooters at the Barberton stadium.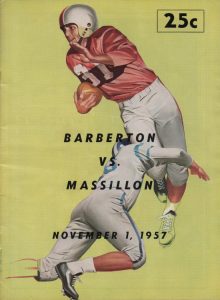 He pranced to pay dirt three times on runs of eight, 41 and 56 yards. Well, actually four times, but a 43-yard trip was made null and void by a penalty.
He toted the pighide 13 times and wound up with a gain of 225 yards. He caught one pass for four yards, intercepted on enemy pass and made quite a few stops on defense. He now has made 13 touchdowns.
Any wonder why we say he was a one-man wrecking crew?
* * *
BENJAMIN LEFT the Barberton fans buzzing. A few may have kept right on talking about him after they went to sleep.
After the show produced by the Tiger co-captain and left halfback was concluded, Barberton's general mentor, Junie Ferrall wasn't about to go into the whys and wherefores of the battle.
He just kept shaking his head and repeating, "That Benjamin…just too much Benjamin."
Well, Mr. Ferrall, as you know and we all know, he couldn't have done it all by his lonesome.
How about that line which opened holes you could have engineered a battleship through? How about the timely running of Scott Kanney, who was filling in at fullback in place of the injured Chuck Beiter? How about that fine ball-handling in the backfield? How about that defense which limited the Magics to 65 yards on the ground?
There were two big reasons why the Tigers didn't do more damage.
* * *
ONE – THE BARBERTON quarterback, Bob Mobley, whose faking, running and passing antics kept the defenders off balance all night. Two – the fact that the Bengals began to rest on their laurels once it appeared evident they could move the ball and Barberton couldn't.
Anyway you looked at it, the Tigers put their sixth victory of the season in the record books.
It was Massillon's ninth straight win in the 21-game series, which has now seen the Tigers cop the duke 17 times.
And now in 1957 two remaining – unbeaten Akron Garfield and once-beaten, Canton McKinley.
The loss was the fifth in eight starts for Barberton, which will end the season against Roger Bacon high at Cincinnati next week.
* * *
COACH LEE TRESSELL summed things up this way:
"As a whole we moved the ball pretty well. Ivory looked real good. So did Scott (Kanney) and Leaman (Williamson).
"That Mobley was something. He kept us guessing, as we thought he would. Although our pass defense allowed seven completions, we weren't hurt too much. But between their passing and the running of Burroughs (Bob) we had enough to worry about."
Kanney averaged over 12 yards a carry and tallied a first period touchdown on a 17-yard blast up the middle. The other Tiger TD was made by speedy Jim Snively, who zoomed 50 yards on a punt return to add icing to the cake in the last quarter.
Williamson made tackles in wholesale lots and blocked a punt.
Mobley, a southpaw slicker, ran the Barberton team with plenty of nerve. The junior standout handled the ball like a pro, hit on five of 10 passes, caught two aerials, intercepted one Massillon forward and ran five times for 17 yards.
* * *
BURROUGHS, a 215-pound sophomore, who is built like a tank, churned through the line 15 times and averaged over three yards a clip.
All told, the host team connected on seven of 16 aerials but failed to offset the crunching ground attack of the Orange and Black.
With Benjamin averaging 17-yards per carry, Massillon had a net rushing gain of 347 yards.
Total yardage was Massillon 351, Barberton 136.
Yet the Magics had the ball for 49 running and passing plays and Massillon was limited to 33 rushing-passing attempts.
But like Ferrall said, "Benjamin was the big difference."
* * *
IVORY HAD Tiger fans roaring in the first three minutes of the game. The Bengals received and started to roll from their own 19.
The first Time Benjamin carried he went 15 yards. Then he whizzed for 36 and 31 to help set up his own touchdown from the eight-yard line with only two minutes and 48 seconds elapsed.
On the pay dirt foray he hit off the right side and went in standing up. It was almost a carbon copy of the plays that were good for 15, 21 and 36 yards. Soph Quarterback Joe Sparma tried the extra point but his kick sailed to the left.
After the teams exchanged punts and pass interceptions, Massillon was knocking at TD door again.
Defensive Halfback Jerry Mitchell pounced on a fumble at the 33 and in two plays the rambunctious Kanney covered the remaining distance. He shot through the left side for 16, then came back over the right side, found a hole, and went 17 yards with only one Barberton player getting a hand on him.
* * *
THIS TIME Sparma's placement was low and to the right and it was 12-0 with 45 seconds remaining in the opening round.
Barberton bolted back and for a while it looked like the purple was going to tighten the issue.
With Mobley twirling to End Alan Cooksey for 19, Halfback March Ferguson gaining seven and John Howe, from kick formation, throwing to Mobley for 14, the Magics advanced to the Tiger 19.
Then the Magics were penalized 15 yards for holding and after Halfback Norm Spencer gained one, Joe Brownlee and Williamson decked Mobley for an 11-yard loss on a pass play. On fourth down Ferguson took off on a double reverse but slipped and fell as he turned the corner and Massillon had possession on the 43.
* * *
A MOMENT later Mobley intercepted a pass by Gene Stewart but the Tigers held and took possession at the 35. Kanney ripped off 17, then 17 more after Benjamin banged for 25 but time ran out and the score was still 12-0 at intermission.
Benjamin's 41-yard jaunt to the Promised Land came after his 43-yarder was nullified. At the start of the second half Howe kicked dead at the 23 and the Tresslelmen rolled to the Barberton 43 before Ivory turned on all jets and outran Mobley to the end zone.
A backfield-in-motion penalty put the oval back on the 41. Sub Fullback Dave Dean rammed for seven before Benjamin made his second official trip to pay dirt. He slammed through the middle, was stopped momentarily at the Magic 38 and then was long gone.
On the PAT attempt the snap from center went astray and McKey, the kicker, picked up the ball and attempted to run across only to be stopped a yard short. And so it was 18-0 with 4:48 remaining in the panel.
There was no further excitement in that period.
* * *
EARLY in the final canto Barberton gambled and lost. With fourth and four at its own 44, the host club went in punt formation but Howe passed and it was a little too far for Mobley.
Massillon took over and after Sparma's pass to Mark Anthony failed to hit the target, Benjamin again did a little hurrying. He found a hole at left tackle and steamed 56 yards to make it 24-0 at 5:40. McKey again kicked but the ball veered off to the right.
Following the kickoff the Magics were forced to punt with Howe booting from his 19, Snively fielded the ball at midfield and set sail down the west sideline. Behind a cordon of blockers he ran in a direct line until he got to the 15 where he cut away from one would-be tackler and continued on to touchdown land. McKey's kick was partially blocked and that was the final 30 to zero.
Barberton proceeded to move from its own 27 to the Bengal 29 as three passes picked up 30 yards but the Magics needed time, a lot more than was left on the clock.
The Tigers came out of the fray in fairly good shape. End Maury Snavely sustained a broken nose and Stewart received a leg injury in the third period.
The summary:
MASSILLON
ENDS – Childers, Snavely, Williams, Mitchell, Wood, Steele, Pierce, Hagan, Zorn.
TACKLES – Slabaugh, Slicker, Brownlee, Halter, Donat, Karrenbauer.
GUARDS – Heine, Heimann, McKey, Perry, Taylor, Cook.
CENTERS – Williamson, Swartz, Reese, Shilling.
QUARTERBACKS – Getz, Sparma.
HALFBACKS – Benjamin, Stewart, Anthony, Pledgure, Snively, Lawson, Clark, Allen, Hershberger.
FULLBACKS – Kanney, Dean.
BARBERTON
ENDS – Bill Mobley, Skrabe, Dawson, Cooksey, Howe.
TACKLES – Thomas, Goletz, Memeth.
GUARDS – Smith, Mystovich, Alexandre, Tonoyitz.
CENTERS – Schenz, Velloney.
QUARTERBACKS – Bob Mobley, Blough.
HALFBACKS – Spencer, Ferguson, Hudgens, Luetig, Stanley.
FULLBACKS – Burroughs, Nemeth.
Score by quarter:
Massillon 12 0 6 12 30
Massillon scoring: Touchdowns – Benjamin 3, Kanney, Snively
STATISTICS
Mass. Bar.
First downs, rushing 13 5
First downs, passing 0 4
First downs, penalties 0 2
First downs, total 13 11
Yards gained, running plays 364 116
Yards lost, running plays. 17 51
Net yardage, running plays 346 65
Passes attempted 6 16
Passes completed 1 7
Passes had intercepted 2 1
Yards returned, intercepted
Passes 6 31
Yards gained, passing 4 71
Total yardage, running,
Passing 351 136
Number of punt returns 2 0
Yardage punt returns 63 0
Average length of punt
Returns 21 0
Number of punts 2 4
Total yardage on punts 52 135
Average length of punts 26.0 33.7
Number of penalties 7 2
Yards lost on penalties 65 20
Number of fumbles 2 4
Own fumbles recovered 2 3
Ball lost on fumbles 0 1