Part 4 – Running Backs in the Massillon Tiger Football Hall of Fame – The Middle Years
The Football Hall of Fame recognizes those individuals that have made contributions to the Tiger football program, whether it be a player, coach, band director or just an individual who has been influential in a positive way.  Inductees are honored in the WHS Sports Hall with plaques that display the inductees' contributions.  As of 2022, a total of 105 members have been inducted.
Complete List of Massillon Tiger Football Hall of Fame Inductees
This entry is Part 4 of a series that presents the inductees by playing position and features running backs that competed in the 1940s, 1950s and 1960s.
Six running backs have gained Hall of Fame distinction during this period, including Irvine Crable, Homer Floyd, Charlie Brown, Mike Hershberger, Ivory Benjamin and Art Hastings.  There are a few other running backs in the Hall that are not presented in this story, as these players were inducted either through another playing position or as a coach.
Irvine "Ace" Crable (1947-49)
Irvine Crable saw the varsity field for the first time in 1948 as a junior backup running back.  But it didn't take long for Head Coach Chuck Mather to see his potential and increase his playing time.  By season's end he was the leading scorer on the team with 78 points, including twelve rushing touchdowns and one TD receiving.  Four times he scored twice in a game.  But the big one was against Canton McKinley, when he rushed 17 times for 102 yards (6.0) and scored all three of Massillon's touchdowns in a 21-12 victory.  He also had a pass interception.  It's always special when the Tigers beat the Bulldogs, but in that year McKinley came into the game unbeaten and had bested Alliance, the team that defeated Massillon earlier in the season.  The win was enough to springboard the orange and black to the state title.

The following year Crable was "the man."  Leading his team to a 9-1 record and a state championship, he again led the team in scoring, this time with 114 points, including 18 rushing touchdowns and a 60-yard pass interception return against Toledo Waite.  He also passed for a TD.  Three times he scored three touchdowns in a single game, against Canton Lincoln (60-0), Alliance (48-14) and Waite (59-19).  For the season, he carried the ball 100 times for 1,129 yards, setting a record for single season average yards per rush at 11.3, a benchmark that stands today.
The signature win that year came against McKinley in a 6-0 victory, during which he scored the only touchdown of the game, from 35 yards out.  He also tackled a Bulldog ball carrier at the Massillon four yard line, causing a fumble and turnover, to preserve the win.  For game, Crable rushed 16 times for 136 yards and averaged 8.5 yards per carry.  "I couldn't have done it without the help of the other 10 guys," Crable remarked following the game. – Massillon Independent
"The play was 33 cross.  Don James handed the ball to me, and all I could see was daylight—and I fumbled.  Later, in the fourth quarter, the coach sent in the play.  I said, 'Don, no.  Let's run 33 cross.'  And he changed the play.  The way the hole opened the first time—it happened the same way the second time.  And that was that.  The line blocking was beautiful—nobody had a chance.  Nobody laid a hand on me.  My instincts told me it was going to be there again.  I waited and waited.  Then I thought, now's the time.  It was right there again.  I ran right into the end zone." – Crable (Massillon Memories, Scott Shook)
The Tigers' only loss that year was 16-12 to Mansfield.  But Tygers lost to unranked Akron South, dropping them to second in the state, thereby pushing Massillon to the top.  Third went to 9-1 Canton McKinley.
At the end of the season Crable was named 1st Team All-Ohio.
Homer Floyd (1952-54)
Homer Floyd was the recipient of two state championships while playing at running back and defensive back.  The first was under Head Coach Chuck Mather and the second while playing for Tom Harp.
Speed kills in high school and Floyd had plenty of it, perhaps scoring more long-distance touchdowns than any other back in Massillon history.  "Homer Floyd looked like a thoroughbred.  He just bounced when he walked—it was like twinkletoes or something.  Nice looking, streamlined kid.  Didn't weigh much, 155 pounds.  Could run like the wind, cut on a dime." – Massillon Coach Tom Harp (Massillon Memories, Scott Shook)
In his junior year Floyd shared time at fullback, but still managed to rush 112 times for 998 yards (8.9 ave.).  His season included 13 rushing touchdowns and a 90-yard punt return for a TD against Canton Lincoln.  Three touchdowns each came against Mansfield (runs of 20, 62 and 54 yards) and Toledo Waite (runs of 67, 30 and 40 yards), while his final TD as a Tiger was an 80-yarder against Canton McKinley in a 48-7 victory.  It all culminated in a 10-0 season and a national championship.
Floyd, now as team captain, continued to pile it on during his senior year, rushing 155 times for 1,372 yards (8.9 ave.).  For the season, he scored 16 rushing touchdowns, caught two passes for scores, returned a punt for 64 yards and a TD and returned a pass interception 100 yards for another TD, setting an unsurpassable record in this category.  He scored three times against three different teams, with five of the scores spanning at least 30 yards.
Two touchdowns came against McKinley in a 26-6 victory.  His rushing numbers for that game were 28 carries for 263 yards (9.4 ave.), the yardage being the third highest all-time vs. the Bulldogs.  "They played like a team that wanted to be state champion," Canton Coach Wade Watts, deeply disappointed, said after the game. "Homer Floyd was the difference," he stated as he complimented the Tiger halfback for his great exhibition. – The Independent
After the season Floyd was named 1st Team All-Ohio and Stark County Player of the Year.  Later he was inducted into the Stark County High School Football Hall of Fame.  In 2012 he was inducted into the Massillon Wall of Champions.
His next stop was the University of Kansas, where he lettered for three years.  Then came a year in Canada with the Edmonton Eskomos (now the Elks).
Mike Hershberger (1954-56)
Mike Hershberger is best known for playing professional baseball.  But he was also a stalwart for Massillon on the football field.

After sitting out for his junior year due to an injury, he joined the varsity the following season, playing at 5'-9", 155 lbs. and being selected as a co-captain.  His primary position was right halfback, where he became the second leading scorer with 54 points, behind Ivory Benjamin, who had 90.  That included seven rushing touchdowns, six PATs and a 79-yard kickoff return for a score against Canton Lincoln.  Two of his rushing touchdowns came against Cincinnati Elder in a 27-12 victory, while he ripped off an 83-yarder against Mansfield.  He was also a punter and part-time kicker.
The team finished 8-2 that year, under the mentorship of new Massillon head coach Lee Tressel, with losses to Mansfield and undefeated Canton McKinley.  Against the Bulldogs, Hershberger rushed 13 times for 68 yards, in spite of playing with a bad knee.
Following the season Hershberger was named 1st Team All-Ohio.  Then it was time for baseball, where suited up at both pitcher and outfielder, playing for Head Coach Carl "Ducky" Schroeder.  During his sophomore season the team reached the state finals, losing to Cincinnati Elder, 3-0.
After high school he played a year of football for the University of Cincinnati and then signed with the Chicago White Sox to further his career in baseball.  Later, he played for Kansas City, Oakland and Milwaukee.
In 1994 he was inducted into the Massillon Wall of Champions.
Ivory Benjamin (1955-57)
Ivory Benjamin made his mark with Massillon varsity football for three years and was awarded at the end of it by being named 1st Team All-Ohio.

Benjamin was limited to a single carry and a couple of punt returns as a sophomore, but at least he got his feet wet, while the team went 8-1-1 and finished second in the state.  But the following year he became a full-time starter at running back and led the Tigers in both scoring (72 points) and rushing.  Included in that was 12 rushing touchdowns (3 vs. Barberton), one receiving TD and two long punt returns for scores (50 yards vs. Cleveland Benedictine and 65 yards vs. Warren Harding.)  The Team finished 8-2 and again finished second in the state.
In his senior year as team captain, playing under Head Coach Lee Tressel, Benjamin continued his success, this time with 16 rushing touchdowns and one receiving TD, for 102 points.  Against Akron North he rushed 15 times for 153 yards (10.3 ave.) and scored three touchdowns.  Then, against Akron Garfield he scored three times, including a 58-yard pass reception.  He also scored twice in each of four other games.  At the end of the year he was deservedly honored 1st Team All-Ohio.
Art Hastings (1958-60)
Art Hastings was one more in a long line of great running backs that came through Massillon in the 1950s and 60s and helped the Tigers to several state and national championships, under Head Coach Leo Strang.
Hastings saw limited varsity action during his sophomore year, although he did score a touchdown in Week 8 in a win over Barberton.  But in his junior season he took over for the graduating senior Dave Dean and became the primary ball carrier on a 10-0 team that captured both the state and national championships.  For the season he carried the ball 117 times for 1,245 yards (10.6) average and scored 12 rushing touchdowns.  He also returned punts and kickoffs.  At the end of the season Hastings was named 3rd Team All-Ohio (should have been 1st Team with those numbers; such is the life of an underclassman).  Record-wise, he holds third place for the best single season rushing yards per attempt and third best for career consecutive 100+ yard games with seven.
In his senior year Hastings did much of the same, rushing 159 times for 1,274 yards (8.0 ave.) and scoring 20 rushing touchdowns.  Five times he had multiple TDs in a single game:
Cleveland Benedictine (8-1-1); 3 TDs; 8-117-22.1; won 36-6
Mansfield (4-4-2); 2 TDs; 21-127-6.0; won 56-14
Toledo Waite (1-8); 3 TDs; 19-150-7.9; won 56-14
Springfield South (6-3); 4 TDs; 15-189-12.6; won 62-32
Canton McKinley (5-5); 4 TDs on runs of 5, 15, 29 and 51 yards; 14-213-15.2; won 42-0
The team finished 10-1 and was named state champions.  The Tigers also finished 7th in the nation. Following the season, he was deservedly named 1st Team All-Ohio.
"He was like trying to catch a dog in the middle of an open field.  Art Hastings looked like his hips went out of joint.  I had great runners, but I don't know that I ever had any better than Art Hastings.  Hastings was just outstanding." – Massillon Coach Leo Strang (Massillon Memories, Scott Shook)
Charlie Brown (1960-61)
Charlie Brown went all the way, from Massillon to Syracuse to the pros.  After not playing during his sophomore year due to injury, he had limited playing time as a junior. Helping his team to a 10-1 record and a state championship.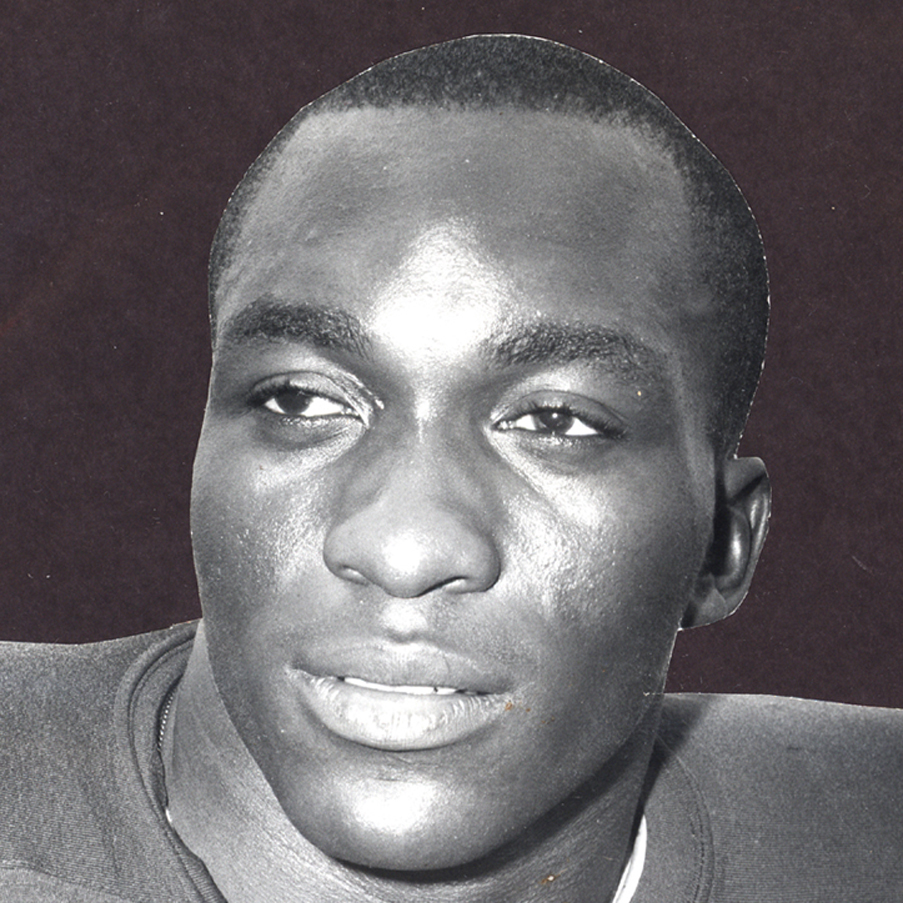 But he was ready to go as a senior and eclipsed the 1,000-yard mark as running back, leading his team to a UPI state championship and a national championship with an 11-0 record.  He rushed 175 times for 1,094 yards (6.3 ave.) and scored eleven rushing touchdowns.  Three came against Warren Harding in a 36-0 victory and two each came against Steubenville (7-3) and Toledo Libbey.
After the season the team captain was named All-Stark County, 2nd Team All-Ohio and high school All-American for his defensive play.  In 1994 he was inducted into the Massillon Wall of Champions.
Syracuse was his college of choice, and he parlayed that experience to the rosters of the Chicago Bears and the Buffalo Bills.