Momentum Shift Buries Massillon In Opener
Chris Easterling
The Independent
Aug 25, 2017 10:48 PM
MASSILLON Things were going just fine for Massillon for a quarter in its season opener against Mentor at Paul Brown Tiger Stadium. The Tigers held the lead and were keeping the high-flying Cardinals out of the end zone.
Then, on Massillon's second play of the second quarter, a tipped deep ball was intercepted by Mentor's Billy Gorka – with Gorka lying on his back.
Almost like it was an omen, that play changed everything.
The Cardinals would score on their next seven possessions, turning a seven-point Tiger lead into a 49-14 Mentor opening-night rout.
"They played well," a subdued Massillon coach Nate Moore said afterwards. "They're really good offensively."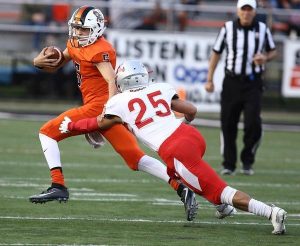 After being held to just 40 yards on 11 first-quarter plays, which ended with Massillon in front 7-0, the Cardinals would gain 413 over 29 plays in the next two quarters alone. They would lead 42-14 after three quarters, then make it 49-14 three plays into the fourth quarters.
Mentor finished the game with 501 yards. Massillon, which had 96 yards in the first quarter, ended things with 249 total yards.
Of those 249 yards, 66 came on a touchdown pass from Aidan Longwell to Austin Kutscher in the third quarter. That made it briefly 28-14.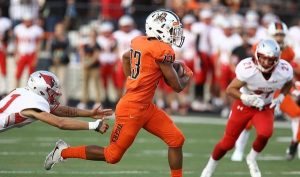 "We just needed to settle in," Mentor coach Steve Trivisonno said. "They were really geared up, and probably too much. I tried to crack a joke, but it didn't work. After that, we were a really good football team."
The ending was such a far cry from the beginning, especially for the Tigers.
Massillon couldn't have scripted a better start to the football season. A three-and-out by the Tiger defense on the first Cardinals possession led to great starting field position, at the Mentor 42.
A bad snap on first down, though, was followed by a 23-yard pass from Aidan Longwell to Austin Kutscher. The very next play, Marcellus Blake raced virtually untouched for a 21-yard touchdown run to give Massillon a 7-0 lead 94 seconds into the season.
"It was a good start," Moore said.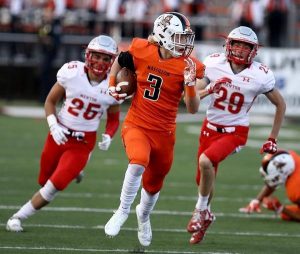 Blake, who finished with 10 yards on 47 carries, found himself in a featured role due to the absence of a pair of Tigers, Jamir Thomas and Louis Partridge. Both players did not play, according to Moore, due to internal matters he wouldn't discuss further.
Compounding things, Blake left the game early in the third quarter with an injury on a punt coverage. His status for the Week 2 home game against GlenOak is unknown.
Mentor's offense began to get going on the next two first-quarter drives, reaching Massillon's 25 and 34, respectively. The first one, though, ended on a diving interception by Dyson Berry, while the second one was halted on a fourth-down incomplete pass in the end zone on the first play of the second quarter.
Gorka's interception may have been the play that stood out the most as the momentum-changer, but it wasn't the only one. Massillon's second possession reached the Mentor 16, but the Tigers fumbled the ball away on first down.
"Not punching it in for a second touchdown also hurt," Moore said. "If we stick that in, we go up 14-0. Obviously, that puts us in a much better position."
That's when the Mentor offense, which had been tuning up in the first quarter, hit the gear for which it's become known. Three second-quarter possessions led to three second-quarter touchdowns for the Cardinals, who took a 21-7 lead into the locker room at halftime.
Outside of a Tiger personal foul flag on the first play of the first second-quarter possession and a Massillon offsides flag on the sixth play of the third, the three drives were textbook displays of crisp offensive football. A combined 23 plays over those three drives: 15 rushing plays for 103 yards, while 7-of-8 for 59 yards passing for quarterback Tadas Tatarunas.
All three scores were rushing for Mentor: 3-yard game-tying run by Chris Edmond; a 12-yard Tatarunas scamper for a 14-7 lead; and a 1-yard Nick Saginario plunge for a 21-7 lead.
Edmond finished with 111 yards, including a 56-yard touchdown run to make it 28-7 Mentor. Tatarunas rushed for 66 yards while completing 17-of-25 passes for 188 yards and two third-quarter touchdowns.