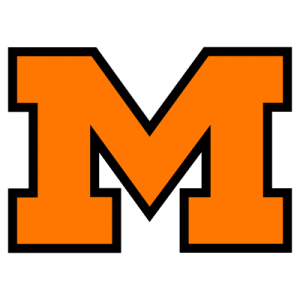 Massillon's team effort leads to rout of Buchtel
By JIM THOMAS
Repository sports writer
MASSILLON ‑ Massillon and Buchtel both stressed the need for a balanced offense entering the high school football season.
Balanced the Tigers were, on offense, defense and the kicking game.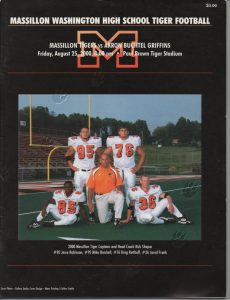 With new quarterback Justin Zwick throwing for five scores, kicker David Abdul booting two long field goals and the defense throttling Buchtel back Tim Murphy, Massillon posted a surprising 40‑7 victory Friday in the 2000 opener at Paul Brown Tiger Stadium.
Zwick's first game in orange and black was about as good as it gets. The Tigers' offense scored three times on two Zwick‑to Jeremiah Drobney passes and 46‑yard Abdul field goal the first half to build a 17‑7 lead it never relinquished.
Zwick then fired another scoring pass to Drobney and two to Montale Watkins in the third quarter to tie the school record of five in a game. The feat tied 66‑year‑old mark set by Mike Byelene against Niles in 1934.
In the third period, Massillon outgained the Griffs 127 to minus‑17 yards.
"I could get open, They were blitzing a lot," said Drobney, who caught seven passes for 62 yards and the three scores. "We were just trying to stop their blitzing from working,
"I thought he threw the ball pretty well tonight," Drobney said of Zwick, 18‑for‑32 passing
"That's not usually the case,' Massillon head coach Rick Shepas said of the receiving of Drobney and Watkins. "Usually it will be more spread. It will change as the season goes."
Watkins snared six for 107 yards to complement Drobney's effort.
Massillon also ran the ball effectively. Perry James contributed 81 yards on eight carries. But it was the passing that moved the chains for the Tigers.
The aerial attack also ran the Buchtel defense ragged.
"You just can't make mistakes against Massillon and win games," said Buchtel coach Claude Brown. 'We needed to put pressure on (Zwick), but they picked it up.
"My hat off to them. They just beat us."
The Massillon defense was on fire, too. While new Buchtel quarterback Charlton Keith struggled (3-for-10), 30 yards) in his debut, Murphy was doing more with his one leg (seven punts) than two (15 rushes, 71 yards).
Murphy scored the Griffins' touchdown on a run of 52 yards for Buchtel's lone highlight. The Griffins never got closer than seven points early in the second period, when Abdul nailed his 46-yarder for a 10-7 lead. He added a school record 50-yarder in the third quarter.
"We knew we were going to have a chance in the kicking game." Shepas said. "Anytime you can get points from any place on the field, it's nice."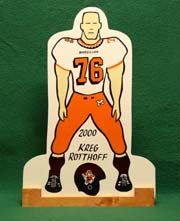 Kreg Rotthoff