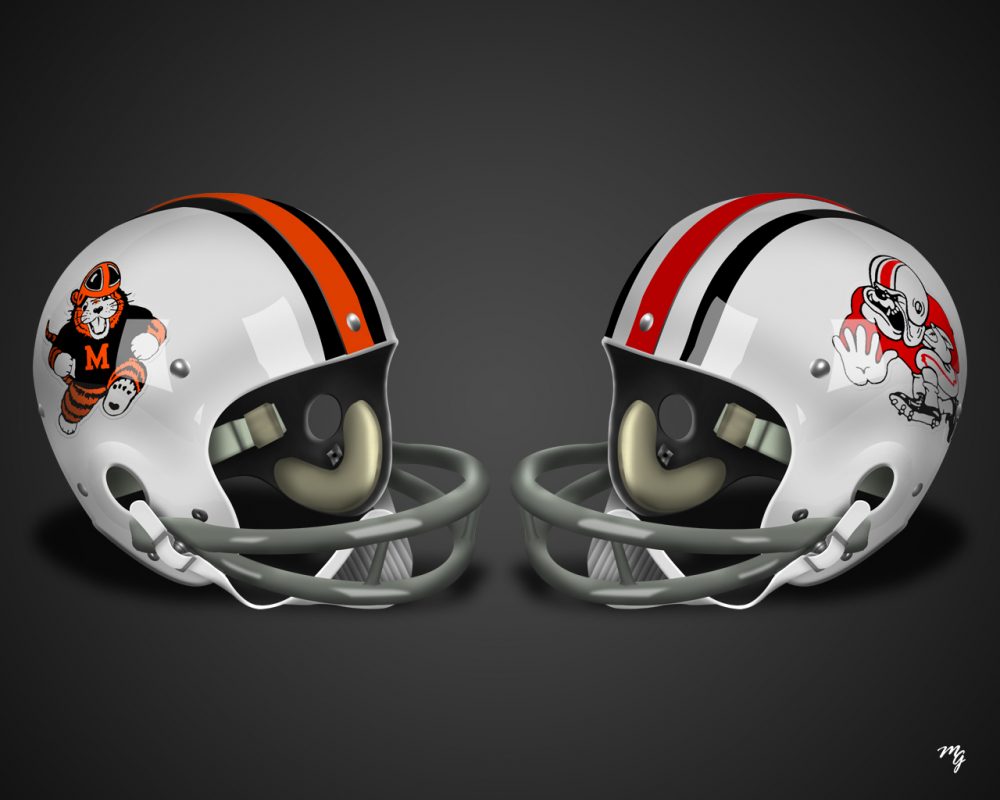 TIGERS STUN BULLDOGS 20-15
Final-Seconds Aerial Blasts Rally by Pups
By BOB STEWART
Repository Sports Editor
MASSILLON – At a few moments past the hour of four o'clock Saturday afternoon, an inflated brown leather ellipsoid floated downward from the sky.
It nestled in the arms of a young man by the name of Edward Bell, an 18-year old who is enrolled at Washington High School here and who just happened to be jogging about in an area of real estate known as Tiger Stadium.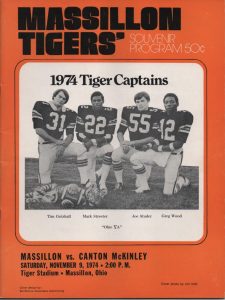 His specific location was a plot known as "The End zone" – an appropriate name, for his simple act of catching the ball "ended" many things.
79th IN CLASSIC SERIES
It was the end of the scoring in this 79th scholastic football classic which has pitted the young warriors of Canton McKinley and Massillon Washington high schools since 1894 (flu scratched a game during World War I), put the 79th episode into the books reading Massillon 20, McKinley 15.
It ended the Canton McKinley undefeated record this season at nine, blasting hopes for the first 10-0 season since 1956.
It ended the McKinley Bulldogs' dreams of a berth in the Ohio High School Athletic Association championship playoffs. New Philadelphia High will represent Region 3.
COMEBACK FAILS
It ended the dramatic and brilliant McKinley comeback, which saw the Pups' Roch Hontas kick a 25-yard field goal for a 15-14 lead only 73 seconds before the game clock was due to run out.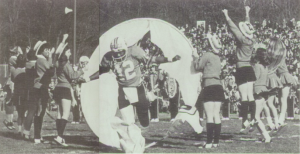 It also will mean the end, no doubt, of McKinley's No. 1 ranking in the wire service polls. The Pups were attempting to win the mythical wire service title for the first time since 1955 and 1956, when they won back-to-back championships with 20 straight wins over two seasons.
Bell was catching the beautiful, crisp, clear, sunny afternoon's second TD pass thrown by teammate and quarterback Greg Wood, a youngster much maligned but now vindicated.
TIGERS SMELL UPSET
Wood hit halfback Mark Streeter with a 24-yard scoring strike when the game was but nine-and-one-half minutes old, and the Tigertowners smelled an upset.
Massillon's first score was no fluke, as the Tigers drove the ball 71 yards in 12 plays after stopping McKinley on fourth down and a foot.
The Bulldogs' Mike Kolbs pounced on a Massillon fumble on the third play of the game, but McKinley couldn't cash in.
Trailing 7-0 McKinley got on three yards on three plays after the kickoff and Hontas punted to the Tigers' 36, from where Wood engineered his second scoring drive.
WHIPPING BOY NO MORE
Wood, who was one of the whipping boys for the boo-birds and boosters when Massillon lost three of its first four games this season, again whipped his team down the field and in a dozen plays had used up three minutes, 50 seconds of playing time, covered 63 yards and put another seven points on the board.
Wood himself did the honors, diving the final two yards over the right side.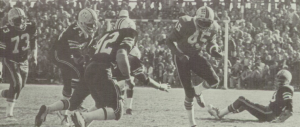 Hontas got the Pups moving, finally, as he began hitting his aerials.
PUPS SCORE ON PASS
The Pups scored on a 36-yard pass from Hontas to end Ruben Floyd. But when Jonathan Moore, McKinley's leading rusher and scorer, failed to make the three yards for the
two-point conversion, the Pups were a long eight points behind.
The drive was 77 yards in 13 plays, but was kept alive by a major Massillon mistake, a roughing-the-kicker penalty on a fourth-and-14 Hontas punt at the Bulldogs 19.
Massillon with 237-pound fullback Bill Harmon and slippery scatback Tom Grizzard (both juniors) roaring through massive holes opened by a rejuvenated Tiger offensive forward wall, mounted yet another threat.
The Tigers tidal wave trundled down the turf to the McKinley 28 before ebbing. From there, Dave Dowd, who kicked the two PATs, missed a field goal try from the 35.
But the short chip shot hit like a nine iron on the five yard line and McKinley was 95 yards away from the equalizer and the fourth quarter was two plays old.
Hontas retreated into his own end zone and flipped a screen pass to wingback Bob Armstrong, who got out to the 13, and the McKinley march was on.
Massillon linebacker Dennis Bricker made what looked like a drive-stopping tackle on a screen to Floyd at the Bulldogs own 21, setting up a fourth-and-two situation.
BULLDOGS MARCH 95
But faint heart never won a football game and Moore got eight on a sweep and the march continued for 95 yards in 18 plays, capped by fullback Bob Lombardi's three-foot blast to pay dirt with 3:37 left in the game.
Hontas' pass to Lombardi was incomplete and the Tigers still prevailed by a pair, 14-12.
The ensuing on-side kickoff bounced into a mass of Massillon and Canton players and McKinley's Eric Llewellyn came up with the football and the Pups were born again.
Hontas quickly completed a pair of passes to Tom Grafton and Ray Ellis and Lombardi got nine yards in three tries to set the state for what the Canton backers would love to have settled for.
With Bill Poulos holding, Hontas kicked a 25-yarder right through the middle of the uprights, putting three points on the McKinley side and joy in the hearts of Canton fans.
The clock read 1:13.
Then came the dirge, tolled by the "Bell".
Wood threw the ball three times and Bell caught all three on down-and-out patterns for 12, 9 and 12-yard gains.
He missed one and then got sacked and the ball was at the McKinley 34 with 13 seconds remaining.
Bell lined up on the right side, blew downfield and started another cut to the outside, but then suddenly flew for the goal.
He was all alone past the goal line when Wood's toss settled into his arms. The clock showed there were six seconds remaining.
It was Massillon's 43rd win in the long series against 31 losses. There have been five ties.
It put Warren and McKinley in a tie for the All-American Conference title for the second year in a row. Last year, the two shared it with Massillon also.
The victory gave Massillon a 6-4 season record and today in Tigertown nobody even remembers those four losses that happened such a "long time ago sometime this season."
Massillon 7 7 0 6 20
McKinley 0 0 6 9 15
SCORING SUMMARY
Mass. – tb Mark Streeter, 24 pass from qb Greg Wood (g Dave Dowd kick).
Mass. – Wood, 2 run (Dowd kick).
Mck. – e Ruben Flloyd 36 pass from qb Roch Hontas (run failed).
Mck. – fb Bob Lombardi, 1 run (pass failed).
Mck. – Hontas, 25 FG.
Mass. – se Eddie Bell, 34 pass from Wood (pass failed).
Tigers Score
On Desperation Pass
Massillon Stuns McKinley
By LARRY BRECKENRIDGE
Beacon Journal Staff Writer
MASSILLON – "If I live to be a 100," said one veteran sportswriter, "I'll never see a football game as exciting as that one."
The gentleman was referring to Saturday's clash between Massillon and Canton McKinley in which the Tigers scored on a 34-yard touchdown pass with only five seconds remaining to shock the previously undefeated Bulldogs 20-15 before 21,754 at Tiger Stadium.
Massillon ends 6-4 and McKinley 9-1.
The victory was especially disappointing to McKinley because it probably cost the Bulldogs a spot in the Class AAA computer playoffs.
The Bulldogs held a 14-point lead over New Philadelphia in Region 3 of the latest computer poll but the Quakers beat previously undefeated Dover Friday night which should give them enough points to overtake McKinley.
The two players mainly responsible for the Tigers' victory were quarterback Greg Wood and split end Eddie Bell.
It appeared McKinley had won the game with 1:13 left when the Bulldogs Roch Hontas kicked a 25-yard field goal to put McKinley ahead 15-14.
But following the ensuing kickoff which Massillon returned to its own 35-yard line, Wood and Bell teamed up for three straight pass completions to move the ball to the McKinley 31.
Wood was then dropped for a three-yard loss but on the next play Bell slipped behind the McKinley secondary and Wood lofted a perfect pass which Bell gathered in over his shoulder in the corner of the end zone.
"EDDIE ran a beautiful patter," Wood said. "I just laid the ball up there. I knew he was going to catch it as soon as I threw it."
"I heard the McKinley coaches yelling to watch for the deep pass," Bell explained. "But the McKinley players must not have heard them. That was probably the biggest catch I'll ever make."
Late Score Keys Massillon
Massillon coach Chuck Shuff said, "I couldn't believe it when I saw Bell in the open." And neither could McKinley's John Brideweser.
"We were in a prevent defense," he explained. "And the one thing that is NOT supposed to happen is a deep pass. But those things happen."
The Tiger defense shut out McKinley's high scoring offense for the first 24 minutes in limiting the Bulldogs to only four first downs and 84 yards.
Massillon's ball-control offense, on the other hand, was equally impressive as it scored 14 points in the first half and rolled up 12 first downs and 203 yards.
Massillon, which did not punt once, took a 7-0 lead with 2:35 remaining in the first quarter when Wood hit Mark Streeter with a 24-yard touchdown pass and David Dowd kicked the first of two conversions. The drive covered 71 yards in 12 plays and took almost six minutes.
FOLLOWING a McKinley punt, Massillon drove 67 yards in 11 yards to increase the margin to 14-0 with 9:59 left in the half. Wood got the touchdown on a fourth-and-goal situation from the two.
The Bulldogs pulled to within 14-6 following the second half kickoff by driving 70 yards in 12 plays. The touchdown came on a 36-yard pass from Hontas to Ruben Floyd. The conversion failed when tailback Jonathan Moore was stopped short of the goal.
After stopping a Massillon drive at the Bulldog 13, McKinley fullback Bob Lombardi scored on a one-yard run with 3:53 remaining to cap a 95 yard, 17-play drive. A pass for the conversion failed and Massillon led 14-12.
McKinley followed with an onside kick and the Bulldogs Eric Llewellyn recovered tat the Massillon 46. Eight plays later Hontas kicked the apparent winning field goal.
MASSILLON 7 7 0 6 20
McKINLEY 0 0 6 9 15
MASSILLON – Streeter, 24 pass from Wood (Dowd kick).
MASSILLON – Wood, 2 run (Dowd kick).
McKINLEY – Floyd 36 pass from Hontas (run failed).
McKINLEY – Lombardi, 1 run (pass failed).
McKINLEY – Hontas 25 FG.
MASSILLON – Bell, 34 pass from Wood (pass failed).
Shuff Officially Accepted
in Tigers' Lair
By MIKE ZEMELKA
Repository Sportswriter
MASSILLON – This proclaimed scholastic football capital of the United States has added another full-blooded Tiger to its lair.
"I'm a Tiger now!" exclaimed a shell-shocked Chuck Shuff when the first-season Massillon Washington coach finally wormed his way into his office – some 30 minutes after his Tigers (6-4), unbelievable 20-15 conquest of arch-rival Canton McKinley (9-1) before a Tiger Stadium throng of 21,754 football fanatics Saturday afternoon.
The storybook finish is unparalleled .
"I JUST COULDN'T believe it when I saw Eddie Bell in the open," Shuff said of the 34-yard pass the 5-foot-10, 154-pound senior split end caught (in the end zone) from classmate Greg Wood. It came as the Tigers merely were driving for field position to give placekicker Dave Dowd a shot at a field goal attempt.
"I don't think we could call for another ounce of energy out of any of our boys," Shuff said of the physically drained coaches and players.
"We stopped their running game as far as the big play and that type of defensive effort took a lot of noise," he said.
The McKinley loss assured Behling's 9-0-1 Quakers a berth vs. Upper Arlington in this week-end's Ohio Class AAA playoff semifinals.
"I thought it was all over," Behling said of the Hontas field goal, "but that's the Tiger spirit."
"Never any worry," former Massillon and Kent State University coach Leo Strang told Shuff, but it was Strang who appeared worried at half time. He's the guy who had his fingers crossed as he wandered through the stands to say hello to his Tigertown friends.
– : –
"IT'S THE GREATEST victory I've ever been in," shouted long-time Tiger aide Nick Vrotsos before he and his fellow coaches took what each proclaimed as "the best one (shower) I've ever had" when the players escorted their coaches to the drink.
"Hey guys, we don't have to walk the alleys. We can walk the streets," Vrotsos shouted to his fellow coaches from the showers.
One-time McKinley standout L.C. Young, the Massillon superintendent of schools, embraced Shuff and said, "Just keep it going."
"Something good had to happen," Young said. "We lost the levy (Tuesday) and these boys and coaches just went through hell."
– : –
AMONG THOSE who probably were in the rocker room were two former Massillon players – Phil Garcia and Nick Pribich – who Friday sent Behling and the Quakers a telegram and assured them: "If you beat Dover (New Philly did, 7-0), we'll do our part tomorrow (Saturday) afternoon and come Monday you'll be No. 1."
AND that's the main reason Behling left the office he once worked in proud as a peacock – and with the Massillon-Upper Arlington game film in his grasp.
It's ironic how this series has been a thorn in the side of what is supposed to be the favored team.
However, the intense rivalry is what makes this classic so great. It was only 12 months ago the Bulldogs knocked the Tigers out of a play-off berth.
21,754 Fans Jam
Tigers' Lair For Thrilling Clash of Old Foes
By FREDERICK J. BALL
Repository Staff Writer
MASSILLON – There are rumors the world does not revolve around the annual McKinley-Massillon football game.
That may be true, but you'll never convince thousands of rabid fans on both sides of the traditional rivalry.
And they were out in force Saturday – 21,754 strong – at Tiger Stadium to watch the Massillon Tigers smash their way past McKinley's Bulldogs to rack up a final-seconds
20-15 victory.
Like a Movie Thriller
The final Massillon touchdowns – with six seconds showing on the clock – looked like the plot clincher in an old 1940s college football movie.
In fact, the entire game had a certain "scripted" appearance to it.
Weather was perfect for the big climax to both schools' schedules, with bright sun and temperatures in the low 60s to warm spectators, but just enough breeze to keep players from becoming uncomfortable.
Near Massillon's city limits, incoming Canton fans traveling bumper-to-bumper found crepe-paper-covered cars along the roadway, their sides and trunks plastered with giant "Beat McKinley" signs.
Such vehicles were greeted by jeers and groans from west-bound autos displaying a different kind of sign – "Beat Massillon."
Approaching the stadium the noise was the first thing that hit arrivals.
A calliope, blended with honking horns and clanging cowbells, provided an overlying pattern of high-pitched accents, while shouts, cheers and jabber of the crowd produced a back ground buzz that increased in intensity as people filled the stadium.
There were shouts of players – clear and strong during warm-up exercises but lower and harsher as they began to pound each other during the game. Above all was the blare of the loudspeaker.
Hot Dogs and Pizza
There was plenty to keep the other senses busy, too.
The air was filled with the smell of popcorn, hot dogs and pizza. You could smell the aroma of recently rain-moistened earth, too, and there was just a hint of smoke.
The eyes, too, were attracted to splashes of color that dotted the stands, with oranges and reds of the two schools livened by the bright November sun.
There was food and drink to appease taste buds, as well, and as for touch – well, who says the field is the only place at a football game where there is contact?
Saturday, Massillon and McKinley fans were squeezed into Tiger Stadium like a Size-12 foot in a Size-10 shoe. Activity at the concession booths under the grandstand at halftime was really something else, too.
You'd think someone over 6 foot tall who weighs in at 210 pounds could hold his own against a bunch of 10-year-olds at the hot dog stand, wouldn't you?
Well, forget it. Those kids squirm and push their way to the front of the line like first-string fullbacks running through a second-string defensive line.
Game Takes Over
But once the game got underway, no one paid much attention to anything but what was happening on the gridiron.
Less than a minute into the second quarter, with The Tigers only one touchdown ahead, Paul Akers of 425 15th Street NW, president of the McKinley Alumni Booster Club, still was confident.
With the Bulldogs putting on a defensive stand at their own four-yard line, Akers said, "I know the Pups are going to come through for us."
"C'mon, Bulldogs! You can hold'em!" he shouted, jumping to his feet. The McKinley defensive unit held. It was fourth down and four yards for a touchdown.
The Dream Dies
"We're going to show Massillon who's NO. 1. I tell you, we're going to come back," Akers declared.
He jumped up again as play resumed and a Massillon ball carrier rammed his way across the goal line. A shout died on Aker's lips and he stood with his arms at his side, a dejected expression on his face.
A few yards away, Phyllis Kobie of 2855 Thackeray Drive NW, Massillon, was every bit as excited as Akers was upset.
"I think it's just fantastic! Massillon's going to win this game!" she shouted over the blare of the nearby McKinley band.