Tigers still perfect
By JOE SHAHEEN
Joe.Shaheen@IndeOnline.com
Say this for Troy Ellis. The young man has a flair for the dramatic.
Massillon's senior cornerback came up with an interception in the shadow of the Tiger end zone to quell a Mentor drive midway through the third quarter, just when it looked like the Cardinals were going to make a game of it.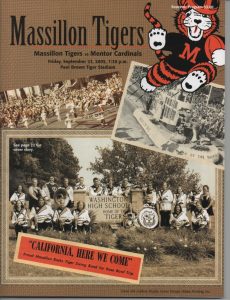 The Tigers then embarked on a nine-play, 70-yard scoring drive that put Mentor away as Massillon stayed undefeated with a 31-10 victory in front of 8,578 fans at Paul Brown Tiger Stadium Friday.
"That's huge. That's huge," Tiger quarterback Bobby Huth said of Ellis' pick. "We count on our defense. We know they're going to make a play. Troy is great. What can I say?"
It was Ellis' seventh interception this season and it came with Massillon leading 17-3 but Mentor clearly owning the second-half momentum. The turnover couldn't have come at a better time for Tiger head coach Tom Stacy.
"Oh, it was big," Stacy said. "It was big. Troy Ellis is a heck of a football player.
"I felt like our defense played really well. They had the one drive but they're going to get that. They scored 35 on St. Ignatius. They're a good offensive football team."
Massillon was up 17-0 at halftime but Mentor got on the scoreboard with a field goal that capped a 14-play drive that opened the third quarter.
The Tigers were forced to punt after three snaps on their first second-half possession and Mentor was on the march again, moving from its 40 to the Tiger 9. On second-and-eight, Mentor quarterback Kellen Oleksak threw it to the right flat for Brand James but Ellis came up with the football and returned it 26 yards to break the visitors' hearts.
"We were in a cover three," Ellis said. "They were trying the flat all night and I saw it coming out and I was reading it. The ball was just thrown over his head and I just grabbed it.
"We saw it on tape and they were pounding the flats on us all night. We were trying to get to it and I finally got one. We definitely needed (a turnover). I didn't know it was coming my way but I felt like the defense was going to get one."
Mentor coach Steve Trivisonno called Ellis' play the turning point.
"That hurt," Trivisonno said. "That would have made it 17-10 at that point. That's the whole ball game. We told them, "Let's go into the fourth quarter 17-10." That's where we needed to be. But they got that turnover."
After the pick, Massillon embarked on a nine-play, 70 yard drive – keyed by a 42-yard Huth to Zack Vanryzin bomb – to put the game out of reach. The drive bridged the third and fourth quarters and was capped by Brian Gamble's one-yard burst into the end zone. The touchdown and Steve Schott's conversion kick gave Massillon a 24-3 lead at 10:27 of the fourth quarter.
Massillon added a score when Huth completed a fade route to Ricardo Wells from 14 yards out to make it 31-3 with just over five minutes to play.
"Offensively we just weren't in the normal synch," Stacy said afterward. "I give Mentor credit. They played hard and took away a couple things we like to do and game-planned us pretty well."
As has been the case in their first four games this season, the Tigers jumped out first with two Huth-to-Vanryzin aerials covering 71 yards. The first came on the opening play from scrimmage as the junior quarterback rolled right and dropped a pass over the shoulder of the Mentor defender and into Vanryzn's hands for a 39-yard gain to the Mentor 41.
After Gamble picked up eight yards on a run up the middle, Huth dropped back and found Vanryzin open on a post pattern. The 5-8, 170-pound senior hauled it in at the 3 and stepped into the end zone. Steve Schott's point after was true and Massillon led 7-0 at 10:58 of the first quarter.
"It's kind of scary when you think about it," Stacy said. "We talk about that all the time and we were able to do it again and then we stalled a little bit."
The Massillon defense forced Mentor into four consecutive punts in the first half. The fourth one set up the Tigers' second score of the night when a shank by the Cardinal punter gave Massillon the ball at midfield.
The drive began innocently enough and looked to be dead after three plays failed to net a first down. But on fourth-and-2 at the Mentor 41, Gamble went over his right tackle and wouldn't be denied until he'd picked up the first down at the Mentor 37.
Two plays later, Robert Morris rumbled for eight yards to the 23 for another Tiger first down.
"I can't say enough about how hard our running backs are running for us," Stacy said. "They're physical and finishing runs and holding onto the football. That's really good to see.'
On second-and-eight, Huth faked a handoff, rolled to his right and hit Trey Miller at the 3-yard line. Miller did the rest and Schott's conversion placement put the Tigers up 14-0 at 3:09 of the second quarter.
Mentor's fifth punt of the first half gave the Tigers the ball at their own 43 after Troy Ellis' eight-yard return.
Huth was sacked for an eight yard loss on first down but Gamble erased that with a 38-yard burst around the right end to the Mentor 27.
Two Tiger penalties set them back 10 yards but Huth hooked up with Brett Huffman on a short pass and the senior tight end carried the ball 20 yards to the 17.
Schott closed the first half scoring by drilling a 34-yard field goal with :04 until intermission to put Massillon up 17-0 at the break.
"I think the field goal right at the end of half was really big," Stacy said. "You could see it lifted our kids back up offensively. It's a good way to finish the half. It was a real key for us."