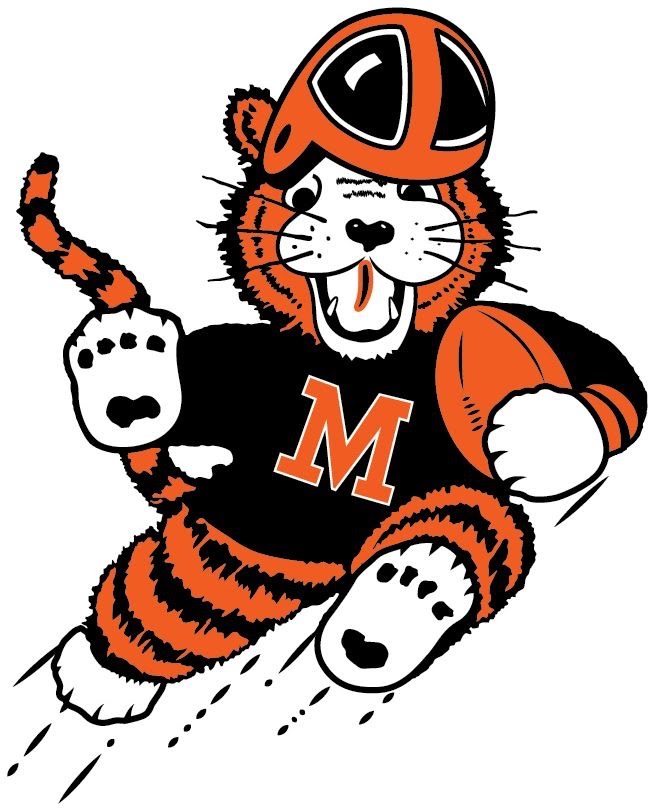 2023 Booster Club Report – Week PO4 – Post-Green Game; Preview of the Cincinnati Anderson Game
Massillon (14-0) defeated Green (10-4), 31-6.  This week the Tigers travel to Historic Crew Stadium in Columbus to face Cincinnati Anderson (13-1) for a Friday, 7:00 pm kickoff in the playoff state semifinals.  The Tigers are No. 1 in Division 2, Region 7, while the Raptors come in at No. 1 in Region 8.  Massillon and Anderson have never played each other.
Review of the Green Game
It was win No. 946, which keeps Massillon in the No. 3 position nationally for all-time wins.
Massillon defeated Green (10-4) to capture its 16th regional playoff title in the 52-year history of OHSAA state tournament.  The mark is the second most among all large Ohio schools, with only Cincinnati Moeller having more, with 19.  The Tigers entered the season as a heavy favorite to win the region and they didn't disappoint, with the players hoisting the award with great enthusiasm following the game.  Massillon scored its final touchdown with just under five minutes remaining in the third quarter, sending the game into a running-clock situation. After that, the backups were inserted on both sides of the ball. Up until that time, however, they had rushed 45 times for 325 yards (7.2 ave).  The first-team defense held the Bulldogs to negative 12 yards on the ground on 12 attempts and 5 of 24 passing for 57 yards.  On special teams Chase Bond blocked a punt and Shon Robinson carried the ball 50 yards on a fake punt.
"A great win it was," said Massillon Head Coach Nate Moore at the weekly Booster Club Meeting.  "I thought our guys played really well.  We were dominant in all three phases.  All of our backs ran hard.  The defense was lights out.  I'm proud of our guys."
The guest players were linebacker Dorian Pringle and safety Ryan Page.  "Our defense played very well," said Pringle.  "You know its good when our JV team gets in the game in a regional finals."  Page added, "We started out fast and did really good."  He also briefly addressed the upcoming game against Anderson, saying that the Tigers need to understand their different formations and manage their high-tempo offense.
Statistics leaders:
Da'One Owens: 2 of 4 passing for 20 yards; 11 carries for 107 yards and 1 touchdown
Ja'Meir Gamble: 16 carries for 97 yards and 1 touchdown
Mylen Lenix: 9 carries for 54 yards and 1 touchdown
Jacques Carter: 2 receptions for 20 yards' 1 carry for 50 yards and 1 touchdown
Mike Wright:  0.5 TFLs; 1 rushing touchdown
Chase Bond, Malachi Card, Deangelo Zimmerman: 1 quarterback sack each
Anderson Scouting Report
Anderson plays in the 10-team Eastern Cincinnati Conference.  The Raptors have a record of 13-1 with an 8-1 mark in conference play.  Their big win of the year came in Week 6 when they defeated Cincinnati Winton Woods (8-4), 20-13.  They have outscored their opponents by an average of 42-17.  Scores to-date:
South Oldham, KY (6-4): 44-14 W
Loveland (5-6): 48-14 W
Lebanon (7-4): 44-14 W
Milford (11-1): 35-56 L
Cincinnati Walnut Hills (0-10): 51-0 W
Cincinnati Winton Woods (8-4): 20-13 W
Little Miami (1-9): 46-20 W
West Clermont (4-7): 50-5 W
Cincinnati Turpin (3-8): 31-7 W
Kings (6-6): 41-21 W
Cincinnati Turpin (PO) (6-6): 43-7 W
Kings (PO) (6-6): 41-3 W
Harrison (PO) (9-4): 50-36 W
Cincinnati Withrow (PO) (12-2): 49-28 W
Tale of the Tape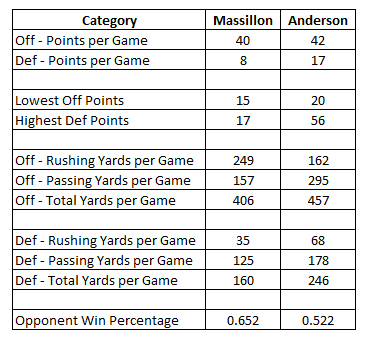 The single trait that stand out in regards to the Anderson offense is the high tempo.  They average just 14 seconds between plays.  And in one game this year they ran over a hundred plays.  They will utilize multiple formations, including empty, 10, 11 and 12, with some unbalanced line.  The line is smallish, averaging 6′-1″, 223 lbs..  It utilizes large splits in order to keep rushers as far away from the quarterback as possible.  While the run-pass ratio is around 50/50, they use the pass to generate the big plays, which involves many screens and crossing routes, with occasional deep throws.  So it stands to reason that the best players are the quarterback and wide receivers.
The best offensive players are as follows:
Junior quarterback Justice Burnam  6′-0″, 175).  Completed 312 of 436 (72%) passes for 3,921 yards and 40 TDs with 7 interceptions.  Rushed 179 times for 597 yards (3.3 ave.) and 7 TDs.  He is both a throwing and running threat and is good at scrambling while keeping his eyes downfield.  Has a good arm and accuracy.
Senior running back/ wide receiver Brodey Berg (6′-2″, 210).  Rushed 255 times for 1,510 yards (5.9 ave.) and 32 TDs; 63 receptions for 89 yards (14.3 ave.) and 10 TDs.  He has good speed and follows blocks well.
Junior wide receiver Trace Jallick (6′-2″, 185).  111 receptions for 1,161 yards (10.5 ave.) and 11 TDs.  Best receiver.  Miami, OH, offer.  Runs routes well.
Senior wide receiver MIke Smith (5′-10″, 180).  81 receptions for 923 yards (11.4) and 7 TDs.  Very shifty.
Junior tight end Caden Piening (6′-5″, 235).  29 receptions for 549 yards (18.9) and 5 TDs.  Kentucky offer.  Tag screen target.  Big frame.
Senior wide receiver TJ Nelson (6′-0″, 190).  Most dynamic player.  Bowling Green commit.  Has been injured, but may play.
Junior left tackle Cam Mathis (6′-2″, 230).  Best offensive lineman.  Physical player.
The defense aligns in an odd front with cover-2, although the corners appear to play a bit back from the receivers.  They have a couple of good defensive linemen and a couple of good defensive backs.  They do not pressure the quarterback much and will drop eight players into coverage at times.
The best defensive players are as follows:
Senior lineman Jack Sammarco (6′-5″, 240).  West Virginia commit.  Also plays wide receiver.
Junior lineman Alex Stanyard (6′-5″, 225).
Senior cornerback Joey Emerick (6′-0″, 180).  74.0 (52-44) tackle points.  1.0 sacks and 7.5 TFLs.
Junior middle linebacker Tommy Husker (5′-10″, 170).  53.5 (34-39) tackle points.  5.5 sacks and 12.0 TFLs.  Best blitzer.
Sophomore will linebacker Reid Baker (5′-11″, 170).  47.5 (25-45) tackle points.  4.0 sacks and 12.5 TFLs.
Junior sam linebacker Owen Bergman (6′-2″, 190).  45.0 (29-32) tackle points.  1.0 sacks and 4.5 TFLs.
Senior safety Patter McHugh (6′-2″, 195).  High motor.  Reads keys well.  Tackles well.  Best cover guy.
Safety TJ Nelson, if he plays.
The last time Massillon played a team having both an outstanding record and a high scoring average was in 2021.  Big Walnut came into the playoff game with a 12-0 record, having outscored their opponents by an average of 42-13.  They left on the wrong end of a 38-0 score, while facing a Massillon team that was all business that night.
Notes
Several players have been nominated by the coaches in Region 7 for participation in next summer's Ohio All-Star Game, including Zach LIebler, Adonis Marshall, Cody Fair, Malachi Card, Evan Sirgo, Sam Snodgrass, Kyler Wiggins and Da'One Owens.  Dan Studer also received a nomination for Assistant Coach of the Year.
The Booster Club is sponsoring a bus to the Anderson game.  A link for tickets is displayed on the front page of this website.
Sideliners and former Tiger players are invited to attend practice on Thanksgiving morning to support the team.  The practice will be held from 9:30 am to 10:45 am in the stadium.  Enter through the player gate.
Coach Moore announced "Black Wednesday" for November 29 from 10:30 am to 5:30 pm.  During that time discarded black Massillon game jerseys will go on sale at the Ticket Office, 50% off.
Go Tigers