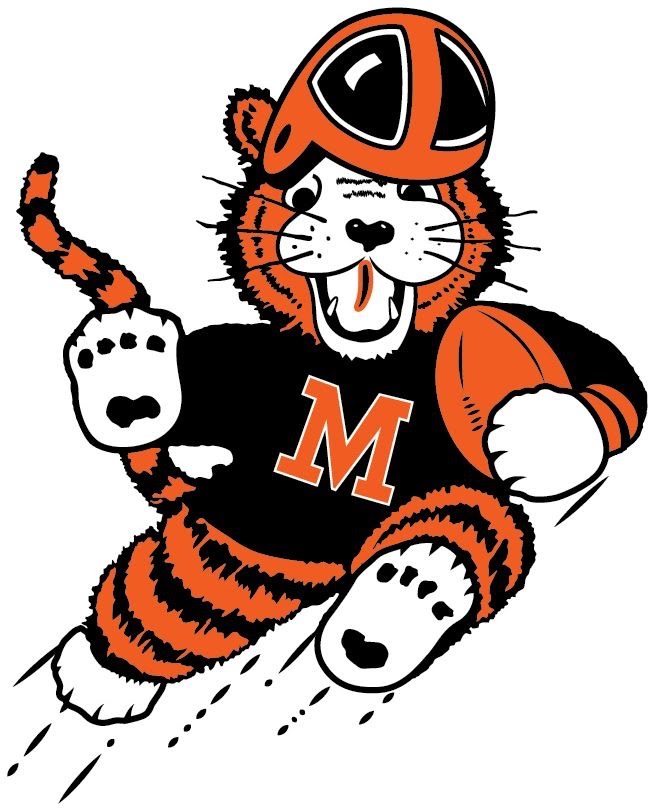 2023 Booster Club Report – Week PO3 – Post-Uniontown Lake Game; Preview of the Green Game
Massillon (13-0) defeated Uniontown Lake (9-4), 35-6.  This week the Tigers return to North Canton to face Green (10-3) for a Friday, 7:00 pm kickoff in the playoff regional finals.  The Tigers are No. 1 in Division 2, Region 7, while the Bulldogs come in at No. 3.  Massillon is behind the all-time series, 0-1, with the last game played in the 2021 playoffs when they fell to Green 26-25 in the regional finals.
Review of the Uniontown Lake game
It was win No. 945, which keeps Massillon in the No. 3 position nationally for all-time wins.
Missed opportunities by Massillon in the first half kept Lake in the game.  But in the second half, the Tigers took care of business behind a strong running attack, winning 35-6.  The trio of Da'One Owens, Ja'Meir Gamble and Mylen Lenix simply took  over the game, as they combined for 41 carries for 351 yards, at 8.6 yards per attempt.  The attack overwhelmed the Blue Streaks and they appeared to be gassed throughout the fourth quarter.  Meanwhile, the defense once again turned in a great performance, holding Lake to just 138 yards of total offense, including just 52 yards on the ground.  Federal League Player of the Year Nathan Baker, who was coming off back-to-back 200-yard games, produced just 46 yards in 10 attempts.
"I'm proud of our guys," said Massillon Head Coach Nate Moore.  "We played a great game against a very physical team.  Defensively, another great performance, especially in the second half."
The guest players were defensive back Zach Liebler and offensive lineman Sam Snodgrass. "We didn't come out as hot as we expected," said Liebler.  "But we played really well together.  It felt really great to get my first interception as a senior."  Liebler also said the team is taking Green seriously and doesn't plan to sleep on them.
"We started out really slow," said Snodgrass.  "But picked it up in the second quarter.  Then we dominated."
Statistics leaders:
Da'One Owens: 10 of 19 passing for 72 yards and 1 touchdown; 17 carries for 164 yards and 1 touchdown
Ja'Meir Gamble: 15 carries for 131 yards and 1 touchdown
Mylen Lenix: 9 carries for 56 yards and 1 touchdown
Braylyn Toles: 7 receptions for 55 yards and 1 touchdown
Malachi Cards: 5.0 (4-2) tackle points; 1.5 sacks; 2.5 TFLs
Mike Wright: 1.0 sacks; 1.5 TFLs; 1 rushing touchdown
Cody Fair: 0.5 sacks; 1.5 TFLs
Chase Bond: 1.0 sacks; 1.0 TFLs
Zach Liebler: pass interception
Tyler Hackenbracht: 37-yard kickoff return
(l-r) Ryan Page, Zach Liebler, Head Coach Nate Moore
Green Scouting Report
Green plays in the Federal League.  The Bulldogs are currently 10-3 with a 5-2 conference record.  Their big win of the year came in Week 10 when they defeated Uniontown Lake, 28-9.  Scores to-date:
Dover (6-5): 14-6 W
South Range (12-1): 21-7 W
Tallmadge (5-5): 41-14 W
Massillon Jackson (5-6): 13-20 L
Canton McKinley (9-4): 27-28 L
Canton GlenOak (7-5): 31-28
Louisville (1-9): 42-7 W
Massillon Perry (4-7): 14-20 L
North Canton (6-6): 41-34 W
Uniontown Lake (8-4): 28-0 W
Columbus St. Charles (5-6): 44-14 W
North Canton (6-6): 31-7 W
Canal Winchester (11-2): 10-0 W
"Green is an excellent team," said Moore.  "Very well coached.  Very physical.  Some good athletes.  Everybody playing now is really good.  And Green is no exception."
The Green offense is more diverse than two years ago, employing a lot of empty backfield, while also featuring the run game.  The will utlize both short and long passing attacks.
The strength of the offense lies with the wide receiver group.  Two players really stand out for Moore.  Senior Zachary Baglia (6′-1″, 180) is a 2-year returning starter and 1st Team Federal League selection.  As the top target he has caught 70 passes for 917 yards (13.1 ave.) .  He has a good release and good hand.  And he is also a good blocker.  Junior Antonio Martin (6′-0″, 185), the brother of former player Trey Martin, is also a 1st Team Fed selection.  A 2-year starter, he is the No. 2 target and is featured in the bubble screens.  He has seven receiving touchdowns and five rushing TDs, as he is used at times as a running back.
The quarterback is senior Camino Manson (6′-3″, 195), a returning starter  and 2nd Team All-Federal League selection.  He is an accurate passer when not under pressure.  Manson began the year as the starter, but broke his collar bone in Week 5 against Canton McKinley, in that game he completed 5 of 7 passes for 173 yards.  Healed up, he returned to the field in time for the first round of the playoffs.  In an earlier loss to Jackson he completed 36 of 55 passes for 308 yards.  Last week  against Canal Winchester he completed 20 of 28 passes for 320 yards and a touchdown.
When they use a running back it is senior Jorden Beyl (5′-10″, 170).  He is a downhill, vertical runner.  He has also rushed for over 100 yards in three of the past four games.  Against Lake he carried the ball 30 times for 125 yards.
The best lineman are Junior Michael Schaal (6′-1″, 235) and senior Jesse Miller (6′-2″, 260).  Both are All-Federal League honorees.  Schaal is a 2-year returning starter, with high a motor and good feet.  The interior of the line is smallish, weighing between 215 lbs. and 220 lbs.
In the win over Lake, Green led in total yards 313 to 89.  Lake's Nathan Baker was held to 60 yards on 14 carries.  In the win over Canal Winchester, Green led in total yards, 367 to 121.  However, the Bulldogs managed just 47 yards on the ground in 24 carries, as Winchester played all night in the Green backfield, sacking the quarterback five times.  Winchester struggled to move the ball on Green, rushing 30 times for 82 yards and completing just 5 of 16 passes.
On defense, Green uses an odd front and some even, with occasional bear.  With the odd front, it resembles an odd-stack.  The strength lies with the defensive line. starting with Michael Schaal, who also starts on the offensive line.  He leads the group with 14 sacks and 25 tackles-for-loss.  Two other players to keep an eye on are senior returning starter Nick Schaal (6′-2, 260) and senior returning starter Jesse Miller.  Miller also starts on the offensive line.
The next best group is the defensive backfield.  The best player of that group is Martin, who also starts at wide receiver.  The four linebackers havew average size, ranging from 165 lbs. to 205 lbs.  Two of the players go both ways. In fact, Green will employ six 2-way players.
Go Tigers