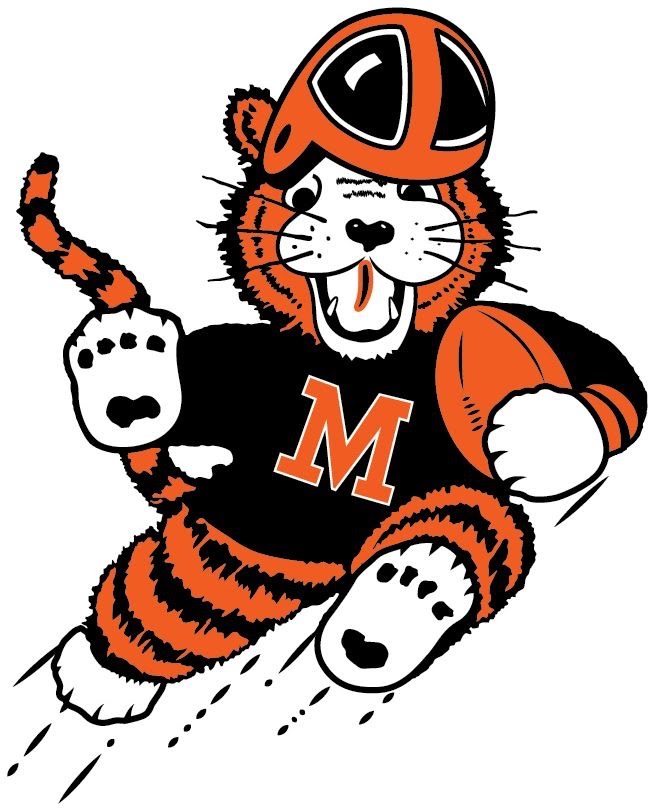 2023 Booster Club Report – Week PO2 – Post-Westerville South Game; Preview of the Uniontown Lake Game
Massillon (12-0) defeated Westerville South (7-4), 50-7.  This week the Tigers travel to North Canton to face Uniontown Lake (8-3) for a Friday, 7:00 pm kickoff in the third round of the playoffs.  The Tigers are No. 1 in Division 2, Region 7, while the Blue Streaks come in at No. 4.  Massillon leads the all-time series, 1-0, with the last game played in the 2022 playoffs when they defeated the Lake 24-6 in the "ice bowl."
Review of the Westerville South game
It was win No. 944, which keeps Massillon in the No. 3 position nationally for all-time wins.
It didn't take long for Massillon to put this game out of the reach of visiting Westerville South, winning 50-7.  With machine-like precision, the offense scored the first three times it touched the ball, on drives of 93, 59 and 49 yards, and led 42-0 at the half. A fourth TD that followed came via a fumble return, making the score 28-0 early in the second quarter.  Meanwhile, the defense was its usual self, this time holding the opponent to a mere 75 yards of total offense, with most of that coming in the second half against the backups.  The defense has now held nine of the last ten opponents to less than 100 yards rushing.  Only St. John's College surpassed that mark.  Quarterback Da'One Owens rushed for two touchdowns and passed for a third.  Ja'Meir Gamble rushed for 99 yards and scored once.  South tallied their lone touchdown against the backups.
"I'm proud of the way our guys played," said Massillon Head Coach Nate Moore at the Monday Booster Club meeting.  "The defense had a great day.  The offense did a great job; 42-0 at halftime.  And we were able to get some younger guys in during a playoff game."  Moore also noted that there were three freshmen on the kickoff team.
The guest player was defensive back Ryan Page.  "We had a pretty good game overall," he said.  "We locked in and locked it down."  Looking ahead to Lake, Page singled out running back Nate Baker as their primary threat.
The scout team players of the week were four freshmen: R.Celle Hill, Briar Mattox, Deontay Malone and Isaac Maxheimer.
Statistics leaders:
Ja'Meir Gamble: 13 carries for 99 yards and 1 touchdown
Da'One Owens: 3 of 6 passing for 90 yards and 1 touchdown; 3 carries for 46 yards and 2 touchdowns
Mylen Lenix: 10 carries for 56 yards
Emy Louis Jr and Ricardo Wells: 1 touchdown reception each
Shon Robinson: 3.5 (2-3) tackle points; 0.5 tackles-for-loss
Mike Wright Jr.: 1 sack; 2 TFLs
Deangelo Zimmerman: 2 TFLs
Uniontown Lake Scouting Report
Lake plays in the Federal League.  The Wildcats are currently 9-3 with a 5-2 conference record.  Their big win of the year came in Week 8 when they defeated North Canton Hoover, 21-7.  Scores to-date:
Alliance (6-5): 7-12 L
Boardman (1-9): 42-31 W
Brecksville (6-6): 17-14 o.t. W
Canton GlenOak (7-5): 10-7 W
Louisville (1-9): 49-0 W
Massillon Jackson (5-6): 19-7 W
Canton McKinley (9-3): 22-29 L
North Canton (6-6): 21-7 W
Massillon Perry (4-7): 37-14
Green (9-3): 0-28 L
Massillon Perry (4-7) (PO): 35-14
BigWalnut (6-6) (PO): 21-20 3 o.t. W
The Lake offense operates out of the spread, with mostly 10 and some 11 (tight end) alignments.  They also have a heavy package that they use in the red zone.  The best player is senior running back / wide receiver Nate Baker (5′-11″, 175), whom they try to get the ball to as much as possible.  An all-county player, he is a hard runner, can break tackles and follows his blocks well.  As a wide receiver, he is the quarterback's favorite target.  During the regular season, Baker rushed 211 times for 1,183 yards (5.6 ave.) and scored nine touchdowns.  He is also the leading scorer with 60 points.
The Blue Streaks play two quarterbacks.  Senior Cale Jarvis (5′-11″, 185) has an average arm, but is a threat to run.  During the regular season he completed 52 of 89 passes (58%) for 477 yards (9.2/compl.) and two touchdowns.  Junior Noah Jeb Kubasky (6′-3″, 215) is the better passer and at times will line up at wide receiver.  He completed 34 of 55 passes (62%) for 472 yards (13.9/compl.) and five TDs.  At times, both will be in the game.  Lake will play seven different receivers, including Baker and former Massillon Tiger senior Kam'ron Fouty-Koonce (6'0″, 165).
The offensive line has a couple of sizeable book-end tackles in junior Cohen Stuli (6′-5″, 290) and senior Anthony Miller (6′-0″, 290).  Stuli plays with good technique and is physical.  Miller is all-county.  He plays aggressively and physically.
The defense aligns in an even front with cover-3.  It presents like a 4-4.  The strength of this unit is the linebacker corps.  The best player is junior middle linebacker Charlie Christopher (6′-1″, 220), an all-county selection.  He is a physical, downhill player and reads keys well.  Through ten games he recorded 11.0 tackles-for-loss.  Will play running back in the heavy package.  Senior Evan Brady (5′-11″, 215) is also a physical, downhill player and tackles well.  At outside linebacker is senior Joseph Garro (6′-1″, 210), who has 14.0 TFLs.
The line is one of the smallest the Tigers have faced this year, averaging 6′-2″, 220 lbs.  The best of the group is senior Dane Jarvis (6′-2″, 220).  He has a quick come-off, is strong and is very active.  Also, keep an eye on junior Ryan Lippe (6′-4″, 220), an all-county player who leads the team with 19.0 TFLs through ten games.
Baker is the best defensive back.  He is very athletic and tackles well.
The punter is senior Celton Dutton (6′-1″, 190), who doubles as an outside linebacker.  He has a good average at 36.6 yards per kick.
Go Tigers
Shon Robinson!