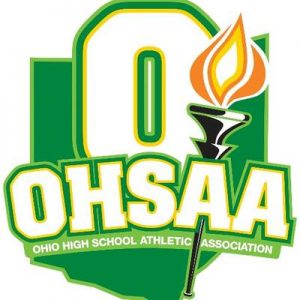 A Select Few Teams Continue to Dominant the Playoffs
In 2013 the OHSAA increased the number of playoff divisions from six to seven.  Then in 2018 they realigned the playoff divisions such that there are now 72 teams in Division 1 and 106 teams in Division 2.  This is the tenth year that the 7-division format has been in place and it's time to take a look at the impact.
All of the participating schools are supposed to have reasonable chances to qualify for the playoffs and achieve at least some success.  To aid that goal, the OHSAA over time has introduced several modifications that were designed to balance inherent discrepancies between schools.
First, The number of divisions was expanded from the original three in 1972 to the current level of seven to better distribute the schools based on differences in enrollment.  In addition, the size of Division 1 was reduced significantly to further increase the odds in Division 1, where the span of enrollments is much greater than in the other six.
Second, Open Enrollment was introduced to help public schools "even the playing field" with the parochial schools, although later modifications restricted the benefit to a degree (first-year transfer players in public schools are required to sit out the second half of the season).
Finally, Competitive Advantage was introduced.  This came after the member schools' proposal to separate the tournament into independent public and parochial venues was rejected by the OHSAA and it never made it to a vote by the member schools.  Competitive Advantage mostly accounts for the benefits in talent gained by parochial schools in securing players from large geographical areas.  The impact is that schools with large competitive advantage numbers are potentially moved into higher divisions to again "even the playing field."  But, as of now, zero Division 2 parochial schools have been moved into Division 1, while several from Division 3 were added to Division 2, thereby increasing the competitiveness of this division.  Meanwhile, no fixes were made to Division 1.  Divisions lower than D3 did, however, did receive benefit from this change.
Since the realignment only 21 teams out of these 178 in D1 and D2, a mere 12%, have been able to claim at least a regional championship and only nine (5%) have been crowned state champs.  Meanwhile, only three public schools, Pickerington Central, Loveland and Cincinnati Winton Woods, have won either a D1 or a D2 title in the last ten years.
Most of the Division 2 titles have been captured by Akron Hoban and Cincinnati LaSalle.  Hoban, which was moved into D2 on account of Competitive Advantage, has won five, two in Division 3 and three in Division 2.  Cincinnati LaSalle, always a member of D2, has four.  Cincinnati Winton Woods took the 2021 trophy, while Toledo Central, which is also in D2 on account of competitive advantage, has one from Division 3.  Below is a breakdown of the ten teams that dominate this division.  Note that all, with the exception of Perry, which was ousted last week by Massillon, are still alive this year.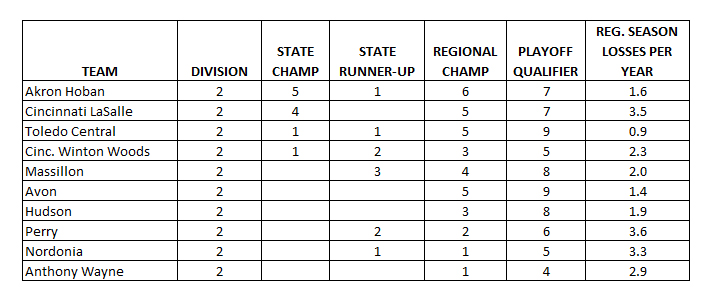 In Division 1, Lakewood St. Edward has four titles, Pickerington Central has two and one each belong to Cincinnati Moeller and Cleveland St. Ignatius.  Eleven teams are in this group and all are alive with the exception of Huber Heights Wayne and Cincinnati Colerain.  Below is their breakdown.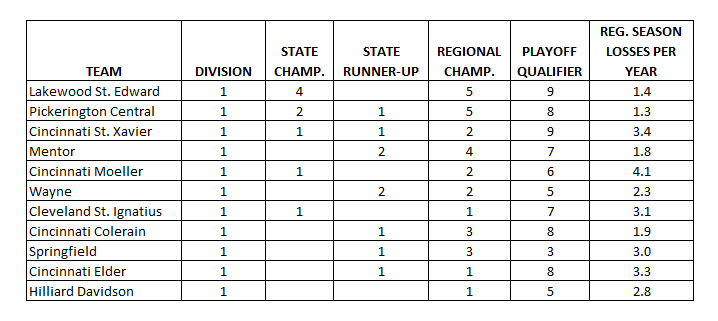 From the looks of this data, it appears that there is still some work lying ahead for the OHSAA.