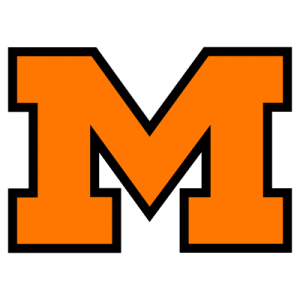 2022 Booster Club Report – Week 10 – Post-Canton McKinley
Massillon (8-1) defeated Canton McKinley (5-5), 23-13.  The Tigers will next play at home against Massillon Perry (4-6) in the first round of the playoffs, this Friday at 7:00 pm.
Canton McKinley
Massillon Head Coach Nate Moore wanted his team to start off quickly in last Saturday's contest, and that they did by scoring a touchdown in each of their first three possessions, while negating any semblance of a Bulldog offense.  After that, although they didn't score again save a for a safety, the Tigers did control the tempo and maintained at least a 2-score advantage the rest of the way.  It wasn't the blowout many fans were expecting, but rather a typical Massillon-McKinley affair, hard-hitting and low-scoring. But credit McKinley's run defense, which did put up a commendable effort.  But it was a satisfying win, nevertheless.  With the victory, Massillon now leads the overall series, 75-53-5.
Not since 1953, some 75 games ago, has Massillon scored three consecutive touchdowns on the Bulldogs to start the game.  And throughout the series' long history spanning 133 games, in only eight games did the Tigers score at least 21 points in the first half.  Such a remarkable achievement it was.
The scores came like this:
Possession No.1: 11-play, 77-yard drive.  The touchdown came off a perfectly thrown ball from Jalen Slaughter to Ardell Banks, who outran two defenders and caught the the 40-pass five yards into the end zone. Massillon was running "4 verticals" with Banks on the right edge.  The corner was beaten right away, so the safety, who had lined up over the slot, broke for Banks, creating the double-team.  But he couldn't catch him either.  What wasn't noticed, however, is that the slot receiver was wide open in the center of the field, streaking toward the end zone.  It would been a much easier throw to the slot receiver, but we'll take the touchdown as it was.
Possession No. 2: 12-play, 67-yard drive.  This one was set up by a 40-yard pass from Slaughter to Braylyn Toles that  advanced the ball to the McKinley ten. The play was "smash-Z-post", where the wide receiver crosses with the slot receiver about ten yards down field.  The quarterback then reads the action of the safety.  It worked perfectly and the McKinley safety bit on the wide receiver, leaving Toles wide open.  Yet, with the ball a bit overthrown, Toles jumped high and made a fantastic catch.  Massillon then drove to the end zone, with Willtrell Hartson finishing off the drive with a one yard blast, his first of two touchdowns.
Possession No. 3: 3-play, 38-yard drive.  The third score came following a 22-yard punt by McKinley, giving the Tigers great field position at the Bulldog 38.  This time Slaughter went right to work, tossing a perfectly thrown pass to Hartson, who was running a wheel route down the right sideline.  From the eight, Dorian Pringle gained four yards and then Hartson dove in from the four to complete the drive.
McKinley did manage to score two touchdowns on the only times they moved the ball any significant distance.  The first came with just five seconds remaining in the half when Keaton Rode connected with Alex Vazquez for a 40-yard TD.  Unfortunately, the lone Tiger in the vicinity was just a bit late to the tackle at the 20 yard line to prevent the score.  A second TD came in the last minutes of the game, a 5-yard pass from Rode to Keith Quincy.  In between, the Bulldogs struggled to generate any semblance of offense, with stellar sophomore running back Nino Hill gaining just 27 yards off of 10 carries.  McKinley also gifted the Tigers two points when the center snapped the ball over the punter's head for a safety.  One needs to wonder if it wasn't done on purpose as McKinley was sitting on their own five at the time and the score margin was 14, meaning that it would still be a 2-score game.  Punting had been an issue all day and a short punt may have led to a game-clinching score by the Tigers.
"It was all-time win No. 926," beamed Massillon Head Coach Nate Moore.  "We kept the bell home.  It was the seventh win in a row.  I'm really proud of that."  Moore was also ecstatic about his players' 3.55 grade point average following the first quarter.  Twelve to 15 players recorded a GPA of 4.0 or above.  Only 10 out of 71 players were below 3.0.  But now he has raised the bar.  The second quarter goal is 3.6.
It was also a wild time at Paul Brown Tiger Stadium on this warm, sunny day.  Tailgates started early in the morning and were in evidence throughout the parking lots.  The music blared.  The fans were rowdy.  And great excitement was in the air.  Then the stadium began to fill.  It was definitely a college-game atmosphere, something that has been missing over the past few years.  Hopefully it stays that way.  Otherwise, this great rivalry will be lost forever.  The attendance was 14,476.  "Our fans turned out," said Moore.  "I've never seen a stadium like that.  It was awesome to see.  So much energy coming from our fans."
"I'm proud of our guys," summed up Moore.  "It as a very physical game.  Both sides played hard.  We had a chance to put the game away earlier.  But a lot of good football was played.  We didn't bust a long run.  But we had a lot of 4-5 yard runs.  Both lines played good."
Three guest players were on hand:
Defensive lineman Marcus Moore: "We just needed to "ground and pound" to win the game.
Offensive lineman Mike Mercurio: "McKinley came in like a 5-0 team and played the way we expected.  We chipped away.  Kept chopping.  Felt they can't go all four quarters."
Cornerback Zach Liebler: "How disciplined our team came out.  Pups just couldn't handle us."
Stats leaders:
Quarterback Jalen Slaughter: 10 of 14 for 157 yards, 1 interception and 1 touchdown
Running back Willtrell Hartson: 35 carries for 131 yards and 2 touchdowns
Running back Dorian Pringle: 8 carries for 37 yards
Running back Mylen Lenix: 6 carries for 33 yards
Wide receiver Ardell Banks: 4 receptions for 63 yards and 1 touchdown
Wide receiver Braylyn Toles: 4 receptions for 53 yards
Safety Ryan Page: 6.5 tackle points (6-1)
Massillon Perry
The final computer rankings resulted in Massillon holding down the No. 1 spot in Division II, Region  7, meaning that they are matched against the No. 16 team in the first round.  With Perry's unexpected loss to Canton GlenOak and Columbus Northland upsetting Columbus Beechcroft, the Panthers dropped to the No. 16 spot.  At least this game will draw some fan interest and help negate that familiar post-McKinley game letdown.  The alternative would have been a game with Teays Valley, with the Tigers being a 52-point favorite.
This will be the 20th meeting of these backyard rivals, with Massillon owning the series edge, 17-2.  The last time they met was in the regional finals of the 2020 season, a year that the Tigers finished second in the state.  It was the year of Covid and, since many games were canceled, the OHSAA elected to have the various coaches vote for seeded positioning.  Massillon and Perry were clearly the two best teams in the region and nearly every coach voted as such.  But Perry's Keith Wakefield placed the Tigers 9th, assuring that his team would play the regional finals at home.  What he didn't  expect was that the voting would be made public a few days later, to his embarassment.  But it all backfired when Massillon came away with a convincing 43-13 victory, in what turned out to be Wakefield's last game at Perry.  It was a game that should have been held in Massillon.  And this Friday it will be.
In typical fashion, Perry continues to run the Wing-T offense, which sets up well for the Tiger front seven.  With the exception of Cincinnati Moeller and Lakewood St. Edward, this group has held every opposing starting running back under 50 yards.  They have also surrendered just 2.5 yards per carry for the season, the best mark by any Massillon team since the spread offense came into vogue in the late 1990s.
Perry comes into the game with a 4-6 record, having dropped five of their last six.  Preceding that drought, the Panthers did secure a big victory over Canton McKinley.  But aside from a 35-7 loss to Lake, they were in every game.  Their season:
Canton Central Catholic (6-4): 51-28 W
Clarkson Football North, ONT (3-4): 21-26 L
Euclid (1-9): 42-21 W
Canton McKinley (5-5): 38-28 W
Jackson (5-5): 31-32 L
Louisville (3-7): 40-14 W
North Canton (7-3): 14-24 L
Green (4-6): 35-38 L
Lake (9-1): 7-35 L
Canton GlenOak  (4-6): 21-28 L
The Perry offense uses the Wing-T, but has added some shotgun sets, with a few modern plays thrown in.  Moore believes that the offensive line does not have any outstanding players, but "the whole is better than the parts."  They play really hard and are physical.  The best lineman is senior Jayden Kelly (6-3, 255).  He is athletic and powerful and blocks well.  Eight different guys have regularly run the ball, none standing out per Moore.  But keep an eye on senior De'Andre Church (5-10, 190).  He was a difference maker against Central in the game this writer attended.  The quarterback is sophomore Austin Mattox (6-1, 165), a former Massillon Tiger.  He stands out more as a runner than a passer.  The wide receiver group is pretty good, but Perry doesn't do much with the passing game.  Nevertheless, the defense needs to play good assignment football or Perry will complete a first down pass here or there or break a long run.
Defensively, the Panthers are exclusively aligned in a 4-4 with cover-3.  They blitz very little.  The line does not have great size, averaging 6′-1″, 218 lbs.  The strength is the linebackers.  The best player is senior Brayden Fellouzis (6-0, 200).  He reads well and and is physical.  Overall, the front-8 is well-coached and will present a good challenge for the Tigers, who will most likely come out in a balanced attack to take advantage of mismatches in the secondary.
Miscellaneous
The win over McKinley was Moore's 79th as a Tiger Coach, who is in the midst of his eighth year at Massillon.  The mark ties that of Mike Currence (9 years) and is one short of Paul Brown (9-years).
Moore said that having an open date prior to the McKinley game was all positives and he would consider doing it again.  It's a long season and it gave his charges a week to rest and recharge before the 7-game stretch to come.
Throwing of candy at the beat McKinley parade is still an issue and may jeopardize the ability to hold future parades.  Participants should take note.
The Football Banquet will be held on December 15 at the Greek Orthodox Church.  Doors will open at 5:30 pm and dinner will be served at 6:00 pm.