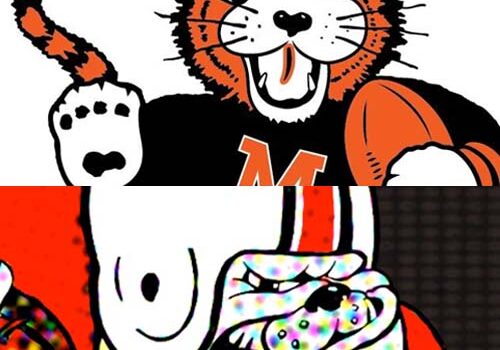 Josh Weir, The Repository
'This game means everything': Massillon football dominates start, cruises to win vs. McKinley

MASSILLON — Saturday's sunny, 70-degree weather was perfect for the 133rd meeting of the Massillon and Canton McKinley high school football teams.
Perfect also could describe the first 15 minutes of the game for the Tigers.
Massillon jumped all over McKinley early and cruised from there for a 23-13 win in front of 14,474 fans at Paul Brown Tiger Stadium.
By the 9:03 mark of the second quarter, the Tigers led 21-0, had run 26 plays to McKinley's six and were well on their way to a seventh straight win in the rivalry.
"We went out and executed and kind of got them on their heels a little bit," Massillon head coach Nate Moore said. "I wish we would've kept the pedal to the metal. We didn't offensively. Defensively, that was a pretty awesome performance from start to finish."
Massillon now leads the all-time series 75-53-5. McKinley hasn't won in Massillon since Ron Johnson's Bulldogs were victorious 40-17 in 2010.
"This game means everything to our program," said Moore, now 79-21 in 100 games as Massillon's coach and just one behind Paul Brown (80-8) on the Tigers all-time wins list. "Everything we do, everything we prepare for is for this moment right here. I'm so proud of our staff and our kids and everybody associated with the Massillon Tigers."
Both Massillon (8-1) and McKinley (5-5) move on to the playoffs next week, and both are quite familiar with their first-round opponents. According to JoeEitel.com, the Tigers are No. 1 in Division II, Region 7 and will host No. 16 Perry (4-6) in the first round. McKinley is No. 6 in Division I, Region 1 and will host No. 11 GlenOak (4-6), which just lost 40-7 at home last week to the Bulldogs.
Official pairings will be announced Sunday.
McKinley's problems started right away Saturday when senior wide receiver Cynceir McNeal injured his ankle covering the opening kickoff and did not return. The 6-foot-4 McNeal is McKinley's biggest weapon in the passing game and his absence certainly contributed to the nightmare start.
So did a Massillon offense that pounded at McKinley with its Willtrell Hartson-led running game.
"It was terrible," McKinley head coach Antonio Hall said. "We couldn't get going on the ground. We were missing reads in the pass game. Receivers and quarterbacks weren't on the same page. Defensively, we were blowing coverages. Our eyes were bad. It was a bad start."
The Tigers limited McKinley to 199 yards of offense, including only 26 on the ground, and put heavy pressure on Bulldogs quarterback Keaton Rode.
Meanwhile, Massillon's ground game was productive as usual, often using six linemen and 6-foot-6, 230-pound tight end Nolan Davenport. The Tigers ran it 53 times, led by Hartson's 131 yards and two touchdowns on 35 carries. The senior Hartson, who has eclipsed 100 yards rushing in each of Massillon's nine games, also caught a 30-yard pass to set up a touchdown.
Junior Dorian Pringle and sophomore Mylen Lenix added a combined 70 yards on 14 carries for Massillon, with Pringle doing some short-yardage damage and running in a two-point conversion. The 5-11, 220-pound Pringle also made a huge impact at middle linebacker for the Tigers, who have won eight straight games since a season-opening loss to Cincinnati Moeller.
Massillon ran the ball nine of its first 10 plays Saturday. The 11th play was a perfect 40-yard touchdown strike from sophomore Jalen Slaughter to senior Ardell Banks for a 6-0 lead.
Slaughter mixed in some good throws to complement the Tigers' ground attack and finished 10-of-14 for 157 yards, the TD to Banks and an interception by McKinley's DJ Lewis on a deep ball.
"He played a nice game," Moore said about his lefty QB. "Distributed the ball well and took some shots. I'm really proud of him."
Banks finished with 63 yards on four grabs. Braylyn Toles added 53 yards on four receptions.
McKinley found a little life late in the first half. Rode hit junior Alex Vazquez up the seam for a 40-yard touchdown with five seconds left. McKinley trailed 21-7 and was getting the second-half kickoff.
But McKinley's first possession of the second half stalled at Massillon's 43, with the Tigers' Marcus Moore delivering a hit to Rode as he threw on third down.
With no McNeal and sophomore running back Nino Hill limited to 28 yards on 10 carries, the Federal League-champion Bulldogs looked nothing like the team that averaged 41.8 points during its five-game winning streak.
"We just couldn't get a rhythm," Hall said. "It was a bust here, a bust there. We just couldn't get it going.
"…. We knew they were going to blitz us because they've been blitzing everyone all year. We prepared for it. They just played a helluva game."
Rode threw a 5-yard touchdown pass to sophomore Keith Quincy with 2:41 left and finished 11-of-25 for 173 yards, two TDs and no interceptions.
Adding to McKinley's headaches, Kaden Billman, who handles the punting and (at times) kickoff duties, was found to have COVID on Friday and wasn't available Saturday. So McKinley had to turn to Quincy to punt for the first time this season and brought up freshman Tommy Mankowski to handle kickoffs.
Massillon's only points of the second half came when a McKinley punt snap sailed high over Quincy's head and out of the end zone for a safety late in the third quarter.
The second half was disjointed for both teams. Then things turned ugly late as the jawing turned up a notch.
McKinley senior linebacker Bryan Foster and Massillon junior defensive back Adonis Vaughan were ejected for a scuffle after a McKinley onside kick. Both will have to sit the first half of next week's playoff openers.
"It's tough," Moore said. "You understand the emotions of a rivalry game. But you want to win with class. And we want to make sure we do our part in that."
Added Hall, "In this rivalry, that's going to happen, especially at the end and things aren't going certain guys' ways. But we don't teach that, we don't coach that nor do we tolerate that in this program."