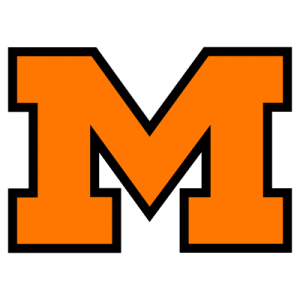 2022 Booster Club Report – Week 2 – Post-GlenOak
Massillon (1-1) evened its slate with a 35-7 victory over Canton GlenOak and now leads the overall series 14-4.  It was also a clean sweep at every level of the program.  Next up is a road game against Mansfield Senior, with the kickoff slated for 7:00 pm at Arlin Field.
7th Grade (1-1): Defeated Canton GlenOak, 30-22.  Plays Akron Armor (club team) at home (MJHS) on Tuesday, August 30, at 6:00 pm.
8th Grade (2-0): Defeated Canton GlenOak, 38-0.  Plays Mansfield at home (MJHS) on Wednesday, August 31 a6 6:00 pm.
9th Grade (1-1): Defeated Canton GlenOak, 38-0.  Plays Mansfield Junior Varsity at home (PBTS) on Saturday, September 3 at 10:00 am.
Junior Varsity (2-0): Defeated Canton GlenOak, 48-2.  Plays at Canton McKinley on Monday, September 5 at 1:00 pm.
The Tigers made good strides in all facets of the game in handling GlenOak.  Defensively, they kept the Eagles at bay nearly the entire game, surrendering a long touchdown pass with seconds left against the backups.  Along the way, they registered 15 tackles-for-loss, which ties an all-time team record.  On offense, the running game was simply pounding, with a few strategic pass completions thrown in for good measure.  Willtrell Hartson rushed for over a 100 yards for the second consecutive game and tallied three touchdowns.
"We had a nice week with a victory over GlenOak," said Massillon Head Coach Nate Moore at the weekly Booster Club meeting.
The guest players were Christian Kring, D'Aire Pringle, Cody Fair and Sam Snodgrass.  They collectively agreed that the Tigers played fairly good in the first half, but really stepped it up in the second.  They were mostly concerned about the speed in the GlenOak backfield (the Burt brothers) with their draw and boot plays.  But managed to control the game throughout.  And winning 35-7 with three turnovers was satisfying.
Moore was also concerned with the potency of the Eagle offense.  "I was worried going into the game," he said.  "I was surprised that we bottled them up like we did.  The Burt kids are really fast.  Our whole front seven had a lot of great clips.  They brought the pressure on defense."
The coach said that the first half was kind of a struggle at times, alluding to GlenOak being better than the final score indicated.  But in the second half the Tigers dominated play.  What helped on defense was a change in alignment.  It was apparent that the Eagles were having difficulty throwing the ball, so Massillon changed the secondary from a 4-high to a 3-high, meaning that one of the free safeties was now playing closer to the line of scrimmage.  That freed up one of the outside linebackers to blitz on every down.  That appeared to rattle the GlenOak offensive line, as evident by the defensive linemen constantly breaking through to tackle the ball carrier in the backfield and harass the quarterback.  Thus, the fifteen tackles-for-loss.
The offense was fairly consistent with their running attack, utilizing both inside and outside zone blocking schemes and the traditional power game with the pulling guard.  And Hartson was, well, Hartson, aided by an offensive line that was simply overpowering.
Moore beamed that the kickoff return team continues to be a strength.  Right from the start Zach Liebler returned the opening kickoff to midfield, setting up the Tigers' first score.  The kickoff cover team also did well, forcing the Eagles to start from their own 17 yard line on average.  In addition, Nolan Hendricks pooched his initial kickoff to the GlenOak 30 yard line, where it was recovered by the Tigers.
Stats leaders:
Quarterback Jalen Slaughter: 5 of 13 for 102 yards, 1 interception and 0 touchdowns
Running back Willtrell Hartson: 23 carries for 158 yards (6.9), 3 touchdowns
Freddie Lenix Jr.: 9 carries for 49 yards (5.4)
Braylyn Toles: 4 receptions for 103 yards, 1 touchdown
Dorian Pringle: 6.5 tackle points
Cody Fair: 5.5 tackle points
Jaden Welch: 4.0 tackle points
This week marks the 53rd meeting between Massillon and Mansfield in a series that began in 1908.  The Tygers run a multiple offense similar to that of the Tigers.  They have great skill at wide receiver, but field one of the largest lines that Massillon will see this year, averaging 6′-3′, 293 lbs.  The best player on the line is junior Ahmaan Thomas (6′-4″, 290 lbs.).  He has good feet and power and does well with pass protection.  The running back position features junior Zylon Brown (5'9″, 190 lbs.).  Similar in size to Hartson, he has good speed and vision, but is not as powerful. The top receiver is junior Amarr Davis (6′-0″, 175 lbs.).  He is a big threat with great speed and athleticism.  The quarterback, Duke Reese (6′-4″, 205 lbs.), has very good size and flashes at times.  But he also has a big arm and can scramble.
The defense uses a 3-4 alignment, also similar to Massillon.  According to Moore, the entire defense plays hard and runs to the ball.  The defensive line does not have great size, averaging 6′-1″, 228 lbs.  The best lineman is senior Ricky Mills.  He is strong and quick and makes a lot of tackles.  Also, keep an eye on linebacker Mekhi Bradley ('6-0″, 240 lbs.), who has an offer from Kent State.  The corners will use a lot of press coverage.  Best among these is senior Keontez Bradley (6'-3″, 195), who has an offer from the University of Kentucky.
But it should be noted that, like Massillon, Mansfield is a very young team in that they start just three seniors on offense and four on defense.  Meanwhile, the Tigers start four seniors on offense and three on defense.  So most of these players will get two cracks at each other.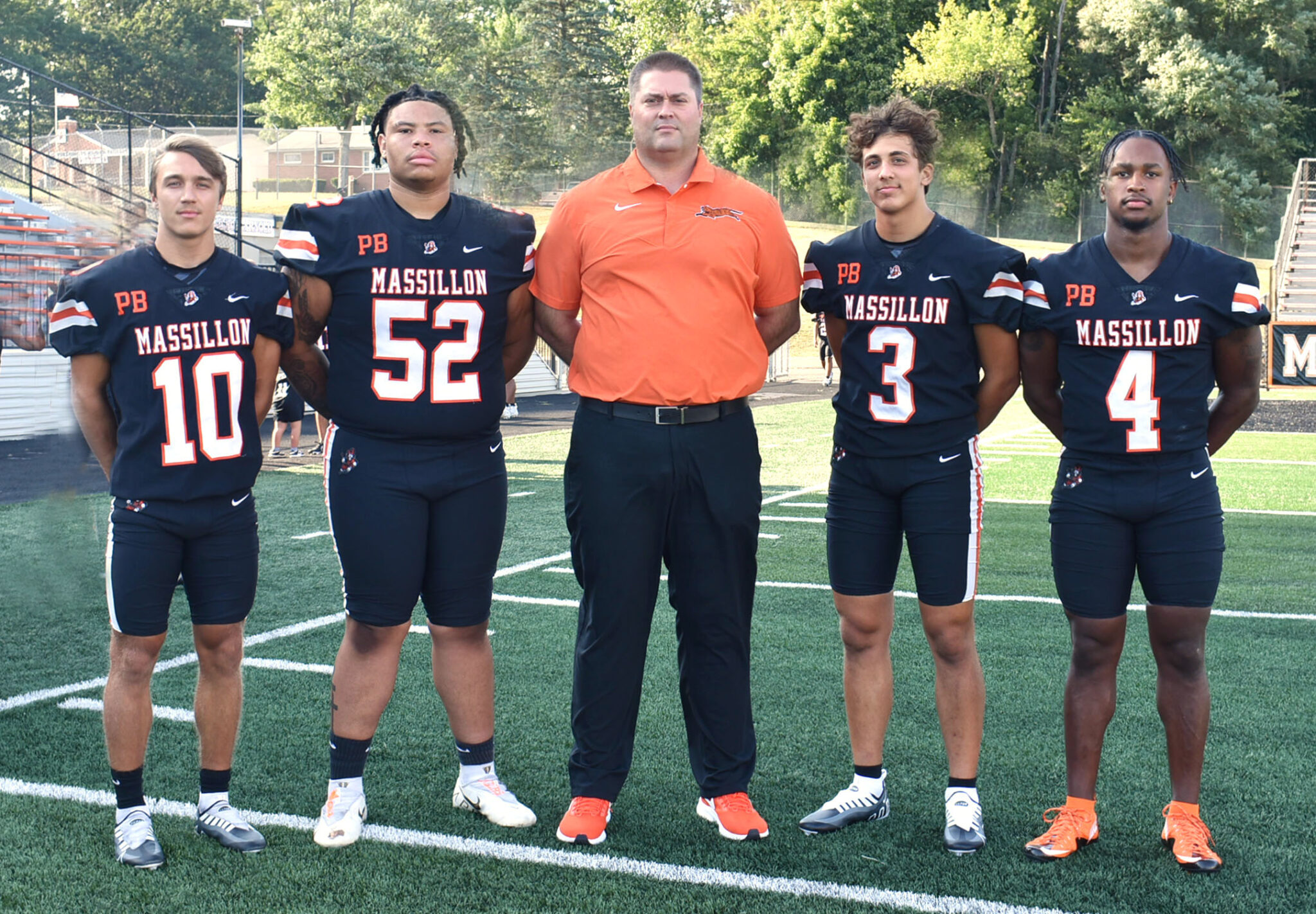 2022 Co-Captains Angelo Salvino, Marcus Moore, Zach Liebler and Willtrell Hartson with Head Coach Nate Moore.