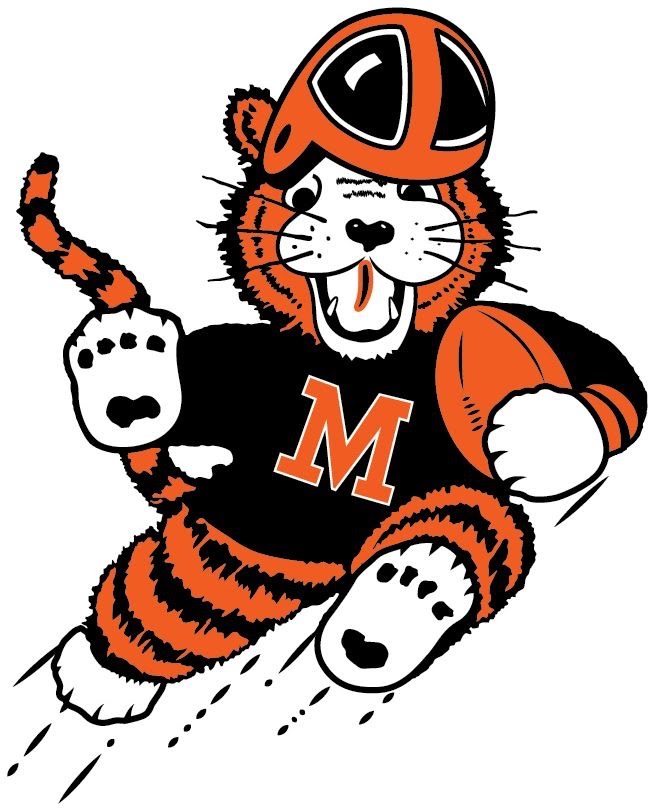 The Massillon Wall of Champions will welcome Andy Alleman as a new addition to its honored roll of former athletics.  He will be officially inducted during the Massillon football game against Cincinnati Moeller.   In addition, five new members will be added to the Massillon Football Hall of Fame, including Duane "Dewey" Knight, Jim Russell, Fred "Pokey" Blunt, Bobby Huth and Willie Spencer, Jr.  All will have commemorative plaques mounted in the sports hall at the high school.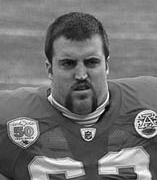 Andy Alleman – Alleman played just one year for Massillon, but he must have made quite an early impression, for he was named a team captain before the season even began.  And he didn't disappoint on the field, especially from his middle linebacker position, where he was a dominating force, wreaking havoc against opposing quarterbacks.  He also played a little offense, lining up at blocking fullback.
In 2001 the Tigers finished 12-2, with both losses coming to eventual Division 1 state champion Cleveland St. Ignatius: one in the regular season and the other in the state semifinals.  Led by the 6'-4", 234 lb. Alleman and his ferocious linebacker play, the Tiger defense held opponents to an average of just 3.2 yards per carry, which is Massillon's 3rd best all-time against spread offenses.  That translated into a mere 114 yards rushing allowed per game, which is 4th best.  For his play, Alleman was named 2001 WHBC Stark County Player of the Year
After high school, Andy received a scholarship offer from the University of Pittsburgh and played on the defensive line from 2002-2004.  But in 2005 he transferred to the University of Akron, where he completed his final two years of eligibility, as a full-time starter, only this time on the offensive line.  He must have found this position to his liking, for in his second year he was named both Most Valuable Offensive Lineman and Weight Lifter of the Year.  In addition, he was part of the 2005 Zips team that captured the Mid-American Conference East championship and played for the MAC title.  Post-Akron, Andy was invited to participate in both the Hula Bowl and the East-West Shrine Game, and he was also invited to the NFL Combine.  Recently, he was inducted into the University of Akron Hall of Fame.

In 2007, the New Orleans Saints drafted Alleman in the 3rd round as the No. 88 pick overall as an offensive guard.  As such, he became the 4th highest U. Akron grad to be drafted in their long history.  But, as with many NFL players, he was a journeyman and, throughout his 3-year pro career also played for the Miami Dolphins, the Kansas City Chiefs and the Indianapolis Colts.  In all, he saw action in 24 games (15 for Miami and 9 for Kansas City) and started in seven.
After football Alleman returned to U. Akron to complete his bachelor's degree in Business and Organizational Communication and currently works in sales.
In 2016 Alleman was inducted into the Massillon Tiger Football Hall of Fame.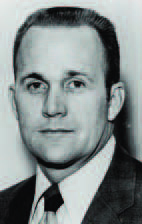 Duane "Dewey" Knight – Knight made his mark in Massillon as a Booster Club President and beyond, playing instrumental roles in bringing several major projects to fruition.  In 1966 and 1967 he held the position of Booster Club Vice President and then served as President in 1968.  But he remained active throughout his time with the club and spearheaded the following projects:
1966-1999 – Tiger Game Program Chairman
1974 – Purchase of the first Tiger calliope and truck
1989 – Co-Chairman of the Omni sand turf project, the Tigers' first artificial playing surface
2002 – Solicitation of funding for the Eagles Athletic Complex
2003 – Purchase and construction of the north parking lot
Long-time Sideliner

Jim Russell – Russell played football in an age when everyone went both ways.  One needed to be tough as nails, have incredible endurance and just be a good football player.  And Russell, as both an offensive and defensive lineman, checked all of the boxes during his 3-year career for the Tigers.  But, he also was able to share in the celebratory success Massillon achieved at that time.
Under Head Coach Paul Brown, Russell started during all three of his years.  In 1938 the Tigers finished 10-0 and were named state champions.  They held onto that crown the following year with another 10-0 mark, but this time also garnered national championship honors.  Success continued throughout 1940 with another perfect mark, which included nine shutouts.  Only McKinley was able to score a single touchdown.  Of course, the Tigers were again both state and national champs.
For his play, Russell was named 2nd Team All Stark County guard in 1938, 1st Team All Stark County guard in 1939 and both 1st Team All Stark County guard and 1st Team A.P. All-Ohio guard in 1940.
Fred "Pokey" Blunt – Blunt was one of the most prolific running backs in Massillon history.  As a 3-year starter he scored 34 rushing touchdowns, which ranks 5th all-time in the Massillon records book.  He was also part of three state championships and one national crown.
In 1939, his sophomore year under Coach Paul Brown, Blunt scored twelve touchdowns and accounted for 74 of his team's 460 offensive points.  Included in that was a 3-touchdown effort against Canton Lehman.
The following year he tallied nine rushing TDs, including a 3-score night against Cathedral Latin, which finished the season as the best team in Cleveland with a 9-1 record.  For his effort he was named Repository All-Stark County running back and 1st Team A.P. All-Ohio running back.
Blunt wrapped up his Massillon career in 1941 as a team captain under new head coach Bud Houghton.  For the year, he scored twelve rushing touchdowns and added a receiving TD against Canton McKinley, compiling a team-leading 84 points in total.  Three TDs were recorded against Alliance.  He also repeated as both Repository All-Stark County running back and 1st Team A.P. All-Ohio running back.

Bobby Huth – Huth was small in stature at 5'-9", 160 lbs., but big in heart as a Massillon Tiger, leading his team for two years at the quarterback position.  And at the end of his career, Bobby had his name all over the Massillon record book.
After a modest beginning as a sophomore, Huth became the starter in 2005, completing 141 of 223 passes for 2,017 yards (9th all-time) and 18 touchdowns.  His 63.2% completion mark ranks 3rd.  Huth was a part of many significant victories that year, including the following:
A 34-31 win over Elder at Cincinnati's Paul Brown Stadium
A first-ever win over Cleveland St. Ignatius, by the score of 29-26.
A 21-3 playoff victory over Canton McKinley in which he completed 9 of 11 passes and tossed a touchdown pass.
A 21-17 win over Cleveland St. Edward in the Division 1 state semifinals.  In that one he passed for 230 yards and two TDs and led his team to victory after falling behind by ten points.  He also completed an inconceivable 3rd and 30 for a first down during the winning drive.
An appearance in the Division 1 state finals, where the Tigers were edged by Cincinnati St. Xavier, 24-17.
The following season, as a team captain, Huth completed 151 (8th all-time) of 260 passes for 1,955 yards and 21 touchdowns, with a completion mark of 58.1%.  In a playoff game against Perry he passed for 260 yards and three scores.  For his effort that year he was named 2nd Team A.P. Division 1 All-Ohio quarterback.
For his career Huth completed 297 passes for 4,077 yards, both 4th all-time bests.  His completion mark of 60.0% is 2nd all-time.

Willie Spencer, Jr. – Spencer was one of the most athletic quarterbacks in Massillon history.  Then again, he was playing on the heels of his father, Willie Sr., who was a sensational high school All-American running back for the Tigers in 1971.
In 1993 during his junior year Spencer became a varsity starter at defensive back and was part of a team that compiled a 10-2 record, while losing in the playoff regionals.  With an uncanny ability quickly break for the ball, he had six pass interceptions, three of which were returned for touchdowns, including 87 yards against Grove City, PA, 54 yards against Austintown Fitch and 36 yards against Akron St. Vincent.  He also recovered two fumbles, returning one for a score.  In addition, he was the backup quarterback, where he scored one rushing touchdown.
Spencer became the full-time signal caller during his senior year, where he completed 58 of 124 passes for 941 yards and five touchdowns.  He also rushed 129 times for 775 yards and 18 touchdowns, scoring 108 points.  His rushing yardage total leads all Massillon quarterbacks in that category.  Memorable games include:
148 rushing yards against Mansfield
122 rushing yards against Fitch.  His 89-yard jaunt in the fourth quarter tied the game at 7-7, after which Nick Pribich kicked the game-winning field goal.
Led Massillon to a 42-41 overtime win over Canton McKinley in the 100th rivalry game.
Completed 7 of 11 passes for 130 yards and two touchdowns, and rushed for 66 yards and two touchdowns, in a 35-28 playoff victory over Fremont Ross, a team that led by future Heisman Trophy winner Charles Woodson.
For his performance he was named Repository 1st Team All-County quarterback, WHBC Stark County MVP, Northeast Inland District Player of the Year and 1st Team A.P. Division 1 All-Ohio quarterback.
Spencer was recruited by the University Akron as a quarterback and played sparingly in 1996-1997.  In 1999 he enrolled in Tiffin University and moved to wide receiver, where he excelled.  During that season, he caught 66 pass (3rd all-time) for 1,818 yards (3rd all-time) and 15 touchdowns (2nd all-time).  Against Urbana, he caught four touchdown passes (1st all-time) and rushed for a fifth score, tallying 30 points for the game (1st all-time).