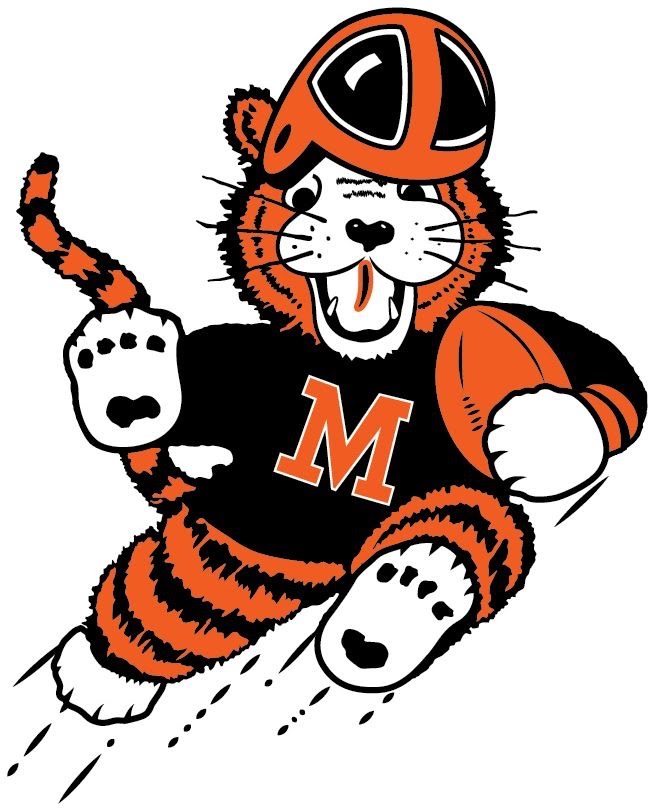 In regional semifinal playoff action No. 4 Massillon defeated No. 1 Big Walnut (12-1), 38-0, to improve their record to 11-2.  All-time win No. 920.  Next up is a playoff regional final matchup against No. 7 Green (10-3) on Friday at 7:00 pm.  The game will be held at Mansfield's Arlin Field Stadium.
The Tigers' two losses this year were to Week 1 opponent Pickerington Central and Week 6 opponent Lakewood St. Edward, both of which are still alive in the playoffs.  And both are considered contenders to win the Division 1 state title.  This week Central plays undefeated Upper Arlington and St. Eds faces undefeated Medina.
Massillon is currently riding an 8-game winning streak, during which they have outscored their opponents by an average margin of 44-13.  They have also running-clocked each of their three playoff opponents.
The regional championship is on the line this Friday and the Tigers will have a chance to win their their 15th regional title, fifth in a row.  Currently, Cincinnati Moeller and Cleveland St. Ignatius own the most regional championships among large Ohio schools with 16 and 15, respectively.
Big Walnut
This game took a bit of feeling out before Massillon got untracked and eventually took control.  In the first quarter it was all Golden Eagles as they literally threw the kitchen sink at the Tigers with their play calling.  Twice they twice advanced into the red zone and a third time to midfield, only to lose the ball once on downs and twice on fumbles.  It was apparent to the coaches early on that the Golden Eagles had put some wrinkles into both their offense and defense that were not shown on the scouting films.  Credit the Tiger coaches for making the right adjustments on the fly that got the Tigers headed in the right direction.
After a 3-and-out on Massillon's first possession, they went on to score six times in their next seven possessions, while turning the game it into a running clock situation (30+ margin) midway through the third quarter.  By the end of the game, the Tigers had rolled up 402 yards of offense, nearly evenly split between the run and the pass and averaged 7.9 yards per play.  Meanwhile, the defense totally shut down the Big Walnut offense after their quick start, surrendering less than fifty yards through the second and third quarters and nearly all of the fourth.  Nate Sellers, the Eagles 2,000+ yard rusher, was held to just 100 yards (4.8 yds/att).  For the game, the Eagles averaged 4.3 yards per play.
"The kids came out and played really well," said Massillon head coach Nate Moore.  "The guys made plays.  We played a 12-0 team that had dominated a lot of opponents and we gave them a taste of their own medicine.  But I didn't expect to shut them out."
Guest players were inside linebacker Nathan Depuy and outside linebacker/running back Cam Beasley.  Their comments are summarized below:
They were a good team.  Not the best we've played.
The Golden Eagles were shifting their tight end and wingback and often a wide receiver from side to side to gain blocking advantages.  Massillon's players responded accordingly, but not always in the best way.  In the second half, the Tiger defenders just stayed put and that was much more effective in shutting down the Eagle ground game.  We made adjustments and really started hitting them.  After the adjustments we really shut them down.
We treat every team like they're a super team and smacked them around.  They never got hit that hard in their life.  Several Big Walnut players said after the game that Massillon hit harder than they thought they would.  The Tigers returned the same compliment.
We figured out to stop running back Nate Severs.
Big Walnut couldn't keep up with our fast tempo and got gassed.
Stats:
Freddie Lenix Jr. – 23 carries for 140 yards and a touchdown
Darrius McElroy – 8 carries for 66 yards and 2 touchdowns; 5 of 6 passing for 78 yards; 2 punts averaging 39.0 yards
Jalen Slaughter – 7 of 12 passing for 126 yards and 2 touchdowns
Ardell Banks – 5 catches for 92 yards, including a 64-yard TD
Kurtis Miller – 3 catches for 20 yards and a touchdown
Austin Brawley – 2 catches for 58 yard; 8.0 (7-2) tackle points
Nate Depuy – 7.5 (7-1) tackle points; 1 tackle for loss; caused fumble
Maverick Clark – 5.0 (4-2) tackle points; 2 tackles for loss; fumble recovery
Mike Wright Jr. – 0.5 tackles for loss; fumble recovery
Shane Rue – 20-yard field goal
Green
This is the first ever meeting between Massillon and Green.  The Bulldogs are a member of the 7-team Federal League, having joined the group in 2015.  Previously they were a member of the Suburban League.  From 2015 through 2020, Green compiled a league mark of 5-28.  This year they are 4-3 in league play, including a 14-10 playoff victory over North Canton, avenging a previous 17-7 defeat.
Green will enter the game against Massillon with a 10-3 record, averaging 28 points a game and giving up 15.  In the 34-14 loss to McKinley they gained 113 yards on the ground (4.0 yds./att.) and completed 18 of 29 passes for 108 yards (6.0 yds/compl).  On defense they gave up 189 yards on the ground (5.4 yds/att.) and 8 of 15 passes for 121 yards (15.1 yds/compl).
Their season to date:
Akron Ellet (3-7) – 48-6 W
North Olmsted (6-5) – 43-14 W
Garfield Heights (3-7) – 33-0 W
Massillon Jackson (9-3) – 20-21 L
Canton McKinley (8-5) – 14-34 L
Canton GlenOak (3-7) – 16-14 W
Louisville (2-9) – 49-24 W
Massillon Perry (2-8) – 28-0 W
North Canton (9-3) – 7-17 L
Uniontown Lake (5-5) – 24-14 W
Marion Harding (7-4) – 53-21 W
North Canton (9-3) – 14-10 W
Wooster (7-6) – 21-14
The Green offense will line up in an empty backfield set (5 wide receivers) 98% of the time and throw the ball on most downs.  But they will also run some quarterback keepers and jet sweeps, and occasionally power reads.  Against McKinley they ran the ball 60% of the time, which is a level that Moore said they normally scheme for.  Defensively, the Bulldogs utilize a 4-3 with man-to-man coverage in the secondary; cover-1 against three wide receivers.  The defensive line is strength of the team on this side of the ball.  The linebackers are pretty good as a group but do not have a lot of size.  Seven players start on both sides of the ball, which may be a factor in the second half.
Green is not stacked from top to bottom as Massillon is with great athletes, they do have a few of these.  Here are the players to keep an eye on:
Quarterback Trevor Van Horn, a 6′-3″, 205 lb. senior.  The offense revolves around the arm of Van Horn.  This year he has completed 271 of 430 passes (63%), for 3,000 yards (11.1 yds/catch) and 24 touchdowns, along with 8 interceptions.   Most of the passes involve quick releases off the snap.  Van Horn has also run 172 times for 716 yards (4.2 yds/att)  and scored 14 TDs.  He's not considered to be a fast runner, but effective nonetheless.  Coach Moore considers him their best player on offense.  Look for Van Horn to either run or throw around 80% of the time.
Offensive tackle/defensive tackle CJ Dawson, a 6′-4″, 300 lb. senior.  He is their best offensive lineman.  A good player, very talented, powerful with good hands.
Tight end/defensive tackle Jacob Reed, a 6′-3″, 220 lb. senior.  Reed is a good blocker in the run game.  Powerful on defense, gets off blocks, hard to move.  One of the of the better defensive tackles the Tigers have seen this year.
Wide receiver/defensive back Trey Martin, a 6′-2″, 190 lb. senior.  Martin is the player everyone is talking about.  He has caught 66 passes for 1,134 yards (17.2 yds/catch) and 16 touchdowns.  Improvises well when the quarterback is scrambling.
Wide receiver/middle linebacker Jack Schaal, a 6′-1″, 185 lb. senior.  Schaal is the No. 1 target for Van Horn.  He has caught 57 passes for 606 yards (10.6 yds/att) and 17 touchdowns.  On defense, he is their leading tackler and has 12.5 tackles for loss.
Tigers to Date
Quarterback Jalen Slaughter – 84 of 141 passing (60%) for 1,343 yards and 16 touchdowns, with 7 interceptions.
Quarterback Darrius McElroy – 45 of 78 passing (58%) for 443 yards and 2 touchdowns.  No interceptions.  Has completed 20 of his last 24 pass attempts.  Has also rushed 64 times for 295 yards (4.6 yds/att) and 8 touchdowns.
Running back Willtrell Hartson – 114 rushes for 831 yards (7.3 yds/att) and 9 touchdowns
Running back Freddie Lenix Jr. – 88 rushes for 711 yards (8.1 yds/att) and 11 touchdowns; 66 points
Wide receiver Ardell Banks – 43 receptions for 719 yards (16.7 yds/rec) and 8 touchdowns
Wide receiver Austin Brawley – 32 receptions for 578 yards (18.1 yds/rec) and 4 touchdowns
Wide receiver Kurtis Miller – 25 receptions for 203 yards (8.1 yds/rec) and 1 touchdown
Kicker Shane Rue – 44 of 45 extra points and 7 of 10 field goals; 65 points.
Punter Darrius McElroy – 25 punts, 35.3 ave.
Safety Ryan Zentkovich – 71.5 (56-31) tackle points; 3 tackles for loss; 2 interceptions
Safety Austin Brawley – 69.0 (54-30) tackle points; 2 tackles for loss; 3 interceptions; 7 blocked kicks
Inside linebacker Nathan Depuy – 60.5 (40-41) tackle points; 11 tackles for loss
Defensive lineman Marcus Moore – 10.5 tackles for loss
Playoffs
On win on Friday will advance Massillon to the state semifinals where they will face the survivor of one of these games:
Akron Hoban vs. Walsh Jesuit
Cincinnati Winton Woods vs. Piqua
Toledo Central Catholic vs. Avon