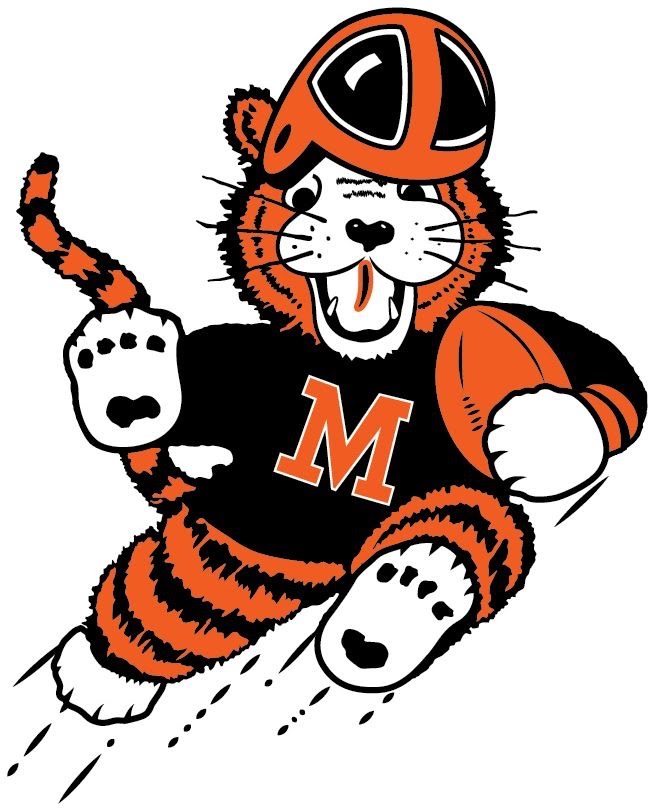 The bye in the first round of the playoffs following the 35-7 victory over Canton McKinley couldn't have come at a better time.  It gave the Tigers a chance to come down from the big high, heal up the bumps and bruises and re-energize themselves for the task ahead.  And they responded last Friday better than expected in rolling over Columbus Walnut Ridge, 56-0.  This against a team that had compiled a 19-1 regular season mark over the two previous seasons.  After opening up a 42-0 halftime lead, while scoring on 6 of 7 possessions, the starters gave way to the backups for the entire second half.
"It was a good week last week for the Tigers," said head coach Nate Moore.  "I thought they came out with good intensity and focus.  We took care of business.  I'm really proud of the guys."  Next up is North Canton Hoover on Friday at Paul Brown Tiger Stadium.  Kickoff is scheduled for 7:00 pm.  The game will be broadcast on Spectrum, which can be accessed through this website or through www.ohsaa.org.
In other contests:
7th Grade (4-3): Defeated Western Crusaders, 32-14.  The season is over.
8th Grade (7-0): Defeated Canton, 22-8.  The season is over.
9th Grade (6-2): Defeated Louisville, 39-12.  Plays Lake on Thursday away at 6:00 pm.
JV (6-3): Defeated Wooster, 42-16.  No game currently scheduled for this week.
The guest co-captains were inside linebacker Xavier Andrews and offensive tackle Terrence Rankl.  "Me and the team are really looking forward to Friday's game," said Andrews.  "Come Friday night we're going to make them feel every play."  "We've had good practices leading up to the games" added Rankl.  "This has to be our best offense and defense this week."
On offense Massillon has become a ground attack by committee, with four different running backs having compiled significant yardage.  Against Walnut Ridge, it fell to Willtrell Hartson and Camden Beasley, who combined for 173 yards and two touchdowns, rushing at 8.2 yards per carry.  "Hartson is a really talented sophomore," said Moore, while also praising Beasley for his effort, noting that "he really trusts his blockers."  Quarterback Zach Catrone passed sparingly, completing 5 of 8, but did hit two long passes to Jayden Ballard and Andrew Wilson-Lamp to give the Tigers an early 14-0 lead.  "It was a great job by Zach," said Moore.
Defensively, the Tigers continue to shine and they held the Scots to just two yards on the ground.  For the season, Massillon is surrendering just 56 yards rushing per game and 139 total yards per game.  The 1.8 yard per carry average is the best mark since 1979. "The defense played well all night," according to the coach.  "We dominated the line of scrimmage."  Andrews led in tackles with 4.0 tackle points, including 1.5 tackles-for-loss.  Jayden Wise and Kurtis Miller each had an interception.  TJ Williams returned a fumble 21 yards for a touchdown.
On special teams, Alex Bauer connected on all eight of his PAT attempts and now stands at 27 of 27 for the year.  Magnus Haines was masterful in consistently dropping his kickoffs on the one yard line.  Austin Brawley had a blocked punt that set up a touchdown.
Coach Moore then turned his attention to this week's opponent, North Canton Hoover.  "We're really looking forward to this game." he said.  "The kids had a phenomenal practice today.  Maybe the best in the last six years.  Everything was excellent.  It was a really good start to the week."  Massillon leads the series with North Canton 4-1, all of the games being in the playoffs.  The two teams last played in 2009, with the Tigers winning 17-10.
Hoover enters the game against Massillon with a 5-2 record, having beaten Lake twice, once in the regular season (17-14) and last week in the playoffs (48-29).  The two losses were against 7-0 Perry (14-20) and 4-3 Canton McKinley (28-40). None of their other opponents were of any note.
The Vikings are led by senior quarterback in Connor Ashby (6′-1″, 180), a 3-year starter who Moore says is the best QB they have faced this year.  For the season, he has completed 93 of 146 passes (64%) for 1,378 yards (197 per game, 14.8 per completion).  Fifteen tosses have gone for touchdowns, along with six interceptions.  Against Perry, Ashby was 13 of 28 for 196 yards and two touchdowns.  Against McKinley he was 17 of 35 for 208 yards and two touchdowns.  He's always looking to throw, according to Moore, even when scrambling.  He's accurate and has a strong arm.
Ashby's primary receivers are seniors Brock Henne (6′-5″, 215) and Elliot Fornow (5′-11,185).  Henne is big, catches the ball well and runs good routes.  He has 28 receptions for 473 yards and 8 TDs.  Fornow is the faster of the two and is often targeted on the deep ball.
Senior running back Drew Robinson (6′-0″, 180) is more than capable.  "He's a pretty good player," said Moore.  "He has a really good feel for running the ball.  A smooth runner.  Good vision.  Can also catch the ball."  So far, he has 153 attempts for 842 yards (5.5/carry) and nine touchdowns.
Junior Alec Lehman (6′-1″, 250) is their best lineman.  He comes off the ball well and is physical.  On the defensive line, look for junior Drew Logan (6′-4″, 230).  Moore says that he is a pretty good player.
The Vikings will utilize some spread offense and some tight end.  The defense is aligns in a 4-3.  Earlier in the season they used a 3-3, but did not have much success with it against the run.  So they switched up in mid-season.
Go Tigers!