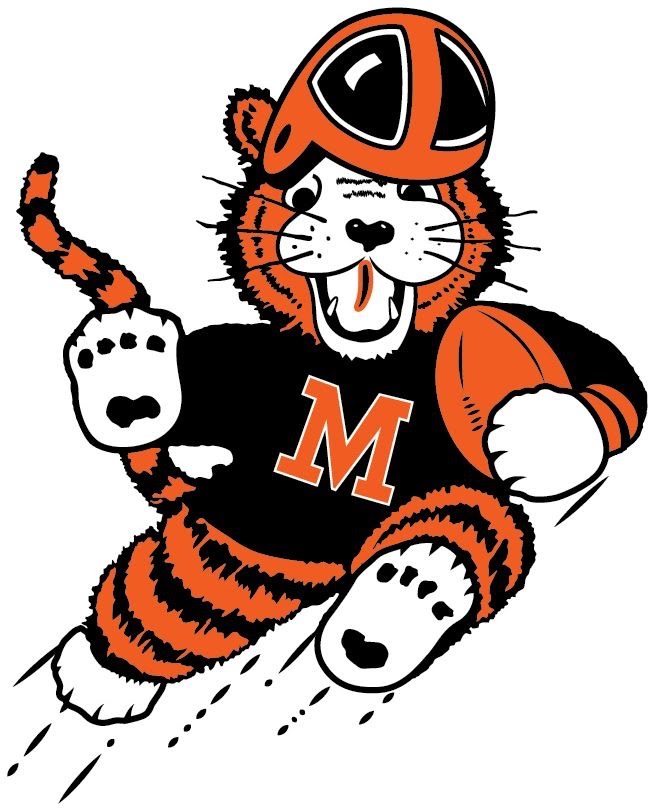 Throughout 125 years of playing football against 202 different opponents, only eight teams hold an edge over Massillon when there is more than a single game in a given series.  Cleveland St. Ignatius is among that group and coming into last week's game holds the largest margin, winning 12 against a single loss.  Last Friday, the Tigers took a chip out of that mark by defeating the Wildcats 21-14 in a tremendous defensive affair.
In other contests:
7th Grade (3-2): Lost to Euclid 38-18.  Plays Austintown Fitch on Tuesday at home at 6:00 pm.
8th Grade (5-0): Defeated Akron Jennings, 30-0.  Plays Austintown Fitch on Wednesday away at 6:00 pm.
9th Grade (4-1): Defeated Cleveland St. Ignatius, 21-17.  Plays Canton McKinley on Thursday away at 6:00 pm.
JV (4-3): Lost to Cleveland St. Ignatius, 40-14.  No future games are scheduled at this time.
"It was a big win last week against a great opponent," said head coach Nate Moore.  "The kids played really, really hard.  That was the deciding factor.  The defense was incredible.  And the offense and special teams played good enough to win."
The offense managed a pair of Alex Bauer field goals to take an early 6-0 lead, but Ignatius came back later to take a 7-6 lead into the half.  Disaster struck late in the third when the Wildcats returned an intercepted pass 70 yards for a TD to go up 14-6.  But midway through the fourth, the Tigers were finally able to complete a drive when Raekwon Venson scored from the one to cap a 14-play,  73-yard driver.  Trailing now by just two, Moore decided to go for the tie.  It was a spectacular play in which Martavien Johnson took a handoff from Zach Catrone on a jet sweep to the left.  Johnson then pitched it back to Jaydan Ballard who was coming around from his left end position.  That set up a perfectly thrown pass, over the head of the defender, to Catrone, who had vacated the backfield and raced to the right side of the end zone.
One play later, following the kickoff, Ignatius fumbled an apparent backward pass that was recovered by Jaiden Wise at the 15.  On the next play, Venson bulled his way through the line and into the endzone to steal the win.  Venson would finish the game with with 29 carries for 96 yards and two touchdowns.  Catrone was just 10 of 23, but most of that was due to a very good Wildcat secondary, which double-covered every pass attempt, except the tag screen.
But it was the defense that carried the day for the most part, limiting its fifth straight opponent to under 100 yards rushing.  For the season the defense is giving up just 45 yards per game on the ground, which is surpassed by only the 1940 and 1943 teams.   And aside from the touchdown drive, the Wildcat's longest possession was a mere 23 yards.  Isaiah Clark and Caiden Woullard led in tackles with 4.5 tackle points.  Austin Brawley and Wise each had an interception.  And six different players participated in tackles-for-loss.
"Our defensive coaches do a phenomenal job," beamed Moore.  "We have really talented players.  And we're really good at safety. We have exactly the kind of pieces we can throw out there.  Some really tough high school players.  There're not a lot of holes.  We're good everywhere.  And the kids play hard."
In the records-watch department, kicker Alex Bauer recently broke the career mark for both PAT kicks attempted and PAT kicks made.  Magnus Haines has broken the career record for total punting yards.  Jayden Ballard needs 146 yards to break the all-time record for career receiving yards.  He also needs 29 receptions to break that career mark.  Caiden Woullard needs seven tackles-for-loss to tie that career record.
The guest players this week were co-captains Terrence Rankl and Andrew Wilson-Lamp.  "We had a good first day of practice," said Rankl, as he discussed the upcoming game against Canton McKinley.  "Defensively, we just came back from a hard fought win over Ignatius," added Lamp.  "We're licking our chops to face McKinley."
With a victory over St. Ignatius and a loss by Ft. Thomas Highland, KY, Massillon has taken over third place in the national total win column with 903, three short of Louisville Male, KY.  They now set their sights on improving on the 72-53-5 advantage they hold over the Bulldogs.  The Tigers have won eight of the last nine and came away victorious last year at Benson Field, 24-14.  This time around the game comes early, Week 6, on account of the abbreviated schedule associated with the Covid-19 pandemic.  The last time Massillon and McKinley played that early in the season was in 1963, the year following the Bulldogs' death penalty the previous year on account of illegal recruiting.  Two games were played in 1963, with the Tigers winning both.
McKinley enters the fray with a record of 4-1, including wins over Jackson (30-0), North Canton (40-25), Lake (26-17) and GlenOak (26-0).  Two weeks ago they dropped a contest to Perry (23-35).
Offensively, McKinley uses some spread and some tight end.  The best player is quarterback Elijah Wesley, a 6′-3″ senior and returning starter.  Moore says that Wesley is a very explosive player with really good vision.  He can run and he can pass, especially when throwing the deep ball.  But he's at his best as a runner.  Also in the backfield is running back Brandon Foster, a 5′-9″, 180 lb. senior.  Not big, but he has good speed and quickness.  Wesley will have three excellent receivers to throw to and this should present a challenge for the Tiger secondary.  All are over six foot and have good speed.  The best in this group is Xavier Black, a 6′-3″ 180 lb. senior.  The offensive line features two key players in left tackle Khalil Walker (6′-5″, 295) and Stefan Monoham (6′-8″, 295).  Both are juniors.
On defense, expect a 4-3 alignment.  The line has been overshadowed by the play of the linebackers and defensive back, but they do have a good player in Q'mar O'Quinn, a 6′-3″, 260 lb. senior.  Moore calls the linebackers really, really good.  All-state type players.  Leading the group is Mani Powell, a 6′-2″, 225 lb. junior, who Moore calls "a tackle machine, very physical."  In fact, Moore states that he may be the best player on the team.  Both safeties are returning starters and very good at what they do.  The corners are adequate.  Brian Pinkney leads this group.
There has been some talk of McKinley working through some injuries, since several starters sat out of last week's game against Canton GlenOak.  In fact, Bulldog Coach Marcus Wattley said many are "questionable" for this Saturday's 2:00 pm game.  Nevertheless, Coach Moore says that this team will prepare for their best players being on the field and he will see who shows up.
Note: WHS-TV will be only live broadcast for this week's game.  It can be reached via Boxcast, Massillon Cable TV and this website.
Go Tigers!!!