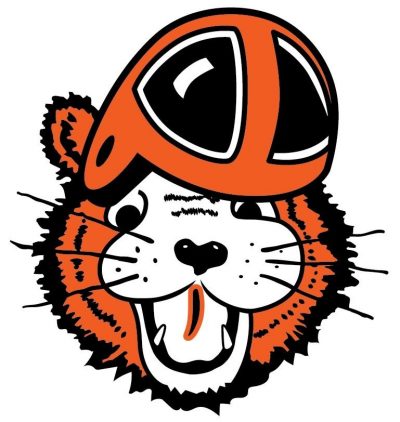 Throughout the course of life we all make decisions that affect our future.  While these choices are usually of a minor nature, oftentimes a big decision at an early age can have a profound effect on one's ultimate destiny.  Such was the case with former Tiger Joe Sparma.  After achieving enormous success as a multi-sport athlete in high school, Joe chose to continue on the path of football at Ohio State University.  Only that decision snowballed into a resolve to leave college early and pursue a career in major league baseball.
Woody Hayes, the Ohio State head coach in the late 1950s, recruited Sparma after a successful couple of seasons quarterbacking the Massillon Tigers.  Joe's greatest asset was passing the ball, during a time when most high school teams preferred to keep it on the ground.  But now it was college ball, where passing was more common.  It all sounded so good.  But Woody's offense was unlike other schools, preferring the run to the pass, believing that three things can happen when you pass the ball and two of them are bad.  In fact, OSU fans commonly referred to his offense as "three yards and a cloud of dust."  There just wasn't a place at Ohio State for a passing quarterback.
So many local fans tried to discourage Sparma from choosing the Buckeyes, saying that all he would do is hand the ball off to the tailback.  But Woody apparently wanted Joe badly and surely didn't relish him lining up across his Buckeyes wearing another Big Ten uniform.  So he went hard after Sparma and secured his commitment.
"Joe Sparma was a pure passer.  Just an outstanding pure pro passer.  That's the reason I wanted him to go to school where he could pocket pass.  But Woody Hayes was a hell of a salesman.  Woody didn't want him to go to school in the Big 10 and passing against him.  I don't think there's any doubt about it that Sparma could have been a great pro football player." – Coach Leo Strang from Scott Shook's "Massillon Memories"
Joe did end up starting 11 of the 18 games in which he played and he did manage to pass the ball some.  However, he had developed differences of opinion with Hayes during his sophomore year and subsequently elected to leave school.  Ironically, the relentless Woody talked him into staying for his junior year.  Nevertheless, Joe's relationship with Woody did not change by the following year and it was finally time for him to leave.  Fortunately, professional baseball was waiting.  How his life might have been different had he chosen a college that utilized a more balanced attack.  Joe always wondered what it would have been like to play quarterback in the NFL.
MASSILLON
Joe Sparma was born in Massillon, Ohio, on February 4, 1942.  It was at an early age that he found his calling, playing sports.  "I remember exactly the day I first wanted to do well in sports," he earlier mentioned to Steve Doerschuk from the Massillon Independent.  "I was a fifth grader at Franklin School watching the older kids play a basketball game.  I watched the team score.  I heard the cheers from the handful of people at the game.  Something went through me."
That 'something' caught big and Sparma went on to become a 3-sport athlete at Massillon, lettering multiple times in football, basketball and baseball.
"He was one of the finest athletes we ever had in Massillon.  He was captain of the baseball, basketball and football teams.  He was a good student.  He may have had a record of being a little hard to get along with, but never with me.  I can't say enough about him.  He's been a real good friend through all the years." – Ducky Schroeder, former Massillon assistant.
His high school career spanned three seasons, the first in 1957 as a backup quarterback under Lee Tressel and the next two as a starter under Leo Strang.  As a sophomore his numbers were modest, finishing the year with one rushing touchdown and three passing.  His team finished No. 2 in the state with an 8-1 record, losing to No. 1 Cleveland Benedictine 13-7 on a 4th quarter TD.  The Bennies were led by running back and future NFL assistant coach George Sefcik.  It didn't help that several Tiger starters were hit with the flu bug during the week of the game.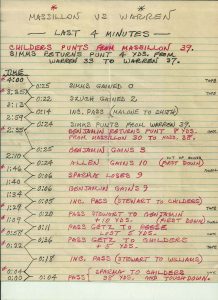 But they did manage to defeat No. 4 Warren Harding 20-14 in the infamous clock game.  In front of 21,384 fans, Sparma entered the contest with little time left on the clock and proceeded to toss a 46-yard pass to Clyde Childers (Georgia), who made a miracle catch inside the ten, first tipping the ball and then catching it and racing the final yards into the end zone for the win.
In 1958 Joe became a regular and led his team to an 8-1-1 record, outscoring the opposition 220-45.  It was good enough for a 4th place finish in the state poll.  The lone loss was to 7-2-1 Warren Harding by the score of 6-0.  But the Tigers did tie No. 1 Alliance 8-8.  Sparma finished the year with nine passing touchdowns and two TDs rushing.
His senior year was spectacular as the Tigers finished 10-0 and were named both Ohio State Champs and National Champs.  They outscored their opponents 431-46.  For the year, Joe completed 28 of 85 passes for 660 yards and 14 touchdowns.  He also rushed for a pair of TDs.  His best statistical performance came during a 65-0 victory over Canton Lincoln when he threw for 127 yards and four touchdowns, three to James Wood (his No. 1 receiver) and one to Bob Barkman.
Massillon also defeated Canton McKinley that year, 20-0.  "Right before the McKinley game, Jim Muzzi (WHBC) asked Joe Sparma who was the best team he played against all year.  Sparma's remark was 'Our second team.'  Muzzi about dropped his teeth." – Leo Strang –from Scott Shook's "Massillon Memories".
The statement was not meant to demean McKinley since beating them was always at the top of his list.  It's just that Massillon's overall program at that time was just that good.  "Dad always remembered where he was from.  Beating McKinley meant as much to him as winning the World Series." – Joe's son, Blasé Sparma.
Following the season Sparma was named First Team All-Ohio.  He was also invited to play in the Ohio North-South All-Star Classic, where he led the North to victory.  Incidentally, the South quarterback was Roger Staubach (Dallas Cowboys and Pro Football HOF).
Sparma's baseball career at Massillon was equally impressive.  According to former Massillon assistant coach Ducky Schroeder, he was the best pitcher in the state.   "When he was in a groove, there wasn't anybody in high school who could hit him.  He pitched a no-hitter against McKinley when he was a just sophomore and recorded five no-hitters when he was a senior."
Then it was off to Ohio State, where he played both football and baseball.
OHIO STATE
In 1961 Sparma joined the varsity football team as a sophomore (freshmen were not permitted to play at that time) initially as a backup quarterback, entering games on occasion to pass.  Eventually, he worked his way into the No. 1 role and was named the starter in four games.  He ended up completing 16 of 38 passes for 288 yards and six touchdowns, including a 200-yard passing effort against Michigan.  During that final game he connected with Bob Klein on an 80-yard touchdown pass, currently ranked 6th all-time in the OSU record book for the longest completion.  The Buckeyes as a team finished 8-0-1 and 6-0 in the Big Ten.  "We weren't picked to do much that year," said Sparma.  "But after we beat Michigan (50-20), we were ranked first in the nation in one of the polls (Football Writers Association of America)."
By winning the Big Ten, the Buckeyes were eligible to participate in the Rose Bowl.  But the OSU faculty voted not to go, concerned that athletics was beginning to have too much influence on campus.  Also, the Big Ten contract with the Rose Bowl had expired in 1959 and it needed to be modified to prevent the west coast teams from receiving the bulk of the sponsorship money.
"As I look back, it would be nice to reflect on having played on a state championship football team, pitching for a World Series champion and playing quarterback in the Rose Bowl," said Sparma.  "But Ohio State officials voted not to let us go.  I don't know whether it was because they were on some academic kick, or what.  But it was very weird.  The students almost rioted."
The students actually did riot.  Nevertheless, No. 2 Minnesota went instead and ended up losing to Washington, 17-7.
Joe Sparma crosses the plate after hitting his only home run at Ohio State, in 1962 as a sophomore
The following spring Joe was on the mound, playing for Manager Marty Karol, whose career with the Buckeyes spanned 25 years.  A fastball pitcher, Sparma helped his team to a 19-14-1 record, including a 9-5 mark in the Big Ten, good enough for a 3rd place finish.  Joe was 5-5 with a 3.05 ERA, both tops on the team.  He also struck out 102 batters in 79.2 innings of work.
After the season, he received a contract offer from professional baseball for $40,000.  But it was then that Woody Hayes talked him into another year on the gridiron.
During the 1962 football season Ohio State finished with 6-3 record.  Joe, playing at 6'-1", 194 lbs., started seven of the nine games and completed 30 of 71 passes for 288 yards and two touchdowns.  Then in the spring of 1964 he again excelled in baseball, going 6-3 with 93 strikeouts in 88.1 innings.  His team went 23-13-1 and finished 3rd in the Big Ten with a 9-6 mark.
But that was it and he left Ohio State for the next level.   "I really loved football," he said.  "But I loved baseball, too."
DETROIT TIGERS
In 1963, Sparma accepted a contract with the Detroit Tigers, which included a $32,000 signing bonus.  After playing minor league ball with Knoxville and Duluth-Superior in 1963 and then again with Knoxville during part of the next year, he was called up to the majors.
In 1965 he became a starting pitcher for the Tigers, recording a 13-8 record and striking out 127 batters.  Sparma had a fastball that clocked in a 98 mph and he could consistently throw in the low 90s.  The first time he faced Mickey Mantle, he struck him out twice.  Mantle said he had never seen anyone throw faster.  Joe ended up beating the Yankees five times that year.
In the first meeting, he was assigned to be the starting pitcher on "Mickey Mantle Day" in New York.  When Mantle came to bat for the first time in the game, Sparma walked off the mound, approached Mantle, and said: "You know, I've never had a chance to meet you in person, and I've always admired you."  Sparma and Mantle shook hands, and Sparma went back to the mound and struck Mantle out. Mantle turned to Detroit's catcher Bill Freehan and said: "They have a day for me and your manager's got to put some hard-throwing kid out there. Couldn't he have put in some soft-tossing left-hander for me to hit off of, so I could look like a hero in front of all those people?" (Bill Freehan, "Behind the Mask" (1970), pp. 7–8)
Prior to the 1966 season he had a car door slammed on his pitching hand, causing him to miss spring training.  He subsequently went 2-7.  But he returned to form the following year posting a 16-9 record, including eleven complete games, five shutouts, 153 strikeouts and an ERA of 3.76.
In 1968 he pitched a 1-run, complete game vs. the New York Yankees to clinch Detroit's first pennant since 1945.  The Tigers would go on to win the World Series over the St. Louis Cardinals.  But Sparma was used sparingly during the series, relieving starter Denny McClain in Game 4.
Joe Sparma is in Row 4, 4th from the left
In 1970, with his pitching numbers diminishing, Sparma was traded to the Montreal Expos.  But he was released after pitching just 27 innings with a record of 0-4.
During his major league career, Sparma compiled a 52-52 record.  He also had an ERA of 3.94 along with 586 strikeouts over 183 games.  Offensively, at a time before implementation of the designated hitter, he batted a respectable .119.
POST-BASEBALL
Joe Sparma with wife Connie
Joe had only pitched eight years and was still in his late 20s, but his services were no longer required.  Following his release, he was offered a position as a minor league coach, but he turned that down and opted instead to join Worthington Steel.  There, he worked his way up to vice president of sales and marketing for Buckeye Steel, a subsidiary.
Unfortunately, he died on May 14, 1986, at the age of 44 after a heart attack and subsequent heart bypass surgery.  He was survived by wife Connie, two daughters and a son, Blase, who lettered three years on the Ohio State baseball team (1994-96).
HONORS
 In 1994 Joe Sparma was honored with a place on the Massillon Tiger Wall of Champions, joining the second class of inductees.  Then in 2011 he entered the Stark County Hall of Fame.