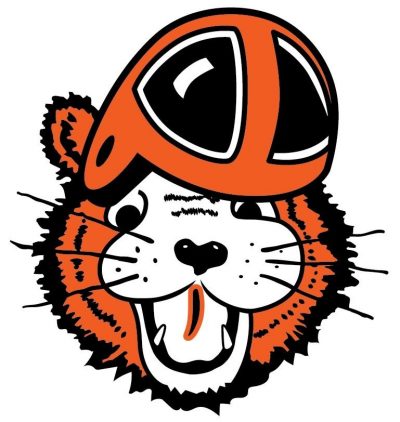 Paul Brown coached at Massillon for nine years and compiled a record of 80-8-1, winning six state and four national championships.  To accomplish that feat, he had at his disposal many outstanding high school football players.  Players such as Tommy James and Fred Blunt and Bob Glass and Edgar Herring.  But there was one player that Brown called "the best all-around athlete I coached at Massillon."  That was Horace Gillom who, according to Brown, was "successful at everything he did."

Horace "Big Horse" Gillom was born in Roanoke, Alabama, on March 3, 1921, but grew up in Massillon along with his two brothers, Jake and Odell, who also played for the Tigers.  His football career began in junior high where he played end and punter at Longfellow under Coach Bud Houghton.  Houghton immediately noticed Gillom's proficiency at punting the football.  However, although he demonstrated tremendous distance and hang time for a young player, he needed more steps than normal to get his punts off.  So he simply moved Horace back an additional three yards and that gave him the room he needed.
Gillom's varsity career spanned three years at Massillon, from 1938-40, during which time he was a starter at end, linebacker and punter.  He also had the fortunate experience of playing on three undefeated championship teams.  During his sophomore season, wearing No. 66, he scored 26 points from his end position via four receiving touchdowns and one 2-point conversion.  A sophomore starter also on defense, he was paired at middle linebacker with Vince "Rocky Snyder" in a 6-2-2-1 alignment.
As a junior, Horace really began to stand out and not just by changing his jersey number to 22.  Now, in addition to his normal duties, he was tasked with returning punts and kickoffs.  And on defense, he became the sole middle linebacker in a defensive alignment that was changed to a 7-1-2-1.  Coaches said that he was equally effective against both the run and the pass.  On a team that outscored its opponents 460-25, Gillom tallied 42 points, those coming from four receiving touchdowns, one rushing touchdown, one punt return TD and one pass interception returned for a TD.  At the end of the season he was awarded First Team All-County and First Team All-Ohio.
Jersey No. 55 must have suited Horace more than 66 and 22, for it was during his senior year that he really dominated the football scene in Massillon.  His team finished 10-0, outscoring the opposition 477-6 and repeating as both state and national champs.  Four opponents that year finished the season with just a single loss, that coming to the Tigers.
As co-captain, playing at 6'-1", 210 lbs., Gillom was extremely fast and became a significant deep pass threat.  He also had very large hands, well suited for a receiver.  For the year, he recorded a team-high 108 points, with ten touchdowns rushing and another eight receiving.  As a high school punter, Horace was simply unmatched, with many kicks traveling over 50 yards.
Offensively, Gillom scored at least one TD in nine of the ten games played, including four against Steubenville.  He also had an incredible touchdown reception against Canton McKinley at the end of the first half, erasing a rare 6-0 deficit.  The pass covered 45 yards, which was secured at the 20 under tremendous defensive pressure by tipping the ball into the air and then catching it with one hand.  After shedding the defender, Horace raced to the end zone, spurring Massillon on to a 34-6 victory in Paul Brown's final game as coach of the Tigers.  He wrapped up his football career in Tigertown by repeating as First Team All-County and First Team All-Ohio.  In addition, the Associated Press named him Ohio's Most Outstanding High School Player.
Between football seasons, Gillom spent time on the basketball court where, during his senior year, he was named All-County.  In the post-season tournament, Massillon advanced to the state semifinals, where he was named All-State Tournament 2nd Team.  The basketball squad was also coached by Paul Brown and he called Horace the greatest high school athlete he had coached during his time at Massillon.
In 1941 Paul Brown left to take over the head coaching responsibilities at Ohio State University.  Of course, Horace Gillom went with him.  Horace played freshmen ball that year, but left due to academic difficulties.
The next three years were spent in the military defending the United States in the WWII European Theater.  During his time there, he survived the Battle of the Bulge and was subsequently awarded three Bronze Stars.
After discharge, Gillom tried college football once again, this time at the University of Nevada, which was led by former Canton McKinley coach Jimmy Aiken.  He led the nation in punting that year, but he again left school due to poor academics.
That didn't stop Paul Brown from snatching up the 6'-1", 225 lb. punter in 1947 for a position with the Cleveland Browns, a team he stayed with through the 1956 season.  Throughout his tenure he was the full time punter, although he did play a couple of years at end, catching 74 passes for 1,083 yards.
As a punter, he was one of the best.  Paul Brown said in his autobiography that he had never seen a better one.  Here is a list of his and his team's accomplishments:
1947 – Defensive end; won AAFC championship; 2nd in league in punting with a 44.6 average.
1948 – Offensive end; undefeated season; won AAFC championship.
1949 – Offensive end; won AAFC championship; league absorbed into NFL.
1950 – Tied for first in American Conference; won semifinal playoffs; Gillom's punts kept the New York Giants in poor field position throughout the game; won the finals vs. Los Angeles; 2nd in the league in punting with a 43.2 average.
1951 – Lost in the Championship Game; led the league in punting with a 45.5 average.
1952 – Lost in the Championship Game; led the league in punting with a 45.7 average.
1953 – Lost in the Championship Game; 2nd in the league in punting.
1954 – NFL champs; 2nd in the league in punting.
1955 –
1956 – Released during the season due to a sore back.
For his career, he is ranked as the 2nd best punter in NFL history with a 43.8 average.  His punts had very little chance of return on account of his tremendous distance and hang time.  In fact, he punted over 400 times before one was returned for a touchdown.  "Gillom had such a powerful leg and kicked the ball so far; before that punters used to line up 10, 12 yards behind the center," running back Sherman Howard later said.  "He started the 15-yard drop.  And with Horace, he would kick it so high that by the time guys got down, the ball was coming down, so most guys had to fair catch."  Lebovitz, Hal (May 28, 1978). "What does the ledger show?". Cleveland Plain Dealer. p. 2
He holds the Browns' record for the longest ever punt at 80 yards against the New York Giants in 1954.  He also had a 75-yarder against the Pittsburgh Steelers in 1950.   "Horace was the greatest punter I've ever seen play pro football," said Lin Houston, former Cleveland Browns player.  "They can talk about Ray Guy all they want.  He couldn't hold a candle to Horace."
Gillom was also one of the first black athletes to play professional football, but never saw himself as a pioneer in that regard.
Horace and his wife Mamie raised a son and daughter and he split work between the Los Angeles Recreation Department as an Assistant Athletic Director and a local hospital where he was a security guard.  Unfortunately, Gillom left us too early, dying of a heart attack at the age of 64 on October 28, 1985.
In 1985 Gillom was inducted into the Canton Negro Oldtimers Athletic Association Hall of Fame.  In 1994 Massillon honored him with a place on the Wall of Champions.  In 2007 he became a Cleveland Browns Legend, which denotes the best players in their history.  And in 2009 he was inducted into the Stark County Hall of Fame.