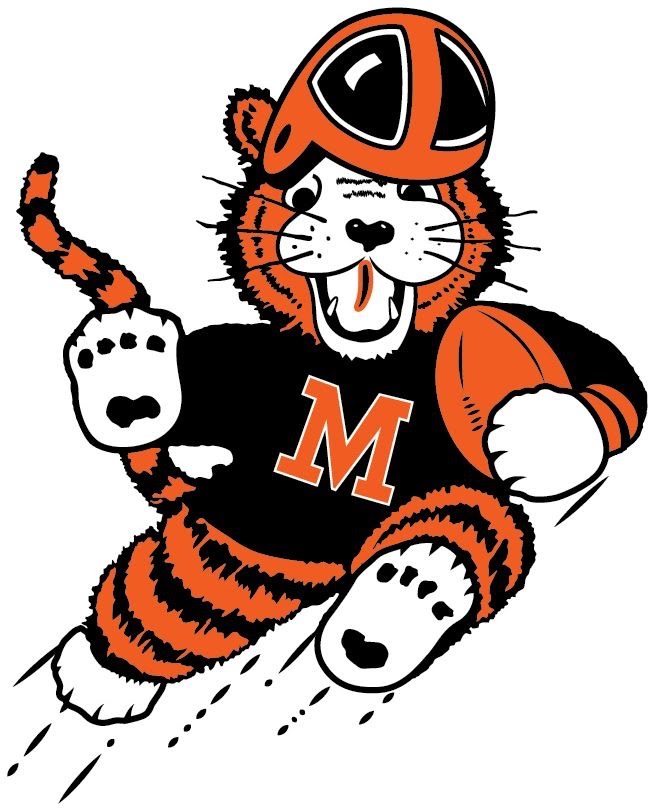 These two Division 2 Top 5 teams squared off once again in the first scrimmage of the year.  As was the case last year, both teams possess powerful offenses and have high hopes for deep playoff runs.  In 2018, Massillon advanced to the state finals where they lost a close game to champion Akron Hoban, whereas the Eagles lost to Hoban in the state semifinals.  But just like last year, Massillon had its way in this event, scoring 6 touchdowns in its 6 series, while holding Avon to 2 scores in its 5 series.
But don't read too much into the final score.  The format of the scrimmage permitted each team to keep the ball for additional tries after scores until the allocated number of plays (around 20) had been exhausted.  So, if you count just the first series of each possession, then the two teams ended up tied 14-14.  The only real difference in this respect is that Massillon scored relatively quickly, whereas Avon had to work very hard for their scores.  Nevertheless, one cannot totally overlook those other series when assessing the full night of action.
Here is a detailed rundown of the play:
Part 1 – Each team began at its own 35, 1st and 10, and ran approximately 20 plays each with the final series ending either with a score, a turnover or on downs.
Massillon 1st Possession
1st Series – On the first play from scrimmage, Aidan Longwell launched a 51-yard bomb to a wide-open Andrew Wilson-Lamp that advanced the ball to the Avon 14.  Two carries by Terrence Keyes placed ball at the one and Zion Phifer scored from there.
2nd Series – Longwell completed a 71-yard scoring pass to Isaiah Roberson.  The speedster caught the ball at Avon 40, cut back twice to elude would-be tacklers and went untouched into the end zone.
3rd Series – Lots of subbing, as was the case for most of the night.  Zach Catrone now at QB.  Both Raekwon Venson and Jean-Luc Beasley were running well during the drive.  At the end of it, Venson fought his way into the end zone from the four.
Score 20-0.
Avon 1st Possession
1st Series – Converted a 31-yard touchdown pass.
2nd Series – Lost the ball on a fumble at their own 30.  A certain Tiger touchdown return was called dead (it's a scrimmage).
3rd Series – Lost the ball on fumble at the Massillon 30.
Score 20-7.
Massillon 2nd Possession
1st Series – Longwell completed a 51-yard bomb to Jayden Ballard, who caught the ball in triple coverage at the goal line.  However, Longwell was called down by the referee, negating the TD.  In this scrimmage, the quarterback was given a certain amount of time to get the pass off.  But the line blocking was superb and Aidan just needed time for Ballard to get downfield.  Nevertheless, on the subsequent play Venson raced 51 yards for a touchdown.
2nd Series – Phifer caught a pass in the flat from Longwell and rode the sideline for a 60 yard score.
3rd Series – Lamp gathered in a 65-yard bomb from Catrone and waltzed into the end zone.
4th Series – Catrone's long bomb to the goal line was intercepted during a battle for the ball.
Score 41-7
Avon 2nd Possession
1st Series – Avon connected on a 3-yard pass for a touchdown.
2nd Series – Avon converted a 5-yard pass on fourth down for a touchdown.
Score  41-21
Part 2 – Punt practice
Part 3 – Overtime simulation.  Each team began at the opponent's 25, 1st and 10.
Massillon 1st Possession
1st Series – Ballard outjumped the defender in the end zone for a 9-yard touchdown pass from Longwell.
2nd Series – Catrone completed a 19-yard screen pass to Davin Wenzel and then Beasley scored from the five.
Score 14-0
Avon 1st Possession
1st Series – Stopped on downs at the eight.
2nd Series – Stopped on downs at the 17.
Score 14-0
Massillon 2nd Possession
1st Series – Longwell connected with Anthony Pedro for a 23-yard touchdown.
2nd Series – Longwell hit Ballard on a 25-yard post pattern for a TD.
3rd Series – Robbie Page caught a 40-yard 4th down pass from Catrone for a score.
Score 35-0
Avon 3rd Possession
1st Series – Converted a 12-yard pass for a score.
2nd Series – Missed a long field goal.
3rd Series – Stopped on downs at the seven.
Score 35-7
Part 4 – Field goal practice
Observations:
Quarterbacks – Aidan Longwell was a field general and showed the poise of a 3-year starter.  Both Longwell (4 TD passes) and Zach Catrone (2 TD passes) can throw deeper and more accurate than most high school quarterbacks.
Running backs – Terrence Keyes, Zion Phifer, Raekwon Venson, Preston Hodges and Jean-Luc Beasley.  All of the backs ran with authority.  But Keyes was a level above the rest with his quickness and elusiveness.  Very dangerous, especially once past the line of scrimmage.  Venson was simply a power beast.  Phifer knows where the end zone is, while Hodges and Beasley were slashers.
Wide receivers – As billed.  This may be the best passing combination in the state.  Not only can they consistently get open to catch the ball, but they can do it in traffic and then run effectively thereafter.
Offensive line – Provided great protection for the quarterbacks.  QBs were rarely pressured all night.  Run blocking consistently opened holes for the running backs.
Run defense – The Tigers controlled the line of scrimmage.  Safeties were quick to the line to defend the run.  Avon simply could not effectively move the ball on the ground.
Pass defense – This was the only bright spot for the Eagles, as they were able to move the ball down the field with 5-10 yard passes.  But they could not go over the top at all owing to the Tigers' speed in coverage.  But that just might be Avon's strategy against quicker, more athletic teams.
Kicking – Magnus Haines and Alex Bauer alternated PAT kicks.  Overall, they converted 10 of 11.  Both demonstrated good field goal range in that phase of the scrimmage.
Punting – Magnus Haines booted several long punts, a few with 5-second hang time.  None of the punts were returnable.