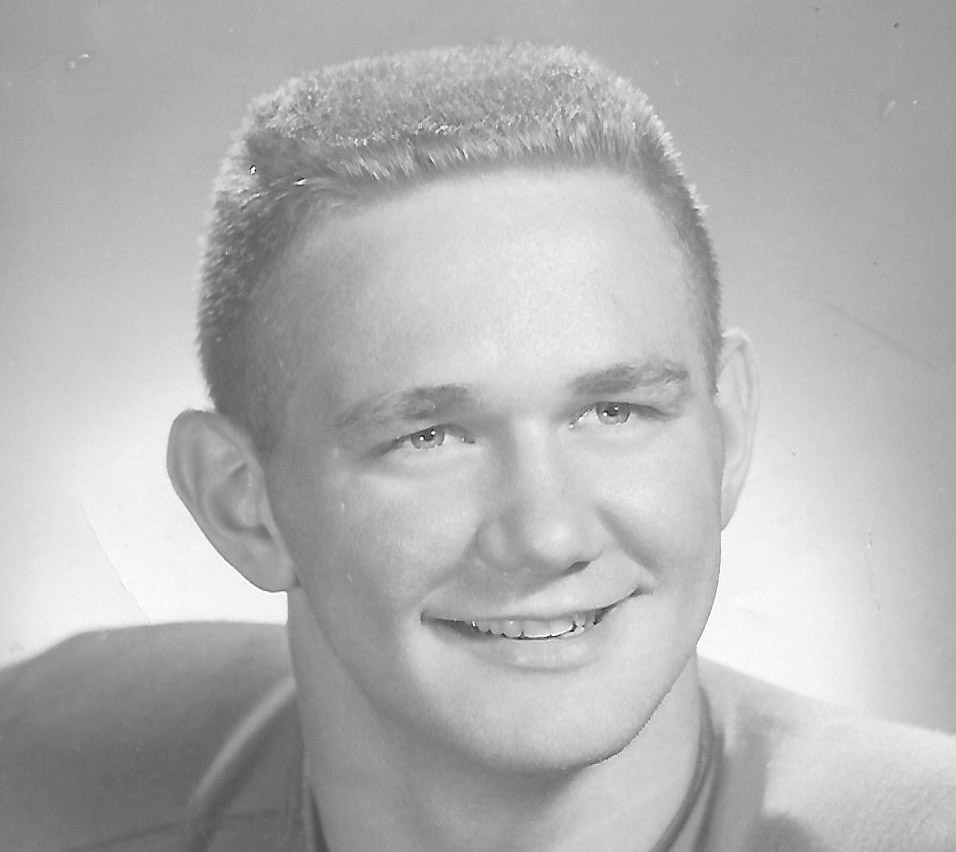 The Marine Corps has a motto: If you are going to do something, do it the best you can.  No one epitomized that motto better than Bob Vogel, who played for the Tigers in 1958 and went on to star for Ohio State and the Baltimore Colts.  While always considered at the next level to be small in stature for his position on the field, he used superior technique to overcome his larger opponents.  And he transformed that approach to football into a stellar career for which he was awarded many times over and after football giving back to the community.
Bob Vogel was born in Columbus on September 23, 1941.  After a freshman season at Brilliant and two more at Toronto, he had an opportunity to watch Massillon defeat Steubenville in 1957 and was immediately taken by the Tigers' superb organization and high level of play.  So he asked his father if he could play his senior year in Massillon.  Being in the construction trade and with the current job wrapping up, it was a simple move for the family in order to help Bob fulfill his wish.
Vogel was large at the time for a high school player (6'-5", 225 lbs.) and up to this point he used that size to dominate his foes.  But size alone wasn't going to be enough to challenge the opposing players he would face in Massillon.  But Head Coach Leo Strang and a bevy of assistants quickly went to work teaching him the proper fundamental techniques.  Bob simply took off from there.
As an end he was a dominant blocker, while catching six touchdown passes (5 of the 9 tossed by quarterback Joe Sparma), including a long of 37 yards against Akron Garfield.  He also played defense and kicked off.  Helping his team to an 8-1-1 record and 4th place finish in the A.P. Poll, he was awarded 1st Team All-Ohio honors.  The following summer he was selected along with two other Ohio players (one being Massillon's Bill Zorn) for the All-America team that would face the Pennsylvania All-Stars in the Big 33 game.
Next up was Ohio State, where he played offensive tackle under Head Coach Woody Hayes, joining the varsity as a sophomore in 1960 (freshmen were not permitted to play varsity at that time).  Although be bulked up to 250 lbs., he was still one of the smallest linemen on the team.  But that didn't stop him from using all those techniques he learned at Massillon and shortly found himself as a starter.
During his three years as a varsity player, OSU compiled a record of 21-5-1, including an 8-0-1 mark in 1961, the only blemish coming in the first-game, a 7-7 tie vs. TCU.  But the Buckeyes ran the table the rest of the way, finishing with a 50-20 beat down of Michigan and ended up Big 10 Champs.  They were also named national champions by the Football Writers Association of America (both the AP and UPI ranked the Buckeyes 2nd behind Alabama).
In Bob's senior year he was named a team captain and post-season a 1st team All-American by the American College Football Association.  He graduated with a B.S. degree in Marketing.
His final football stop was the Baltimore Colts, who selected him No. 5 in the NFL draft, the highest position ever for a Stark County player.  He was also drafted by the AFL Boston Patriots, but obviously he passed on this opportunity.
His career in Baltimore spanned ten years (1963 through 1972) and he started every game save one  when he was nursing an ankle injury and played left tackle, protecting the blind side of future Hall of Famer Johnny Unitas.  Once again he relied on superior technique to counter his much larger opponents.
Bob was part of many outstanding Baltimore teams, including the following:
1964 – 12-2 record; lost the NFL championship game to Cleveland.
1965 – 10-3-1 record; lost a playoff game to Vince Lombardi's Green  Bay Packers
1967 – 11-1-2 record; no playoffs due to the tie-breaker rule.
1968 – 13-1 record; NFL Champs; lost Super Bowl III to Joe Namath's AFL New York Jets.
1970 – 11-2-1 record; won Super Bowl V vs. Dallas, 16-13.
1971 – 10-4 record; lost conference championship to Miami.
He was 1st Team All-Pro in 1969 and participated in five Pro Bowl games (1964, 1965, 1967, 1968 and 1971).
After football, Bob worked for a while in business and then became a minister where he spent most of his time administering to prisoners.  He has also traveled extensively to Central America to help those in need.  In addition, he and his wife were foster parents to 48 infants.
But football is what Vogel is most known for.  In 1964, he was inducted in the Massillon Wall of Champions.  In 2014 he was inducted into the Ohio State Athletic Hall of Fame.  And in 2015 he was named to the Stark County Hall of Fame.
His fondest memory of Massillon: "The opportunity to be a part of a program that had a history of excellence.  I played at two other high schools.  They didn't have the type of commitment or history that Massillon did.  Being part of Massillon's football program gave me great visibility."  – The Independent, February 20, 2015