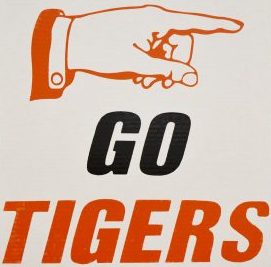 Each spring a group of dedicated Massillon Tiger Football Booster Club members spends several evenings at the old Massillon High School making signs to support the Tiger program.  Throughout the season, these signs are displayed in the windows of the various Massillon merchants.
Henry Ford would be proud of the assembly line precision on display during the production of several thousand signs.  On a given evening, two lines are in operation.  Each is crewed by 4-5 workers who are constantly in motion to complete the silk-screening of over 600 signs.  One worker feeds the silk-screening frame, a second does the actual silk-screening, a third removes the completed signs and others stack the signs in racks for drying.
Some signs are devoted to specific games (i.e., "Beat Akron St. Vincent"), while others are general (i.e., "Go Tigers Go").  While most have single color lettering, some have two colors and are run through the assembly line twice, once for each color.
Chairman Paul Ream and his crew do a remarkable job completing around 5,000 signs by end of the spring.  "I've been doing this as a committee chair about six years," Paul said.  "We have probably about twelve guys each day.  We go through one night a week and do two signs a week."  The best part of doing this according to Paul: "Just getting together with guys from the Booster Club.  For all the Tiger fans.  For the kids.  Something we can take pride in."
Each week during the season over 400 businesses receive signs honoring the Massillon football program.  Be sure to support them.