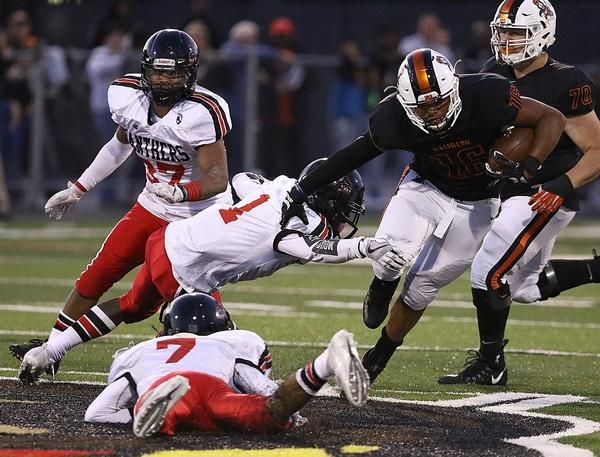 The Touchdown Club annually presents the Bob Commings Hardnose Award to a deserving Massillon Tiger football player, emulating one that plays hard, hits hard and well represents his team.  Bob Commings was a very successful coach for the Tigers from 1969 to 1973, compiling a record of 43-6-2, including Massillon's last state championship (1970).  HIs 1972 team qualified for Ohio's first ever state playoff game.  Commings departed following the 1973 season to become head coach of the University of Iowa and later coached at GlenOak High School, for which their field was later named.
The selection of the deserving player is based on a weekly accumulation of votes cast by the members of the Touchdown Club at their Tuesday meetings.  This year's award winner is Jamir Thomas.  Just a junior, he joins a stellar list of past recipients, including John Mulbach (Ohio State), David Whitfield (Ohio State), Charles Danzy (NFL coach), Chris Spielman (Ohio State), Shawn Crable (Michigan) and Brian Gamble (Illinois/Ashland)
Thomas was slated to play this season on defense almost exclusively at linebacker.  But due to an early unforeseen depletion of running backs, he was thrust into the primary offensive position.  According to Massillon Head Coach Nate Moore, Jamir readily accepted the change and was prepared to do anything he could to help the Tigers be successful.  His performance was more than was expected, eventually being named First-Team All-District at the position, and helped his team capture the regional title in the playoffs.
Thomas finished the year with 1,506 yards, 3rd among all Massillon players.  The yards came on 349 carries, blowing away the previous mark of 253.  He also scored 21 touchdowns, which ranks 5th.  The 42 carries against Canton McKinley in a 16-15 victory ranks 2nd and the 37 carries against Ashland ranks 5th.  The five TDs against Canisius, NY, set a new single-game record and the four touchdowns against Ashland and three against Austintown Fitch are both in the Top 10 of the category.  But Jamir also played some defense, recording 22 solo tackles and 10 assists in a part-time effort.
Congratulations to Jamir Thomas.