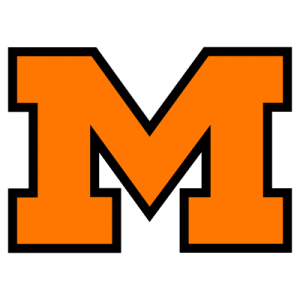 Tigers air it out for third consecutive win
Chris Easterling – The Independent
Sep 15, 2017 10:32 PM
MASSILLON – Massillon had won behind a punishing running game over a modest two-game winning streak. To make it a three-game win streak, the Tigers decided to show they could throw the ball as well.
Sophomore quarterback Aidan Longwell looked anything but like a sophomore has he lit up the Ursuline defense to the tune of 324 yards and five touchdowns as Massillon rolled to a 42-13 win Friday night at Paul Brown Tiger Stadium.
"Aidan had a great game," Massillon coach Nate Moore said after his team improved to 3-1. "You have to give credit to Ursuline; they did a great job up front. Their defense gave us tough sledding running the football, which is what we had been good at. We needed to go to the air, and Aidan threw great balls and made great decisions; our receivers caught the ball well. That was really the difference for us."
If there was a black cloud to come over the night, it came late in the third quarter when Longwell was hurt on a second-down play. Longwell, who was 11-of-17 passing for the game, was walking without an apparent limp during the postgame handshake line, but Moore wouldn't state for certain the true extent without speaking to the trainer.
The tone of the night was set early by the Tiger quarterback, who was making just his fourth career start. After sandwiching two incompletions around a 10-yard completition to start, he would complete nine of his next 13 passes – four of which went for touchdowns – for 283 yards to help Massillon open up a 28-7 halftime lead.
Longwell was 10-of-16 for 293 yards with the four scores in the first half alone. To put that in perspective, in the Week 3 win at Warren Harding, he was 8-of-11 for 120 yards and two touchdowns for the whole game.
By the end of the first quarter against Ursuline, Longwell had completed 7-of-11 passes for 156 yards and two scores, both to Austin Kutscher. Kutscher had a 39-yard scoring catch on a second-and-25 play to give Massillon a 7-0 lead on its opening drive, then caught a 34-yarder from Longwell on third-and-8 on the second possession for a 14-0 lead.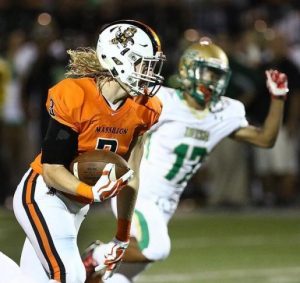 "He throws a wonderful ball," Ursuline coach Larry Kempe said of Longwell. "He throws a good ball. He's smart enough to get rid of the ball very quick. I think he's going to be a real, real nice player."
Longwell and Kutscher would hook up against on Massillon's first play after stopping Ursuline on downs at the Tiger 31. The 69-yard strike marked the seventh time this season the two had connected for scores, this time giving the Tigers a 21-7 lead just under three minutes into the second quarter.
Kutscher finished with 198 receiving yards on seven catches. He added a 31-yard touchdown catch in the third quarter which made it 35-7.
"He's a great player," Moore said of Kutscher. "He's one of our captains tonight. Nobody works harder than Austin. He's very skilled, very savvy as a receiver."
Aydrik Ford became the first Massillon player to catch a touchdown pass other than Kutscher when he brought in a 47-yard pass from Longwell on third-and-9. The play made it 28-7 with 3:01 left in the half.
All of the passing proved to be somewhat necessary, as Ursuline was doing its part to not allow Massillon to go to its bread-and-butter, the power running game. Jamir Thomas' 10-yard run on the fourth play of the Tigers' second second-quarter possession alone proved to more than double the team's first-half rushing totals.
Massillon went into halftime with just 19 net rushing yards on 13 attempts, a number only slightly skewed by a pair of kneel-downs to end the half. The Tigers would finish with 117 rushing yards, 71 by Zion Phifer who scored on a 1-yard run in the fourth quarter to make it 42-13.
"On film, we saw what they were trying to do with the running game," Kempe said. "We had three different plans of attack that worked very well for us. Truth be told, for the first time in four weeks, played with great passion."
Ursuline, meanwhile, was moving the ball consistently on the ground. The Irish, though, struggled to finish off drives.
The first-half drives for Ursuline all reached at least the Tiger 37. However, only the Irish's second possession reached the end zone, on Joe Floyd's 7-yard run to pull them within 14-7 with 2:55 left in the first quarter.
Ursuline punted from the Tigers 40 and 39, while being stopped on downs at the Massillon 29 and 16 in the first half. The Irish also had second-half drives reach the Tiger 1 and 34 without scoring.
The Irish, who had 215 rushing yards in the first half, finished with 269 on the ground. They would add a 4-yard touchdown run by Floyd to make it 35-13 with 7:10 remaining.
Floyd rushed for 132 yards on 35 carries for Ursuline. Quarterback Jared Fabry added 113 yards on 17 attempts.