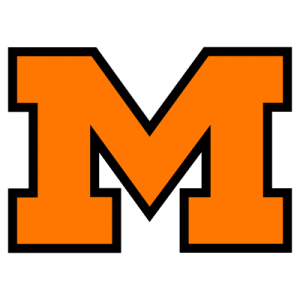 Massillon Keeps Ball, Win Away From GlenOak
Chris Easterling – The Independent
Sep 01, 2017 10:45 PM
Massillon played a game of keep-away on Friday night at Paul Brown Tiger Stadium.
The Tigers spent much of the game keeping the ball away from GlenOak. That led directly to Massillon keeping the win away from the Golden Eagles as well, as it emerged with a 24-10 victory to even its record at 1-1.
Aided by a 33-carry, 107-yard effort from Jamir Thomas, Massillon was able to run 80 plays in the game to just 43 for GlenOak, which is 0-2 for the first time since 1998. The Tigers finished with 356 total yards, while the Golden Eagles' 188.
"There's no doubt about it he was a part of it," Massillon coach Nate Moore said of Thomas, who had missed the season-opening loss to Mentor due to disciplinary reasons. "But great performance by our offense and a great performance by our defense, especially in the first half. I'm proud of those guys."
The tone of the game was set in the first half. Massillon's first two drives took 19 and 21 plays, respectively.
Even more importantly, they both resulted in points. Klay Moll ended the first one with a 23-yard field goal for a 3-0 lead; Thomas ended the second one with a 1-yard plunge to give the Tigers a 10-3 lead.
By halftime, Massillon had already run 45 plays for 166 yards to just 16 plays for GlenOak for 61 yards. Of those, nine plays and 30 yards came on the Golden Eagles' first drive, which ended in a Dean Sarris 20-yard field goal to tie the game at 3-3.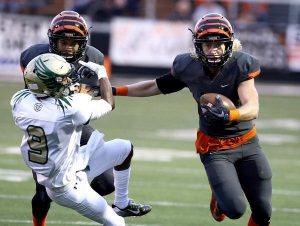 "The first half, obviously, we just couldn't get off the field defensively," GlenOak coach Scott Garcia said. "They ran the ball right down our throats. I think it was 45 plays for them in the first half to 16 for us. You're not going to win games like that."
The running game certainly was the backbone of the Tiger win. Massillon ran for 157 net yards on 55 carries – including 28 yards on 12 carries on a 15-play, game-sealing fourth-quarter scoring drive that ended on an Aidan Longwell 1-yard run with 2:33 remaining.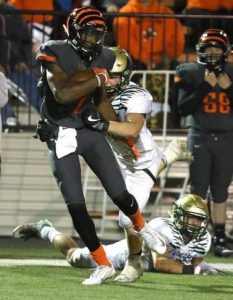 However, two pass plays may have been the ultimate difference. The first was a 33-yard Longwell-to-Austin Kutscher touchdown pass immediately after a Dyson Berry interception in the third quarter to put the Tigers in front 17-3.
The second, maybe bigger, one came on the final scoring drive. Facing a second-and-21 from the GlenOak 38, Longwell hit Dean Clark on a wheel route for 36 yards to the Eagle 2.
Three plays later, Longwell powered in from the 1 for a 24-10 Tiger lead. GlenOak would go four-and-out on its next possession to squelch any further threat.
"It was a great throw," Moore said of the Longwell-to-Clark pass. "It was sort of a back-shoulder throw. Great call by our offensive coaching staff. The kids executed, and that's what it takes to win big games."
Longwell, in his second start, was 15-of-25 for 209 yards with the one touchdown pass.
Meanwhile, GlenOak quarterback Tate Rhoads was never able to get the one part of his game that had Tiger defensive coaches most concerned in the week leading to the game. That would be his rushing ability.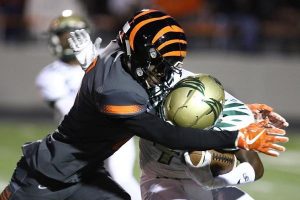 Rhoads, who had 78 yards on six first-half carries before leaving with a broken collarbone in the teams' 2016 meeting, was held to just six rushing yards on four carries.
"He missed a couple of reads that he should've given the ball," Garcia said. "He just didn't do it. He didn't play very well and he knows it, and we're going to move on."
Rhoads was 16-of-24 for 145 yards with a 6-yard touchdown pass to Chris Armstead with 8:01 remaining to cut Massillon's lead to 17-10. He also had the interception, which Berry made on a diving catch after the ball deflected off of the receiver.
Click Here for: Game Statisitics