Massillon ditches Fitch to keep roll going
Chris Easterling – The Independent
AUSTINTOWN There aren't many places in which Massillon has played multiple games at where it can say it has accumulated a losing record over the years. The home of the Austintown Fitch Falcons, however, is one of those places.
Well, the proper verb tense would be the past tense of "was" now.
The Tigers went into Greenwood Chevrolet Falcon Stadium on Friday night and both evened their all-time record there while extending their 2017 win streak with a 38-28 victory over Fitch.
"We're definitely proud of our guys tonight," Massillon coach Nate Moore said. "They played hard tonight. It was a hard-fought victory."
The win, the fifth in a row for the Tigers, improves them to 5-1 on the season. Meanwhile, Massillon – which had lost its previous two trips to Fitch – is now 6-6 all-time in Austintown.
Like most trips to Fitch, the Tigers had to fight through their share of adversity. That started before the game even began with a scoreboard clock which didn't operate, requiring the officials on the field to keep them abreast of the time.
"It was awful," Moore said. "It's not their fault; their scoreboard malfunctioned. It was difficult. We kept our own time on the sideline. We knew it wasn't going to be perfect, but it was going to be a good estimate. The referees did a great job of communicating time to us. It was handled as well as it could possibly be handled."
There was also a blocked punt which Fitch's Mike Ferree recovered in the end zone for a touchdown to help the Falcons tie the game at 14-14 in the second quarter. That punt came at the end of a series in which Massillon was flagged for an offensive pass interference to put them well behind the chains.
It was one of only two times the Tigers – or either team, really – punted on the night. But it would the second of four times in which Fitch was able to tie the game, also matching Massillon at 7-7, 21-21 and 28-28.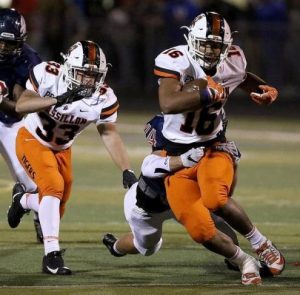 The Tigers, though, never had to play from behind. A big reason for that was a punishing offensive game plan which featured a whole lot of running the football with Jamir Thomas and Zion Phifer.
Thomas ran for a game-high 163 yards on 30 carries, while scoring touchdowns to give Massillon leads of 7-0, 14-7 and 28-21. Phifer added 92 yards on 21 carries and a score which gave the Tigers a 21-14 third-quarter lead.
"That's pretty much the game plan," said Moore, whose team ran for 254 yards on 52 carries in the game. "We used our offensive line that's played really well. They played really well tonight."
The go-ahead touchdown for Massillon, though, came through the air. Aidan Longwell found Tre'Von Morgan for a 12-yard touchdown with roughly 4:30 remaining for a 35-28 lead.
Longwell was 7-of-13 for 113 yards with the one score. Morgan had four of those catches for 78 yards.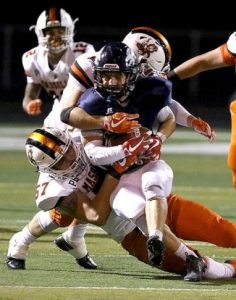 The Tigers would add a 39-yard field goal by Klay Moll with roughly two minutes remaining for a 10-point cushion. The field goal was set up by the lone turnover of the game, a fumble by Fitch which was returned 35 yards by Dyson Berry.
Fitch would remain in the game thanks to its own rushing attack, which gained 296 yards on 38 attempts. Ralph Fitzgerald's 58-yard run on the Falcons' second play tied the game at 7-7 and was part of his 107-yard rushing night.
However, the Falcons' biggest threat was quarterback Joey Zielinski. Zielinski rushed for 106 of his 114 yards and both of his touchdowns in the second half.
"They're a good football team that runs the ball well," said Moore, whose team came up with four fourth-down stops, including three on their side of the 50. "That's what they do. Their quarterback's a middle linebacker, so throwing the football's not going to be their thing. They're a good team."