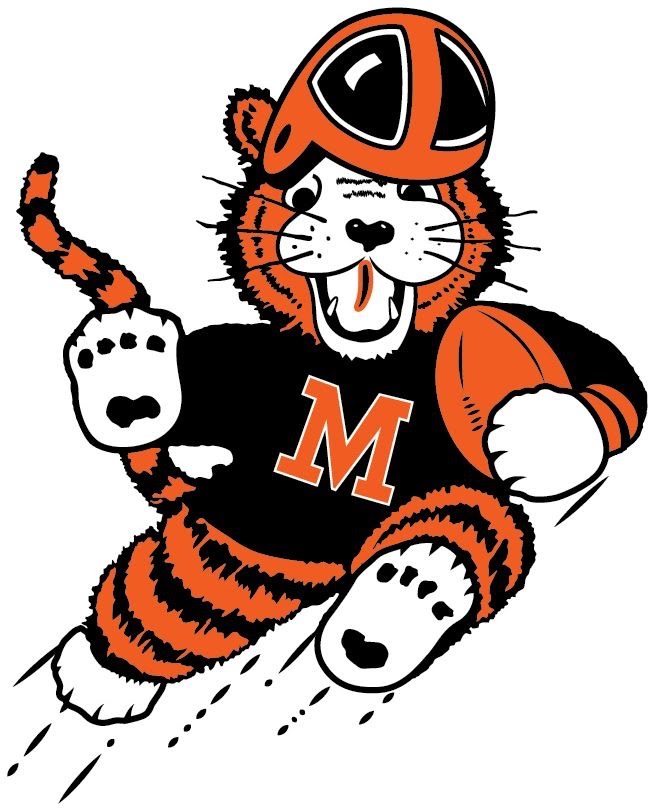 The intensity was high for Saturday's scrimmage No. 2 at Massillon's Paul Brown Tiger Stadium.  Massillon was coming off of what Coach Nate Moore described as a disappointing performance against Avon last Tuesday and looked to ramp up both the execution and the effort.  Meanwhile, Berea Midpark was trying to erase the memory last year's complete domination by the Tigers in a similar venue.
The much-improved Titans were led by strong-armed quarterback Trevor Bycznski, a 6'-5", 225 lb. junior.  Massillon, meanwhile, countered with a bevy of skilled athletes.  While the scrimmage started off fairly even, in the end it was clear that the Tigers had shown the improvement they were looking for enroute to another dominating performance versus the Titans.
Part 1 of the scrimmage called for each team to run two 10-play series, starting at their own 40 yardline.  Massillon tallied three times and Midpark twice.
Midpark: TD on a 3-yard run.  TD on a 45-yard pass.  The second score was a sideline throw to the wide receiver, who slipped a potential tackle by the cornerback and raced 40 yards to the end zone.  The Tigers' Preston Hodges recorded an interception
Massillon: TD on a 25-yard run by Tyree Broyles.  TD on a 60-yard bomb from Anthony Pedro to Dean Clark.  TD on a 50-yard bomb from Pedro to Tre-von Morgan.
Part 2 of the scrimmage called for each team to run a series of plays starting at the opponents 20 yardline.  Massillon tallied four times and Midpark twice.
Midpark: TD on a 20-yard pass.  TD on a 10-yard pass.  Kameron Simpson recorded an interception.
Massillon: TD on a 20-yard pass from Aidan Longwell to Aydrik Ford.  TD on a 5-yard pass from Longwell to Hunter Anthony.  TD on a 1-yard run by Marcellous Blake.  TD on a 10-yard pass from Pedro to Morgan.
The JV team then got into the action, with Robbie Page intercepting a pass.  Jayden Ballard scored from 60 yards out and again from 40 yards out on passes from Jacob Catrone.
Part 3 of the scrimmage was one half of game condition football.  At this point the Tigers appeared to kick it up a notch and were clearly the better team, scoring four times in their first five possessions.  Midpark never threatened.
Midpark had the ball first, starting on its own 20 yardline.  On the first play from scrimmage Cameron Simpson stepped in front of the intended Titan receiver and intercepted a Bycznski pass at the 26.  From there, it took just one play for Jamir Thomas to take a handoff from Longwell and race to the end zone.  Clay Moll's kick was good and the Tigers were out to a quick 7-0 lead.
The other three scores came on long drives.  Moll connected on a 28-yard field goal, Dean Clark caught a 16-yard pass from Longwell, aided by a terrific block from Morgan, and Thomas ran 53 yards, making the final score 24-0.
Observations:
Play was much improved from the Avon scrimmage, particularly when the teams went to game condition football.
This is not a "one-man" team. Several players are capable of making the big play.
Lots of athleticism and depth at the skill positions. Decent size, but not so much depth along the lines.
Overall team speed is much improved from last year.
All three quarterbacks (Longwell, Pedro and Catrone) executed the offense well and were fairly accurate on their throws. All showed the potential to go deep.
Three good running backs (Thomas, Louis Partridge and Blake) providing both power and speed where called for.
Open field tackling needs a bit of work.
Still need to improve the pass rush, but this may be due to using a base 3-4 alignment.
The kicking game is in good hands with Moll converting all of his PATs plus the field goal try.  His kickoffs were high and deep, with one reaching the end zone on the fly.
The final scrimmage is against Lakewood St. Edward, scheduled for 7:00 pm on Friday, August 18.