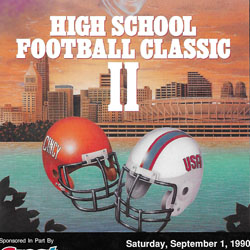 It began as a modest 30 x 30 square foot neighborhood eatery and grew in size to over 50 locations throughout the Cincinnati and Northern Kentucky areas.  Today, LaRosa's Restaurants employ some 2,000 full and part-time workers and are one of the most popular venues in the Queen City.  As a way of giving back to the community that supported him so well, Buddy LaRosa staged one of the finest high school football invitationals that Ohio has ever seen.
The event was held in Cincinnati's Riverfront Stadium on September 1, 1990, and billed as "Cincinnati versus the USA."  In fact, the list of opponents for the classic was a literal "who's-who" of prep school football, matched in the following five games (1989 records shown):
GAME 1: Brentwood Academy, TN (11-2), currently ranked No. 1 in the nation vs. Cincinnati LaSalle (7-3)
GAME 2: Berwick, PA (14-1) vs. Fairfield (5-5)
GAME 3: Massillon (10-3) vs. Covington Catholic, KY (11-2)
GAME 4: Mount Carmel, Chicago, IL (13-1), the 1989 Illinois state champion, vs. Cincinnati Moeller (11-3), Ohio's 1989 state runner-up
GAME 5: Booker T. Washington, Tulsa, OK (13-2) vs. Cincinnati Elder (10-1)
In the opening game LaSalle upset Brentwood Academy 10-0 and then Fairfield beat Berwick 20-6, giving Cincinnati a 2-0 edge in the series.  Now it was time for the orange and black to take the field.
Covington returned an experienced team under 15th year head coach Lyn Ray.  In fact, the Colonels were 38-4 over the past three years, including a pair of state titles.  Massillon was coached by Lee Owens, who was in his third year as headman of the Tigers.  Considered as one of the top powers in Ohio each year, Massillon was coming off an impressive 51-0 opening week victory over Stow, which finished the 1990 season with an 8-2 record.
Covington struck first, one minute into the game, by intercepting a pass and returning it 35 yards for touchdown.  On their second attempt, the Tigers stalled at their own 25 and were faced with a punt situation.  Only it was a fake.  Up man Troy Burick took a direct snap and tossed a flair pass to Travis McGuire, who had adjusted his position to the outside.  McGuire gathered the ball and raced 20 yards for a first down.  From there, the Tigers drove to the end zone, with James McCullough scoring from the three.  The PAT failed, but the gap was closed to 7-6.
In the second quarter Massillon began to take control, with touchdowns by Quarterback Barry Shertzer and McGuire, putting the Tigers up a halftime, 18-7.
Covington scored in the 3rd to close the deficit to four points, but the Tigers exploded for 21 points late in the fourth quarter to put the game away.  First Shertzer went over from the 15 following a recovered fumble.  Then Falando Ashcraft tallied from 35 yards out.  Finally, Scott Karenbauer returned a punt 77 yards for a TD to ice the game.  Ryan John converted all three PATs.  All of this occurred in less than two minutes of play.
The Tigers ended up completely dominating the Colonels in the stats department, leading in total yards, 369-111.  On top of that, Ashcraft had a career day, rushing 28 times for 190 yards and was named the game's MVP.  It made for a great ride home from Cincinnati.
In the late games, Mount Carmel bested Moeller 20-7, and Booker T. Washington turned back Elder 21-9, giving USA the edge, 3-2.
Covington Catholic finished 9-1 that year, winning a District championship, while Massillon ended up 8-3, losing to Sandusky in the playoff regional finals.  But this victory and rest of the season would set the stage for a greater 1991 season to follow.