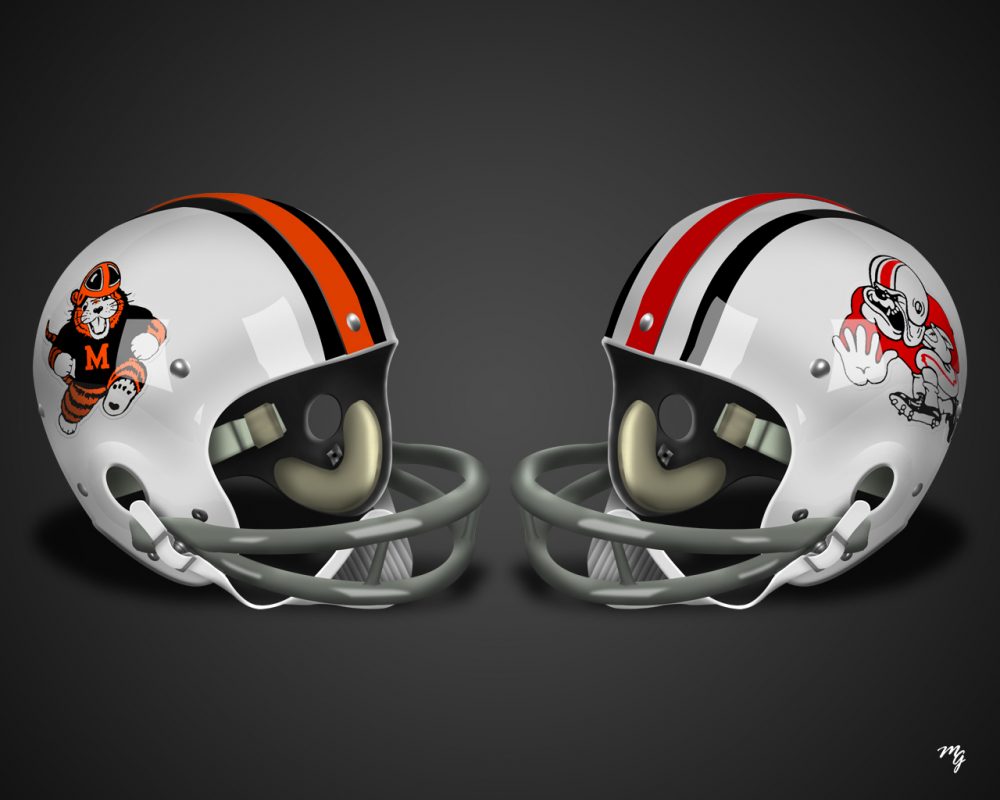 Tigers battle adversity, bring back victory bell
Chris Easterling
Independent sports editor
MASSILLON Nothing seemed too easy for Massillon on Saturday afternoon.
The yards – and the points – didn't quite come as effortlessly as they had in other games. McKinley, conversely, moved the ball as well as any Tiger opponent had moved it on them in weeks. Nothing, though, is supposed to be easy about a game between archrivals Massillon and McKinley. That's why the wins are celebrated as heartily as they are, as was the case after the Tigers' 21-19 win over the Bulldogs in front of roughly 14,000 at Paul Brown Tiger Stadium.
"That's a Massillon-McKinley game," Tiger defensive lineman Malcolm Robinson said. "The thing that won this game for us was that we pulled for each other until the last minute and the last seconds of the last quarter. That's what this Massillon Tiger football team does. When you do that, you win football games."
Massillon will now take an 8-2 record into the Division II playoffs, which will start next Friday night at Paul Brown Tiger Stadium. The Tigers, who will be the No. 2 seed, will face No. 7 seed Dublin Scioto, although the official pairings won't be set until Sunday.
The record will show the winning points for Massillon came on a 10-yard run by Keyshawn Watson – who was making his season debut – with 10:05 remaining. That gave the Tigers a 21-13 advantage. It will also show McKinley had multiple chances to make things even more difficult on Massillon than it already was. The Bulldogs pulled within 21-19 on a 4-yard Dominique Robinson run less than a minute after Watson's run.
Having already had a point-after kick blocked, McKinley went for the 2-point conversion to try and tie the game. That attempt was fumbled, keeping the Tigers in front by two.
"We were chasing that point from early in the game," McKinley coach Dan Reardon said after his team fell to 6-4 heading into the Division I Region 1 playoffs. "We had to go for two, and we didn't get it. When you get behind by a PAT or whatever, you're always chasing it. That was the difference."
Likewise, McKinley's subsequent – and final – drive offered a chance to not just tie, but take the lead. However, a 37-yard field goal try with 4:32 left was pushed right, keeping Massillon ahead.
"It's all about the brotherhood," Tiger senior linebacker Jacob Risher said. "We all do it for the guy next to us. We all wanted it as bad as the other, and we pulled through."
McKinley, despite an afternoon in which it gained 339 offensive yards, never saw a chance to change the score after that. That's because Massillon milked the rest of the clock by running it nine straight times to end the game. That running game was boosted by the return of Watson, who had missed the first nine games due to
being academically ineligible. The junior, who rushed for 1,000 yards a year ago, gained 167 yards on 31 attempts and scored the Tigers' final touchdown.
Watson's effort helped Massillon run for 261 yards on 54 carries as a team. It was Watson's 35-yard run – with an additional 15 tacked on for a McKinley personal foul – which moved Massillon from secondand-7 at its own 5 to first-and-10 at the Bulldog 45.
That drive, which included a 9-yard Jamir Thomas run on fourth-and-1, culminated in Watson's scoring run.
"We knew Keyshawn was a good football player," said Tiger quarterback Seth Blankenship, whose only two completions on the day were a pair of touchdown passes to Austin Jasinski. "We knew he had to change to get back out there. Once he fixed that up, it's was just Keyshawn being Keyshawn. He didn't lose any form, because we made him work himself back into it."
McKinley, which had come into the game having scored just one offensive touchdown in its previous two games, scored one in each of the first two quarters to take a 13-7 halftime lead. The Bulldogs picked up a 79-yard Robinson-to-Prayer Wise touchdown in the first quarter to pull within 7-6, then a 12-yard Robinson run with 9:33 left in the half to take the lead.
The Bulldogs threw virtually everything at Massillon, from Reggie Corner getting his first four rushing attempts of the season – for 62 yards – to a formation where backup quarterback Alijah Curtis lined up by himself behind center, with everyone else lined up in a swinging-gate-like look.
That's how seven of McKinley's 11 possessions were able to reach Massillon territory. However, an interception and a fumble lost ended two drives, while the Bulldogs also failed to convert on fourth and-1 at the Tiger 22.
"It was nuts," Risher said. "All the formations they ran, it was not on film. We watch a ton and a ton and a ton of film. We had to read our keys, learn on the go and we got the job done."
That's why, despite all the adversity, the Tigers were ringing the Victory Bell in joy when the game came to an end.