Massillon rallies to take out archrival McKinley
Oct 28, 2017 5:54 PM
CANTON The last time Massillon played archrival McKinley, in the last game at Fawcett Stadium, it saw its heart ripped out by a late Bulldog score. The first time the Tigers played in Tom Benson Hall of Fame Stadium, their archrivals' sparkling new home, they weren't about to allow lightning to strike twice.
Massillon emerged from the 128th meeting against McKinley with a 16-15 victory which wasn't completely secured until Sam Snyder's 45-yard field goal with 90 seconds remaining was pushed wide left.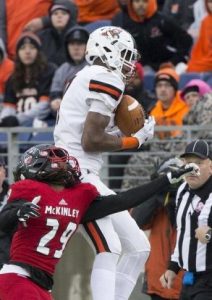 "It was swinging back and forth, back and forth," said Massillon running back Jamir Thomas, who rushed for 124 yards and a touchdown on 42 carries. "It was a hard-fought game, really. They're a really good team; they're top-10 in the state in Division I. Us coming in and beating them, that's a good thing."
The Tigers, who will take a 7-3 record into Friday's Division II Region 7 quarterfinal against Boardman at Paul Brown Tiger Stadium, took the lead for good on Tre'Von Morgan's 8-yard touchdown catch – and Klay Moll's point-after kick – with 6:02 remaining. For both Morgan and Moll, there was a bit of redemption.
Morgan dropped a sure touchdown catch on Massillon's first possession of the second half, which would have extended its 9-7 halftime lead. Moll, meanwhile, suffered his first missed PAT kick of his career after the Thomas' 2-yard run in the second quarter put the Tigers in front.
Morgan, though, atoned on the go-ahead drive with a 52-yard catch-and-run to the McKinley 25, then with the touchdown which tied the game at 15-15. Moll, then, gave Massillon the lead with the point-after kick.
"It's was very big," said Morgan, who had a team-high 77 yards on four catches. "I dropped one in the end zone, and they just kept telling me to keep playing. So I kept playing."
One part of Massillon's team which kept playing the entire game was its defense, which never allowed McKinley's high-octane offense to get into a consistent groove. The Bulldogs did gain 267 total yards to the Tigers' 248, but the explosive plays weren't there.
The biggest play for McKinley was a 40-yard run by Javon Lewis to the Massillon 31 on the final Bulldogs drive of the game. However, that drive netted just three yards before Snyder's field-goal try.
"A lot of it was heart," Massillon linebacker Logan Anania said. "It was just who wanted it more. I feel like we did."
McKinley's two scoring drives accounted for 127 of the 267 yards. The first, a 55-yard march, put the Bulldogs in front 7-0 with 8:13 left in the first quarter on Keyshawn Watson's 13-yard touchdown run.
The second, a 72-yard drive, ended on a Josh Chandler 1-yard run with 9:15 remaining. Sio Saipaia ran in the two-point conversion on a counter play for a 15-9 McKinley lead.
Chandler, playing just his second game after missing four with an injury, ran for a team-high 107 yards on 18 carries for McKinley. Watson, the former Tiger playing in his second game for the Bulldogs, was limited to just 32 yards, while also having a kickoff return for a touchdown negated by a hold and then muffing a punt.
McKinley rushed for 242 yards as a team on 38 attempts.
"We felt we were able to run the ball on them," said McKinley coach Dan Reardon, whose team enters the playoffs at 8-2. "And we really did a good job. I don't know what the yardage was, but we felt like our ability to run the ball never wavered. (But) we put ourselves in some long yardage situations with some penalties."
If there was an Achilles' heel for McKinley all day, beyond the Tiger defense, it was those penalties. The Bulldogs were flagged 13 times for 110 yards, including nine for 65 in the first half alone.
"Cost us the game," Reardon said of the flags.
One negated Watson's kickoff return for a score immediately after Massillon went ahead 9-7. The Bulldogs also help set up the Tigers' first touchdown when it was flagged for holding on the kickoff, then hit for a hold and a false start to force them to put from their own 10.
A 30-yard punt by McKinley put Massillon on the Bulldog 40. Seven plays later, the Tigers scored on Thomas' 2-yard run for their first lead of the day.
It wouldn't last the remainder of the game. However, Massillon would still have the last lead of the game.

Redemption story: Morgan's TD catch keys Massillon win against McKinley
Oct 28, 2017 6:30 PM
CANTON Redemption is available in high school football.
Seizing it is another matter entirely.
Massillon's Tre'Von Morgan snatched his Saturday afternoon. McKinley's Sam Snyder came painfully close to grabbing his own.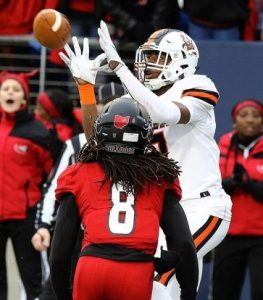 Morgan's 8-yard touchdown reception and Klay Moll's ensuing extra point midway through the fourth quarter rallied Massillon to a 16-15 win against McKinley at Tom Benson Hall of Fame Stadium in the 128th edition of this rivalry.
A crowd of approximately 14,000 braved wet, cold conditions to christen Benson Stadium in a matchup that dates back to 1894.
Saturday wasn't a masterpiece, but as is usually the case it was close at the end, with the game being decided by two points or less for a third straight year.
Junior Jamir Thomas, who two years ago had McKinley's Dominque Robinson flip over him for the winning score and last year helped bleed out the clock in a Massillon win, called the feeling "incredible" after the Tigers beat the Bulldogs for the sixth time in the last seven meetings and improved to 70-53-5 in the series.
No one would have been surprised if he had described the feeling as "dead tired," considering he carried the ball a season-high 42 times for 124 yards and a touchdown Saturday.
"I feel good. I feel real good," said Thomas, a Canton native, who waved good-bye at the McKinley stands after the game. "We lift and prepare for this and we come out here and wear teams down. That's our motto and that's just what we do."
Morgan, a 6-foot-6 junior, dropped what would have been a 29-yard touchdown pass midway through the third quarter. That would have put the Tigers up two scores. They eventually turned the ball over on downs, and then found themselves trailing early in the fourth quarter when McKinley's Josh Chandler scored on a 1-yard touchdown run.
"They just told me to keep playing," Morgan said about his teammates, "so I kept playing."
Good thing.
With Massillon down 15-9, it was Morgan's 47-yard catch and run that flipped the field. The Tigers eventually faced a fourth-and-3 from the McKinley 8. After a timeout, sophomore quarterback Aidan Longwell found Morgan wide open on a fade route for the score with 6:02 left.
Moll, who missed a point-after try earlier in the game for the first time in his career, knocked this one through to give the Tigers the 16-15 lead.
"Roll the dice. Big game," Massillon head coach Nate Moore said about his decision. "We thought about playing for field goal-field goal, but how often do you get that close with a chance like that? We took a chance and the kids executed."
Morgan finished with four catches for 77 yards, while Austin Kutscher added six catches for 37 yards. Longwell, who had been knocked out of the game briefly in the first half with a leg injury, returned to complete 11 of 17 passes for 121 yards, the one TD and no interceptions.
"That shows a lot of guts," Moore said about Longwell.
McKinley got two shots after Morgan's touchdown.
The first one was short-circuited by a penalty — a theme throughout the day for the Bulldogs.
The second one had life when Javon Lewis broke loose on a 40-yard run.
McKinley eventually faced a fourth-and-7 from Massillon's 28 with 1:30 left. After a timeout, Bulldogs head coach Dan Reardon elected to have Snyder, his senior kicker, try a 45-yard field goal for the lead.
It was Snyder who missed from 37 yards last year in the fourth quarter against Massillon with his team down 21-19.
"I felt good about Sam kicking it," Reardon said about Saturday. "A bunch of kids said, 'Yeah, give him a chance. He'll make this kick.' And we went with it. He felt good about it."
But Snyder's attempt sailed just to the left of the uprights. Massillon ran out the clock from there.
Massillon dominated the time of possession 31:00 to 17:00 thanks in part to its running game with Thomas and clutch play on third down (9 of 17), but also because the Bulldogs couldn't get out of their own way.
McKinley was penalized 13 times (which matched a season high) for 101 yards. A holding penalty in the first half negated Keyshawn Watson's 90-yard kickoff return for a touchdown and the flags plagued the Bulldogs throughout.
"Cost us the game," Reardon said, the disappointment seeping out of him.
McKinley (8-2), which has lost two straight after starting 8-0, did not look like the No. 8-ranked team in the state in Division I. Junior QB Alijah Curtis completed only three passes for 24 yards and was intercepted once. Watson muffed a punt.
Chandler, in his second game back after missing four straight because of a knee injury, carried 18 times for 107 yards. Watson, the former Massillon player, had a 13-yard touchdown run on the game's opening drive. McKinley finished with 242 yards on the ground.
Both McKinley and Massillon had clinched playoff spots entering Saturday. The Tigers (7-3) will host Boardman next week in the first round of the Division II, Region 7 playoffs, according to JoeEitel.com's projections. Official pairings will be announced Sunday by the OHSAA.
McKinley could have earned a home game in Week 11 by beating Massillon. Now the Bulldogs will go on the road to either Cleveland St. Ignatius or Lakewood St. Edward next week.
SCALZO: In gritty game, Tigers ride workhorse to victory
Joe Scalzo – Canton Repository
CANTON The upset was complete, the victory bell was ringing, the party was starting, but before he joined his teammates, the Tiger at the end of the postgame handshake line wanted to leave a parting message for his arch-rivals.
So Massillon junior Jamir Thomas jogged over to the nearly-empty home stands at Tom Benson Hall of Fame stadium, formed a "W" with his hands and waved goodbye.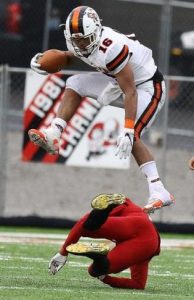 Two years after McKinley quarterback Dominique Robinson dove over Thomas' body and into the end zone in the final game at the former Fawcett Stadium, Thomas was leaving Canton's iconic field in a much better mood.
"This definitely feels better," he said moments after singing the alma mater with his teammates in front of Massillon's student section following the 16-15 victory. "Two years ago, him (Robinson) diving in the end zone really killed everything, especially coming in the last moments of the game.
"This year, we were able to run the ball, control the line of scrimmage and control the game clock. We came out here to win, and that's what we did."
In a game that had all the beauty of a construction site, the 6-foot-1, 212-pound Thomas repeatedly pounded away at the inside of the McKinley defense, chipping paint off his helmet and precious seconds off the clock, 3.0 yards at a time.
He carried the ball 42 times for 124 yards — exactly half of the Tigers' total offensive output — as Massillon controlled the ball for 31 of the game's 48 minutes.
It was the type of game only Jim Tressel (or Mike Fratello) would love, but it was the type of game Massillon needed to play.
"We had a plan going in and we were able to see that through in a lot of ways," said Tigers coach Nate Moore, who improved to 2-1 in the rivalry against McKinley coach Dan Reardon. "We felt it was important to help our defense out."
At times, the Pups seemed to feel the same way. They were flagged 13 times for 101 yards. They muffed a punt. They made attempting a forward pass seem as risky as buying junk bonds.
It was all the more mystifying considering this is a team that has more seniors than the Hartville Kitchen at lunchtime.
Massillon, meanwhile, was supposed to be a year away from contention after graduating four FBS recruits, a two-year starter at quarterback and its most dynamic wide receiver. But the Tigers' young team kept getting better, while the Bulldogs' experienced team — one that looked like state championship contenders just a few weeks ago — seems to have stalled.
"That team is good and we were definitely the underdogs," Thomas said. "But in this game, it really doesn't matter. You can be 0-9. Anybody can win."
McKinley still finishes the regular season with an 8-2 record. It still has a share of the Federal League title. It still has its third straight playoff berth. But all that seems empty as the Pups stumble into the postseason for the second straight year.
Instead of hosting a first-round playoff game, the Bulldogs will likely travel north to play one of Cleveland's two Catholic powerhouses. If they win, the other one likely awaits.
Anyone like those odds?
Massillon, meanwhile, benefits from playing in Division II, Region 7, the same region Perry rolled through over the past two years en route to back-to-back state championship game appearances. With the Panthers stuck in Division I and no frightening foe looming in the first three rounds, does anyone think the Tigers can't do the same?
But all that can wait. The playoffs should never overshadow high school football's biggest rivalry. Saturday's game may not have been an instant classic — more like a distant throwback — but it was everything the city's fans come to expect.
Meaningful. Emotional. Consequential.
Oh, and physical. Boy, was it physical.
"A lot of it was heart," Tigers linebacker Logan Anania said. "It was just who wanted it more.
"We feel like we did."