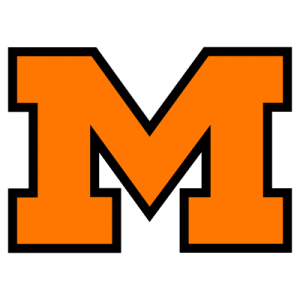 It's Tigers … spelled with an "I"
Mansfield's Tygers are beaten in every phase of the game
By JOE SHAHEEN
Independent Sports Editor
Lennox Lewis over Mike Tyson.
Richard Nixon over George McGovern.
The German army over the French army.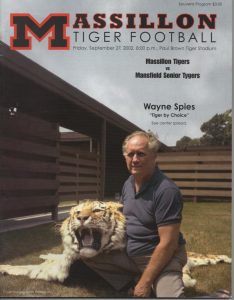 One‑sided victories all. But no more so than Massillon's 56‑0 demolition of a Mansfield Senior team that was 4‑1 and ranked seventh in its computer region coming into Friday night's game that was played in front of 7,538 fans at Paul Brown Tiger Stadium.
It was one‑sided almost from the opening kickoff as Massillon's defense pitched its second shutout of the season and permitted Mansfield just two first downs in the first half, which ended with the Tigers comfortably in front 35‑0.
"Massillon has a very good football team I and we have a very young football team," said Mansfield coach Stanley Jefferson. "They were able to physically come out and hammer it to us and we couldn't do anything to stop them on either side of the football."
That is reflected in the statistics as Massillon compiled 446 total yards to Mansfield's 184.
It looked like the Tiger team that decimated its first three opponents and dominated St. Ignatius for a half.
"We are a very good football team when our kids are in the right frame of mind," said Tiger coach Rick Shepas. "They can't been too high or too low. They have to be right in the middle with a little bit of a chip on their shoulder. And that's really important. That's why we have to sit on them like we do. The better these kids feel about themselves, the more they take for granted.
"It took us a little longer to get over the Ignatius loss. We were moping around and we were flat against Fitch." The Tigers controlled the line of scrimmage all night long, rushing for over 330 yards and averaging over eight yards per running play.
"We had a good week of practice all week," said Tiger offensive tackle J.P Simon. "We went extra hard every day. We're trying to come off the ball and dominate. We just wanted to come out tonight and show everybody what we are about.
"Give the backs a lot of credit. They were breaking a lot of tackles and hitting the holes hard."
Although he didn't start the game, due to missing a practice this week, senior Ricky Johnson led the Massillon ground game with 111 yards and three touchdowns in only 12 carries.
Fellow senior Terrance Roddy was superb once again with 75 yards and a touchdown in only six totes.
"We got into a good flowing mixing up formations in the running game on them," Shepas said. "I thought Matt Martin did a good job checking at the line of scrimmage and I thought we de a good job throwing as well.
"We didn't make some plays in the pass game. As much as we throw it, we want to be better in that area."
Just minutes after Massillon scored on a Steve Hymes to Brad Hauser three‑yard touchdown pass to close the scoring with 1:12 to play, the Tigers were doing what Shepas calls Green Bay conditioning drills in the middle of the field.
"Those are just a little reminder for people who aren't giving effort or for penalties that might hurt us," explained Tiger co‑captain Keith Wade. "We're trying to eliminate that stuff and become a better football team."
It's hard to imagine a better team than Massillon showed in the first half against Mansfield. The Tigers scored on their second possession following a 24‑yard Mansfield punt.
On first down from the Mansfield 48, Roddy took a handoff from Martin and found an opening over right guard and tackle. Roddy broke it to the right sideline at the 45 and was off to the races, finally being dragged down at the 6.
Two plays later, Roddy went over right guard again for the touchdown from four yards out. Max Shafer's kick made it 7‑0 Massillon at 5:25 of the first quarter.
Mansfield's second possession was a three‑and‑‑out series that ended with a shanked punt that traveled just 14 yards.
"Our special teams have been sporadic all year," lamented Jefferson. "You can't do that against Massillon. They take advantage of that."
A holding penalty on the Tigers negated an eight‑yard Roddy touchdown run following the punt, but Massillon scored two plays later when Martin completed a short pass to Roddy in the left flat, and the senior running back outran the pursuit to the end zone for the touchdown. Shafer's point‑after conversion made it 14‑0 Massillon at 3:08 of the first.
Johnson was inserted in the game after Mansfield's third punt in as many possessions gave Massillon the ball at midfield. On second‑and‑10, the 6 foot, 193‑pound senior skirted around right end for 36 yards to the Mansfield 15‑yard line.
Martin hooked up with George Pribich for 10 yards to the 1 and Johnson did the honors from there, bucking into the end zone at 11:15 of the second quarter. Shafer's kick was true and the Tigers led 21‑0.
Once again Mansfield went three‑and‑out but an excellent punt forced Massillon to start at its own 23. A six‑play drive that included an 18‑yard inside run by Tuffy Woods was capped by a 32‑yard touchdown run by Johnson at 7:30 of the second quarter. Shafer's point‑after made it 28‑0 Massillon.
Massillon's final tally of the first half was set up when Michael White recovered a muffed punt at the Mansfield 25. Five plays later Johnson bowled over a Mansfield tackler at the one‑yard line and strode into the end zone for his second touchdown of the half. Shafer tacked on the conversion kick at 2:04 of the first half and it was a 35‑0 contest.
After a scoreless third quarter, Hymes found pay dirt on a 10‑yard bootleg run around left end at 10:28 of the fourth quarter.
Devin Jordan got into the act, hauling in a high‑arcing Hymes pass in the end zone just 12 seconds later after Massillon covered its own kickoff.
Massillon 56
Mansfield Senior 0
Mas Man
First downs rushing 15 7
First downs passing 3 2
First downs by penalty 2 0
TOTAL first downs 20 9
Net yards rushing 334 183
Net yards passing 112 1
TOTAL yards 446 184
Passes attempted 23 8
Passes completed 13 3
Passes intercepted 0 0
Punts 5 9
Punting average 33.6 32.7
Fumbles/Lost 1/0 3/2
Penalties 7 7
Yards penalized 68 60
Massillon 14 21 00 21 56
Mansfield 00 00 00 00 00
SCORING
MAS ‑ Roddy 4 run (Shafer kick)
MAS ‑ Roddy 17 pass from Martin (Shafer kick)
MAS ‑ Johnson 1 run (Shafer kick)
MAS ‑ Johnson 25 run (Shafer kick)
MAS ‑ Johnson 3 run (Shafer kick)
MAS ‑ Hymes 10 run (Shafer kick)
MAS ‑ Jordan 26 pass from Hymes (Shafer kick)
MAS ‑ Hauser 3 pass from Hymes (Smith kick)
INDIVIDUAL STATISTICS
Massillon rushing: Johnson 12‑111 3 TDs, Roddy 6‑75 TD, Hymes 10‑68 TD,Woods 6‑61.
Mansfield rushing: Phillips 32‑149.
Massillon passing: Martin 11‑21‑83 TD, Hymes 2‑2‑29 2 TDs.
Mansfield passing: Molyet 3‑8‑1.
Massillon receiving: Jordan 2‑31 TD, Ashcraft 3‑23., Roddy 1‑17 TD, Woods 2‑13.
Mansfield reveiving: Greer 1‑3