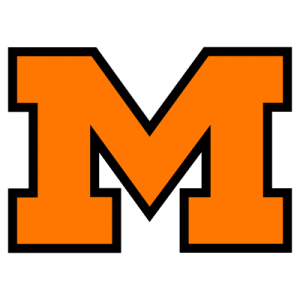 Another week… another whipping
Massillon mauls Garfield 60‑0 Martin ties touchdown mark
By JOE SHAHEEN
Independent Sports Editor
If the Massillon Tigers were hoping for a more competitive game to prepare them for next week's invasion by defending state champion Cleveland St. Ignatius, they were sorely disappointed. It took less than 30 seconds for Massillon to put up the first score of the game and that set the tone for the Tigers' 60‑0 thrashing of Akron Garfield in front of 9,015 fans at Paul Brown Tiger Stadium, Friday night.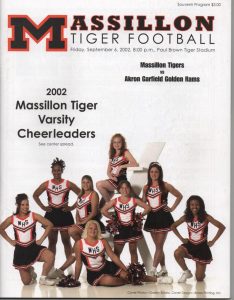 Matt Martin tied a Massillon single‑game record with five touchdown passes on the night, three in the first half, as the Tigers romped for the third week in a row. The senior first‑year starter, wasn't even aware he'd tied the mark shared by Justin Zwick (2001) and Mike Byelene (1934).
"That's awesome," Martin said. "It would have been better if I hadn't thrown an interception. "The coaches had a great game plan. The line is blocking really well. The receivers are catching everything. And we're hitting on all cylinders." But Martin put everything in perspective. "The record's a great thing to accomplish and I'm proud of that," he said. "But as long as we win the state title, I don't care if I set any records or anything, as long as we win the state championship."
If the Tigers do go all the way, it will be on the strength of its stellar defense, which limited Garfield to a measly four first downs and 87 net yards in posting its first shutout of the 2002 campaign. "We continue to get stingier and stingier," Tiger coach Rick Shepas said. "I think the kids are really understanding the philosophy of the defense. That's our primary goal. It is going to continue to be a strength for us."
Shepas opted to keep starting linebackers Shawn Crable and Tony Graves on the sidelines "as a precaution." Both have ankle injuries, though Crable was in a walking boot protecting the same foot he broke during basketball season last winter. Their absence didn't seem to matter as the Tigers overwhelmed Garfield at the line of scrimmage all night long.
"We did what we had to do and the offense put points on the board," said senior linebacker A.J. Collins, who played in Crable's place. "Me and Patrick (Turner) know we had some big shoes to fill so we just stepped up until Crable and Tony get healthy."
Turner stepped in for Graves at inside linebacker for the second week in a row. Garfield coach Bob Sax didn't think the Massillon defense missed the two veterans at all. "They were without Crable and they're still a real good defense," Sax said. "We wanted to try to get outside on them. We just couldn't do it. Their outside linebackers come real hard and they're not going to let you get outside."
By the time the Garfield was able to register its first first down of the game at 1:44 of the first quarter, the Tigers had already raced to a 14‑0 lead and were never in any real danger of giving up that advantage.
The Tigers landed a haymaker before Garfield even broke a sweat as Tuffy Woods forced a fumble with a jarring hit on the opening kickoff and Craig McConnell fell on the loose ball at the Golden Rams 35 yard line.
Martin wasted little time going straight for the jugular, lofting a pass to Stephon Ashcraft at the one yard line on the very first play from scrimmage. From there Ricky Johnson ‑ who finished with 116 yards on 18 carries ‑ took a handoff and went off his right tackle and into the end zone for the touchdown. Max Shafer's conversion kick was true and the Tigers led 7‑0 just 22 seconds into the ball game.
Garfield's second possession lasted only slightly longer than its first. The Rams decided to go for it on fourth‑and‑one at their own 40‑yard line but Massillon senior strong safety Markeys Scott buried Erique Dozier on an inside running play for no gain and the Tiger offense again had the short field.
Two runs by Johnson and one by Terrance Roddy moved the ball to the Garfield 14. Then Martin dropped back and targeted Devin Jordan in the end zone for the touchdown. Shafer's kick was good and the Massillon lead was 14‑0 at 8:52 of the first quarter.
Billy Relford set up the Tigers third touchdown of the night when he short hopped a punt, then cut to his right and raced 44 yards to the Garfield 11‑yard line.
"Billy Relford is a playmaker," marveled Shepas. "He has a set on him, I'm telling you. It's going to be to his advantage down the road because he is going to have a lot of opportunities."
Johnson ‑ did the honors from there, slashing over right tackle virtually untouched to the end zone. Shafer's kick made it 21‑0 just 13 seconds into the second quarter.
Massillon's fourth and fifth touchdowns of the first half capped sustained drives. The Tigers marched 68 yards in 10 plays following a Garfield punt, scoring on a 12‑yard Martin to A.J. Collins aerial when the southpaw rolled right and threw a strike across his body and into the end zone. The point‑after failed and Massillon was up 27‑0 at 5:15 of the first half.
"I thought Matt did a nice job going to his right, being a left‑handed quarterback a real nice job," Shepas said. "He had a really solid performance. He continues to make great decisions for the team."
The Tigers closed the first half scoring on an eight‑play, 38‑yard drive. Martin connected with Stephon Ashcraft on an eight‑yard curl pattern in the end zone for the six. Shafer's kick made it 34‑0 with 22 seconds left until halftime.
Martin again hooked up with Ashcraft to open the second half scoring. The diminutive wideout snared a 25‑yard toss at the Garfield 25 and was immediately sandwiched by a pair of Garfield defenders. But he somehow spun away and sprinted into the end zone for the score at 9:32 of the third quarter. The kick failed and Massillon's lead was 40‑0.
Martin's fifth and final touchdown pass of the night was a 1‑yarder to James Helscel after Greg Babcock blocked a Garfield punt. Two plays before the score Johnson tore off a 29‑yard run but limped off the field. Shepas says the running back will be ready for St. Ignatius.
Steve Hymes replaced Martin at quarterback and scored the game's final two touchdowns on runs of 1‑ and 12‑yards as the Tigers improved to 3‑0.
"The last three years it has been the same thing," Sax said. "They're a real good team but we'll see how good they are next week against St. Ignatius."
We started fast and the kids are playing real hard right now," Shepas said. "We were able to get some turnovers early. We continue to improve."
Massillon 60
Garfield 00
M G
First downs rushing 14 3
First downs passing 7 3
First downs by penalty 1 0
TOTAL first downs 22 4
Net yards rushing 266 57
Net yards passing 161 30
TOTAL yards 427 6
Passes attempted 15 7
Passes completed 12 3
Passes intercepted 1 1
Punts 1 6
Punting average 46 28
Fumbles/Lost 2/0 2/2
Penalties 7 3
Yards penalized 53 40
Massillon 14 20 19 07 60
Garfield 00 00 00 00 00
M ‑ Johnson 1 run (Shafer kick)
M ‑ Martin 14 pass to Jordan (Shafer kick)
M ‑ Johnson 11 run (Shafer kick)
M ‑ Martin 12 pass to Collins (Kick failed)
M ‑ Martin 9 pass to Ashcraft (Shafer kick)
M ‑ Martin 51 pass to Ashcraft (Kick failed)
M ‑ Martin 1 pass to HeIscel (Shafer kick)
M ‑ Hymes 1 run (Kick failed)
M ‑ Hymes 12 run (Smith kick)
INDIVIDUAL STATISTICS
Massillon rushing: Johnson 18‑116 2 TDs, Hymes 8‑49 2 TDs, Pullin 4‑32, Woods 3‑31, Roddy 5‑30, Walterhouse 1‑8, Ashcraft 1‑5.
Garfield rushing: Taylor 6‑31, Council 4‑13.
Massillon passing: Martin 12‑15‑161 5TD.
Garfield passing: Donatelli 3‑7‑30 1 INT.
Massillon receiving: Ash Jordan 2‑20, Johnson 2‑13, HeIscel 213, Collins 1‑12, Caprita 1‑4.
Garfield receiving: Kightlinger 2‑23.