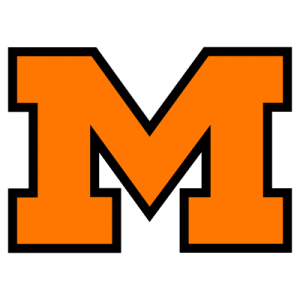 Tigers hit Walsh early and often
By JOE SHAHEEN
Independent Sports Editor
At 4‑1, the Massillon Tigers weren't generating much respect around the state, mostly because the combined record of the four teams they conquered was 5‑15.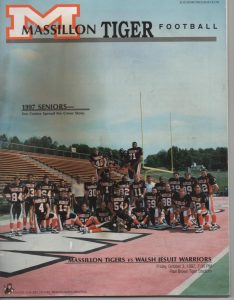 That all changed in front of 11,023 fans on an ideal Friday night for football at Paul Brown Tiger Stadium as the Tigers swarmed over the Walsh Jesuit Warriors, handing Ohio's No. 8 ranked Division III team a 27-­14 setback.
Actually, it could've been a much larger margin of victory, but the Tigers seemed to go into hibernation after building a four‑touchdown first half advantage, leaving head coach Jack Rose a little glum after the final gun.
"I'm just disappointed that when we got up 27 we just did­n't finish it off," Rose said. "The last half of the second quarter was really disappointing. We got the ball with 2 1/2 minutes left in the half and there was no sense of urgency on the part of our offense. It's like they were content. That's what I told them at halftime. I was upset about it. They played like the game was over. We've got to be better than that,"
Walsh Jesuit, which falls to 4­2, came out with the intention of taking control of the game early. Veteran head coach Gerry Rardin indicated before the game that was a key for his team to post its first ever regu­lar season win at P.B. But reali­ty was 180 degrees in the oppo­site direction.
Those guys came after it on offense and their defense came after it to," Rardin said, "They came out tonight on offense and they attacked. Their offensive line was impressive. All their running backs were impressive."
Part of the reason for the Tigers passionate first half plav may have been a little pre‑kick­off gamesmanship on the part of Walsh Jesuitr.
"We came out, the kickoff was ready and (Walsh Jesuit) made us wait another five minutes or so," said cornerback B.J. Burick. "That added some wood there, too. We were all pumped.
We were ready. We were men­tally prepared for this game the best we have been this year. This is the real Tigers. That wasn't the real Tigers against Lima Senior."
The real Tigers forced Walsh to punt after three snaps follow­ing the opening kickoff, and Josh Kreider's 10‑yard return set the home team up with good field position at their 42.
Quarterback Tip Danzy gained 13 yards on a bootleg run around left end on first down. Three plays later, on fourth‑and‑1 from the Warriors' 36, fullback David Hodgson got a nice hole on a trap play and rumbled 24 yards to the 12. Two snaps later from the 3, Hodgson went into the line and emerged in the end zone to cap the seven ­play, 58‑yard drive. Josh Hose nailed the extra point and Massillon led 7‑0 at 7:11 of the first period.
The Tigers defense repeated their opening series perfor­mance as Chris Smith sacked Walsh quarterback Dan Larlham on third down to force another three‑and‑out. It was an especially gratifying play for Smith, who has been idle since the Week Three victory over Garfield with an ankle sprain.
"It really felt good," Smith said. "I'm still a little out of shape. But I figured I'd go out there and have some fun and get in on a few plays.
"We thought about it before the game. The coaches had a long talk with us before the game about being intense and having fun. And we just com­bined the two. Everything fit."
Everything fit on Massillon's second possession of the evening as well.
After Danzy picked up a first down at the Walsh 35 on a sneak, he hit Clint Dean on pop pass for seven yards. Then Hodgson picked up nine yards and Morgan added seven more to the Warriors' 12. After anoth­er Danzy sneak, Hodgson got the ball on two consecutive snaps, bursting into the, end zone from the three on a hard driving run at 1:21 of the first quarter.
Hose's conversion kick made it 14‑0 Massillon and the Warriors were reeling.
Finally, on their third possession, the visitors picked up their first first down of the evening as time expired at the end of the first quarter. But just four snaps later, Larlham fum­bled the ball and Massillon senior linebacker Brad Dean recovered at the Walsh 41.
It didn't take the Tigers long to capitalize. On the very first play after the turnover, Danzy pitched the ball to Morgan on the option and the 6‑foot‑4 tail­back cut up the right hash marks. He was hit by two Warriors at the 25, but shed both and galloped the rest of the way to paydirt as Massillon took a 20‑0 lead at 10:04 of the second quarter.
Then it was the Massillon defense's turn to have some fun. Senior outside linebacker Josh Hill, who had recovered an earlier fumble only to lose it back to Walsh on the run back, got another shot. Junior nose guard Chris Turner sacked Larlham forcing a fumble at the Walsh 25, and Hill scooped up the loose ball. He didn't quit running until he pierced the end zone for the second Tiger TD in less than a minute. Hose's PAT made it 27‑0 with 9:18 until the band show.
Walsh Jesuit finally got on the scoreboard on a three‑play drive that began at its 36 with less than a minute remaining in the first half. Larlham hit Dan Basch along the left sideline for a 28-yard gainer to the Tigers 27. On the very next snap, the junior QB again found Basch, this time in the right corner of the end zone for a touchdown. The extra point made it 27‑7 with four seconds left on the second quarter clock.
"It seemed like we had it all to‑ether the first two quarters, except for that last drive when they threw the ball on us and scored a touchdown," noted Rose. "We were playing pretty good. I don't know if we relaxed when we got up four touch­downs on them. You can't do that on a team like that. Hopefully we learned from that."
Massillon took the opening kickoff of the second half and marched from its 32 to the Warriors' 33, but the eight‑play drive stalled and Walsh Jesuit took over. With Larlham effec­tively running the football around the flanks and a wide receiver screen to Matt Powers mixed in, Walsh moved the ball to the Tigers 4.
Tom Lopienski, the Warriors fullback who is headed to Notre Dame, got a pitch from Larham, fumbled it into the end zone where Powers fell on the football for a Walsh touch­down. The PAT made it 27‑14 at 3:11 of the third and the natives were beginning to get a bit rest­less.
The Tigers moved to midfield on the ensuing possession but were forced to punt. However, junior outside backer Jason Bradley intercepted Larlham on Walsh's next possession to effectively quell any momen­tum the Warriors had at that point.
The Massillon defense forced Walsh to punt once again and Smith recovered a Warrior fum­ble to wrap up the win, the Tigers' fifth in six tries.
"Anytime you beat these peo­ple it's good," Rose said, "because it's a well coached team, they're going to have a good game plan and they have the kids who can execute it."
MASSILLON 27
WALSH JESUIT 14
M W
First downs rushing 16 4
First downs passing 0 8
First downs by penalty 1 1
TOTAL first downs 17 13
Net yards rushing 288 68
Net yards passing 6 166
TOTAL yards 294 234
Passes attempted 4 18
Passes completed 1 11
Passes intercepted 0 1
Punts 4 4
Punting average 28 40
Fumbles/Lost 3/1 5/4
Penalties 6 3
Yards penalized 69 22
MASSILLON 14 13 0 0 27
WALSH 0 7 7 0 14
SCORING
M ‑ Hodgson 3 run. Hose kick.
M ‑ Hodgson 3 run. Hose kick.
M – Morgan 41 run. Kick failed.
M – Hill fumble recovery. Hose kick.
W ‑ Basch 27 pass from Larlham. Ducharme kick.
W ‑ Power fumble recovery. Ducharme kick.
INDIVIDUAL STRFAMCS
Massillon rushing:
Morgan 23‑146,
Hodgson 15‑96,
Danzy 15‑44.
Walsh rushing:
Larlham 19‑55,
Lopienski 9­15.
Massillon Passing:
Danzy 1‑4‑6.
Walsh Passing: Larlham 11‑18‑166 ITD. I INT.
Massillon receiving:
Dean 1-6.
Walsh receiving:
Powers 4‑68,
Basch 3‑72.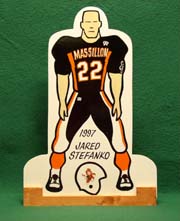 Jared Stefanko