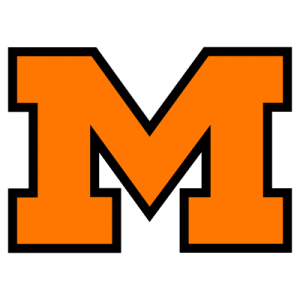 No contest!
Tigers maul Rayen in season opener Ashcraft, Spencer spark Massillon to easy victory
By JOE SHAHEEN
Independent Sports Editor
The Massillon Tigers seemed intent on giving Youngstown Rayen every opportunity to make a game of it in the teams' season opener at Paul Brown Tiger Stadium, Friday. But Rayen was just as determined to make things easy for their hosts.
In the end, Massillon walked off with an unfulfilling 41‑6 vic­tory in front of 10,756 on an un­seasonably chilly night.
How hard did Rayen try to be the perfect guest?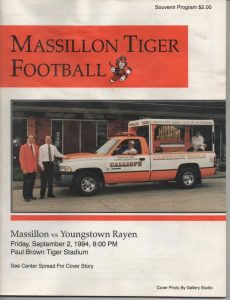 With Massillon leading 14‑0 early in the second quarter, the Rayen defense stiffened and forced a punt. But Massillon re­tained possession when Rayen was whistled for illegal participation. That usually means 12 men on the field, one too many. In this case, an official spotted 13 players on the field for the Youngstown entry.
The penalty gave the Tigers new life and they scored on the drive take a 21‑0 lead that would prove to be insurmountable for the visitors.
There's more.
Late in the first half, Tigers quarterback Willie Spencer strolled out of bounds on a third-and‑long play. That meant the Tigers would have to punt, apparently giving Rayen a final opportunity to get on the scoreboard. But a Rayen defen­der bumped Spencer after the play was dead and then got into a jawing match and was flag­ged for unsportsmanlike con­duct, an automatic first down for the hosts.
Massillon was not sharp, especially in the first half which ended with the locals holding a 21‑0 advantage. Spencer fum­bled twice, recovering both. The secondary was burned twice for long pass plays, each of which went for over 35 yards. And Massillon's longest pass play of the night, a 64‑yard hookup between Spencer and Steve Griffith, was called back on an illegal‑motion penalty.
Still, there were some bright spots for the Tigers, not the least of which was the impress­ive running of junior fullback Vinny Turner. When. it became apparent Rayen's defense was eying on the Massillon tail­backs, head coach Jack Rose in­serted Turner and began feed­ing him the football on quick hit­ters in the middle of the line.
Turner (5‑9, 194) responded with an impressive first half. He carried the ball seven times and picked up 65 yards before the band show, a 9.3 yards per carry average. His effective­ness forced Rayen to begin paying attention to the fullback and opened up things for tail­backs Leon Ashcraft and Nate Lewis.
"They were really penetrat­ing hard off the back side," Rose said. "So we thought we'd hit them quick, right over top of the center and soften them there. Then we hit them a cou­ple times off tackle with the trap play and got a couple of good gainers there.
"Vinny is a converted tailback and has great feet. He has a great future, whether it be at tailback or fullback."
Ashcraft scored twice in the first half. He capped a five-­play, 43‑yard drive on the Ti­gers second possession with a one‑yard TD dive over left guard. The stocky senior went in from 13 yards out on Massil­lon's next possession, absorb­ing a big hit at the 5 and keeping his balance to score standing up. The run culminated a three-­play, 47‑yard drive that was keyed by Turner's 31‑yard burst up the middle on the initial snap of the possession.
"That second run there was a nice little hole there and I just had to take it up in there," Ashcraft explained. "A couple of people got on me, but I just did what I had to do to help the team."
The Tigers only sustained drive of the first half took place on their first possession of the second quarter. Massillon moved from its 25 on 12 plays, scoring when Spencer snuck into the end zone from a yard away at 4:46 of the second period. Ashcraft's ten‑yard burst off right tackle and an 18­-yard scamper by Spencer on a roll out around right end keyed the drive.
Massillon came out sharp in the second half. Senior fullback Jeremy Fraelich rumbled for 25 yards on the first play after the band show. Spencer then hit Jason Manson for nine yards and two plays later found Vaughn Moeller along the left sideline for 30 more to the Rayen 7.
Spencer rolled right on second‑and‑goal and hit tight end Ryan Shanor under the crossbar for the TD and the Ti­gers led 28‑0 with 8:22 to play in the third.
Spencer found Moeller with a 37‑yard scoring toss at 3:38 of the third to make it 34‑0 and sig­nal the end of the night's work for the majority of Massillon's starters.
"Vaughn has deceiving speed," Rose said. "He got behind the secondary a couple of times. He can be a real deep threat for us this season."
Rayen got on the scoreboard with 2:06 left in the third when Damien Williams gathered up a Tiger fumble and ran 46 yards to paydirt to make it 34‑6.
Lamar Lancaster inter­cepted a Rayen pass with 5:30 to play and ran it back to the five-­yard line. Nate Lewis closed the scoring on first down when he burst into the end zone on the draw play. The kick made it 41-­6.
"We've got to improve in the passing game," Rose summarized. "We had a couple of drops again tonight. We're catching the ball and falling down and we should be catching the ball and running with it. But we im­proved as the game went on.
"Defensively, we missed a lot of tackles tonight. It looked like we were there, we just weren't wrapping up."
Rose had mixed feelings on the performance of his young offensive line, an area he be­lieves will be the key if the Ti­gers are to return to the playoffs for a second year in a row.
"I thought we handled their pressure pretty good when we came down and did our steps correctly and zoned properly. We did a nice job," Rose said. "The back side blocking could use some improvement.
MASSILLON 41
RAYEN 6
M R
First downs rushing 14 3
First downs passing 2 4
First downs penalty 2 0
Total first downs 18 7
Net yards rushing 262 65
Net yards passing 89 107
Total yards gained 351 172
Passes attempted 8 21
Passes completed 5 7
Passes int. by 1 1
Times kicked off 7 2
Kickoff average 45.7 38.5
Kickoff return yards 18 92
Punts 0 4
Punting average 0 25.0
Punt return yards 15 0
Fumbles 2 3
Fumbles lost 1 1
Penalties 5 12
Yards penalized 29 87
Number of plays 49 43
Time of possession 26:17 21:43
Attendance 10,756
Y'TOWN RAYEN 0 0 6 0 6
MASSILLON 14 7 13 7 41
SCORING SUMMARY
First Quarter
M ‑ Ashcraft 1 run (Pribich kick)
M ‑ Ashcraft 12 run (Pribich kick)
Second Quarter
M ‑ Spencer 1 run (Pribich kick)
Third Quarter
M ‑ Shanor 7 pass from Spencer (Pribich kick)
M – Mohler 37 pass from Spencer (kick failed)
R ‑ Williams fumble recovery in end zone (pass failed)
Fourth Quarter
M ‑ Lewis 5 run (Weirich kick)
FINAL STATISTICS
Rushing:
Massillon
Turner 9-72;
Lewis 9-61, 1 TD;
Ashcraft 9‑49, 2 TDs;
Spencer 7‑33, 1 TD;
Fraelich 4‑37;
Whitfield 3‑10.
Rayen
Johnson 7‑30,
Morgan 3‑18,
Jeffries 8‑14,
Wil­liams 4‑3.
Passing:
Massillon
Spencer 5‑7‑89, 2 TDs;
Whitfield 0‑1, 1 int.
Rayen
Jeffries 7‑21‑107, 1 int.
Receiving:
Massillon
Mohler 2‑66, 1 TD;
Shanor 1‑7, 1 TD;
Manson 1‑9;
Rohr 1‑7.
Rayen
Crenshaw 2‑71,
Jones 3‑33,
Williams 1‑4.