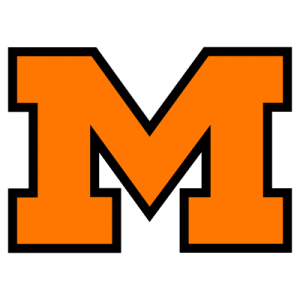 Massillon staves off the Fighting Irish
Tigers are 8‑0 with East next
By JOE SHAHEEN
Independent Sports Editor
Each of us has had a moment in our lives when a little voice inside tells us it is time to step up and take charge.
Massillon Tigers senior Paul Schroeder heard that little voice Friday night and heeded the call.
Schroeder's clutch 33‑yard reception midway through the third quarter turned momen­tum back in the Tigers' favor and helped them secure a clos­er‑than‑it‑sounds 42‑7 victory over scrappy Akron St. Vincent-­St. Mary in front of 10,412 at Paul Brown Tiger Stadium.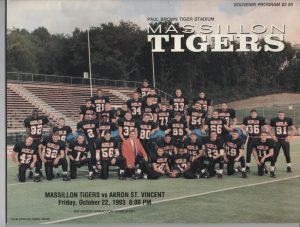 Massillon led 14‑0 at halftime but began the second half as if it didn't want to remain unbeaten. On the Tigers first play from scrimmage in the third quarter, missed connections on a basic handoff left the football on the sand turf. The Fighting Irish re­covered at the hosts' 39 and seemed to get a burst of confi­dence.
One third‑and‑five from the 34, sophomore quarterback Bob Butash rolled left and found sophomore running back Andre Knott along the left sideline. By the time Knott had been pulled down, the ball was at the Tigers' 5‑yard line. Three plays later, Gary James found a seam over his right tackle and scored. The extra point, which was ex­ecuted three times due to a pair of penalties, made it a 14‑7 con­test.
But Massillon's generosity had not been tapped out. Fol­lowing the ensuing kickoff, the Tigers took over at their 30. On first down, sloppy execution of the triple option left the football on the ground again and once again the visitors from Akron recovered.
Sensing a real threat, the Ti­ger defense stiffened. Josh McElhaney sacked Butash on first down and B.J. Payne blasted James for a loss on third down. Then Geoff Osborn bat­ted down a fourth‑and‑seven pass to give the offense an opportunity at redemption.
After gaining four yards in two plays, Massillon needed something to happen on third-and‑six from the 20. Schroeder obliged, hauling in Danzy's 33-­yard strike along the right side­line to breathe life into the attack.
"That was a real big play down there," said head coach Jack Rose. "It gave us the momentum back."
The Tigers seemed renewed by Schroeder's catch. Three plays later, Danzy executed the quarterback draw to perfection, cut off a superb block by Jake Laughlin and scampered 17 yards to the Irish 29.
On second down, Danzy rolled right, eluded the rush and hit Lonnie Simpson along the right sideline at the 5. Simpson cruised into the end zone to give the Tigers a 21‑7 lead and con­trol of the ball game.
But it was Schroeder's play that seemed to light Massillon's fire.
"It was a play action for the off tackle play," Schroeder re­called. "I show blocking and I cut out and go towards the cor­ner and break it toward the sideline. Mike threw a perfect ball. You couldn't ask for a more perfect ball. My job is easy, catching it."
It was the second time Rose had sent in the play. The first time, Schroeder passed up the assignment.
"The first time they called it, I told the other tight end Isaiah (Jackson) to take it," Schroed­er said. "So we switched sides and he went out. When they cal­led it the second time, it was like, let me have this one. I could just feel it. So I just did my job.
"I'm supposed to go to that side on that play. But for some odd reason, the first time I just told him to take it and the second time something in me told me, 'Let me have this one.'"
The Irish weren't able to do much after Simpson's touch­down catch. They went three-­and‑out on their next possession and Massillon took over at its 45. Two snaps later, Danzy hit Simpson with a short pass and the senior wideout broke it for a 22‑yard gain to the 19. After St. Vincent‑St. Mary dropped two sure interceptions, Ali Dixon took a pitch out around left end and outran the pursuit for a seven‑yard touchdown and a 28-­7 advantage.
The scoreboard didn't stay the same for long, as Willie Spencer Jr. picked off his sixth interception of the year and raced down the right sideline for a 36‑yard touchdown return and a 35‑7 lead.
It was three‑and‑out for the Irish once again and the Tigers set up shop at the 45. After a couple of quarterback draws, Danzy rolled left and hit Simp­son along the left sideline at the 5. Again No. 21 stepped into the end zone to close the scoring at 42‑7.
Longtime St. Vincent‑St. Mary head coach John Cistone was not all that unhappy with his team's performance.
"We were in it," Cistone said. "When we couldn't score down there fourth‑and‑seven … what are you going to do? We had to put it in.
"We had the momentum going and we ran out of gas. Most of our kids go both ways. The kids gave a hell of an effort."
Rose was not quite as upbeat as his counterpart.
"Well, we turned the damn ball over," Rose observed. "You turn the ball over against a team like that and you're just asking for trouble. We turned it over twice down there in the third quarter.
"They never really stopped us. We were stopping ourselves."
Rose found a lot to be desired in his squad's play along the offensive line.
"I was really disappointed in our line play tonight," he said. "We just didn't play very well. We have a lot to work on. We took a step backwards in that area tonight. We've got to get that straightened out in the last two weeks or we're not going to go where we want to go."
Simpson, who had four catch­es for 77 yards and those two touchdowns, acknowledged the Tigers didn't get going until midway through the third quarter.
"Yeah, we started a little slow," he said. "But we got on the move. Look what we done.
"I feel real good about this team. We had a great week of practice; a good week of con­ditioning and it showed in the second half. The coach got us going."
Schroeder confirmed that the Tiger staff did a little motiva­tional speaking.
"Coach jumped on us and said we're not playing up to our potential," Schroeder reported. "We just showed a little of our potential out there in the second half. There's always room for improvement, so we're going to improve this week and take on Youngstown East."
Danzy finished with 219 yards of total offense and made another fan along the way in Cistone, who has seen a few quarterbacks in his time.
"We wanted to keep him from getting outside," Cistone said. "No one has been able to keep him inside and I thought we did a good job there. But still, his athleticism … . He still makes the plays. I don't know what else we could've have done.
MASSILLON 42
St. V‑St. M 7
M V
First downs rushing 10 4
First downs passing 8 2
First downs penalty 0 0
Total first downs 18 6
Net yards rushing 172 50
Net yards passing 158 56
Total yards gained 330 106
Passes attempted 21 14
Passes completed 10 4
Passes int. by 1 1
Times kicked off 7 2
Kickoff average 43.6 44.5
Kickoff return yards 27 68
Punts 1 6
Punting average 44.0 31.2
Punt return yards 25 0
Fumbles 3 1
Fumbles lost 3 1
Penalties 3 7
Yards penalized 25 32
Number of plays 58 44
Time of possession 23:07 24:53
Attendance 10,412
ST. VINCENT 0 0 7 0 0
MASSILLON 7 7 7 21 42
FIRST QUARTER
MASS ‑ Ashcraft 1 run (Endsley kick)
SECOND QUARTER
MASS ‑ Dixon 4 pass from Danzy (Endsley kick)
THIRD QUARTER
ST. V ‑ James 2 run (Schapel kick)
MASS ‑ Simpson 26 pass from Danzy (En­dsley kick)
FOURTH QUARTER
MASS ‑ Dixon 7 run (Endsley kick)
MASS ‑ Spencer 36 pass int. return (Endsley kick)
MASS ‑ Simpson 25 pass from Danzy (Pri­bich kick)
FINAL STATISITICS
RUSHING
(Massillon)
Dixon 18‑94. 1 TD;
Danzy 13‑61;
Arney 2‑10;
Paul 2‑4;
Ashcraft 2‑3, 1 TD.
(St. Vincent)
James 15‑29,
Knott 5‑19,
LaCause 4‑15.
PASSING
(Massillon)
Danzy 10‑21‑158‑1, 3 TDs.
(St. Vincent)
Butash 4‑14‑56‑1.
RECEIVING
(Massillon)
Simpson 4‑77, 2 TDs;
Dixon 5‑47, 1 TD;
Schroeder 1‑34.
(St. Vincent)
Knott 3‑41,
Shenigo 1‑15.