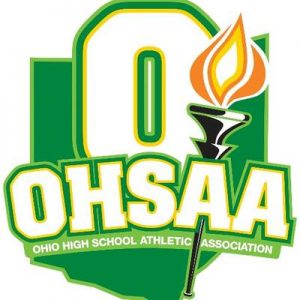 Tigers oust Orangemen
By STEVE DOERSCHUK
Independent Sports Editor
Late autumn. Orange‑and-­black vs. Orangemen. Two good running teams. Too cold to pass.
It was a perfect night for some smash‑pumpkin football.
And that is what the Massillon Tigers played Saturday night in carving out a 28‑6 football play­off victory over the Akron Ellet Orangemen in front of 11,000 frozen customers at Fawcett Stadium.
Massillon advanced to the Re­gion 2 (of Division 1) cham­pionship game Saturday night at 7 against Toledo St. John's at the Akron Rubber Bowl. Ellet finished the year with a 9‑2 record.
The Tigers ripped open a 21‑0 halftime lead and had no trou­ble riding out the victory even though starting quarterback Nick Mossides spent the second half in the locker room after his head bounced off the hard turf after a hit late in the first half.
It was so clear Massillon was the better team that Ellet head coach Joe Yost didn't bother moping.
"They're the best we've seen, he said. "We didn't play our best game, but let's face it. They're an outstanding team."
Massillon, 9‑2, was mightier on both lines of scrimmage against an Ellet team billed as a big bunch of bruisers.
"They looked bigger on film than they actually were " Massillon head coach Lee Owens said. "They did, in fact, have good size. But Walsh Jesuit, Cincinnati Moeller and Akron St. V all had bigger teams.
"They were very aggressive. The only team that's played more physical than Ellet was probably St. V."
The Tigers got back their one-­two running punch, with full­back Falando Ashcraft, who sat out most of a 42‑13 win over McKinley with a sprained ank­le, rushing for 102 yards.
'G.A.' to apply
at Rubber Bowl
All tickets for Saturday's 7 p.m. Massillon‑Toledo St. John's playoff game at the Akron Rubber Bowl will be general admission, Washing­ton High ticket official Josie Rollstin said Sunday.
Tickets, $5 apiece, will go on sale Tuesday at Paul Brown Tiger Stadium. Hours that day will be 7:30 a.m. to 9 p.m.
Hours will be 7:30 a.m. to 7 p.m. Wednesday at Tiger Sta­dium.
The sale will shift to Washington High School Thursday (7 a.m. to 7 p.m.) and Friday (7 a.m. to noon).
There will be no special hours for season ticket hol­ders, and no limit on the num­ber of tickets one can buy.
Travis McGuire stayed on fire with a 19‑carry, 198‑yard, two‑touchdown night.
Ellet wound up with a 48‑21 lead in passing yards, but it was the smash‑pumpkin stats that mattered: Massillon led 318‑124 in rushing yards.
McGuire expanded his school‑record, single‑season rushing total to 1,612 yards (8.1 per carry). Ashcraft moved nearer second place on the Mas­sillon career rushing yards list. He has rushed for 1,106 yards this year after totals of 195 as a sophomore and 1,182 as a junior. That adds up to 2,483, just short of Bill Harmon's second‑place total of 2,505 (1973­-75). Tops on the list is Art Hast­ings (3,090 yards, 1958‑60).
In Saturday's game, Ashcraft exploded over the right side on a trap play for a 49‑yard touch­down run that gave the Tigers a 21‑0 lead with 7:25 left in the second quarter.
"I wasn't 100 percent … probably in the late 80s," Ashcraft said. "I was still a little sore. This was like a little test. I'll definitely be back close to 100 percent next week."
The Tigers advanced to the Region 2 championship game against Toledo St. John's Satur­day night at the Akron Rubber Bowl. St. John's nipped Barberton 10‑7 in another playoff opener.
Ellet, also 9‑2, gave the Tigers a dose of Jackson deja vu on the first play from scrimmage.
A year ago, Jackson scored early in a playoff game against Massillon at Fawcett on a long run by Jaiye Murdock. On Saturday, Ellet would have scored on a broken play had not one of the Orangemen been caught clipping. Ellet tailback Bobby Clark picked up a bad pitch deep in his own territory, retreated to his own goal line, and wound up running at least 150 yards to the opposite end zone. The clip was nowhere close to the streaking Clark; Yet, it brought the ball all the way back to the Ellet 26‑yard line.
Ellet punted after three plays, then the Tigers tried three passes and had to punt themselves.
Thanks to its defense, Massil­lon had the ball back on a punt in good field position moments la­ter. McGuire traveled 33 yards on a counter play for a touch­down. Jason Brown's P.A.T. kick made it 7‑0 with 5: 27 left in the first quarter.
Ellet's next possession ended when a pass from quarterback Ryan George hit an official and ricocheted to Massillon's Wayne Gallion. Two plays la­ter, McGuire exploded for a 28-­yard touchdown run, but the play was called back by a hold­ing penalty. The possession en­ded with a punt.
Another Ellet possession be­came another three‑and‑out. This time, a 25‑yard punt return by Troy Burick gave the Tigers possession on the Ellet 31‑yard line. By this point, the Tigers were relying almost exclusive­ly on the run. It took eight run­ning plays to create another touchdown ‑ McGuire's one-­yard run. Brown's kick made it 14‑0 with 9:16 left in the second quarter.
Ellet again had to punt after three plays. This time the Ti­gers took over on their own 43. Mossides hit McGuire for a seven‑yard gain on first down. On second down, Ashcraft ex­ploded for his 49‑yard touch­down run. Brown's kick made it 21‑0 with 7:25 left in the half.
"Falando's touchdown was on a trap away from (the strong side of) our unbalanced line," Owens said. "It was a great play call."
Owens said offensive players recommended the play, which was in turn endorsed by offen­sive line coach Joe Studer.
"That touchdown was a key play," Owens said. "Another big key was our defense stop­ping their scoring threat late in the first half. If they find a way to score, that gives them some­thing to build on in the second half."
Ellet had driven to the Massil­lon 27 with just over a minute left in the half before a sack by Massillon's Jason Woullard and Brandon Turley snuffed out the threat.
Sophomore Mike Danzy took over at quarterback for the Ti­gers in the second half.
Neither team mounted a scor­ing threat until early in the fourth quarter, when Danzy en­gineered an all‑running, 59-­yard touchdown drive. Gains of 21 yards by Ashcraft and 25 yards by McGuire set up an eight‑yard touchdown run by Eric Wright.
Brown's P.A.T. kick gave the Tigers a 28‑0 lead with 8:36 left in the game.
Ellet salvaged some pride with a touchdown with 1:07 left, a two‑yard run by 6‑foot‑4, 215­pound fullback Danny Crook­ston.
The point‑after pass attempt failed, and the final score stood at 28‑6.
"We played hard and with a lot of effort," Owens said. "We really played well on defense. We played hard on offense, but not as well. Our continuity was not that good."
"Still, we had some nice ex­plosiveness on offense, at times. Ellet had only given up 48 points all season and we scored 21 in the first half."
On defense, the Tigers forced Ellet to pass, and the Orange­men were ineffective. George, who likes running the ball out of an option attack, completed only three of 17 passes, with two interceptions. Eric Woods made his third interception in the last two games.
As for the Jackson deja vu factor, it fizzled quickly,
Clark, the tailback whose long touchdown run was called back by the clip, disappeared.
MASSILLON 28
AKRON ELLET 6
M E
First downs rushing 10 8
First downs passing 0 1
First downs by penalty 1 1
Totals first downs 11 10
Yards gained rushing 326 268
Yards lost rushing 8 44
Net yards rushing 318 124
Net yards passing 21 48
Total yards gained 339 172
Passes attempted 12 17
Passes completed 5 3
Passes int. by 0 2
Times kicked off 5 2
Kickoff average 49.2 24.0
Kickoff return yards 12 80
Punts 4 7
Punting average 33.8 36.0
Punt return yards 68 6
Fumbles 2 2
Fumbles lost 2 0
Penalties 9 3
Yards penalized 87 45
Number of plays 49 56
Time of possession 20:17 27:43
Attendance 11,000
Ellet 0 0 0 6 6
Massillon 7 14 0 7 28