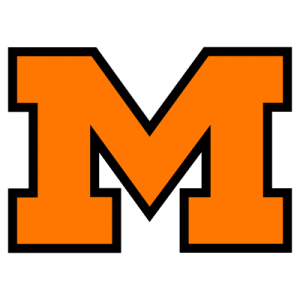 Massillon romps to 35-14 win
Tiger offense gets 448 yards
By ANDY CALL
Repository sports writer
MASSILLON ‑ There's one risk undertaken by a team at­tempting to play what some call "smash‑mouth" football with the Massillon Tigers ‑ you could come out with a bloody lip and minus a few teeth.
That, in essence, was what happened to Toledo St. Francis Saturday night. The state's fourth‑ranked team tried to play Massillon straight‑up and saw its interior line disintegrate almost from the outset. Final score: Massillon 35, St. Francis 14.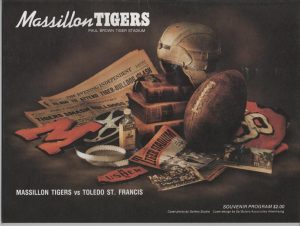 "That's the kind of game line­men look forward to," said of­fensive tackle Ryan Orr of Massillon. "We don't like to pass the ball."
The Tigers rolled up 381 yards rushing and 448 yards total offense, running 67 plays from scrimmage and holding a 31:02‑16:58 advantage in time of possession. Massillon running backs Travis McGuire (23 car­ries, 187 Yards, one touchdown) and Falando Ashcraft, 27 car­ries, 160 yards, two TDs) both had big games against a defen­sive interior Tiger linemen said was the best they had faced.
"There were a lot of holes , McGuire said. "We just powered it down their throat. Our line had its best game of the year."
Quarterback Nick Mossides, showing signs of recovery from a sprained knee that kept him out of last week's game, twice completed passes to tight end Greg Paul for touchdowns as Massillon (5‑1) never trailed.
St. Francis (5‑1) managed 218 yards total offense, 95 of it coming on two plays. Quarterback Tom Takats was 4 of 16 passing for 73 yards thanks to a pass rush that had Tiger lineman Jonathon Jones breathing down Takats' neck on nearly every attempt.
"The pass rush was the main thing we've been trying to im­prove upon." Jones said. We knew it would be smash‑mouth football, and we had to mentally prepare for that kind of game."
The Tigers scored on their second, third and fourth drives of the first half to lead 21‑7 at intermission.
With 3:18 to go in the first quarter, McGuire had 103 yards rushing. He high‑stepped into the end zone on a counter play to the right side that went 37 yards for Massillon's first TD. Later in the quarter. Mossides rolled right and found Paul in the right side of the end zone for a 4‑yard score and a 14‑0 lead,
Takats recorded three of' his four completions on a 74‑yard drive that pulled the Knights within 14‑7, dropping a perfect strike to Scott Davison for a 29‑yard touchdown. Massillon fumbled the ensuing kickoff, but stopped the Knights cold before reeling off a 69‑yard, seven‑play drive. Ashcraft went in standing tip from a yard out for a 21‑7 Tiger advantage.
The Tigers scored on their second and third drives of the second half to lead 35‑7. Mos­sides lobbed a fourth‑down pass, to Paul for a 17‑yard score and Ashcraft hit pay dirt on a dive over the right side from a yard out.
Toledo St. Francis 7 0 0 7 14
Massillon 14 7 7 7 35
M ‑ McGuire 37 run (kick failed)
M – Paul 4 pass from Mossides (Ashcratt run)
T ‑ Davison 9 pass from Takats (Woollard kick)
M ‑ Ashcraft 1 run (Brown kick)
M ‑ Paul 17 pass from Mossides (Brown kick)
M ‑ Ashcraft 1 run (Brown kick)
T – Harshman 66 run (Woollard kick)
Records: Massillon 5‑1: St. Francis 5‑1.
Commings sidelined by cancer
By BOB STEWART
Repository sports editor
PLAIN TWP. ‑ Bob Com­mings may have coached his final game at GlenOak High School Friday night when his Golden Eagles came from be­hind to beat Timken 35‑18 in Fawcett Stadium.
Saturday morning the GlenOak players learned what he had told his coaches Friday night after the game.
"I just told them the truth, that I have lung cancer," said Commings Saturday in his matter‑of‑fact style.
The man who soared from head coaching positions at Massillon High School to the University of Iowa had only learned the bad news himself Friday night.
He had undergone tests and a biopsy earlier in the week, and his wife Sharon was told the bad news Friday afternoon.
She told him that night, and he told his coaches, one of' whom is his son.
"We are going to have Bob Commings, Jr. be the team leader of the coaching staff the rest of the season," said GlenOak Principal Jackie De­Garmo‑Reigner, who indicat­ed the staff will remain intact for the remainder of the sea­son.
"That will make for a nice communication between fa­ther and son," she said.
"My doctor has made ar­rangements for me to start things at the Cleveland Clinic right away," said the elder Commings.
"I understand that the tests and treatments will be time consuming, pain­ful and probably make it im­possible for me to be with the team."
Commings didn't speculate on whether or not he would be "around" but the players were told by the coaches Sat­urday Coach Commings might be at the games but he wouldn't be at the practices.
Commings is in his 12th sea­son as the head coach at Glen­Oak, and his record going into this year was 71‑39‑1. His pre­sent club is 2‑4.
The graduate of Youngs­town East High School play­ed at the University of Iowa under Forrest Evashevski, and was a starting guard on the 1956 Hawkeyes team that went 9‑1 and earned the Rose Bowl berth.