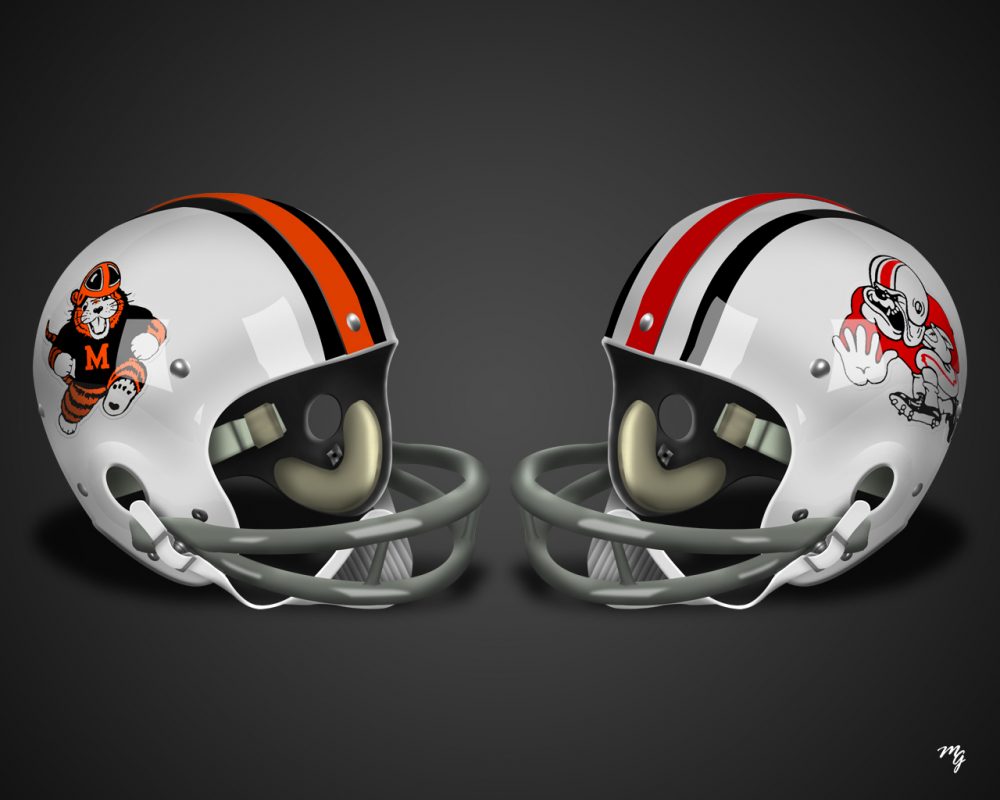 Massillon shuts down McKinley 24‑7
By MARK CRAIG
Repository sports writer
Most of the pre game know‑it‑alls had Saturday's 95th McKinley‑Massillon high school football game figured out before the 21,000 fans filed into Fawcett Stadium.
They said McKinley's ground game was too quick for Massillon's defense. They also said Massillon's offense was good, but not good enough to outplay McKinley's quick defenders.
Boy, were they wrong.
Final score: Massillon 24, McKinley 7.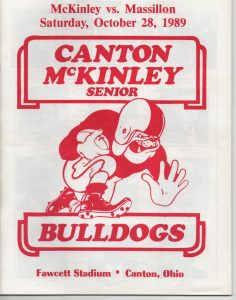 The victory gives Massillon an 8‑2 record, a 52‑38‑5 advantage in the McKinley‑Massillon series and a berth in the state playoffs for the first time since 1982. Massillon held its top spot in Region 3, while McKinley (7‑3) fell from the fourth and final playoff spot.
The Tigers, by virtue of their top spot in Region 3, most likely will host either Akron Garfield or Walsh Jesuit in Saturday's opening round of the Division I playoffs. The final computer standings and the opening round pairings will be released by the Ohio High School Athletic Association tonight.
Massillon proved the know‑it‑alls wrong by doing what few thought they could. The Tigers held the Bulldogs to 45 yards rushing and 179 total yards.
The McKinley running game, which has featured 13 backs this season, was field to a 2.3‑yards‑per‑carry average on 20 carries and four first downs. The Bulldogs' leading ground‑gainer on the season, Darnell Clark, had nine yards on 10 carries.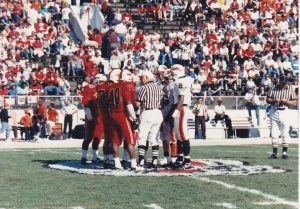 "This is the best defense we've played all season, especially against the run," said Massillon defensive coordinator Dan Boarman. 'We didn't do anything difference as far as design. We just played a lot harder and were able to shut down their running game."
Unfortunately for the Bulldogs, Massillon led 14‑0 before McKinley's offense was brought onto the field.
After kick returner Donnie Blake returned the opening kickoff 39 yards to the McKinley 47, the Tigers drove the rest of the way on seven plays and scored on a six‑yard run by Ryan Sparkman. Gary Miller added the first of three extra‑point kicks to give Massillon a 7‑0 lead with 9:39 left in the first quarter.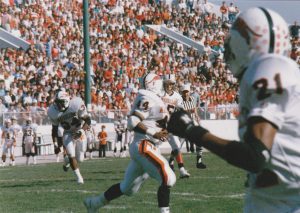 McKinley's offense had to stay on the sideline when kick returner Kirk Moore fumbled the ensuing kickoff and Massillon's David Whitfield recovered at the McKinley 18. The turnover was the first of four for McKinley.
Six plays later, Sparkman followed tackles Torn Menches and Ray Kovacsiss over the right side of the line for a two‑yard TD to put Massillon two TDs ahead with 7:20 left in tire first quarter.
When McKinley finally got the ball, the Bulldogs seemed to abandon the run, calling four straight pass plays and six in their first seven snaps.
"I think our offense took a lot of heat off our defense by scoring those two quick touchdowns," Boarman said. "I think maybe we changed their game plan somewhat."
McKinley head coach Thom McDaniels insisted the Bulldogs didn't stray from their original game plan.
"We planned to come out and throw like we did," McDaniels said. "(The touchdowns) did not change that. The situation was not out of hand at that point, by any means."
McKinley climbed back into the game following a 29‑yard punt to the Massillon 49. The Bulldogs, with the help of a pass interference call on third‑and‑10 that put the ball on the Massillon 32, scored with 1:30 left in the quarter.
Three plays after the interference, junior quarterback Ryan Henry (9‑of‑23, 134 yards) fooled the entire Massillon defense into thinking he was going to run after scrambling away from Mike Martin's rush. Instead, Henry threw a 32‑yard TD pass to Ron Szerokman who was wide open in the end zone.
Massillon, however, put McKinley in a huge hole when quarterback Lee Hurst lofted a perfectly thrown 12‑yard TD pass to senior Rameir Martin with four seconds left in the half. Martin used every inch of his 6‑4 frame as he leaped between two defenders, bobbled the ball and tucked it away before falling just inbounds.
"That probably was the play of the game," said Massillon head coach Lee Owens. "Rameir is such a talented kid. And Lee is a gutsy kid for tossing the ball in there like he did."
Hurst became Massillon's record‑holder in single‑season pass completions and passing yards with a first half that saw him complete 12‑of‑20 passes for 166 yards. With his final statistics reading 12‑of‑ 22 for 166 yards, Hurst finished the regular season with 111 completions in 208 attempts for 1,485 yards and 10 TDs.
Martin caught all nine of his passes in the first half for 110 yards.
With the lead in hand, Massillon turned the ball over to senior running backs Ryan Sparkman and. Lamonte Dixon. The two combined for 117 yards rushing in the second half, and set up a 27‑yard field goal by Miller late in the third quarter.
Sparkman ended with a game high 105 yards on 25 carries.
Overall, Massillon rolled up 335 total yards and 20 first downs. The Tigers' offense also didn't turn the ball over.
"It was a case of its playing good defense and errorless football in the first half, and then wearing out McKinley in the second half," Owens said. "I think it's safe to say we pretty much controlled the game the entire way."
Which is something the know‑it‑alls never would have guessed.
*****
Massillon offensive line coach Nick Vrotsos was coaching in his 33rd McKinley‑Massillon game, not his 31st as was reported Thursday.
Overlooked were the 14‑6 victory over McKinley in the 1980 playoffs and the Tigers' first victory over McKinley in 1963 (the teams played twice that year because McKinley was suspended from play in 1962). Vrotsos is 22‑11 vs. McKinley.
Massillon 14 7 3 0 24
McKinley 7 0 0 0 7
Mass ‑ Sparkman 6 run (G Miller kick)
Mass ‑ Sparkman 2 run (G. Miller kick)
McK ‑ Szerokman 32 as, iron, Her,, (Woj kick)
Mass ‑ Martin 12 pass from Hurst (G. Miller kick)
Mass ‑ FG G. Miller 27
Att – 21.000
Mass Mck
Furs, downs 20 11
Rushes – yards 50-169 20-45
Passing 166 134
Return Yards 35 0
Comp‑Att‑Int 12-23‑0 9-23‑2
Punts 5‑31 6‑37
Fumbles‑Lost 1‑0 3‑2
Penalties‑Yards 3‑31 3‑22
Time of Possession 30:29 17:31
INDIVIDUAL STATISTICS
RUSHING
Massilltm: Sparkman 25‑105, Dixon 13‑50, Ashcraft 5‑23 Hurst 7‑(‑9);
McKinley: Irvin 4‑25, Henry 4‑10, Clark 10‑9, Richards 2‑1.
PASSING
Massillon: Hurst 12‑22‑0 166, Manion 0-1‑0 0;
McKinley: Henry 9-23-2 134.
RECEIVING
Massillon: Martin 9‑110, Harig 1‑32, Manion 1‑16, Dixon 1-8.
McKinley: Moore 4‑52, Gardner 2‑30, Szerokman 1-32, Katusin 1‑15, Irvin 1-5.
'Dogs down;
Tigers stalk Walsh
Owens: Massillon's back, you can't keep us down
By STEVE DOERSCHUK
Independent Sports Editor
It's a something old, something new, something borrowed kind of Monday for the Massillon Tigers.
* The old (even ancient) ‑ The Tigers beat up the McKinley Bulldogs 24‑7 Saturday at Fawcett Stadium to take a 52‑38‑5 lead in a series that started six years before the Canton school's namesake became a U.S. president in 1900.
* The new ‑ Massillon and Walsh Jesuit have never played each other. They will collide at 7 p.m. Saturday in Paul Brown Tiger Stadium in a first‑round Division I playoff game.
* The borrowed ‑ Sonny Spielman, whose son Chris was a junior the last time the Tigers made the playoffs, in 1982, declared, "The title will ride on Tiger pride." Didn't somebody say that somewhere along the line?
It all adds up to this: Sun's up in Tigertown after a second straight victory over the Dastardly 'Dogs.
What's it all mean?
"The focus," said 33‑year‑old Massillon head coach Lee Owens, who is 2‑0 against McKinley and 15-5 as the top Tiger, "is Massillon.
"I was proud of our school. I was proud of our city. I was proud of our players. I was proud of our coaches.
"Massillon is back. You can't keep us down. The first year we were eligible to be back in the playoffs, we made it back.
"We aren't satisfied with just being back in the playoffs, either. As hard as it is to get emotionally up for another game after beating McKinley, we will find a way to do that. We will find a way to establish the consistency needed to advance in the playoffs."
Who's going to argue with the man?
His team founds way to dominate potent Austintown‑Fitch a week after losing 41‑7 to Cincinnati Moeller (which, incidentally, will take on unbeaten Cincinnati Elder in another Saturday playoff battle). It found a way to dominate favored – just ask 90 percent of the out‑of‑town media – McKinley a week after a stunning defeat to Cleveland St. Joseph.
Saturday's game, played on an August‑meets‑October afternoon with temperatures in the 70s, came at the end of a hair‑raising week.
Lose and the Tigers' season would end bitterly. Win and they would make the playoffs.
The Tigers struck early and let their thousands of followers let their hair bang down.
Massillon led 14‑0 with less than five minutes gone in the game. They stormed into the fourth quarter on top by the 24‑7 final score.
Midway through the fourth quarter, with half the Massillon crowd chanting "T‑I‑G" and the other half roaring back "E‑R‑S," red rivers of Bulldog boosters streamed toward the exits.
Massillon got it done with a complete package: offense, defense, special teams and crowd support.
The offense scored on the game's first series and amassed 335 yards against a ballyhooed defense.
The defense was both lucky (McKinley dropped several passes) and good, making numerous crunching hits and keeping the Bulldogs from getting outside. McKinley finished with just 179 total yards.
The special teams got along kick return from Donnie Blake to start the game and a big fumble recovery by David Whitfield minutes later.
The coaching staff came up with an offensive blocking scheme that took McKinley by surprise.
The crowd was large enough and loud enough to negate McKinley's home‑field advantage ‑ an estimated 8,000 of the crowd of 20,000 ‑ official figure remained unavailable this morning ‑ rooted for the Tigers.
The offense used an unbalanced line in which the two biggest Tigers, Tom Menches and Ray Kovacsiss, lined up side by side.
"We recognized it as coaches," said McKinley mentor Thom McDaniels. "But coaches recognizing it and adjusting to it and players doing so can be two different things.
They hadn't done that in anything we'd seen in scouting them."
Owens said his staff agreed the unbalanced look would throw McKinley's angle defense off stride.
"We've used it during the season in goal‑line situations, but not all over the field as we did today," he said.
Added Tiger tackle Tom Menches, "I think we had McKinley fooled."
Senior running back Ryan Sparkman benefited from the well executed plan. He scored two touchdowns and rushed 25 times for 105 yards.
Quarterback Lee Hurst and split end Rameir Martin also had particularly outstanding games.
Hurst completed 12 of 22 passes for 166 yards. Martin caught six passes for 110 yards, including a leaping 12-yard touchdown catch with four seconds left in the first half in which he outwrestled three McKinley defenders for position and landed on his back clutching the ball.
The hard‑hitting contest left the physical status of a few Tigers in doubt heading into the Walsh Jesuit game.
Senior lineman Tom Menches suffered a badly sprained left ankle during a third‑quarter drive in which the Tigers scored the only points of the second half on a field goal.
Senior defensive back Eddie Williams suffered a knee injury in the first half. Stacy said the injury probably won't require immediate surgery but that Williams won't play Saturday.
Sparkman aggravated a hamstring injury that has cost him playing time this season but he probably will play Saturday, Stacy said.
Defensive lineman Mark McGeorge, bothered by nagging injuries late in the year, had to be helped off the field during the McKinley game. His status is uncertain.
MASSILLON 24
McKINLEY 7
Me Mc
HALFTIME TOTALS
First downs rushing 3 2
First downs passing 7 2
First downs penalty 1 1
Total first down 11 5
Net Yards rushing 39 30
Net Yards Passing 166 52
Total net Yards 205 82
Passes attempted 21 12
Passes completed 12 3
Passes intercepted 0 0
Fumbles/lost 0‑0 1‑1
Punts 3 4
Punting average 30.7 36.3
Penalties 3 3
Yards penalized 31 22
FINAL TOTALS
First downs rushing 12 4
First downs passing 7 6
First downs penalty 1 1
Total first 20 11
Net Yards rushing 169 45
Net Yards passing 166 134
Total net yards 335 179
Passes attempted 23 23
Passes completed 72 9
Passes intercepted 0 2
Fumbles/lost 1‑0 3‑2
Punts 5 6
Punting average 31.0 36.7
Penalties 3 3
Yards penalized 31 22
Individual Statistics
Rushing
(Mas) Sparkman 25‑1 5, Dixon 13‑ 50, Ashcraft 5‑23, Hurst 7‑minus 9.
(McK) Clark rMj19, Irvin 4‑25, Henry 4‑10, Richards 2‑1.
Passing
(Mas) Hurst 12‑22‑0 166, Manion 0‑1‑0 0. 1.
(McK) Henry 9‑23‑2 134.
Receiving
(Mas) Martin 9‑110, Harig 1.32, Manion 1‑ 6, Dixon 1‑8.
(McK) Moore are 4‑52, Gardner 2‑3 Szerokman 1‑32, Katusin 1‑15, Irvin 1‑5.
Kickoff returns ‑ (Mas) Blake 1‑40, Dixon 1‑13.
(McK) ‑ Moore 2‑47, Clark 2‑18.
Punt returns ‑ (Mas) Manion 3‑8, Blake 2‑13.
(McK) ‑ Codispoti 1.0.
Massillon 14 7 3 0 24
McKinley 7 0 0 0 7
Ma ‑ Sparkman 6 run. Miller kick
Ma ‑ Sparkman 2 run. Miller kick
Mc ‑ Szerokman 32 pass from Henry. Wojcik kick
Ma ‑ Martin 12 pass from Hurst. Miller kick
Ma ‑ Miller 27 field goal.
Here is a drive‑by‑drive account of Saturday's Massillon-McKinley game, won 24‑7 by the Tigers.
MAS ‑ Donnie Blake returns opening kickoff 37 yards to McKinley 47 Ryan Sparkman scores on 7‑yard run on seventh play, Key play: 16‑yard Lee Hurst to Troy Manion completion to 32 on first down. Gary Miller's P.A.T. kick good at 9:39 of first quarter.
Tigers 7, McKinley
***
McK ‑ Kirk Moore fumbles during kickoff return. David Whitfield, recovers for Massillon.
MAS ‑ Start on McKinley 18. Score in six plays on 2‑yard run by Sparkman. Key play: 7‑yard Hurst to Rameir Martin pass to 11 on first down. Miller P.A.T. kick good at 7:20 of first quarter.
Tigers 14, McKinley 0
***
McK ‑ Start on own 20 after touchback. Drive to Tiger 49. Punt.
MAS ‑ Start on own 16. Three plays. Punt.
McK ‑ Start on Tiger 49. Score on third play, a 32‑yard pass from Ryan Henry to Ron Szerokman. Wojcik kick good at 1:38 of first quarter.
Tigers 14, McKinley 7
***
MAS ‑ Start on own 23 after kickoff. Drive nine plays to 20 Hurst's 38‑yard field goal attempt wide right at 9:42 of second quarter. Key play: 36‑yard Hurst to Martin sideline pass.
McK ‑ Start on own 20. Four plays to 37. Punt.
MAS ‑ Start on own 11. Six plays to own 48, including 30‑yard sideline pass to Doug Harig. Punt.
Mck ‑Start on own 25 with 3:13 left in first half. Three plays. Punt.,
MAS ‑ Start on own 36 with 2:00 left in half. Drive 64 yards in 10 plays for TD, 12‑yard pass from Hurst to Martin in left corner of end zone. Key plays: 9‑yard run to 45 by Sparkman on first down; 8‑yard reception by Martin followed by late hit penalty to 12. Miller's P.A.T. kick good at 0:04 of first half.
First half expires on ensuing kickoff return.
Tigers 21, McKinley 7
***
McK ‑ Start on own 6 after bobble of kickoff return. Three plays. Punt.
MAS ‑ Start on McKinley 40. Six plays to 12. Hurst's 38‑yard field goal attempt wide right at 6:36 of third quarter.
McK ‑ Start on own 20, Three plays. Punt.
MAS ‑ Start on own 47. Seven plays to 8‑yard line. 27‑yard field goal by Miller good at 1:27 of third quarter.
Tigers 24, McKinley 7
McK ‑ Start on own 45 after kickoff return. Seven plays to Tiger 3. Keith Rabbitt rips ball away from Bulldog pass receiver Dorey Irven
MAS ‑ Start on own 3. Seven plays to 43. Punt.
McK‑ Start on own 25 with 5:53 left in game. Drive inside Massillon territory but lose ball on interception by Chad Buckland that virtually ends game.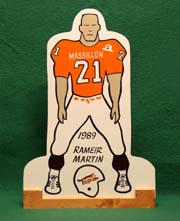 Rameir Martin