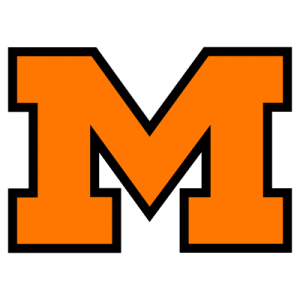 The final chapter: 'a massacre'
Everything works as Tigers pound shell-shocked Warren 54‑2
By STEVE DOERSCHUK
Independent Sports Editor
In this, the 50th anniversary of The House that Brown Built, there has been occasion to reflect on many wondrous moments.
One occurred 30 years ago, 17 years before Paul Brown's name was added to Tiger Stadium.
What, pray tell, did the Tigers' 90‑0 victory over Barberton the eighth week of the season look like?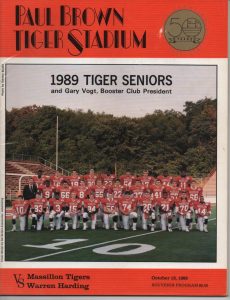 Those too young to remember received some clues Friday night in the eighth week of the 1989 campaign ‑ in graphic display via a 54‑2 victory against shellshocked Warren Harding before 9,125 onlookers.
Had the Tigers been bent on making it 90‑0 (some wondered if they might be in light of a bitter 1988 loss at Warren) they probably could have done it.
As it was, Massillon's first unit scored the first five times it had the ball. The No. 2 offense scored on its first three possessions. Alas, the No. 3 offense, unlike the third string that beat the bejabbers out of Barberton back when, could not score.
But who's going to get picky about winning by 52 points in a game that may have clinched a playoff berth?
How bad was it?
In the words of one Warren writer, "It was the Massillon Massacre on Friday the 13th, the final chapter."
This was, in part, reference to the end of the 68‑year‑old football series between the schools.
Tiger coach Lee Owens called a halt to it after he thought his team was ripped off by officials in a 25‑22 loss at Warren last year. This year's game was played to honor a previously signed contract.
A decision to consolidate Harding and Western Reserve into one Warren high school next year was made after Owens' pronouncement.
Any way you slice it, it's over between Washington and Harding.
Any hard feelings?
Harding head coach Frank Thomas who spent five years in Tigertown as a varsity assistant, gave Owens the brush after Friday 's game.
The coach concedes, however, that it will probably take only 120 points to make the playoffs, and that his team is a cinch to surpass that barrier even if it loses to St. Joseph and the following week against McKinley.
The Tigers aren't looking like or talking like a team that will lose.
"We put it together on offense and defense," said Hurst, who completed nine of 11 passes for 184 yards and four touchdowns. "We clicked."
"We've come a long way since we lost to Moeller," said senior linebacker Joe Pierce, who helped the Tigers limit Harding to 8 first‑half yards while the Massillon offense was amassing 308.
"We prepared for their defense as if it was stronger than it really was," added Rameir Martin, who caught four passes for 113 yards and two touchdowns. "We just took what was there and did what we had to do."
"They were clogging up the middle and it was pretty easy to get outside," said sophomore running back Falando Ashcraft, who rushed 13 times for 90 yards while pinchhitting for season team rushing leader Ryan Sparkman. Sparkman was resting a hamstring injury and is expected to play against St. Joseph.
Speaking of injuries, the Tigers didn't pull one key man in the late going and it cost them. Kick returner Donnie Blake whose 94‑yard return of the third‑quarter kickoff turned around last week's Indianapolis North Central game, was injured while bringing back a punt in the fourth quarter.
It is feared Blake suffered a leg fracture when he was tackled near the Tiger bench. X‑rays were to have been taken this morning.
"Most of the first‑string players were out at that point because an injury is exactly what you don't want to happen," Owens said. "It was a freak thing with Donnie. The Warren player made a real late hit and kind of rolled up his leg. We're not sure what Donnie's injury is. It may just be a muscle between his knee and ankle. It may be something more than that."
Pressed to explain what was said when they crossed paths amid the postgame interteam mingle, Owens said:
"I went to shake Frank's hand, and he said, 'No, I don't want to shake your hand.' I didn't realize he felt that way."
Was Thomas upset because the Tigers "ran up the score?" He shouldn't have been. The final series of the first half was directed by backup Massillon quarterback Barry Shertzer. Massillon's firststring offense and first‑string defense each played one series in the third quarter, then called it a night.
Owens said he received word from a messenger that "a Warren athletic official" was upset that the Tigers continued to pass in the second half. The Tigers tried 11 passes in the first half, after which they led 41‑0, and threw seven more in the second half.
"I developed a reputation in some corners in past years for running up some scores," said Owens. "With our offense, it's hard to just stop throwing the football. Our intention tonight was certainly not to run up the score. We could have scored a lot more points if that's what we'd wanted to do."
Thomas steered clear of controversy.
"Just say they're a good football team and I wish them luck … congratulations. That's about all I have to say," he said as he walked off the field.
The Tigers emerged with a 7‑1 record and their fourth straight victory. The victory, coupled with wins by previously conquered opponents GlenOak, Fitch, St. Vincent‑St. Mary and Indianapolis North Central, left them with approximately 115 computer points, good for the lead in Region 3 of Division I.
"The way we'll sell next week's game against Cleveland St. Joseph is that we need it to wrap up a playoff spot," Owens said.
Also hurting after the game was Tiger defensive starter Mark McGeorge.
Meanwhile, the Tigers not only dominated the game. They practically dominated every play.
Everything seemed to go right. An example was a spectacular 33‑yard TD catch by Desmond Carpenter on a pass from Shertzer eight seconds before halftime.
One of the few things that didn't go right was a diving try for a 21‑yard yard TD catch by Martin in the third quarter. Martin, who accumulated all of his yardage in the first half, would have broke Curtis Strawder's single‑game record for receiving yardage by one yard with a catch.
Here's the blow‑by‑blow description of each possession:
WH ‑ Start on own 24 with opening kick. Three plays, punt.
MAS ‑ Start on own 31, drive 69 yards in four play, including 20 pass to Martin and 36‑yard TD run by Lamonte Dixon on sprint counter draw. P.A.T. kick wide right at 7:54 of first quarter.
Massillon 6, Harding 0
WH ‑ Start on own 12, punt from own 23.
MAS ‑ Start on Harding 46, score on first play on deep pass from Hurst to Martin. Hurst to Doug Harig conversion pass good at 4:22 of first quarter.
Massillon 14, Harding 0
WH ‑ Start on own 23, three plays and punt.
MAS ‑ Start on Harding 48, score in seven plays, including 16‑yard Kevin McCue to Pierce pass on fake punt. Hurst hits Harig for 11‑yard TD. Miller kick good at 1:30 of first quarter.
Tigers 21, Harding 0
WH ‑ Start on own 20. Pierce intercepts Chauncey Coleman pass on first play.
MAS ‑ Start on Harding 32. Score on third play, 26‑yard Hurst‑to‑Martin pass. Kick wide at 10:03 of second quarter.
Tigers 27, Harding 0
WH ‑ Start on own 20. Three plays and punt.
MAS ‑ Start on own 38. Drive 62 yards in six plays for TD, 11‑yard run by Ashcraft. March includes 21‑yard catches by Troy Manion and Martin. Miller kick good at 5:31 of second quarter.
Massillon 34, Harding 0
WH ‑ Start on own 17. Punt from own 16.
MAS ‑ Start on Harding 46. Drive for TD in five plays, capped by 33‑yard Shertzer to Ashcraft play. Ryan John kick good at 0:08 of first half.
Massillon 41, Harding 0
MAS ‑ Start on own 27 with third‑quarter kickoff. Drive 73 yards for TD in 10 plays, capped by 21‑yard Hurst‑to‑Harig TD. Kick wide at 7:40 of third quarter.
Massillon 47, Harding 0
WH ‑ Start on own 20. Mike Martin sack causes fumble recovered by Craig Turkalj
MAS ‑ Start on Harding 12, Ashcraft scores on first play. Miller kick good at 5:46 of third quarter.
Massillon 54, Harding 0
WH ‑ Start on own 27. Three plays and punt.
MAS ‑ Start on own 43. Lose yardage on penalties to 19. Ball snapped over punter's head and recovered by punter in end zone at 0:28 of third quarter to conclude scoring.
Massillon 54, Harding 2
MASSILLON 54
WARREN HARDING 2
M WH
First downs rushing 7 4
First downs passing 11 0
First downs by penalty 2 0
Totals first downs 20 4
Yards gained rushing 194 74
Yards lost rushing 27 44
Net yards rushing 167 30
Net yards passing 268 0
Total yards gained 435 30
Passes attempted 18 5
Passes completed 14 0
Passes int. by 0 1
Times kicked off 9 1
Kickoff average 56.3 35.0
Kickoff return yards 0 113
Punts 1 8
Punting average 25.0 39.3
Punt return yards 52 0
Fumbles 0 2
Fumbles lost 0 1
Penalties 5 2
Yards penalized 50 10
Number of plays 53 41
Time of possession 23:10 24:50
Attendance 9,125
Individual statistics
Rushing
(Mas) Ashcraft 13‑90, Dixon 8­-66, Slicker 8‑15, Shertzer 2‑11, Shell 2‑5, Wofford 1‑1.
(WH) Sparks 13‑14, Threats 6‑7, Sweetman 2‑(minus)3, Jordan 2‑8, Bagby 4‑20.
Passing
(MAS) Hurst 9‑11‑0 184, McCue 1‑1 ‑0 16, Shertzer 4‑6‑0 67.
(WH) Coleman 0‑5-1 0.
Receiving
(Mas) Martin 4‑113, Carpenter 2‑40, Pierce 1‑16, Harig 2‑32, Manion 2‑32, Slicker 1‑8, Brown 1‑31.
Harding 0 0 2 0 2
Massillon 14 27 13 0 54
M ‑ Dixon 36 run (kick failed)
M ‑ Martin 46 pass from Hurst (Harig pass from Hurst)
M ‑ Harig 11 pass from Hurst (Miller kick)
M ‑ Martin 26 pass from Hurst (kick failed)
M ‑ Ashcraft 11 run (Miller kick)
M ‑ Carpenter 33 pass from Shertzer (John kick)
M ‑ Harig 21 pass from Hurst (run failed),
M ‑ Ashcraft 12 run (Miller kick)
WH – Safety