Tigers ground Aviators 35‑6
Standing 'O' for memory of PB is highlight
By STEVE DOERSCHUK
Independent Sports Editor
Paul would have been proud.
On a stuffy night dedicated to the late Paul Brown, in front of 11,365 in Paul Brown Tiger Stadium, the Washington High football team played inspired, hard‑hitting football in mugging the Alliance Aviators 35‑6.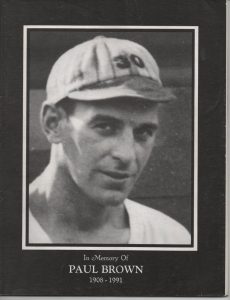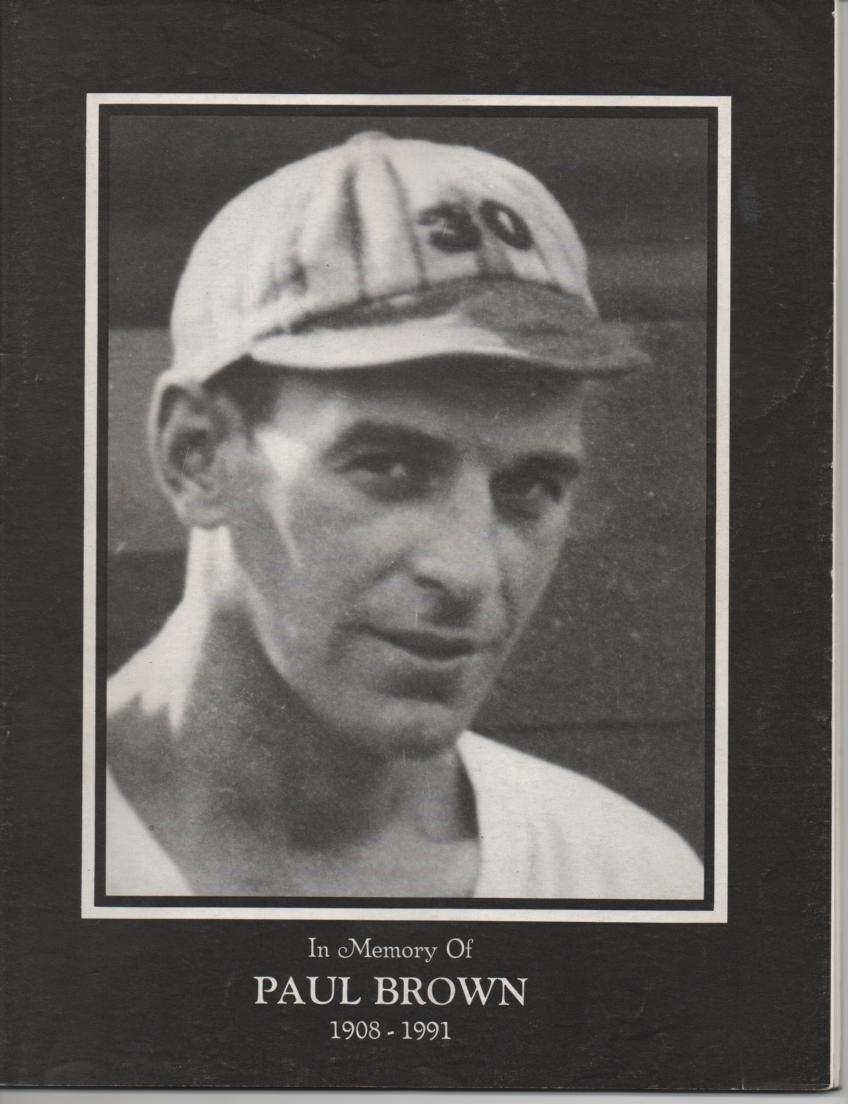 Massillon's powerhouse one-two running punch of Travis McGuire (13 carries for 96 yards) and Falando Ashcraft (16 for 68) each delivered two touchdowns. Defensive coordinator Jack Rose's tricked‑up (to key on lightning‑legged quarterback Tremayne Banks) 50 defense held Alliance to no first downs in the first quarter and 38 yards in the first half en route to a solid performance.
It was a solid season opener, the kind Paul would have liked.
"Paul Brown was football," Alliance head coach Fred Thomas said. "Naturally, we didn't like the outcome, but it was an honor to be here on a night like this."
Thomas apologized for his team being in the end zone loosening up before the game when an announcement honoring Paul Brown was greeted with a warm, prolonged standing ovation.
"No way we would have been on the field if we'd have known that was coming," Thomas said. "We meant no disrespect. We would have stayed in the locker room."
No apology was needed. The Aviators meant no harm and turned in an effort equal to their abilities.
"I'll say the same thing I said last year when we beat Stow (51‑0) in the opener," said Massillon head coach Lee Owens. "I said they were a good team that would win some ball games. They won eight. Alliance is a year away from being a real good team. But they're going to be good this year. They'll win some games."
Paul Brown won 79 games over nine years, turning Massillon into the biggest name in high school football. Owens focused on the Hall of Fame coach who died recently during his pre-game team speech.
"The man who wrote the letter to the editor pretty much wrote my pre‑game speech for me," Owens said. "I made the same points he did."
The letter to The Independent, penned by Ed Voshall, essentially said the players and the coaches of today are charged with carrying on the traditions launched by Paul Brown in the 1930s.
The player charged with the responsibility of quarterbacking the Tigers on Friday was Nick Mossides, a 6‑foot, I55‑pound senior getting his first varsity start.
Owens kept it a secret all week as to whether Mossides or senior Troy Burick, who started at safety, would be the QB.
"I was told, the team was told, on Monday," Mossides said. "I was excited about it. I've been working hard for a long time to get ready for the chance to do this."
Mossides' inexperience showed at times when he was pressured and threw the ball into traffic; however, when he got good protection, which was most of the night, most of his tosses were zipped with preci­sion. He completed 7‑of‑15 pas­ses for 88 yards and one in­terception.
"I think I threw the ball fairly well to (Marc) Stafford, (Geoff) Merchant and (Mark) Haw­kins," Mossides said. "I've got to throw the ball a little better. I missed a couple of throws."
Mossides said his heart was jumping a bit when he ran out onto the field amid the big crowd, but he felt calm after he took the field. He focused on reading the defense first, then checking to see if a blitz might be on.
"I felt pretty comfortable," he said.
Stafford, a speedy senior, caught three passes for 51 yards.
"Nick did real well," Stafford said. "I thought the whole team played well. On offense, the line did an excellent job.
"We made a lot of mistakes, but we played hard as a team. We've been working real hard."
The Tigers built a 35‑0 lead when second‑team running back Dan Seimetz scored on the first play of the fourth quarter and Jason Brown booted his third extra point (he was 3‑for‑4 on the night).
The first‑stringers played briefly in the fourth quarter be­fore the second unit was sum­moned. Alliance's second‑year starting quarterback Tremayne Banks scored on a 51­yard run with 3:12 left in the game. Dana Wofford blocked the P.A.T. kick attempt to re­move some of the sting.
"I thought our defense did a real good job dealing with their option," Owens said. "You've got to give Jack Rose a lot of credit for coming up with a good plan, and our players for ex­ecuting it."
The Tigers wound up with a 332‑172 edge in net offensive yards.
"We played pretty well but not as well as we should have," observed senior defensive end Jason Woullard. "We need to work on our pass coverage … reading keys."
Woullard said he agreed with coaches' comments during training camp that tackling needed to get better.
"The hard work paid off, I think," Woullard said. "We did a better job wrapping up tonight. We worked hard on tackling every day. The first thing we did in practice was the gauntlet drill."
The Tigers capitalized on two Alliance turnovers to take a 21‑0 lead. But their first touchdown came on a prolonged drive on their first possession after and Alliance punt.
Mossides got things going by completing a third‑and‑16 pass for 17 yards to Stafford. Ashcraft powered in from a yard out at 6:50 of the first quar­ter, Brown made the point‑after kick, and it was 7‑0.
The drive consumed 67 yards and covered nine plays.
There was no further scoring until midway through the third quarter. Alliance running back Gerard Hawkins (who gained 700 yards last season but held to minus‑4 yards Friday) was smashed by Turley, and Burick recovered the subsequent fum­ble at the Alliance 5‑yard line. Ashcraft scored from two yards out two plays later, the point-­after kick was wide, and the Ti­gers led 13‑0 with 6:19 left in the half.
Alliance had the ball near midfield when an option pitch got loose and was recovered by Tiger linebacker Eric Wright. The Tigers punted a few plays later but the fumble established the field position that led to a Tiger TD.
Burick's 33‑yard punt return gave Massillon possession on the Alliance 22‑yard line. On the next play, the line created a wide avenue on a draw play through which McGuire neatly stepped for a 22‑yard touch­down run. Ashcraft ran for a two‑point conversion and it was 21‑0 with 1:08 left in the half.
The Tigers blew open the game with an impressive scor­ing march on the opening pos­session of the third quarter. It was fourth‑and‑goal from the 4 when the draw play worked again, with McGuire again
doing the scoring honors. Brown's kick made it 28‑0 with 6:23 left in the third quarter.
The drive consumed 13 plays and covered 62 yards.
Jerry May relieved Mossides at quarterback and conducted a nine‑play, 61‑yard scoring drive capped by Seimetz's touch­down '
"The two turnovers in the first half gave Massillon a short field to work with, and you can't give a short field to a team as good as Massillon," Alliance's Thomas said. "I take nothing away from Massillon. Up front, they hit us really hard. We're a little banged up. I hope we can bounce back."
Alliance's 280‑pound senior tackle Rod Shedrick was motionless on the field for several minutes late in the game.
"He had a twinge in his neck," Thomas said. "We didn't want him to move and played it safe."
Shedrick is apparently OK. He was treated and released at Massillon Community Hospital.
The Tigers will be back home next Friday to take on Walsh Jesuit. Alliance will play its home opener against Jackson, whose last game was a 1990 playoff loss to Massillon.
GAME ONE
MASSILLON 35
ALLIANCE 6
M V
First downs rushing 13 5
First downs passing 7 2
First downs by penalty 0 0
Totals first downs 20 7
Net yards rushing 229 137
Net yards passing 103 35
Total yards gained 332 172
Passes attempted 17 17
Passes completed 8 4
Passes int. by 0 1
Kickoff average 50.7 27.5
Kickoff return yards 20 120
Punts 3 6
Punting average 34.3 35.7
Punt return yards 41 0
Fumbles 3 3
Fumbles lost 0 3
Penalties 3 3
Time of possession 28:24 19:36
Alliance 0 0 0 0 6
Massillon 7 14 7 7 35