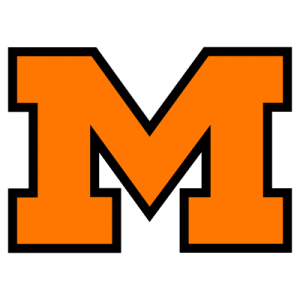 Tigers tear up East with great first half
By STEVE DOERSCHUK
Independent Sports Editor
Half a loaf was better than none for the Massillon Tigers Friday night.
Heck, half a loaf was better than butter compared to what Steubenville got last week.
The Massillon Tigers baked up a first half that was savory as could be en route to a 24-0 high school victory over Youngstown East in front of 10,458 fans at Paul Brown Tiger Stadium.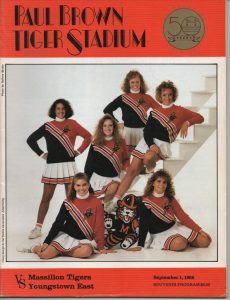 The second half left some of the Tiger coaches looking like they had just bit into burnt toast. The Tigers out-gained East just 75-65 in second half yardage after a first half in which the numbers were 204-71.
But what the heck. This was the same East that had made like yeast seven days earlier in stunning Steubenville (1988 Division II state runner-up) 12-7.
And, even though one coach said, "The teams that get to Columbus are the ones that put teams away," isn't week two maybe too early to be perfect.
If the first half wasn't perfect, it was at least a 9.9 on the Bo Derek scale. The offense scored on all four of its possessions. The defense didn't give East a sniff of the 50-yard line, much less the goal stripe.
The passing game clicked.
"Their defensive backs were playing really far off us and we took advantage," said senior flanker Troy Manion, who seemed unfazed by a hyper-extended knee in catching four passes for 28 yards in the first half.
"I was a lot more relaxed tonight," added senior wide receiver Rameir Martin, whose
first-half numbers were three catches, 71 yards, and one touchdown. "I was pretty tense last week. It was my first game of my senior year."
"We'd heard they had the best talent of anybody we play this year," said quarterback Lee Hurst, whose first half included eight completions in 10 throws for 107 yards. "We just came out and we were ready for them."
"The first week the offense tried too hard. All the captains felt we had to get everybody ready and we got too high ourselves."
All three players agreed the Tigers lost their touch in the second half.
That'll be the topic of locker room discussion throughout the coming week.
Meanwhile, next week's game at Middletown looks less imposing than it once did in the wake of the Middies' 34-6 loss Friday at Cincinnati Princeton.
But it's safe to suppose perennially strong Middletown, whose home opener will be against the Tigers, will be jacked up for Massillon where Middie head coach Jim Place lived when he was playing football at Central Catholic High.
Like everyone else on the team Owens was disappointed in the second half.
"But the thing to do, I think, is to emphasize the positive things that happened in the first half," he said.
Ownes was talking to the players at halftime when he said. "That's got to be the best half of football I've seen the Tigers play. Then (tight end) Dough Harwig said, "Better than St. Joseph last year?" He had a point. Those two halves were close."
The game plan called for the Tigers to run left and throw right. That combination kayoed East early, working to perfection on the game's opening drive when Massillon used 11 plays to drive 62 yards. Pass plays netted 7, 6, 11 and 16 yards. Runs went for 5, 7, 10 and 2 yards.
The 2-yard run punched the ball to the 3, from where fullback Ryan Sparkman followed the blocks of Ray Kovacsiss, Mike Silverthorn and Lou LoCoco into the end zone. Gary Miller's PAT kick made it 7-0.
East punted and the Tigers drove again, this time 72 yards in only seven plays. The big one came in one of the many formations the Tigers used to confuse the Bears. Three receivers flooded the right side with Hurst standing over an unbalanced line. Martin took off deep, but defensive back Elwen Freeman hung with him.
Hurst had plenty of time to loft a bomb to the right sideline. The 6-foot-3 Martin went up with the 5-8 Freeman, wrestling the ball away at the 11, spinning as Freeman fell, and racing into the end zone on a nifty 43-yard gain. Miller's kick made it 14-0 with 2:27 left in the first quarter.
It was Hurst who was the extra-point kicker last year, but he has given up those duties. He remains, however, as the kickoff man (he was superb in that role Friday) and the guy who tires any long field goals. He got his first chance in the latter category and delivered a
42-yard field goal that soared high and sneaked over the crossbar to make it 17-0 with 7:55 left in the first half.
The first of two Keith Rabbit interceptions set up a 34-yard touchdown mini-march capped by Sparkman's 1-yard blast with 2:10 left in the half.
Rabbitt had an amazing average of one interception a game in sophomore and junior varsity action. He is ahead of that pace as a varsity player with three thefts in two games.
The key to the shutout, though, was stopping the likes of East tailback Steve Woodberry.
"Our goal was to stop the running game and we did that," Rabbit said. "We looked at them as a real strong team and it was nice to get a shutout against them."
Woodberry was held to 18 yards in 14 carries. Several times, it looked as though the Tigers knew what the play would be as well as the East players did.
First-year East head coach Jerron Jenkins, the same age as Owens at 33, was puzzled about the first half.
"Tackling? There wasn't any," he said. "We did not come to play. They passed on us all night, even though we knew they were going to try to pass."
"I don't understand it. We pounded Steubenville from the start. I'll tell you one thing, though. We're going to find out what the problem is and do some serious work to fix it."
Hel'' have to work fast. The Bears face Austintown Fitch next week.
"We'll find out how good East is next week," Owens said.
As for the Tigers' game at Middletown next week?
"Our team will have to be together," Owens said. "We've got to make sure everything's together."
Meaning he wants the rest of that loaf.
A rundown of each drive Friday:
Mas – Start with opening kickoff on own 38; drive 62 yards in 11 plays; Sparkman 3-yard TD run; Miller kick. Big play, 16-yard Hurst-to-Martin pass on second-and-15.
Tigers 7-0
East – Start on own 24; five plays, 15 yards, punt.
Mas – Start on own 28; drive 72 yards in seven plays; Hurst 43-yard TD pass to Martin, Miller kick.
Tigers 14-0
East – Start on own 23; six plays, 12 yards, punt.
Mas – Start on own 34; drive 41 yards in seven plays; Hurst 42-yard field goal. Big play, 31-yard Sparkman run on fake punt.
Tigers 17-0
East – Start on own 20; six plays, lose ball on interception by Rabbitt.
Mas – Start on East 38; eight plays, 38 yards; Sparkman 1-yard TD run; Miller kick.
Tigers 24, East 0.
East – Start on own 20; six plays, 23 yards; end of first half.
▪ ▪ ▪
East – Start with second-half kickoff on own 25; eight plays, 43 yards ; lose ball on
interception by Rabbitt.
Mas – Start on own 15; four plays, 24 yards; punt.
East – Start on own 41; eight plays, 28 yards; lose ball when quarterback Regal Reese is
sacked for 11-yard loss.
Mas – Start on own 31; seven plays, 25 yards; lose ball on interception by Aldrige Jones.
East – Start on own 25; three plays, zero yards, punt.
Mas – Start on own 38; three plays, 7 yards; fake punt on with Kevin McCue completing pass for first down to Joe Pierce; "illegal participation" penalty on East over-rides play; three more plays, punt.
East – Take over on own 10; three plays, punt; Tigers run out clock.
MASSILLON 24
YOUNGSTOWN EAST 0
STATISTICS
M E
First downs rushing 7 5
First downs passing 6 3
First downs by penalty 2 1
Totals first downs 15 9
Yards gained rushing 149 98
Yards lost rushing 37 44
Net yards rushing 112 54
Net yards passing 167 82
Total yards gained 279 136
Passes attempted 16 16
Passes completed 12 6
Passes int. by 1 2
Times kicked off 5 1
Kickoff average 55.8 45.0
Kickoff return yards 23 51
Punts 2 4
Punting average 24.5 42.0
Punt return yards 30 0
Fumbles 1 2
Fumbles lost 0 0
Penalties 2 8
Yards penalized 20 56
Number of plays 57 45
Time of possession 23:13 24:47
Attendance 10,458
East 0 0 0 0 00
MASSILLON 14 10 0 0 24
M – Sparkman 3 run (Miller kick)
M – Martin 43 pass from Hurst (Miller kick)
M – FG Hurst 42
M – Sparkman 1 run (Miller kick)
****
INDIVIDUAL STATISTICS
Rushing
(M) Sparkman 16 – 75, Dixon 10 – 43, Ashcraft 2 – 6, Relford 3 – 10, Shell 1-1.
(E) Woodberry 14 – 18, Harrison 4 – 15, Jones 4 – 29, Woodard 1 – 10.
Passing
(M) Hurst 11-14-1 159, Shertzer 1-2-0 8.
(E) Reese 6-16-2 82.
Receiving
(M) Manion 6 – 70, Martin 3 – 71, Sparkman 2 – 18, McGuire 1-8.
(E) Stewart 2 – 26, Scissum 2 – 43, Ortiz 1 – 6, Woodberry 1 – 7.