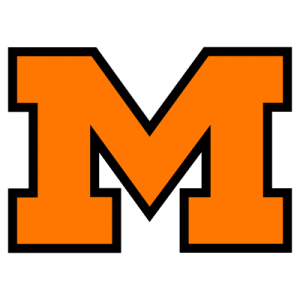 Tigers' big plays Work like magic
By STEVE DOERSCHUK
Independent Sports Editor
Tom Persell, a magician by avocation, was at a loss to explain the trick the Massillon Tigers pul­led on the Barberton Magics Friday.
"This time of possession is unbelievable," said Persell, also a stat­istician, as he stared at a facts sheet fresh out of his computer in the pressbox at Paul Brown Tiger Sta­dium.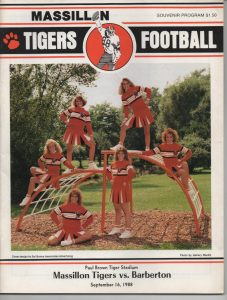 A paid crowd of 11,548 had just watched‑the Massillon Tigers beat the Barberton Magics 34‑21. What the crowd didn't know was that the Tigers pulled all of those points out of a hat they wore for only 13 mi­nutes and 45 seconds. The Magics, meanwhile, hogged the stage on offense for 34 minutes, 15 seconds.
"You could do some serious re­search and I doubt you'd find a Mas­sillon team that scored 34 points with a time of possession like that," said Persell.
Actually, there was a simple ex­planation.
When you score on an 85‑yard run, as Jason Stafford did in the second quarter while showing off his 4.38 speed in the 40 (times two), the offense is in and out.
Ditto when you score on a 74‑yard run, as quarterback Lee Hurst did one play after Barberton closed the cap to 14‑7 in the third quarter.
Same with Lamont Dixon's 50­yard TD run in the fourth quarter.
The offense scored and sat, and it was "bring on the D."
"Sometimes," head coach Lee Owens was saying, "maybe we do score a little too quickly."
Not that Owens plans to tell the ball carriers, "Fellas, run for 20 and take a dive." It's just that those take‑your‑breath‑away plays don't give the defense any breathers.
The way Barberton's bite‑sized quarterback, third‑year starter Butch Momchilov, was running the option, there was no time for deep breaths.
While the Tiger offense big­ played Barberton to death, Battlin' Butch was whipping up volatile Momchilov Cocktails.
The Tigers met their quota on offense. Their goal is 350‑400 yards a game. They made it a third week in a row, with 400 on the nose.
The defense has a quota, too. Hold the foes under 200 yards. It hasn't happened yet, but Barberton was the first team to really break the bank, collecting 347 yards.
Massillon's defense made big plays when it had to, but was still concerned about Barberton's abil­ity to move the ball.
"I don't want to be too critical of us," Owens said. "Give Barberton some compliments. They were like a boxer. We'd knock them down, and they'd get right back up."
The Tigers missed a lot of tack­les, true. They will have to start connecting more frequently if they are to beat next week's foe, Fair­field, which returns 19 of 22 starters from the only team to beat Cincin­nati Princeton last year (Fairfield improved to 3‑0 by edging Cincinna­ti Purcell‑Marian 7‑0 last night).
It is also true that Momchilov is the kind of option QB who makes tacklers miss. He proved to be a wizard at the fakes and pitches essential to making an option offense work.
When he wasn't faking or pitch­ing, he was keeping and squirting out yards on his own.
"They played pretty good offense," said gritty Tiger defen­sive back Brian Bach, who stands about 5‑feet‑8, and noted Momchi­lov is "about an inch shorter than me.
"He can cut real good," Bach added. "But we still need to play better on defense. I think we need more enthusiasm."
Enthusiasm is building in town now that the team has improved to 3‑0 by beating a team that came in at 2‑0. It is tempered by a question many exiting fans were asking: "Can the Tigers stop Fairfield, or will they have to try to win a shootout?"
"The players aren't happy with where we are on defense and I know the coaches are disappointed," Owens said. "Right now, I'm baffled."
But then, Fairfield, whose head coach Ben Hubbard led a scouting contingent to the Tigers' game in Altoona last week, faces its own baffling question. How does one contain (forget about stopping) Jason Stafford?
The senior fullback rushed for 156 yards in 10 carries Friday, pushing him over 450 yards for three games. The only thing that stopped him was a pulled hamstring muscle he suf­fered with less than a minute left in the third quarter. He sat out the fin­al period.
"It happened when I was running downfield throwing a block," he said while standing on the sidelines, keeping an eye on the action. Just then, his teammate Dixon broke loose for the 50‑yard touchdown run that created the final score. He be­gan running toward Dixon, making a "No. 1" signal with his index finger.
The play on which Stafford was injured was Hurst's 74‑yard bootleg run.
Earlier, Stafford had run 85 yards on a play the team calls "inside ice."
I fake to the inside then cut to the outside," he said.
Barberton apparently had a good scouting report on Stafford. After Momchilov, who also plays safety, dove at Stafford and missed, he buried his faceguard in the turf. He knew no one would catch the blazing fullback. By the time Stafford reached the goal line, his closest pursuers were 15 yards behind.
After the game, the "inside ice" was on Stafford's left hamstring in the training room.
"It's not too bad," he said. "I'll I be ready to play."
Stafford's touchdown may have .been the key play in the game.
The Tigers had scored. early, par­laying Steve Snodgrass' fumble recovery into a 38‑yard drive capped by Ryan Sparkman's 1‑yard plunge at the 7:18 mark of the first quarter.
But Barberton tied the score at 7‑all with its next possession, driv­ing 79 yards in 13 plays, including an 18‑yard completion to the Tiger 13 on fourth‑and‑three. Big fullback Pat Robertson, who finished with 99 yards in 19 rushes, went the final yard.
Barberton further asserted itself by forcing the Tigers to punt on their next possession. The Tigers in turn came, up with an important de­fensive stand and forced the Magics to punt.
Earlier, a clipping penalty that infuriated the Massillon coaches brought back what would have been a 60‑yard TD blast by Stafford. The clipping flags came out again on the punt, and the Tigers were backed up to their own 15.
Stafford solved the field position problem in a hurry by breaking loose on first down for the 85­yarder.
Barberton head coach Don Ault was thinking about plays like that when he said, "That's genes … there's not much we could do about some of their big plays. They just out‑manned us."
After the touchdown, Hurst ‑ not changing to a special kicking shoe for ‑the first time this year ‑ kicked his second extra point and the Ti­gers led 14‑7 with 4:08 left in the half.
Momchilov optioned Barberton to where it missed a 38‑yard field goal attempt with two seconds left in the half,
At halftime, Barberton led 171-­169 in total offense and 17:23‑6:37 in time of possession.
The Tiger defense, following a pattern of doing something positive when it had to, kept the Magics at bay by forcing a punt on the first possession of the second half.
The Massillon offense then threatened to put away the game by driving 60 yards in nine plays for a score. The touchdown came on an excellent adjustment. On third-­and‑one from the nine, Barberton's defense shifted during the snap count so that most of its men were clogging the middle. The handoff went to Sparkman, who bounced off left tackle to the outside. He had clear sailing into the right comer of the end zone. Hurst's kick was wide but the Tigers led 20-7 with 6:08 left in the third quarter.
The Magics didn't disappear. The kickoff stuck them at their own 23 but Robertson quickly bulled for gains of 11 and 10. The drive kept moving and wound up consuming 77 yards in nine plays. Momchilov fired a seven‑yard pass to Steve Cuckler for a touchdown, and the kick made it 20‑14 with 57 seconds left in the half.
The Tigers faced the same sort of crises a week ago, when Altoona scored on the first play of the fourth quarter to cut a Massillon lead to 6 points. The Tigers then drove for a clinching touchdown on a mostly running drive described by Owens as "slug‑nose football."
This time, the Tigers went back to kicking butt with the boot. On first down, Hurst, on the bootleg keep, sprinted around the right side, where he found an uncommon volume of running room.
"It was just a normal boot," Hurst said. "I wasn't really sur­prised I had that much room. Their linemen are aggressive and they jump inside. We had good blocking going on the play, too."
"The play went the way the night went for us," said center Don Ger­ber. "We came together and played as a team. On that play, everybody executed his block."
Hurst showed good speed in turn­ing the corner and outrunning three Barberton pursuers on the 74‑yard burst.
Late in the game, Barberton rec­overed a Tiger fumble near mid­field and drove again. Momchilov passed seven yards to Dan Dimick for a touchdown. The kick was good and suddenly Barberton trailed 28­-21 and was within an onside kick of making real trouble. The same sort of thing happened in last year's Barberton game, when the Tigers sweated out a 34-26 victory in the Rubber Bowl.
As in 1987, the Tigers recovered the onside kick ‑ this time, Mark Owens did the honors. Dixon's 50-­yard TD burst came with 47 seconds left in the game.
"Everything is coming together," concluded Tiger tight end Jeff Harig, who caught two pas­ses for 35 yards. "The line is hitting hard and getting it done."
Speaking for the defense, end Monte McGuire said, "We played hard, but we've just got to get a lit­tle more aggressive. Put it in the books. We're going to beat Fairfield. "
Another word from the defense, by defensive back Shawn Ashcraft: "I thought we played well at times. We missed a few tackles. We can do better. Next week, we have to make no mistakes."
"Barberton was good," said Owens. "But Fairfield will be better.
M B
First downs rushing 9 12
First downs passing 3 6
First downs by penalty 0 2
Totals first downs 12 20
Yards gained rushing 351 226
Yards lost rushing 8 40
Net yards rushing 343 186
Not yards passing 57 161
Total yards gained 400 347
Passes attempted 9 23
Passes completed 5 13
Passes int. 1 0
Times kicked off 6 4
Kickoff average 55.5 35.3
Kickoff return yards 31 91
Punts 2 3
Punting average 41.0 33.0
Punt return yards 18 0
Fumbles 2 1
Fumbles 1 2
Penalties 6 5
Yards penalized 68 24
Number of plays 38 71
Tlme of possession 13:45 34:15
Third‑down conv. 4‑6 8‑15
Attendance 11,548
BARBERTON 0 7 7 7 21
MASSILLON 7 7 14 6 34
SCORING SUMMARY
First quarter
M ‑ Sparkman 1 run (Hurst kick) 718
Second quarter
B ‑ Robertson 1 run (Horvath kick) 11:57
M ‑ Stafford 85 run (Hurst kick) 4:26
Third quarter
M ‑ Sparkman 9 run (kick failed) 6:08
B ‑ Cuckler 7 pass from Momchilov (Horvath kick) 0:57
M ‑ Hurst 74 run (Hurst run) 0:32
Fourth quarter
B ‑ Dimick 7 pass from Momchilov (Horvath kick) 1:41
M ‑ Dixon 50 run (kick failed) 0:47
INDIVIDUAL STATISTICS
RUSHING:
Massillon ‑ Stafford 10‑156, 15.6 ave., I TD; Sparkman 10‑28, 2.8 ave., 2 TDs; Hurst 6‑98, 16.3 ave., 1 TD; Dixon 3‑61, 20.3 ave., 1 TD.
Barberton ‑ Robertson 19‑99, 5.2 ave., 1 TD; James 9‑59, 6.6 ave.; Momchilov 18‑25, 1.4 ave.; Ocepek 1‑3, 3.0 ave.
PASSING
Massillon ‑ Hurst 5‑9‑56, 56%, 0 TDs, 1 interc.
Barberton ‑ Momchilov 13‑23-­161, 57%, 2 TDs, 0 interc.
RECEIVING:
Massillon ‑ Harig 2‑35, 17.5 ave.; Spencer 1‑8; Manion 1‑6; Carpenter 1‑8.
Barberton ‑ Ocepek 3‑25, 8.3 ave.; Dimick 3‑51,17.0 ave., 1 TD; Cuckler 2‑36, 18.0 ave., 1 TD; Davis 2‑31, 15.5 ave.; James 2‑7, 2.5 ave.; Robertson 1 ‑11.
Massillon tops Barberton 34-21
By Bill Lilley
Beacon Journal staff writer
Barberton coach Don Ault knew the best way to try and stop the high ­powered Massillon offensive attack was to keep the ball out of the hands of multi‑dimensional quarterback Lee Hurst and swift tailback Jason Stafford.
Barberton's offense followed the game plan almost perfectly Friday night. The Magics dominated possession of the ball as they hogged it for more than 34 minutes and ran 60 plays to the Tigers' 38.
The only problem was that when the Tigers did have the ball, they were the epitome of efficiency.
Massillon scored on five of its 38 plays, including three touchdown runs of 50‑plus yards, to record a 34‑21 victory over the previously unbeaten Magics be­fore a crowd of 11,548 at Massillon Paul Brown Tiger Stadium.
"Barberton had the ball all night, but we had the points and that's all that mattered," said Hurst.
"It seemed like our defense was on the field all night, but when we did have a chance we usually made the most of it."
Hurst was a key factor, but on this night it was his feet rather than arm that helped decide the game with a key third‑quarter run.
The Tigers (3‑0) had broken a 7‑7 second‑quarter tie when Stafford raced 85 yards to give Massillon the lead for good.
The Tigers upped their advantage to 20‑7 midway through the third quarter when junior fullback Ryan Sparkman ran 9 yards to cap a 60‑yard scoring drive.
The Magics, however, weren't done,
Shifty senior quarterback Butch Momchilov led a typical Barberton drive ‑ 9 plays, 77 yards, 5:11 consumed ‑ and hit Steve Cuckler with a 9‑yard TD pass.
That cut the Magics' deficit to 20‑14 with 57 seconds left in the third quarter,
Masillon defeats Magics
But on the first play following the kickoff, Hurst faked a sweep to left to Stafford and the Magics' defense collapsed on the senior tailback, who had 156 yards on 10 carries at that point.
Stafford, in fact, carried out the fake so intensely that he pull­ed a hamstring muscle and. was sidelined the rest of the game.
Hurst, meanwhile, bootlegged around the right side and raced 74 yards for a touchdown.
"It was bootleg keeper all the way," said Hurst, who rushed 10 times and gained 98 of Massil­lon's 343 rushing yards.
"All I have to do is read the blocks out front by (tight end) Jeff Harig and (guard) Tom Menches. They did a great job and I couldn't believe how alone I was."
Neither could Ault.
"We knew they had the bootleg and we knew we had to stop Hurst, but when you've also got a great back out there like Stafford you're naturally more worried about him," said Ault.
"We were keying on Stafford and Massillon did a great job exe­cuting.
"I thought we did a great job of ball‑control all game, but you can't keep it away from them forever.
"And when they did get it they did a very good job ‑ that's why I'd have to say they are a state power."
The Magics made it interesting when Momchilov threw another TD pass with 1:41 to play to trim Massillon's lead to 28‑21.
Massillon's Mark Owens cov­ered the ensuing onside kickoff attempt and two plays later jun­ior fullback Lamont Dixon busted a 50‑yard TD run to clinch the game with 47 seconds left.
"Our offense did a great job, maybe too good a job because our defense was worn out by the end of the game," said Massillon coach Lee Owens, whose squad faces Fairfield next Saturday.
"Maybe we need to take a lit­tle more time putting it in the end zone to give our defense a break.
"But in all seriousness, you have to give Coach Ault and the Barberton team a lot of credit. They did a great job controlling the ball and never gave up."