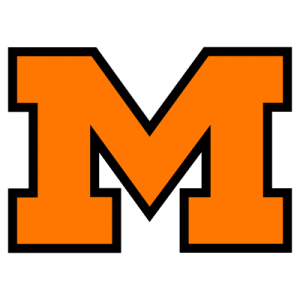 Happy to leave 'Jinx Town' with win
Tigers stave off tie in late going, tack on two TDs
By STEVE DOERSCHUK
Independent Sports Editor
WARREN ‑ Jinx? Of course there's a jinx.
How else do you explain the fact Warren Harding's No. 13 ‑ Steve Baugh ‑ caught two straight passes for 13 yards last night?
How else do you figure Warren had managed a 4‑4‑2 record against the mighty Massillon Tigers at Mollenkopf Stadium over the last two decades?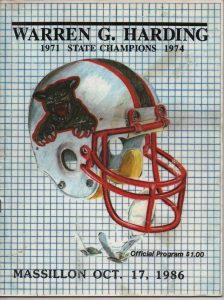 But nobody ever said the twilight zone never gets a helping hand from the conscious world.
And Massillon Tiger football coach John Maronto thinks he saw that happen in his team's scarier‑than‑it‑sounds 24‑7 win Friday night.
"When you asked me yesterday if I believed there's a jinx, I mentioned many of the kids on our team weren't born yet when the 'jinx' started, Maronto said. "Well, I have to admit, I've never experienced anything like what happened tonight."
He was talking not about ghosts, goblins or witches, but zebras.
"I could take a swipe at one of the officials … and it would be a real incriminating shot," Maronto said. "But I won't, because I'm just happy to come out of here with a win. Much of what we were trying to do was destroyed by penalties and fumbles. And I must give Warren credit because their kids played inspired football, as all of our opponents do against Massillon.
"But our kids overcame some of the toughest odds I've ever seen."
Maronto thought it was very odd the way the particular official spotted the ball, and that it was odd the Tigers were hit with a flagrant conduct penalty after Massillon linebacker Jerrod Vance got jumped with a late hit, was punched in the face.
For the record, the Tigers were flagged nine times for a season-high 115 yards to Warren's six times for 50 yards.
But in the end, Massillon's fine tackle, Lance Hostetler, said he had enjoyed a night of good, clean fun.
"Their players had a lot of class," Hostetler said. "One time, one of their guys accidentally poked me in the eye, and he said he was sorry."
Tiger linebacker Todd Perdue agreed.
"This was one of the few games where the opponent was helping you up after you got knocked down," he said.
Harding came out throwing Mollenkopf Cocktails.
It was bombs away as the Panthers threw their accustomed running game in the Mahoning River and threw passes everyplace else.
It helped lead to a shell‑shocking fourth quarter that began with Harding lining up for a field goal that would have caught the Tigers in a 10‑10 tie. But the snap was mishandled (it looked like Matt Swank would have blocked the kick anyway). Then the Tigers exploded for two touchdowns in the final 60 seconds to complete the win before 6,500 spectators.
"We knew Massillon had seen us run the ball effectively when they scouted us," Harding head coach Frank Thomas said. "We thought our best chance of doing something was through the air."
Sophomore quarterback Clayton Waite made that game plan look good by throwing passes more accurate than a state trooper's radar gun. He was on the mark more than his 14 completions in 32 attempts indicate, and finished with 162 yards.
The game was closer than many expected, even though the teams' records were not far apart ‑ the Tigers entered with a 5‑2 mark, compared to Harding's 4‑3.
But Perdue wasn't upset that the Tigers had to sweat out the win.
"I like these kind of games," he said. "It's fun to be in a close one like that, and do what it takes to win.
"I thought we played well on defense, especially when you look at how well their guy was throwing the ball."
It was no surprise that the Tigers were running the ball. They might have emerged saying they ran it exceptionally well, except three lost fumbles cut off drives.
Still, they gained 195 rushing yards at 4.5 a pop, while quarterback John Miller threw just two passes, completing one for 13 yards.
It was a surprise, though, that Mike Norris, the starting fullback all year, opened at tailback, while Vernon Riley, who disappeared after rushing for 138 yards in the third quarter against Cincinnati Mount Healthy Sept. 12, reappeared as the starting fullback.
Norris rambled 102 yards in 20 carries and two touchdowns. Riley amassed 65 yards in 11 totes.
In yet another surprise, Norris – No. 34 in your program ‑ came out wearing No. 4.
The second time the Tigers had the ball ‑ Norris came out smokin', blasting through big holes for gains of 13 and 17 yards during a touchdown drive that covered 63 yards in 10 plays. On third and goal from the six, Norris swept right and sprinted into the corner of the end zone. The first of Lee Hurst's three accurate PAT kicks made it 7‑0 with 2:17 left in the first quarter.
Norris' kickoff sailed into the end zone, setting up Warren at the 20. A chop‑blocking penalty and two running plays that lost yardage buried the Panthers at their own 6 on fourth down.
A good Warren punt forced the Tigers to start their next drive behind midfield. Riley, a 5‑11, 206‑pound junior, blasted 33 yards on a straight dive play. That put the ball on the 13, but the Tigers wound up settling for a 27‑yard field goal by Hurst and a 10‑0 lead with 9:31 left in the second quarter.
On its next possession, Warren dumped the run and turned loose Waite, who completed passes of 18, 13 and 13 yards on a drive that led to first down at the Massillon 10. But on fourth and six, Brian Teeple, Steve Siegenthaler and Perdue tackled Mark Perez three yards short of the first down.
The Tigers took over and couldn't move, but Ken Hawkins got off a spectacular, 64‑yard punt that rolled dead on the 10.
The half ran out with the score still at 10‑0.
That also happened to be the halftime score in the Tigers' other road game, which slipped away into a 14‑10 loss at Austintown‑Fitch two weeks earlier.
It didn't look like the Tigers would have to worry about a relapse when Miller flicked a shovel pass to Riley, taking a page out of the Warren playbook which featured several similar short passes Friday night. Riley exploded down the right sideline and was brought down inches short of the goal line for an apparent 50‑yard gain. But the ball was brought back on a clipping penalty, and Hawkins eventually got off another booming punt that traveled 51 yards into the end zone for a touchback.
From there, Waite used four different receivers to pass the Panthers upfield. The big plays were 16, 13, 15 and 16 yards. On third and one from the four, Waite found Avery Patterson over the middle for a touchdown. Irl Berrisford, not your typical placekicker at 5‑10, 253, drilled the extra point to make Warren's deficit 10‑7 with 3:40 left in the third quarter.
Three plays after the Tigers got the ball back on a kickoff, Norris fumbled and Patterson recovered on the Warren 47. A roughing‑the‑passer call, a nine‑yard run by Perez and a pass interference flag advanced the ball to the 14.
But the Panthers were stuck there on fourth down on the final play of the fourth quarter. They marched to the other end, then Berrisford lined up for a 31‑yard attempt that would tie the game.
"I was thinking one of our fast guys would be able to get in and block the kick," Hawkins said. "And it was iffy on whether he would make it. He didn't really look like a placekicker."
But the snap was mishandled, the Tigers swarmed around the ball, and took over at the 13 with the lead intact.
Two plays later, Miller threw a 50‑yard bomb toward Jerome Myricks that was picked off by Patterson.
Waite quickly completed passes of 12 and 11 yards, moving the Panthers to the Massillon 42. But a first-down bullet pass by Waite bounced out of the hands of Baugh and was picked out of the air by Perdue.
Miller made a 22‑yard run to midfield but fumbled five plays later, giving Warren the ball at, the Massillon 29.
Two plays after that, Massillon's Mike Wilson stole a Waite pass and raced 35 yards to the Warren 31. The Tigers drove inside the 10 but on third and eight, Riley fumbled and Warren's Michael Hall recovered at the 5 with 3:22 left.
The Tiger defense swarmed all over Waite and created a fourth and 11 at the 4.
Thomas' options at this point were to punt and preserve the respectable score or go for it on the off chance the Panthers might make a first drive then stage a miracle drive.
"The coaching staff owed it to the players to give them a chance to win," Thomas said. "They played too hard. So we went for it."
Waite's pass went through Reggie Scrivens' hands and the Tigers took over on the 4, scoring in two plays on Norris' two‑yard plunge with 59 seconds left.
One play after the ensuing kickoff, Vance intercepted a Waite pass over the middle and returned it 24 yards for a score with 25 seconds left.
Warren gained just 30 yards on the ground in 18 carries. Marko Miller, a highly touted 215‑pound junior who rushed for nearly 150 yards two weeks ago, had a grand total of minus‑one yards last night.
Next up for the Tigers is Cleveland St. Joseph, Friday night at Paul Brown Tiger Stadium.
MASSILLON 24
WARREN 7
M W
First downs rushing 10 1
First downs passing 0 10
First downs by penalty 1 3
Totals first downs 12 14
Yards gained rushing 217 45
Yards lost rushing 22 15
Net yards rushing 195 30
Net yards passing 24 168
Total yards gained 219 198
Passes attempted 1 14
Passes completed 2 32
Passes int. by 3 1
Times kicked off 5 2
Kickoff average 52.0 54.5
Kickoff return yards 29 58
Punts 3 3
Punting average 50.4 34.0
Punt return yards 17 0
Fumbles 5 0
Fumbles lost 3 0­
Penalties 9 6
Yards penalized 115 50
Number of plays 46 50
Time of possession 26:26 21:34
Attendance 6,500
WARREN 0 0 7 0 7
MASSILLON 7 3 0 14 24
MAS ‑ Norris 6 run (Hurst kick)
MAS ‑ FG Hurst 27
WAR ‑ Patterson 4 pass from Waite (Berresford kick)
MAS ‑ Norris 2 run (Hurst kick)
MAS ‑ Vance 24 interception return (Hurst kick)