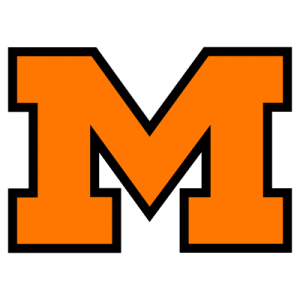 Tiger mentor: 'We really needed this'
By STEVE DOERSCHUK
Independent Sports Editor
MASSILLON ‑ They were the Fighting Irish all right, this good Akron St. Vincent‑St. Mary High football team.
Trouble was, they were a light heavyweight stepping into the heavyweight division. And their opponent was a fighting tiger hopping mad over a fistful of Fitch absorbed one Friday earlier.
The result was a 27‑0 Massillon Tiger victory before 8,149 fans, leaving both teams with 5‑2 records.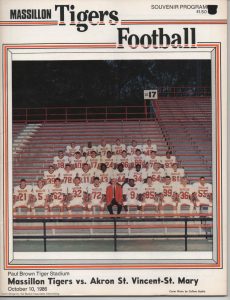 "We really needed this … the players and the coaching staff," said John Maronto, who had just been through the toughest days of his 15 months as head coach of the Tigers. "We said very little all week. We said it was time to take a gut check and see what comes out."
What came out was junior quarterback John Miller's best game, another big‑play touchdown for Jerome Myricks and another shutout for the defense ‑ all five Massillon wins have been blankings.
"I thought we played hard this week and last week," said Massillon senior Mike Wilson. "Maybe we got more physical this week."
Wilson got pretty smart, too. Late in the game, he told defensive coordinator Brandon Oliver he wanted to shift to the wide side of the field because he had a feeling the Irish might throw that way.
The result was a 57‑yard interception return for a TD during which the speedy Wilson said his only thought was, "Nobody's gonna catch me."
That and Lee Hurst's third PAT kick of the night cemented the final score with 45 seconds left in the game.
The Tigers didn't severely whip the Irish on the stats sheet (they led 201‑146 in total yards). They simply did the right things at the right time.
In the St. Vincent‑St. Mary locker room, talk centered around the game's "extra‑curricular" matters, including Tiger linebacker Jerrod Vance's helmet, on which was plastered a likeness of Irish head coach John Cistone, for whom Vance played before transferring to Massillon in 1984.
"This was a different sort of Massillon team than any I've seen," said Cistone, in his 30th year as St. Vincent‑St. Mary's mentor. "There were more cheap shots than I've seen before. But I don't know. They were the same guys we played last year, when there were no problems. Maybe it was a result of them coming off what had to be a very tough loss.
"Maybe we got more physical this week" ‑ Mike Wilson
"You've gotta say they have a good football team. They've got size and speed … all the tools to win. They don't need that other stuff."
Nothing changed the way Cistone feels about playing in Massillon, where he is winless in seven tries.
"We like playing here," Cistone said. "We'll be back next year."
While awaiting next year, the Irish will finish out 1986 against foes who will put them in the Division III playoffs, if somehow they can go 3‑0. The lineup is Youngstown Cardinal Mooney, Youngstown Ursuline and Walsh Jesuit.
If the Tigers' court date Wednesday goes favorably, and they get an injunction putting them back in the Division I playoff race, they probably would qualify by beating their remaining three foes. Warren Harding, Cleveland St. Joseph and McKinley have a combined 15‑4 record.
Harding, which will host the Tigers next at 7:45 p.m. next Friday, whipped Niles McKinley 14‑0 last night to improve to 4‑3.
The drama in last night's game was curtailed after the Tigers took a 14‑0 lead early in the second quarter.
Vance, the senior inside linebacker, set up the first touchdown when he intercepted junior quarterback Mark Lenz's first pass of the game and made a short return to the Irish 33‑yard line.
Mike Harris, waging a difficult battle to come back from knee surgery, started at tailback but it was junior tailback Jerome Myricks who got the Tigers rolling when he hit a hole on the left side of the line for a nine‑yard gain to the 17. A nine-yard run by senior fullback Mike Norris put the ball on the 7, from where Myricks again went over the left side and easily into the end zone. Hurst's PAT kick made it 7‑0 at the 5:13 mark of the first quarter.
A strong kickoff by Norris resulted in a touchback and bad field position for the Irish, who were stuffed in three plays and had to punt.
The Tigers then marched 54 yards for a score on a drive that included a tricky double‑pitch on which Miller handed off to Myricks, with Myricks pitching back to Miller. The quarterback sprinted around the right side for an 11‑yard gain.
Moments later, on fourth and one from the 27, the Tigers surprised the Irish ‑ and their fans ‑ when Miller dropped back quickly and fired a 12‑yard strike to tight end Kenny Hawkins.
The play drew a loud ovation from the Massillon fans on the "roof side."
"I knew the pass would be open," Miller said with a smile afterward. "It was just a matter of getting the ball to Kenny."
Maronto said the Tigers have not gone to the 6‑foot‑8 tight end much largely because of the way defenses are playing him.
"But we thought this play would be open," the coach said.
A seven‑yard run by Harris put the ball at the 5, from where Miller rolled right and found a wide‑open Wilson for a touchdown in the right corner of the end zone. Hurst's kick made it 14‑0 with 11:14 left in the first half.
Though the Irish never came close to scoring in the first half, Lenz scrambled effectively during one possession, completing three passes and running for 15 yards on another play.
"We had some trouble containing the quarterback in the first half," Miller said. "Then when we contained him in the second half, it made things better for us."
Neither side threatened in the third quarter, but a spectacular punt by Hawkins buried the Irish on their own 8 at the end of the period. The Irish punted from near there to midfield, and on third‑and‑six, Miller dropped back again. When Myricks wasn't playing tailback, he was often in at split end, as he was this time, breaking open near the left sideline. He took a strike from Miller, broke cleanly through two defenders and said see ya' later en route to a 40‑yard touchdown. Hurst's kick missed, but it was still 20‑0 with 10:04 left in the game.
"I'm getting more confidence," said Myricks, who now has scored on three longs plays this year. "I'm starting to feel like I can go the distance on any play."
Myricks, incidentally, was one of the replacements at split end for Bart Letcavits, the senior co-captain who saw scant action last week against Fitch, and did not play at all last night due to illness.
Miller wound up with six completions in nine attempts for 105 yards, by far his biggest passing night of the year. Myricks caught three passes for 83 yards.
"I'm starting to feel real confident now," Miller said. "We have some tough customers coming up, but we want to play well and have a good season."
M V
First downs rushing 4 5
First downs passing 4 4
First downs by penalty 1 2
Totals first downs 9 11
Yards gained rushing 110 108
Yards lost rushing 14 23
Net yards rushing 96 85
Net yards passing 105 61
Total yards gained 101 146
Passes attempted 9 16
Passes completed 6 5
Passes int. by 2 0
Times kicked off 5 1
Kickoff average 55.8 31.0
Kickoff return yards 11 37
Punts 3 4
Punting average 37.3 27.8
Punt return yards 6 ‑9
Fumbles 3 2
Fumbles lost 2 1
Penalties 8 6
Yards penalized 83 57
Number of plays 43 53
Time of possession 21:34 26:26
Attendance 8,149
ST. V‑ST. M 0 0 0 0 0
MASSILLON 7 7 0 13 27
MAS ‑ Myricks 7 run (Hurst kick)
MAS ‑ Wilson 6 pass from Miller (Hurst kick)
MAS ‑ Myricks 40 pass from Miller (kick failed)
MAS ‑ Wilson 57 interception return (Hurst kick)