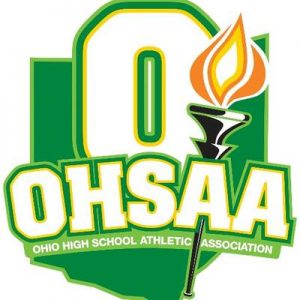 Massillon runs over Sandusky 29‑7
Spielman, Bushe are two tough Tigers
By BOB STEWART
Repository Sports Editor
MASSILLON ‑ Paul Revere would have hung only one lantern in the old North Church.
"One if by land," would have been the signal. But here Saturday night, it was two by land, as Chris Spielman and Jim Bushe romped through, over and around the Sandusky Blue Streaks, leading the Mas­sillon Tigers to a 29‑7 victory in an OHSAA Division I playoff game.
The crowd of 14,949 at Paul Brown Tiger Stadium watched the two tough Tigers each run for more than 100 yards in registering the 11th Massillon win in as many games and advance to next Saturday's 7:30 p.m. semifinals.
The OHSAA officially will make the pairings and sites known tonight, but it would appear Massillon will travel to Akron's 38,000‑seat Rubber Bowl to meet unbeaten Berea (11‑0), a 7 – 0 winner over Men­tor Saturday night.
It was the first loss for Sandusky, which had shut down the running games of its 10 regular season foes.
The Blue Streaks, who had limited opponents to a mere 68 yards a game on the ground, found the relentless Massillon offensive line too much to handle as the Tigers roiled up 260 yards running the ball.
Spielman, the 6‑foot‑2, 206‑pound junior, ran 25 times for 127 yards and Bushe, a 6‑1, 185‑pound senior, toted 19 times for 118 yards.
"We took a physical beating in the game," said Sandusky coach Jim Colwell. "We knew his (Massillon coach Mike Currence) game plan would be to run the ball at our smaller defense. But we couldn't stop it.
"We had hoped to get a couple of quick scores, and make them have to play catchup, but they just ran it down our throat," said Colwell.
Both Colwell and Currence said the blocked field goal with the game tied at 7 in the second period was the turning point of the game.
"Yes, that gave us a big lift," said Currence. "We knew the defense had to come up with a big play somewhere. They (the Blue Streaks) had been moving the ball on us."
Sandusky had moved the ball to the Massillon 8, and faced a fourth-and‑five situation, when Alan Antel came on to attempt the 24‑yard field goal, less to five minutes into the second period.
Massillon's Charles Calhoun leaped high behind the defensive line and got a hand on the kick, which trickled harmlessly into the end zone.
The play fired the Tigers, who marched 80 yards in 13 plays … seven carries by Bushe and six by Spielman … to score the go‑ahead TD 46 seconds before the band show. Bushe banged it in from the 3.
Massillon dominated the second half controlling the ball for all but 5:02 of the 24 minutes of playing time. The Blue Streaks not only failed to get a first down in the second half, they had a minus‑24 yards total offense in the third and fourth periods, and in one series, lost 18 yards in three plays, culminating in a safety when Massillon's Derrick Johnson lowered the boom on quarterback Bret Ninke in the end zone.
The latecomers weren't even in their seats when Massillon drew first blood.
Sandusky's Richard Twine returned the opening kickoff 13 yards to the 24, but on the first play from scrimmage, the Tiger defense separated him from the ball and linebacker George Ziegler pounced on it at the 18.
Spielman slammed for 10 and a down, then ripped off the 8 yard TD jaunt as the game was only 97 seconds old.
The Blue Streaks came right back with a mighty march, which included three straight clutch conversions two on third down and one on fourth‑and‑three.
With a first down at the Massillon 28, the Blue Streaks started what appeared to be a reverse, but halfback Dave Turner stopped, and fired a halfback pass to a wide open Randy Moore at the goal line. The conversion tied the score at 7 with 5:07 left in the first period.
Massillon-Sandusky game summary
Sandusky 7 0 0 0 7
Massillon 7 7 7 8 29
Mas ‑ Spielman 8 run (Pfisterer kick)
San ‑ Moore 28 pass from Turner (Antel kick)
Mas ‑ Bushe 3 run (Pfisterer kick)
Mas ‑ Safety Johnson tackled Ninke in end zone
Mas ‑ Spielman 1 run (kick failed)
Att ‑14,949.
Mass Sand
First downs rushing 15 5
First down passing 2 3
Total first downs 17 8
Rushes-yards 54‑260 24‑32
Passing-yards 49 69
Return yards 54 43
Passes 2‑5‑0 5‑12‑1
Punts 2‑41.5 2‑32
Fumbles‑lost 2‑0 2‑3
Penalties‑yards 2‑30 0‑0
Time of Possession 29:24 18:36
INDIVIDUAL STATISTICS
RUSHING
Massillon, Spielman 25‑127, Bushe 19‑118, Sampsel 4‑16.
Sandusky, Twine 10‑22, Steele 7‑26.
PASSING
Massillon, DeWitz 2‑5‑0‑1‑49,
Sandusky, Ninke 4‑11‑1‑0‑41, Turner 1‑1‑0‑1‑28.
Missed field goal ‑ Sandusky, Antel 24.
Massillon turned the ball over on downs at the Sandusky 31 with 2:16 left in the opening canto, and Sandusky began its drive that ended in the blocked kick with 7:22 left in the half.
There were no penalties and no punts in the first two periods, but each team had to punt the first time they had possession in the third quarter.
Massillon's junior quarterback Brian DeWitz came up with his first completion of the game midway in the third period, hitting a 31‑yarder to end Jim Geiser at the Sandusky 21.
Seven rushes later, five by Spielman and two by Bushe, the Tigers were in the end zone again. Spielman blasted the final yard.
Massillon continued to march, and turned the ball over on downs at the Sandusky 18, 2 1/2 minutes into the fourth period, but three plays later came the safety. Included in the minus march was a five‑yard sack by Massillon's Sam Clark.
After the free kick, Massillon was forced to punt, but Willie Clark fumbled the return and the Tigers' Mark Smith gobbled up the loose ball at the Massillon 41, from where the Tigers roared 59 yards in eight plays, the score coming on a 19‑yard pass from DeWitz to Gary Conley, with 1:55 left in the game.
On the first play after the kickoff, Geiser, who doubles as a weak safety in addition to his split end duties, intercepted Ninke, and Massillon ran out the clock.
Sandusky had only 101 yards in total offense, 69 of it passing on five completions in 12 attempts. DeWitz completed 2 of 5 for 49 yards.
Antel's conversion kick made it 7‑7 with 5:07 left in the first quarter.
CURRENCE said neither he nor his team was expecting such a play. "They were running so well at the time that I don't think anyone expected them to throw."
The Blue Streaks threatened to go ahead by moving from their own 31 to the Massillon 8 with 7:22 left in the ball, but the Tigers forced a fourth and five situation and Colwell elected to try a field goal.
That's when Spielman came over the top to block it and give Massillon the needed momentum.
The Tigers took over at their own 20 following Spielman's defensive gem and with fullback (rest of article not available)
Spielman's blocked kick
sparks Massillon victory
By Milan Zban
Beacon Journal staff writer
Chris Spielman had more numbers than the Ohio Lottery.
The Massillon tailback‑linebacker rushed for 116 yards in 23 carries and scored a pair of touchdowns Saturday night as the Tigers downed Sandusky 29‑7 in the quarterfinals of the state Division I playoffs before 14,949 at Massillon's Paul Brown Tiger Stadium.
But Spielman's most important statistic was his block of an attempted field goal try of 24 yards by previously unbeaten Sandusky which would have given the Blue Streaks a 10‑7 lead.
Spielman came crashing over the top of the line to get a hand on Alan Antel's attempt from the 14‑yard line.
Massillon took over at its own 20, marched 80 yards in 13 plays for a 14‑7 advantage and never looked back.
THE WIN allowed Massillon to advance to the semifinals where they will meet Berea, a winner over Mentor in another Division I quarterfinal. The site reportedly will be the Rubber Bowl Saturday night.
Both coaches, Mike Currence of Massillon and Jim Colwell of Sandusky, called Spielman's blocked field goal pivotal.
"Had we been able to grab the lead, Massillon would have been forced to play catch‑up and that was our only hope," said Colwell. "Ironically, that was the first blocked kick we've had all season."
Currence, who saw his Tigers jump to a 7‑0 first‑quarter lead after recovering a fumble on Sandusky's first possession and converting it into a 7‑yard scoring sprint by Spielman, lauded his offensive unit.
After Spielman's first touchdown, coming just three plays after linebacker George Ziegler recovered Richard Twine's fumble, Sandusky marched 72 yards to tie the game by using a bit of razzle dazzle.
Quarterback Bret Ninke, who kept the drive alive by optioning for key yardage on a fourth and two situation, handed off to wing back David Turner on an apparent end sweep. But Turner stopped and threw a pass downfield to wide receiver Randy Moore who was wide open at the Massillon 6. He turned and stepped into the end zone for the touchdown.
Jim Bushe and Spielman each carrying 6 times for 40 yards, they broke the tie with 46 seconds left in the half as Bushe cracked into the end zone from 3 yards out. Bronc Pfisterer's conversion kick was good and Massillon led 11‑7 at intermission.
MASSILLON padded its lead when Spielman added his second touchdown on a 1‑yard run following a drive of 50 yards.
The big play in the march was a 30‑yard pass from Brian DeWitz to Jim Geiser which carried to the Sandusky 20. The score came with 1:32 left in the third period, but more was on the way.
With 7:14 remaining in the game, Ninke was nailed in his own end zone for a safety by Massillon end Derrick Johnson.
DeWitz later passed 19 yards to Gary Conley for the Tigers' final score with 1:55 remaining. The Tigers drove the ball 60 yards to score after Mark Smith recovered another fumble by Twine.
Bushe was the game's lop ground gainer with 117 yards in 18 attempts. Massillon's defense surrendered only 22 yards in 10 carries by Twine and 26 yards in 7 attempts by Tracy Steele.
Massillon advances
Tigers run over Sandusky
Beadle blocks big boost
for Tiger backs
By STEVE DOERSCHUK
Assistant Sports Editor
MASSILLON ‑ Ty Beadle thinks Jim Bushe and Chris Spielman are merely the two best high school running backs in Ohio.
Now, Beadle may be a tad prejudiced.
He blocks for them, you see.
Beadle did his usual good job of blocking Saturday. Spielman and Bushe did their usual good job of running.
And there was the usual result: a runaway victory for the Massillon Tigers. The victim, by a 29‑7 score – the Tigers' seventh blowout in their last eight games ‑ was unbeaten Sandusky.
This time it was a game of more than usual importance. It is the time of the season when a loss means the end of the season. It was a quarterfinal playoff victory in the Ohio Division I playoffs.
"Blocking Sandusky," Beadle said afterward, "was harder than usual, but not as hard as against McKinley (the team the Tigers tamed 7‑0 a week earlier to qualify for the playoff)."
Massillon, 11‑0, advances to a semifinal game against Berea, also 11‑0, next Saturday night in Akron's Rubber Bowl.
The Tigers almost made it look easy against Sandusky (10‑1), unleashing a rushing attack that netted 118 yards in 19 carries for Bushe and 127 yards in 25 totes for Spielman.
When one runs behind Beadle, a 6‑foot‑2, 265‑pound senior tackle (not to mention an outstanding supporting cast of offensive linemen), sometimes it is easy.
Beadle's attitude about doing the blue‑collar work for the Tiger backs: "My pleasure."
"They're the best backs in Ohio," he said.
What makes Spielman effective?
"He hits somebody," Beadle said. "He rolls 'em over."
And Bushe?
"Speed … he dodges people. He fakes 'em out," Beadle appraised.
Beadle gave the Massillon fans among a throng of 14,949 a scare when he limped off the field in the fourth quarter. He said there is nothing to worry about, diagnosing his ailment as "just a charlie," of the horse variety.
Sandusky made a game of it for one half. The Blue Streaks counteracted Massillon's beefeater ground game with some French pastry, scoring on a 28‑yard flea flicker to tie it at 7‑7 in the first quarter.
The Blue Streaks threatened to take a lead in the second quarter, using burner Richard Twine and bulldozer Tracy Steele to rush into field goal position, only to watch a 24‑yard attempt get blocked by another Massillon offensive lineman, Charles Calhoun.
The coaches cited the block as the turning point.
It may not have been. Sandusky showed no evidence all night of being able to arrest the Tiger ground patrol.
By the third quarter, after Massillon had pushed its lead to 21‑0 and stalled the Sandusky offense, the only burning issue was whether Bushe or Spielman would be the first to reach 100 yards.
Bushe, a 6‑3, 185‑pound senior, said the Tigers agreed at halftime it was time to get going.
"We knew that offensively and defensively we had to pull together and go out and beat 'em like the Tigers beat everybody," said Bushe, who scored the second‑quarter touchdown that put Massillon ahead to stay.
Spielman, who also did a bang‑up job at linebacker, said he wouldn't have worried had Sandusky converted the field goal for a 10-7 lead.
"If they would've gone ahead, it wouldn't have been for long," the 6‑2, 206‑pound junior said. "We made some adjustments at halftime, kept them from spreading out our defense and shut them down. And we kept running our offense."
Sandusky came to town with two running backs, Richard Twine and Willie Clark, said to go from zero to 60 faster than a Ferrari.
A night of running into Massillon's trucks negated their skills. Twine gained 24 yards in 10 carries, Clark minus‑two yards in two trips. Steele, a 225‑pound fullback, rushed for 26 yards in seven carries.
The Sandusky passing game was effective for a time ‑ it produced 69 yards ‑ but it, too, died in the second half.
Somebody asked Spielman if the Massillon defense took it personally when the Blue Streaks scored.
"Yeah," he grinned. "We go for a shutout every game. We're the Massillon Tigers. We just stayed with our defense, went out there to stick 'em."
One of Massillon's big sticks was a relatively small defensive end, 185‑pound senior Derrick Johnson, who played one of his best games, at one point tackling Sandusky quarterback Bret Ninke in the end zone for a fourth‑period safety.
"As the season goes on, we get more and more psyched," Johnson said. "Our sheer desire to win pulled us through."
*****
TIGER TALES: Tiger quarterback Brian DeWitz had three season lows Saturday: attempts (five), completions (two) and yards (49).
"We didn't have to pass," Massillon coach Mike Currence said. "We wanted to keep the ball away from Sandusky, because they could get the big play at any time, And we were having a lot of success keeping it on the ground."
Sandusky coach Jim Colwell lamented the blocked field goal.
"After that, they took over and ran the ball right down our throats, and scored. That gave them a big lift," he said.
"I'm not sure we were back far enough on the field goal. One of our players came out after the block and said he thought the holder was only back about 5 yards instead of our normal 7.
The last thing Sandusky wanted was to fumble away its first possession. but that's just what happened, and the Tigers turned the miscue into two Spielman runs for 18 yards and a touchdown.
"Our kids showed a lot of courage to come back with a touchdown drive," Colwell said.
Of the flea‑flicker pass play, Colwell said, "We ran that same play last week against Fremont, and we had the guy open, but our receiver dropped the ball."
Dave Turner, who threw the TD off a reverse, was the first‑team quarterback two years ago as a sophomore when Bret Ninke was out with a knee injury all season.
Colwell tried several lineup changes to stop Tiger runners.
"We were trying to get someone in there who wouldn't get blown five yards down field on every play … we didn't find anyone.