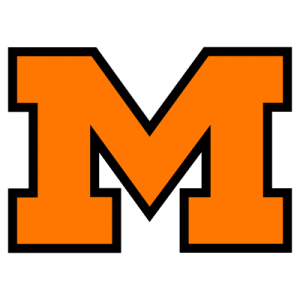 Tigers roll to 7th straight win 28‑7
By STEVE DOERSCHUK
Assistant Sports Editor
MASSILLON ‑ Let's get the vital statistics out of the way, because The Play is going to take some explaining.
Washington High's Tigers handed Sharon, Pa. its first high school football defeat of 1982 Friday, 28‑7, before 9,847 in Paul Brown Tiger Stadium.
The Tigers outgained Sharon 371‑137 in total yards and ran their record to 7‑0 in a tuneup for next Friday's showdown against GlenOak (6‑1).
There. Now, The Play.
Second quarter, Sharon's ball on its own 44, Massillon leading 7‑0.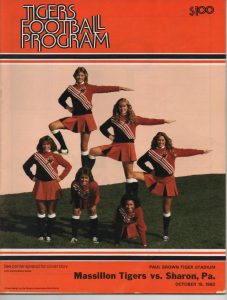 Sharon punter Dan Wallace boots a screwball that bounces in front of Massillon return man Chris Spielman.
Spielman positions himself to where he thinks the ball will bounce to him, but it takes a high hop, glances off his right hand, and squibs toward the Tiger goal line.
Sharon's Robert Dawson tears past Spielman, short hops the ball at the 5, plants his left foot at the 3, his right foot at the 1, and zips into the end zone.
The arms of the back judge shoot skyward. Touchdown!
Spielman dropped to all fours in agony.
But wait. Another official, realizing the punting team can't advance a fumble by the receiving team, points to the 1, as if to say Sharon should get the hall there.
Then confusion hits. All six officials huddle.
Then, to the astonishment of the Sharon bench, the ball is marched to the 20, where it is Massillon's ball.
The ruling: the Sharon player did not have control until he was in the end zone. Spielman's miscue is ruled a muff.
It was a correct call as interpreted by the officials.
But a slow‑motion videotape played in the Massillon coaches' room afterward clearly showed Dawson had possession before he entered the end zone.
Sharon should have had the ball on the 1, from where it could have scored and tied the game.
It was a bang‑bang play, a tough call for the officals to make.
It was a tough call for Sharon to swallow.
"I had a good grip on the ball at the 3," Dawson said. "I couldn't believe what happened after that."
What turned into a boring second half might have had punch. But Sharon coach Jim Wildman refused to use The Play as an alibi.
"Let's not make that the major issue," he said. "They were a better football team. They're a powerhouse. I hear Mike Currence (Massillon's coach) has taken some abuse here the last couple of years. Maybe the people here should be thankful for what they have."
Massillon struck quickly after The Play, driving 80 yards for a touchdown, forcing Sharon to punt, then driving 49 yards for another TD.
The home‑town Tigers (Sharon's nickname also is Tigers) led 21‑0 at the intermission and never were threatened in the second half.
"We wore them down," Currence said, "I thought we played pretty well."
The Tigers are Gerry Cooney with a right hand. They can knock you out with the run. The can turn out your lights with the pass.
At halftime, the Tigers had 105 yards on the ground (58 by Spielman) and 104 in the air (by quarterback Brian DeWitz).
Sharon was beffudled by the rushing of Spielman, and halfback Jim Bushe and fullback Tim Sampsel. It was bewildered by the receiving contingent of Jim Geiser, Gary Conley and John Pierce.
Spielman bulled seven yards up middle the middle for Massillon's first touchdown, at 1:00 of the first quarter, to cap a 44‑yard drive.
The Tigers tallied again at 6:28 of the second period, with Spielman bulling in from three yards out.
DeWitz hit Geiser with a 10‑yard bullet in the end zone 45 seconds before the band show.
The Tigers scored on a 44‑yard drive midway through the third period, with Sampsel bulldozing two yards for the score.
Sharon, 6‑0, scored a meaningless touchdown with a minute left in the game. Sharon, which revolves around shifty quarterback Teryl Clifford, rushed for 114 yards.
And now, what of GlenOak?
"A computer playoff spot is on the line," Currence said "It'll be for all the marbles."
Sharon 0 0 0 7 7
Massillon 7 14 7 7 28
Mas ‑ Spielman 7 run (Pfisterer kick)
Mas ‑ Spielman 3 run (Phisterer kick)
Mas ‑ Geiser 10 Pass from DeWitz (Pfisterer kick)
Mas ‑ Sampsel 2 run (Pfisterer kick)
Shar ‑ Sormaz 25 pass from Micchia (Albright kick)
A ‑ 9,847
Massillon wears down
game but outmanned
Sharon gridders 28-7
By MIKE HUDAK
Independent Sports Editor
MASSILLON ‑ According to the oddsmakers, the Massillon Tigers were 22 point favorites over the visitors from Sharon, Pa., Friday night.
Those foolish enough to bet money on football games and wise enough to know that Massillon would coast to victory would have lost their investment, as the locals won by only 21 points, 28‑7, before a Homecoming crowd of 9,847 fans.
But a victory of any sort was welcome news to Massillon equipment manager Rick Smer. Like many souls in the world of athletics, Smer is prone to certain superstitions, and Friday's game had him leery.
Massillon was wearing its orange jerseys and black pants, a combination that had netted the Tigers a 2‑7 mark over the past six seasons! To make matters worse, not only was Sharon undefeated entering the contest, but the last time the Tigers wore Friday's combination, the opponent, Parma Padua, wore Sharon's white and orange‑style attire ‑ and won!
"The coach (Mike Currence) told me not to mention it around the players, but I tell you, it had me worried!," said Smer.
In the end, Smer's would have been better off contemplating whether mankind exists within in a universe or a multiverse, or whether or not "Gilligan's Island" made significant contributions to 20th century culture, but he certainly didn't have to worry about the Massillon football team.
Sharon coach Jim Wildman pointed to Massillon's depth and diversity of offense as the keys to the game. Sharon had nine two‑way players in the lineup, and Massillon used this to its advantage, utilizing a constant stream of motion plays and sprintouts on offense, a game plan that kept the Sharon defense on the run all night ‑ until it ran out of gas.
The locals, now 7‑0, had built a 28‑0 lead early in the third quarter when the first unit departed from the game. Sharon scored late in the game against the Tiger reserves on a freak (but spectacular) play where the quarterback escaped a fierce rush to click on a 25‑yard scoring pass.
Massillon ate up 231 yards on the ground to 95 for the opponent from Pennsylvania. Massillon also led in the air 140‑42, for a resounding 371‑137 advantage in total yards.
Whatever chance the invaders had evaporated with a questionable call early in the second period.
Massillon was leading 7‑0 after Chris Spielman had plowed in from seven yards out to cap a 44‑yard drive with a minute remaining in the opening period. The key play was a 19‑yard pass from junior quarterback Brian DeWitz to senior receiver Jim Geiser which set up a first‑and‑goal at the seven. Bronc Pfisterer's kick made it 7‑0.
Sharon came back with a short drive, but stalled and punted from the Massillon 44. The short boot took a high bounce in front of Spielman, the deep safety on the play, who reached up to grab it only to have it glance off the tip of his right index finger.
Tigers topple Tigers
to remain unbeaten
Sharon's Robert Dawson seemed to catch the ball on a short hop and carry it into the endzone from the Massillon three. Two of the officials signaled touchdown, then a long conference ensued.
Since you can't advance a fumble in high school football, it was assumed in the pressbox that Sharon would get possession on the Massillon three, but after the officials discussed the issue, it was finally awarded to the locals on the 20‑yardline!
The official ruling was that the punt resulted in a 'muff', different from a fumble in that there was never any possession to begin with. But it was further ruled that the momentum of the punt carried the ball into the endzone ‑ not Dawson's flying feet and thus the ball was never possessed by Sharon, either, and thus Massillon's possession following the 'touchback.'
Slow motion films of the play viewed after the game seemed to clearly indicate that Dawson had the ball tucked away and took two full steps into the endzone, but the judgment call on the part of the officials ruled otherwise.
"I knew we shouldn't get the touchdown on the play, but I thought it should have been our ball on the three," said a surprisingly‑calm Wildman afterwards. "If we wanted to have a chance to win, we needed a big break early. That was our opportunity, but we didn't get it.
"Then again, we didn't take advantage of our other opportunities ‑ Massillon fumbled five times, and we didn't recover one of them. You can't pull off an upset going zero‑for‑five on fumble recoveries."
After seeing films of the 'muff' play, Currence smiled the smile of a man who knows the Lord has blessed him and said, "That was a judgment call and a real close one to have to make. We had the advantage of seeing it three times in slow‑motion here; they (the officials) didn't.
"Besides, a mistake like that might have given us the impetus to do better," he added.
Massillon offensive coordinator Nick Vrotsos agreed with that.
"Yea, I wish we could have just let them have the ball and score down there, and then gone on and whipped them like we would have anyway. That way we could have avoided all this," said the veteran coach, who was treated to a verbal lambasting by a Sharon sportswriter at halftime ‑ for politely answering the sportswriter's question about the tainted play.!
Spielman had the best idea.
"I just should have let the ball go," he admitted.
At any rate, instead of being three yards away from a possible game‑tying score, Sharon was on defense, and seemingly too dazed to play it. Massillon quickly marched 80 yards in six plays as Spielman scored again, this time from three yards out. Pfisterer's kick was good. A 25‑yard run by Jim Bushe, with a 15‑yard face mask penalty tacked on, got the Tigers off to a fine start on the drive.
Massillon scored once more before intermission. This time a 49‑yard drive ended with DeWitz hitting Geiser with a 10‑yard bullet and the score.
The locals final touchdown came on the second possession of the second half. A 43‑yard drive following a short drive ended with Tim Sampsel crashing over from the two. Pfisterer kicked his fourth straight extra point, and the reserves took over. (Highlighted by a 39‑yard run by Jeff Boerner and a 31‑yard run Tom Gruno on the final possession of the evening.)
Sharon's TD came with 2:24 left in the game. Reserve quarterback Joe Micchia scrambled out of a crisis and hit a sophomore with the unlikely name of Neboisa Sormaz with a 25‑yard scoring play. (Another Sharon player was named Chooky LaCamera ‑ a 5‑foot‑4, 104‑pound junior linebacker.)
"Sharon was a good football team," praised Currence. "They have three or four Division I‑potential athletes, and they were one of the more physical clubs we've played recently. In the end, we were just able to wear them down."
Wildman returned to Pennsylvania with no regrets, either.
"Tonight hopefully will be a steppingstone for our team. We were beaten on the scoreboard, but we weren't embarrassed.
"In the end, Massillon executed and we didn't. That was the ballgame. I was just proud to have came here and played; Massillon can certainly play with anybody in Pennsylvania."
Now, it's on to next week and the "Computer Bowl," where Massillon hosts Glenoak and former head coach Bob Commings.
GlenOak, big winners over Canton South Friday, and undefeated since an opening loss to McKinley, is second in the Ohio computer poll for the region, with Massillon third. (Sandusky holds onto the top spot, but probably not for long.)
At any rate , it should be fun.
MASSILLON 28
SHARON 7
M 0
First downs rushing 9 5
First downs passing 9 2
First downs by penalty 1 2
Totals first downs 19 9
Yards gained rushing 245 114
Yards lost rushing 14 19
Net Yards rushing 231 95
Net yards passing 140 42
Total yards gained 371 137
Passes attempted 20 15
Passes completed 11 2
Passes int. by 2 0
Yardage on pass int. 5 0
Times kicked off 6 2
Kickoff average 36.7 42.5
Kickoff return yards 18 57
Punts 4 6
Punting average 38.5 30.3
Punt return yards 12 10
Punts blocked by 0 0
Fumbles 5 2
Fumbles lost 0 1
Penalties 6 3
Yards penalized 50 30
Touchdowns rushing 3 0
Touchdowns passing 1 1
Miscellaneous touchdowns 0 0
Number of plays 57 46
Time of possession 26:50 21:10
Attendance 9,847
Sharon 0 0 0 7 7
Massillon 7 14 7 0 28
M ‑ Spielman 7‑yard run. (Pfisterer kick.)
M ‑ Spielman 3‑yard ran (Pfisterer kick.)
M ‑ Geiser 10‑yard pass from DeWitz (Pfisterer kick).
M ‑ Sampsel 2‑yard run (Pfisterer luck).
S ‑ Sormaz 25‑ yard pass from Micchia (Albright kick)
Sharon falls at Massillon
disputed call aids Ohioans
By LYNN SATERNOW
Sports Editor
MASSILLON, Ohio ‑ Sharon High football coach Jim Wildman knew his Tigers would need some breaks if they were to have a chance against powerful Massillon Friday night. And Sharon did get an early break.
A broken back.
While Sharon lost 28‑7, it would be unfair to say that one call by a referee can cost a team a ballgame. But that one call certainly went a long way toward determining the outcome.
That call that broke the Tiger's back came like this:
Sharon was trailing 7‑0 after the first quarter and was forced to punt from midfield. The punt was a low kick that bounced a few times, then hit Massillon's Chris Spielman. The ball bounced free and into the arms of Sharon's Robert Dawson who tucked it in at the 4‑yard line and carried it into the endzone. Two referees signaled touchdown and 6 points went up on the scoreboard.
Then the referees huddled. Then they moved the ball to the 20‑yard line and signaled Massillon's ball negating the touchdown. Then the name Wild‑man fit perfectly for Sharon's coach.
But despite argument from Wildman, the call stood and Massillon had the ball and Sharon had nothing.
Massillon took advantage of Sharon's confusion and moved downfield in only a few big plays to score. For all purposes, the game was over.
"Maybe we were still scratching our heads about the call," Wildman said about the defensive breakdown, But he had plenty to say about the referee's decision:
"Everybody knew he (Dawson) had the ball going into the endzone. But then they said he didn't have possession of the ball. Actually it should have been our ball where he picked it up, because you can't advance a muff (touched kick). It should have been our ball on the 3 or 4‑yard line.
"But they were a better team than us tonight. They've got some fine athletes. But I said all week that if we had a chance, we would heed a' break. That was our break and we needed it."
Other breaks didn't go Sharon's way either.
Sharon started the opening drive of the ballgame at the 23 and moved to a first down at the 40. On a third down play from the 45, quarterback Teryl Austin appeared headed for a first down on a run when the ball flipped out of his hands and into the arms of Massillon lineman Derrick Johnson. Johnson ran the ball to the Sharon 34. But a short time later the defense held after a sack by Tom Crawford and Massillon missed on a 35‑yard field goal attempt.
But after a Sharon punt, Massillon rolled to a score. The home team drove 56 yards in seven plays, with 215‑pound halfback Spielman going the final seven yards to paydirt. Bronc Pfisterer kicked his first of four extra points.
Early in, the second period came the controversial call that gave Massillon the ball at its 20. It took only seven plays and a three‑yard Spielman run for Massillon to go up 14-0, with 6:28 remaining in the half.
A third touchdown came with 48 seconds remaining in the period. Massillon quarterback Brian DeWitz moved his Tigers 51 yards in eight plays, including five pass completions. His fifth was a 10‑yarder to Jim Geiser for a touchdown.
In the third period, Massillon scored for a final time with 5:59 remaining on a two‑yard run by Tim Sampsel, ending a 43‑yard drive.
A deep Sharon drive was halted midway through the fourth quarter on an interception at the one‑yard line. But a short time later, with the Sharon substitutes in the game, the local Tigers got on the board.
Scrambling Sharon sophomore quarterback Joe Micchia eluded, several would‑be‑tacklers on a fourth down play and hit fellow sophomore Neboisa Sormaz on a 25‑yard touchdown pass. Mike Albright kicked the point after.
While Wildman was somewhat disappointed that his chances for an unbeaten season went down the drain, he was, grateful for the chance to play at Massillon, one of the hotbeds of football in the United States.
"It was a real honor to play here. I'm not satisfied in the sense that we lost. But I'm proud of our performance and our kids. No one embarrasses us. We moved the ball and the kids didn't quit. They continued to play with emotion.
"That call hurt us. It turned things a round. But I'm proud that we didn't get blown out. At halftime we decided that 21 points was enough, and the kids responded.
"It's a feather in our caps. We went for it. An undefeated season would have been nice. But we set our goal to win the Keystone championship. If we get that goal, and pick up some experience and some other positive things along the way, all the better. Now we've got to go back and get ready to reach that goal."
SIDELINE NOTES ‑ ‑‑ It was agreed by almost everyone (even Massillon scouts) in the press box that Sharon was robbed on the referees call. And after the game, Dawson agreed, "I had the ball on the 3‑yard line' definitely, I had a good grip on it. They signaled touchdown. I couldn't believe it when the referees changed the call." Neither could anyone else…The loss dropped Sharon to 6‑1 on the season, with two league games to go against Reynolds and Grove City … Massillon fumbled four times in the game, but recovered them all … The Shenango Valley had a great representation at the game, filling much of the visitors' section. The total attendance was more than 10,000…Just to attend a ballgame in Paul Brown Stadium is quite an experience. Everything about the operation is first class and the game has a college atmosphere … Massillon is 7‑0 on the season and ranked second In Ohio behind Cincinnati Moeller.
Score by Qts: 1 2 3 4 Total
SHARON 0 0 0 7 7
MASSILLON 7 14 7 0 28
TDs: Spielman (M) 2; Geiser (M), Sampsel (M), Sormaz (S)
PATs: Pfisterer (M), 4; Albright (S), 1
SHARON MASSILLON
9 First downs 18
118 Rushing yards 234
47 Passing yards 139
15‑2‑2 Att‑comp‑int 20‑11‑0
2‑13 Sacks‑yards lost 1‑8
152 Total yards 365
2‑1 Fumbles-lost 4‑0
3‑31 Penalties‑yards 6‑50