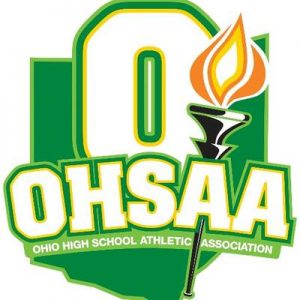 Tigers beat McKinley 14-6 for first state playoff win
By ROLLIE DREUSSI
Independent Sports Editor
The Massillon Tigers had the last words Friday night before an overflow crowd in Canton's Fawcett Stadium.
"Massillon Tigers No. 1! Massillon Tigers No. 1!" Players and coaches shouted it out over and over in the jubilant Massillon lockerroom after the Tigers won their first playoff game in history by defeating the McKinley Bulldogs 14‑6.
"I couldn't believe our defense," said Tiger Coach Mike Currence, who brought his team back from the ashes of last Saturday's 16‑7 loss to these same Bulldogs in Paul Brown Tiger Stadium.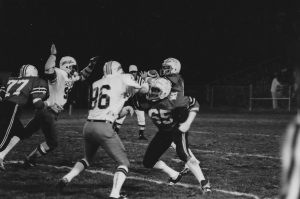 "I don't know what the difference is," he said, referring to the way the Tiger defense halted the Bulldogs on all five of their second‑half possessions, four of which carried into Massillon territory. Last Saturday, the Tigers' defense yielded over 300 yards and allowed McKinley to control the ball game.
Friday night it was a slightly different defense, and a whole new story.
"We just wanted the ball game more than they did," Currence said. "It was unbelievable."
Currence said the win, which gives the Tigers the Division I, Region 3 championship and advances them to the state playoff semifinals, was his most important in five years as the Tigers' coach.
"This is the biggest one," he said. "because we did something no other Massillon team ever did: we won a playoff game. And beating McKinley made it doubly nice."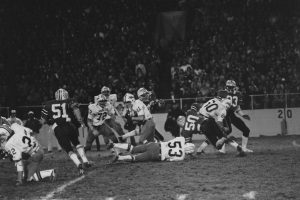 The Tigers' next opponent in the playoffs will probably be Willoughby South which defeated Cleveland St Joseph 14‑3 Friday night. There's also a good chance the game will be played Saturday night in the Akron Rubber Bowl. The semifinal games were supposed to be played on Friday night but the Akron City Series game was already scheduled for that night in the Rubber Bowl.
The final decisions on who Massillon will play, and when and where will be made Sunday by Ohio High School Athletic Association officials.
Back in the Tiger lockerroom Currence continued his praise of the defense.
"I thought our offense was going to give it away there. Thank God the defense wanted it."
He revealed that two starting defensive players suffered injuries in last week's game and were unable to play, Linebacker John Mayles broke his hand, and defensive end Bob Dodd tore ligaments in his knee.
"We had to go with some more quickness in there. It was a combination of the injuries and putting quicker kids in," Currence explained. "But we didn't know if the younger kids could do the job."
They did.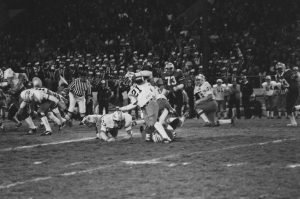 William Askew took Dodd's place at defensive end, and Rick Spielman took over Mayles' linebacker spot. Mark Haubert also played some linebacker. All are juniors.
The Bulldogs still managed to run the bill effectively – except on fourth down attempts ‑ but their passing game just wasn't the same as it was last week.
"We put a little more pressure on (Rick) Worstell," Currence said, "and we had better coverage by our secondary. Paul Turner did a great job on Todd Fisher, and clinic tip with the big interception."
A big play by linebacker Tim Manion set up the Tigers' first touchdown in the second quarter.
McKinley had driven into Massillon territory, when Mike Lynch was hit by middle guard Jeff Grove and fumbled the football at the 41. Manion scooped the ball up and raced 40 yards to the McKinley 19.
Quarterback Dave Eberhart hit Mike Feller with a 12‑yard pass for a first down at the seven. Two plays later a pass interference penalty gave the Tigers a first down at the three. An offside penalty against Massillon moved the ball back to the eight, and Eberhart ran a keeper to the left on the next play. He was hit at the three yard line and fumbled the ball into the end zone where fullback Don Fulton pounced on it for a touchdown with 9:31 to play in the half. Eberhart booted the conversion for a 7‑0 lead.
The Bulldogs came right back with a 74‑yard drive that took 15 plays and consumed 7:51 on the clock. Worstell scored from a yard out with 1:40 left in the half, but a pass for the extra points failed and the Tigers took a 7‑6 lead into the lockerroom at halftime.
The Tigers took the kickoff to open the second half, and drove 80 yards ‑ with the help of three Bulldog penalties ‑ for the game's final touchdown.
Eberhart hit Mike Reese with a pass over the middle from the Pups' 12 yard line. The senior wide receiver caught the ball at the three, sliced past a defender and fell over the goal line with 7:19 to play. Eberhart added the extra point for a 14‑6 Tiger lead.
The drive was aided several times by the penalties against McKinley.
On second‑and‑10 from his own 20, Eberhart hit halfback Mike Jones with a 16‑yard pass for a first down. Fifteen more yards were added on when a Bulldogs player was called for a personal foul, putting the ball on the McKinley 49.
Two plays later, the Bulldogs were called for pass interference, giving Massillon first down at the 36. The Dogs were also called for an offside penalty later in the drive, and for another personal foul on the touchdown play, with the yardage being assessed on the kickoff.
The Bulldogs then took the ensuing kickoff and started driving again, Their drive started with 7:19 to go in the third quarter, and they had the ball at Massillon's 15 yard line on fourth‑and‑two when the period ended.
The Bulldogs' first play of the final period set the tone for the rest of the game, when Grove and Spielman stopped the Pups' Mike Simms for only a one‑yard gain, with Massillon taking over on downs at their own 14.
Eberhart wasted no time in going straight to the air, but his first two passes were batted down (by Gary Pounds and Troy Sanders), and one was almost intercepted.
On third down, Scott Dixon sacked Eberhart back at his own four yard line. Eberhart then punted the ball out to the 41.
Again McKinley mounted a drive. This time, on fourth‑and‑one at the 14. Spielman and defensive end Paul Spinden stopped Lynch for no gain and the Tigers took over.
But on third down, Eberhart was intercepted at his own 24 yard line by Chris Wade. Following an incomplete pass Grove sacked Worstell for a four‑yard loss. On third down, Worstell hit Fisher, but the play netted only four yards. On fourth‑and‑10, Worstell passed to Sidney Lewis coming out of the backfield, but defensive back Mike Loretto knocked him out of bounds two yards short of the first down at the Tiger 16.
The Tigers couldn't move the ball again, and this time Eberhart punt went off the side of his foot and out of bounds 26 yards downfield at the 44.
On first down, Worstell's pass was intercepted at the 40 by Turner, who returned it to the McKinley 30. A clipping penalty brought the ball back to the Tiger 41, and with just 2:42 left to play the Tigers looked like they had it in the bag.
However, on fourth down from midfield, Eberhart's punt was blocked by Wade, and the Bulldogs had life at their own 49 with 1:03 to play,
The Tiger secondary was ready for the final challenge, and Worstell threw three straight incompletions.. He had a man open out of the backfield on second down, but good pressure by Askew forced a bad pass.
On fourth down, Spielman sacked Worstell when he couldn't find an open receiver and that was the ball game.
We tried hard and we played very bad a downcast Terry Forbes said of his team's effort. "You have to hand it to Massillon's defense for hanging in there," the Pup coach added.
So it won't be a long, cold winter for Tiger fans after all. It may have been a miserable six days, but it's like the sign – the one on the hoop the Tigers ran through before the game ‑ said: " Win the One That Counts."
They did, and that's why the Tigers will be playing in the playoff semifinals next weekend while the Bulldogs will be staying home.
Tigers trip
Bulldogs 14‑6
Massillon turns the tables
by capitalizing on big turnover
By BOB STEWART
Repository Sports Editor
The mighty Massillon High Tigers, calling on three‑quarters of a century of football tradition ‑ and a quick thank you for the miscues – knocked the McKinley Senior High Bulldogs out of the Ohio High School Athletic Association playoffs 14‑6 Friday night.
The sellout Crowd of some 20,000 at Fawcett Stadium watched the 86th meeting of the Bulldogs and Tigers since 1894, and the second in six days. Saturday, McKinley spanked the Tigers 16‑7 in Massillon's Paul Brown Tiger Stadium before 21,745.
Friday night's win in what was the Division I quarter‑final game for Region No. 3, puts Massillon in the semifinals next week. The Tigers apparently will play Eastlake Willoughby South, a victor last night over Cleveland St. Joseph, next Saturday night in Akron's Rubber Bowl.
The official pairings will not be made until Sunday in the OHSAA Offices in Columbus. Massillon tickets will be put on sale at Tiger Stadium Tuesday and Wednesday.
"This is the biggest game since I've been here," said an emotion‑racked Mike Currence, who as coach of the Tigers has won five out‑of six battles with the Bulldogs in his five seasons.
McKinley's first‑year Coach Terry Forbes, hailed as the conquerering hero last week, found the words hard to come by. "It was very frustrating," Forbes said, referring particularly to the final period when Massillon looked as though it was trying to give it away, and McKinley couldn't grasp the brass ring.
McKinley had the ball five times in the fourth quarter ‑ four times in Massillon territory ‑ and three of those times inside the Tiger's 20‑yard line, but came away empty.
The Tiger defense rose to the occasion in spite of its sputtering offense in the final canto.
McKinley opened the fourth period with a fourth‑and‑three on the Tigers' 15, and Mike Simms was stopped after a yard gain and the Tigers took over on their own 14 with all but four seconds remaining in the final stanza.
Currence then shocked his followers as Massillon quarterback Dave Eberhart put the ball in the air two straight times, one batted down, the other missed, and both nearly intercepted. The third down play looked like another pass, but McKinley's Scott Dixon smashed through from his defensive end post to sack Eberhart clear back at the 4.
Eberhart punted out, and McKinley's Bob Davie returned it 10 yards to give the Pups position at the Tiger 41.
Bulldogs lose rematch
McKinley quarterback Rick Worstell moved his club to the 14, but on a fourth‑and‑one there, Mike Lynch was nailed by the center of the Tiger line and Massillon again took it over at the 14, with 8:12 remaining.
Massillon ran twice, but with third‑and‑seven at the 17, Eberhart put it up, and McKinley's Chris Wade took the aerial away from intended receiver Mike Feller.
In business with 6:38 left at the Tiger 24, Worstell missed on a pass to Sid Lewis, and then Tiger linebacker Jeff Grove sacked Worstell for a 4‑yard loss. The Pups' junior quarterback got it back with a 4-yarder to Todd Fisher, and on fourth‑and 10, Worstell hit Lewis over the middle, but the speedster couldn't get loose and picked up only 8 of the needed 10 yards.
Massillon took over on its 16 with 4:53 left.
Eberhart punted out of bounds at the Tiger 44 four plays later, and the Bulldogs started with 2:42 left.
This time disaster struck early.
On first down, Paul Turner picked off Worstell's aerial on his own 39, and returned it all the way to the McKinley 30. A clipping penalty put the ball back to the Tiger 41, but Massillon had the ball with 2:30 left.
When the Tigers got nine yards in three plays, Eberhart went back to punt again, but this time McKinley's Wade blocked the kick, and teammate Tony Parsons fell on it at the Bulldogs' 48.
There was 1:08 remaining. Worstell threw three times, two of them deep, all incomplete. On fourth down with only 43 seconds left. he couldn't find a receiver, and was sacked, ironically, by Rick Spielman, the son of former Timken Coach Sonny Spielman, who played for Timken last year and moved to Massillon when his dad was named an assistant there this summer.
Ahead 7‑6 at halftime, Massillon took the second‑half kickoff 80 yards in 10 plays, aided by two 15‑yard penalties against the Pups. The final TD was a 12‑yard pass from Eberhart to senior end Mike Reese, who caught the ball at the two and dove over the goal line.
McKinley took the ensuing kickoff and rolled from its own 20 to the Tigers' 15 when the quarter ended, and started the fourth period with the ill‑fated fourth‑down play. The 15‑play drive consumed the final 7:19 of the third period.
McKinley never was ahead in the game, but threatened in the first period when Eberhart missed a 29-yard field goal attempt.
Tim Manion's 44‑yard return of a Mike Lynch fumble set up the fist Massillon score, putting the ball on the Pups' 19, from where Eberhart passed to Feller for 12 yards, and then after Bob Oliver ran for a yard, McKinley was called for pass interference, giving the Tigers an automatic first down at the 3.
After a motion penalty put the Tigers back to the 8, Eberhart rolled to his left and got to the 3, where he was hit by several McKinley defenders and coughed up the ball, which squirted into the end zone to be covered by Massillon's Don Fulton for the touchdown 9:31 before the band show.
McKinley brought its followers to life as the Pups showed the offensive punch of last week, marching 74 yards in 15 plays with Worstell hammering in from the 1 on a quarterback sneak with 1:40 left in the half. The drive was aided by a 15‑yard personal foul penalty on the Tigers, but the Pups also got a 14‑yard jaunt from Mike Simms during the march, and an 18‑yard Worstell‑to‑Fisher pass put the ball at the 1. Fullback Dwayne Randle hit the Tigers twice in the middle without success before Worstell sneaked it in.
Then came a big play. Down 7‑6, Forbes elected to go for two, and Worstell's pass was on the mark to Lewis at the goal line, but he couldn't hold it.
It was as close as the Pups would get this season.
While McKinley had an edge in some of the statistics, the Pups came far from the domination they showed over the Tigers last week.
McKinley outrushed the Tigers Friday night 142‑64, but Massillon had a slight edge in passing yards, 72‑69, even though Eberhart hit 6 of 8 and Worstell 8 of 16.
McKinley had the edge in time of possession, 26 minutes to 22, and McKinley converted 5 of 9 third down situations (3 of 4 in the first half), while the Tigers converted only 2 of 5 in the first half and none in four second half tries.
Flags flew frequently, as each team drew eight penalties, McKinley for 83 yards, Massillon for 70.
Simms was the game's leading rusher with 86 yards, Fisher the top receiver with four catches for 44 yards.
But the "game, set and match" went to Massillon, and it kept several streaks alive.
For example, despite the fact Massillon was in the playoffs for the third time, and McKinley for the second time, the winner of the regular season McKinley‑Massillon game has yet to win the playoff game the following week.
It also means McKinley still has never beaten Massillon at night. The last time the two teams played under the lights, in 1963, Massillon won, and went on to also win the second meeting that year, in daylight.
This was the 10th time the two teams have meet twice in the same season, but McKinley has not won both since 1909.
The end of the game was marked by several altercations, mostly outside of the stadium.
Police Lt. Wayne Arnold said two arrests were made during the game and about three or four after the game. Suspects were charged with either disorderly conduct or assault, Arnold said.
Police didn't have details of the arrests Friday night, but Arnold said there was "a lot of commotion" in the Fawcett Stadium area.
There certainly was.
Massillon 0 7 7 0 ‑ 14
McKinley Senior 0 6 0 0 ‑ 6
Mas ‑ Don Futton covered fumble in end zone (Dave Eberhart kick)
McK ‑ Rick Worstell 1 run (Pass failed)
Mas ‑ Mike Reese 12 pass from Dave Eberhart (Dave Eberhart kick)
Att ‑ 20,000 (est.)
Mass McK
First downs rushing 3 11
First downs passing 5 2
First downs penalty 3 1
Total first downs 11 14
Rushes‑yards 32‑64 44‑142
Passing-yards 72 69
Return yards 66 33
Passes 6‑8‑1 8‑16‑2
Punts 2‑37 1-34
Fumbles‑lost 1‑0 2‑1
Penalties‑yards B‑70 8‑83
INDIVIDUAL LEADERS
RUSHING ‑ Massillon, Oliver 9‑29, Fulton 6‑17, Jones 5‑7, Eberhart 9‑7, Huth 3‑4.
McKinley, Simms 16‑86, Randle 11‑34, Lynch 5‑20, Snell 1‑6, Worstell 8‑minus‑2, Lewis 3‑minus‑2.
PASSING ‑ Massillon, Dave Eberhart 6‑8‑1‑72
McKinley, Worstell 8‑16‑2‑69.
RECIEVING ‑ Massillon, Jones 3‑32, Feller 2‑28, Reese 1‑12.
McKinley, Fisher 4‑44, Lewis 2‑15, Giavasis, 1‑9, Dixon 1‑11.
Tiger pride comes
alive in playoff win
McKinley 14‑6 victim
in regional title game
By ROLLIE DREUSSI
Independent Sports Editor
"This is what it's all about," Doug Eberhart screamed above the happy mayhem in the Massillon Tigers' lockerroom.
The senior center was holding up a T‑shirt with lettering that read "MASSILLON TIGERS" across it. And in between was the word "PRIDE."
That's what produced the Tigers' 14‑6 win over the Canton McKinley Bulldogs before over 20,000 fans in Canton's Fawcett Stadium Friday night.
The Tigers were still smarting from last Saturday's 16‑7 spanking at the hands of the Pups, but they had the desire it took to change the outcome this time.
It was a gutsy performance. One earned more on emotion and desire than on talent and execution.
The Tigers' defense, embarrassed last weekend in the loss to the Bulldogs, turned in a simply incredible performance.
Five times in the second half they turned back the Bulldogs. Twice on fourth down and short yardage inside their own 20 yard line.
"Unbelievable," Tiger Coach Mike Currence said.
He could offer no explanation for his defense's dramatic turnaround, except to say his players simply wanted it more than the Bulldogs.
"We made a few changes on defense, but determination was the key factor," Tiger middle guard Jeff Grove said.
"We wanted this game so bad. We wanted to go out and win the ball game, and that's what we did," he added.
One of the unlikely defensive heroes was junior Rick Spielman. He was a starting linebacker last year for the Timken, Trojans, but this year he was the team's backup quarterback. When John Mayles broke his hand in last week's game, Spielman started practicing at linebacker again.
"I was real excited about getting to play," said Spielman, whose father, Sonny, is the Tigers' quarterback and wide receiver coach.
"I played linebacker last year and after a couple of plays it all came back to me," he explained.
Spielman was in on the tackle both times that the Tigers stopped the Bulldogs on fourth down and short yardage, He also sacked McKinley quarterback Worstell to end the Pups' final chance with less than a minute to play.
"Ah, great," Spielman said when asked how he felt after that sack.
That was the same reply defensive halfback Paul Turner gave when asked about his interception that thwarted a fourth‑quarter drive by the Bulldogs.
That "as a big play, since it came immediately following a poor punt that gave the Bulldogs possession at the Tiger 44 yard line.
Turner had a big job ‑ covering McKinley's Todd Fisher, a big, fast wide receiver who gave the Tigers fits last week. Currence credited Turner with doing 'a great job" covering Fisher.
Junior William Askew also did a fine job stepping into the breach. Defensive end Bob Dodd tore knee ligaments in last week's game, and Askew helped defensive tackle Ed Newman hold down the right side of the Tigers' defensive line.
And senior defensive tackle Bob James, who had a rough time last week, called on his pride to help Paul Spinden anchor the left side of the defensive line.
Then there was Tim Manion, a junior who was too talented to sit the bench as a backup quarterback and was moved to linebacker in the pre‑season. He came through in fine style.
Manion picked up a tumble caused by middle guard Jeff Grove and returned it 40 yards to set up the team's first touchdown.
Turner's mates in the secondary, Mike :Spicer, Mike Loretto and Dwayne Boss, improved their coverage to help upset the McKinley passing game.
And the Tigers' offense, while almost blowing the game in the second half, still managed to put enough points on the board. And more importantly, managed to control the ball for at least almost as long as the Bulldogs.
The Tigers' came out throwing, and the difference this time was that the offensive line gave quarterback Dave Eberhart time to pass. His 12-yard toss to Mike Reese in the third quarter was the clinching touchdown.
All in all, it was a team effort. From the players and coaching staff right down to the fans.
Currence had special praise for the Tiger fans, who started raising a ruckus before the game started and were still carrying on into the wee hours of the morning.
When told that some of the McKinley fans started leaving the game with four‑and‑a‑half minutes still to play, Currence said: "Their fans don't compare to our fans. Our fans stay with us to the bitter end. That's the difference between a Bulldog and a Tiger.
"We didn't get one bad remark from anyone last week," Currence pointed out. "They had confidence we'd come back."
The win now gives the Tigers a 48-33-5 edge in the storied rivalry, and gives Currence a 5‑1 record against the Bulldogs.
Also, for the first time in their history, the Tigers won a playoff game. They had suffered losses in 1972 and 1979 in their only other playoff appearances.
Now they will advance to the Division I playoff semifinals, and will probably play Willoughby South, a 14‑3 winner over Cleveland St. Joseph Friday night.
It was as a Friday night no Tiger fan will ever forget. And a Tiger team Massillon will always be proud of.
TIGER GRIDSTICK
First downs 3 11
First downs passing 5 2
Total first downs 12 15
Yards gained rushing 85 156
Yards lost rushing 19 17
Net yards gained rushing 66 139
Net yards gained passing 72 70
Total yards gained 138 209
Passes attempted 10 16
Passes completed 6 8
Passes intercepted by 2 1
Yardage on passes intercepted 1 0
Times kicked off 3 2
Kickoff average 50.0 50.0
Kickoff return yardage 27 22
Punts 3 1
Punting average 25.3 33.0
Punt return yardage 0 15
Punts blocked 0 0
Fumbles 1 3
Fumbles lost 0 1
Penalties 8 9
Yards penalized 70 83
Touchdowns rushing 0 1
Touchdowns passing 1 0
Touchdowns by interception 0 0
Miscellaneous touchdowns 1 0
Total number of plays 42 58
Total time of possession 21.11 25.49
Attendance 20,550
MASSILLON 0 7 7 0 ‑ 14
McKINLEY 0 6 0 0 ‑ 6
MASS – Don Fulton recovered fumble in end zone (Dave Everhart kick)
McK ‑ Rick Worstell one yard run (pass failed)
MASS ‑ Mike Reese 12‑yard pass from Eberhart (Eberhart kick)
Player 'knew' Tigers could do it
By STEVE DOERSCHUK
Big victories never fit into small locker rooms.
Following their 14‑6 Division I football playoff victory Friday over McKinley Senior High, the Massillon Tigers crammed into Fawcett Stadium dressing quarters like so many 190‑pound sardines ‑ lively ones at that.
The room or the Tigers ‑ it was hard to tell which ‑ jumped. Young men and grown men did nasty numbers on their voice boxes in conveying the idea the program Paul Brown built is numero uno.
There had been talk last Saturday following McKinley's 16‑7 regular season win over these Tigers that Bulldogs' coach Terry Forbes is Canton's Moses.
"Moses only saw the promised land. He didn't get in it," Massillon assistant Nick Vrotsos said with a wink.
Center Doug Eberhart who helped give his twin brother Dave, Massillon's quarterback., protection he lacked last week, expressed himself with wailing instead of wit
"I knew we could do it!" he shouted repeatedly at the top of his lungs.
If the Tigers are to reach their promised land, they must "do it".
Tigers jubilant over victory
"We may wind up playing Moeller," Massillon head coach Mike Currence said with a peculiar smile.
Cincinnati Moeller won its first round playoff contest 28‑3 over Cincinnati Princeton Friday. Moeller and Massillon will clash if both teams win semifinal games next weekend.
Lots of heroes helped the Tigers stay alive in the chase for a state crown.
Senior defensive back Paul Turner was one.
Turner provided good single coverage on star McKinley end Todd Fisher. With Massillon leading 14-6 at the 2:30 mark of the final period, he picked off a pass that all but put the decision on ice.
"A defensive end was putting a lot of pressure on the quarterback" Turner said. "I knew I'd have a good chance of getting to the ball. Man, that was a good feeling."
Putting Turner on Fisher was one of several changes made in the Massillon defense since last week when McKinley, racked up a 313‑96 edge in total offense. Some of the changes resulted from injuries Currence admitted he "kept quiet." A knee injury sidelined senior defensive end Bob Dodd. Senior linebacker John Mayles was out with a broken hand.
"We used a quarterback Rick Spielman, at linebacker, and a tackle, Bill Askew, at end," Currence said. "They played well."
Currence said he assigned Turner to single coverage on the dangerous Fisher because "he was our only guy fast enough to do the job."
Like Turner, Tim Manion stood tall.
Manion, expected to battle Spielman next year for the quarterback job, scooped up a Mike Lynch fumble in the second quarter and ran 37 yards to the McKinley 19-yard line to set up the game's first touchdown.
"Jeff Grove hit him (Lynch), and the ball came loose. I picked it up and knew what to do with it," Manion said.
Manion thought pressuring Pup quarterback Rick Worstell kept McKinley from repeating last weed's performance, although the Tigers' play against the run enabled them to shut off three fourth-quarter McKinley penetrations inside the 20-yard line.
"Rush their quarterback and you shut them down," echoed senior tackle Ed Newman. "We played better. Coming off a loss, we had to."
Dave Eberhart hit rough sledding in the 16‑7 loss but bounced back to complete six tosses for 72 yards, including a 12-yard touchdown strike to Mike Reese that capped an 80-yard march beginning when the Tigers received the second‑half kickoff.
"That throw to Mike was a new pass play we used for this game," Eberhart said. "A couple of new plays helped us throw them off balance.
"We had to go all out for this game and not be conservative."
The let‑it‑all‑hang‑out approach was evident in the late stages when Eberhart kept throwing despite the fact Massillon was deep in its own territory and clinging to the 8-point lead. Two of his passes were batted and nearly picked off by McKinley linemen during one fourth‑period possession.
"I probably should have been shot for putting pressure on Dave like that," smiled Currence. "We have a lot of confidence in him."
Currence was ecstatic.
"I've finally done something no other coach has done at Massillon, won a playoff game," he said in reference to the fact the Tigers lost their only other playoff games, in 1972 and 1979.
Currence reserved special praise for the assistant coaches who installed a "50″ defense in place of the "4‑4" used last weekend. They include Jim Letcavits, Dale Walterhouse, Gary Wells and LaVerne Hose.
"The new look helped us get a better pass rush and contain their outside running game," Currence said.
He praised his players for "being so fired up. ‑ 1
"McKinley beat us up last week," he said. "I think we had something to prove."
Words come hard for Pups' pilot
Splendid season ends
in frustrating loss
By BILL LILLEY
The stroll from the south side team bench at Fawcett Stadium to the McKinley Senior lockerroorn is about 60 yards.
Friday night, however, the trudge must have felt more like 60 miles to McKinley Senior Coach Terry Forbes afte the Bulldogs' 14‑6 loss, to Massillon in a Division I quarterfinal playoff game.
Losing doesn't come naturally to most, and to Forbes during his eight year career losing has been an infrequent incident as attested by his 60‑13-2 record entering the rematch with Massillon.
This loss was the toughest one to swallow for Forbes and left the veteran coach nearly speechless as he groped to find the right words for both his players and the media.
"I just don't know what to say." I'm proud of the character displayed by our young men, both in the victory over Massillon last Saturday and in this game.
"We played to win and that's just the way it goes."
For Forbes and the Bulldogs it was a tough way to go, especially after last Saturday's 16‑7 win over Massillon at Paul Brown Tiger Stadium. It not only ended a four‑year winning streak by the Tigers in the 86‑year classic, but catapulted the Bulldogs into first place in the Region 3 computer standings.
What made it tougher was the manner in which the Bulldogs' eight‑game winning streak ended.
Although McKinley didn't dominate as it had last week when the Bulldogs out gained Massillon 313‑96 in total offense, they still held a convincing 211‑136 advantage. Senior was 8 of 16 for 69 yards.
It didn't seem to bother McKinley Senior that Massillon held a 7‑6 halftime edge. After all, that had been the standing a week ago and, ironically the Tigers' touchdowns in both instances had been set up by an outstanding defensive play.
And even though Massillon tacked on another touchdown on its first possession of the second half, something else frustrated Forbes more.
The Bulldogs picked the most inopportune time of an otherwise great season to have trouble finding their way into the end zone. Three times in the crucial fourth quarter McKinley Senior cracked the Massillon 20-yard line only to come away empty‑handed as the Tiger defense proved to bendable but unbreakable.
The initial frustration came on the yard line, but Mike Lynch was stopped cold on a fourth-and-three run.
The Bulldogs' defense forced Massillon to punt three plays later. Tiger punter Dave Eberhart hit a 47-yard punt that was returned 10 yards by Bob Davie to give McKinley possession on the Tiger 41-yard line.
This time the Bulldogs drove to the Massillon 14 from where Lynch was again gang‑tackled for no gain on fourth‑and‑one with 8:12 left.
McKinley Senior linebacker Chris Wade gave the Bulldogs the ball on the Massillon 24 three plays later when the senior picked off an Eberhart aerial.
The Bulldogs went to air this series, but were shot down by the Tiger pass defense. Worstell's fourth‑and‑10 pass to Sidney Lewis came up two yards short and Massillon had the ball on its own 16 with 4:53 remaining.
The Bulldogs' defense wouldn't budge and again gave its offense excellent field position. Eberhart, whose booming 65‑yard punt had helped set up Massillon's lone score in the first encounter, shanked a 27‑yarder out of bounds at the Massillon 44 with 2:42 to play.
This time, however, there was no heart stopping drive as Tiger back Paul Turner picked off a Worstell pass at the Massillon 39 on the next play.
And when Eberhart's final punt was blocked by Wade with 1:08 left to give the Bulldogs the ball near midfield, Forbes knew his team had squandered its real opportunities to win the game.
"We played very badly at some critical times," said Forbes, whose team closes its season with a 9‑2 mark.
"But, you also have to hand it to Massillon's defense for hanging in there. That was the game."
And to Forbes and his Bulldogs it must have been a very frustrating game, indeed.