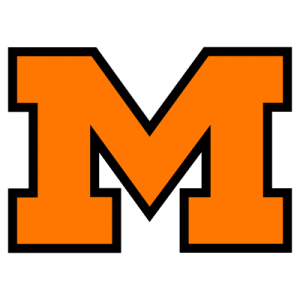 Tigers beat Trojans 27-0
For McKinley game Saturday
By ROLLIE DREUSSI
Independent Sports Editor
"The season's over," Massillon Tiger head coach Mike Currence said after his team beat Timken 27-0 Saturday afternoon in Fawcett Stadium.
"The new season starts now."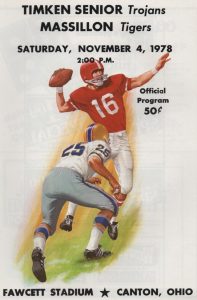 And it ends Saturday when the Tigers and Canton McKinley's Senior High Bulldogs square off at 2 p.m. in Paul Brown Tiger Stadium in the 83rd renewal of their famous rivalry.
The Tigers tuned up for their "second season" by more or less having their way with a Trojan squad that hit hard the whole game but could muster only 43 yards total offense.
The Tigers, meanwhile, rolled up 336 yards with quarterback Brent Offenbecher throwing for 175 yards on 15 of 23 passes. That put him over the 1,000 yard mark for the second straight season as he has now thrown for 1,146 yards. He has also completed 87 passes (compared to 84 last season) in 162 attempts (146 last year).
The Tigers rolled up a 20-0 halftime lead, but the Trojans refused to give up and limited Massillon to just one more TD the second half.
"We probably should have had one more (touchdown)," Currence said. "We played the first team longer than we wanted.
"But I thought they were a good defensive ball club, they were tough to drive on. The kids knew they were in a game."
Tiger fans received a couple of good scares when junior middle guard Bob Simpson and defensive halfback Jeff David both went down with injuries.
"Bob is OK and I think Jeff is going to be all right," Currence said.
The Tiger coach said he was a little disappointed that his team had so much trouble finding the end zone. "We made some mistakes when we got down inside, that's probably what hurt us a little. But they changed up on us pretty good and kept us off balance a little bit," he explained.
"They had some real tough kids inside and they weren't giving us the middle.
The Tigers scored the first time they had the ball when Jeff Beitel capped a 33‑yard six‑play drive with a two- yard run around right end. Ron Wright's kick made it 7‑0.
That drive was set up by a fine 37‑yard punt return by David.
The Tigers scored again midway through the second quarter when fullback Eric Barnard ‑ who usually plays right guard ‑ bulled over from a yard out. Barnard saw some action at fullback this past week in practice because of injury problems there. Wright converted the kick for a 14-0 lead.
David returned another punt 16 yards ‑ to the Trojan 30 ‑ and Offenbecher connected with Wright three plays later on a nine‑yard scoring pass, Wright had broken open at the goal line and Offenbecher zipped the ball between three defenders. The extra point attempt was botched and Massillon led 20‑0 at the half.
The Tigers didn't score again until 7:26 remained in the game. Offenbecher climaxed a 78‑yard drive with a 10‑yard keeper around left end. Wright's kick capped the scoring.
The drive was aided by a couple of outstanding catches by Marty Guzzetta and Curtis Strawder. Guzzetta made a diving catch for a seven‑yard gain on a second and eight play and Strawder made an unbelievable circus catch on a 26-yard gainer. Junior fullback Wally Neff also picked up 24 yards in three carries on the drive.
The Trojans, meanwhile, had trouble even getting first downs, managing just three (one on a penalty).
"We had trouble all year offensively speaking," Timken coach Charles "Sonny" Spielman said afterwards. "When you can't move the ball it's hard on your defense, they have to play all day. And we have a lot of kids who go both ways."
"I thought it was a real good experience for our kids to play Massillon. We went out there and gave it everything we had," Spielman noted.
"I'm real proud, our kids didn't lay down and die," he said. "We hit them hard and fought them to the end to the best of our ability."
The Trojans finished their season with a 1‑8‑1 mark while Massillon carries an 8‑0‑1 mark into Saturday's game against McKinley (7‑1).
Offenbecher's 15 completions were split up among four receivers with Wright catching five for 45 yards and a TD, Strawder catching four for 65 yards, Guzzetta hauling in four for 41 yards and Bill Beitel notching two receptions for 25 yards.
Tigers wear down the Trojans 27-0
BY BOB STEWART
Repository Sports Editor
The Timken Senior High Trojans were defeated 27‑0 by the Massillon Tigers Saturday afternoon in the final high school football game of the season at Fawcett Stadium.
But the Trojans, who finished their long season with a 1‑8‑1 mark, were not embarrassed by the state's No. 6 ranked Tigers.
Massillon found the going tough at times against Timken, as the Trojans' defense played well, but unfortunately the defenders were on the field too long, as the offense kept giving the Tigers the ball in superb field position.
And then there was Massillon's quarterback, Brent Offenbecher, who passed for one touchdown, ran for a second and completed 15 of 23 passes for 177 yards. Several of the completions came in spite of fine defensive coverage by Timken.
Massillon Coach Mike Currence said he wasn't sure what to expect going into the game, noting he thought he could substitute more earlier.
"If we would have got that one in the third, then the first team would have come out," Currence said, referring to an Offenbecher aerial to end Marty Guzzetta in the end zone which was nullified by an offensive interference penalty midway in the third period.
Timken took over on its own 23, and held the ball the rest of the quarter. Massillon's final TD drive began on its own 22 at the start of the fourth, and Offenbecher took his team the distance in 10 plays, rolling left for the final 11 himself, with 7:26 remaining in the game. Then the subs took over.
"Timken has a fine club and a good defense. I thought we might have been into a 14‑0 game for a while, and it could have been a tougher contest if Timken's offense could have controlled the ball more," he said.
"I didn't think we'd use the starters that long," he said, "But I think we came out of it OK. Jeff David got an ankle sprain," he said of the starting defensive back and kick holder. "But I don't think it's serious."
Massillon concludes its season in the 83rd game of the traditional rivalry against McKinley Senior High at Massillon next Saturday at 2 p.m. The Tigers now are 8‑0‑1 and McKinley is 7‑1.
"I was pleased," said Timken Coach Sonny Spielman. "I was happy to see that our kids didn't quit. We don't have enough people. It's discouraging when the kids have to go both ways and they keep seeing those fresh uniforms coming in at them. But they hung in there, and fought to the end. I was proud of them," he said.
Massillon scored on its first possession of the game, after a 36‑yard punt return by David (before his ankle injury) gave the Tigers the ball at the Timken 34, from where they scored in six plays, with Jeff Beitel going the final two.
Eric Barnard, the 212‑pound senior guard who transferred from McKinley to Massillon prior to this season, blasted in from a yard out for the second TD, capping a 9 play, 62‑yard march in the second period.
??? then ran for 9 before throwing the TD pass, which was his ninth of the season and 20th in his career.
Offenbecher in nine games this season has completed 87 of 162 with nine interceptions, for 1,146 yards. Last year as a junior he hit 84 of 146 for 1,369 yards and 10 TDs. In his sophomore season he completed one of 11 for 37 yards, and it was a TD. His career total is 172 of 319, for 53.9 percent and 2,562 yards, or nearly a mile and a half.
"We've been using Barnard in short yardage situations," said Currence. "He's a strong straight‑ahead runner."
The Tigers' third TD came 33 seconds before the half, when Offenbecher rifled a bullet between two Timken defenders into the numbers hers of Ron Wright it the end zone.
The 9‑yard TD was set up by an 18‑yard punt return by David, which put the ball at the Timken 30 from where Offenbecher bit Wright for 12 –yards.
Mass. Tkm.
First downs 13 3
First downs‑passing 8 10
First downs‑penalties 0 1
Total first downs 21 4
Yards gained rushing 195 71
Yards lost rushing 34 33
Net yards gained rushing 161 38
Net yards gained passing 175 5
Total yards gained 336 43
Passes attempted 26 10
Passes completed 15 2
Passes intercepted by 1 1
Yardage on passes intercepted 5 19
Times kicked off 5 1
Kickoff average (yards) 45.4 53.0
Kickoff returns (yards) 20 72
Times punted 1 8
Punt average (yards) 36.0 35
Punt returns (yards) 113 0
Had punts blocked 0 0
Fumbles 0 0
Lost fumbled ball 0 0
Penalties 6 7
Yards penalized 40 70
Touchdowns rushing 3 0
Touchdowns passing 1 0
Touchdowns by interception 0 0
Misc. touchdowns 0 0
Total number of plays 72 42
Total time of possession 28:31 19:29
MASSILLON 7 13 0 7 27­
TIMKEN 0 0 0 0 0
M ‑ Jeff Beitel 2 run (Ron Wright kick);
M ‑ Eric Barnard 1 run (Wright kick);
M – Wright 9 Pass from Offenbecher (pass fail);
M – Offenbecher 10 run (Wright kick),