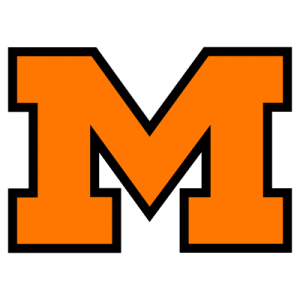 Tiger offensive errors Lead to 7-7 tie Against fired up Panthers in Warren
By ROLLIE DREUSSI
Independent Sports Editor
The Massillon Tigers were rudely awakened from their dreams of a perfect season when they were tied 7‑7 by a fired up Warren Harding team Friday night at Mollenkopf Stadium in Warren.
"We just took the choke offensively, "Tiger bead coach Mike Currence said dejectedly in the quiet Massillon lockeroom after the game.
We lost our confidence and didn't execute. We blocked well, but when you get third and six you have to pass," he added, explaining why the Tigers had to keep throwing the ball even though the passing game wasn't working.
Brent Offenbecher completed just three of 14 passes for 14 yards (his worst performance as a Tiger) and a halfback pass by Jeff Beitel fell incomplete.
The Tigers only score came in the third quarter when middle guard Bob Simpson picked up a fumble by Panther quarterback David Goldberg and sprinted 32 yards to the end Zone.
The Tigers were hampered by poor field position most of the night, and a ball control offense by Warren that ate up much of the clock.
Still, Currence made no excuses.
"I knew they had the people to control the ball," he said, referring to 211‑pound fullback Tony Seawood and hard‑running tailback Terrance Peterson. The Panthers gained 224 yards rushing.
"But we had the ball enough to score. The defense gave us good field position when Darren (Longshore) intercepted a pass (at the Harding 45) and returned it to the 29." That came on the first Warren series following Simpson's TD run with the fumble.
Four straight incompletions followed, including a first‑down pass that would have been a touchdown had wide receiver Curtis Strawder not slipped on the deceptively wet turf at the goal line in the left side of the end zone. The ball landed right on top of Strawder just after be hit the ground and he made a vain attempt to hang on anyway.
"I know this," Currence said, "We could execute those plays in practice with our eyes closed. Maybe that's it, we were too good in practice."
Currence did praise the job of his defense, which had its back to the wall all night and managed to hold the Panthers off on all but one series.
That came after a bad snap on the Tigers' first punt attempt. The ball bounced past kicker Ron Wright and was recovered by Ray Thomas at the Massillon 15 yard line.
The defense almost held, but a 17‑yard pass on third and 17 gave Warren the ball at the Tiger five and Peterson went off left tackle two plays later for the score. Dave Preston kicked the point after and Harding held a 7-0 lead until the Tiger defense tied it up on Simpson's TD run with the fumble and Wright's extra point conversion kick in the third period.
The Tiger offense was plagued by fumbles and dropped passes all night.
While Currence blamed the fumbles on poor execution, Harding coach Tom Ross said the turnovers by both teams were caused by some "awful good sticking."
He said that Goldberg's fumble ‑ which probably cost the Panthers a victory ‑ was caused by a great defensive hit.
The Panthers shut down the Tiger air game and Ross said that was the result of the Panthers working on "a couple of different things on the perimeter against the pass.
"We felt Massillon could hurt us with the run ‑ the counter and the sweep and the pass," Ross said. He added that this defense allowed the Tigers to gain good yardage up the middle, most of it by fullbacks Wally Neff and Bob James.
He said his team went with its traditional 4‑4 but changed up a lot and threw a 5‑3 at the Tigers.
"That's what we wanted to play," Ross said of the 5‑3. "We worked hard on it. It entails more responsibility but the kids picked it up real well."
The Panthers have not allowed an offense to score a touchdown on their defense for 22 straight quarters.
Currence said the Tigers were not surprised by the 5‑3 (the Panthers had used it before this season), blaming the Tigers' mistakes on poor execution and not on any of Warren's defensive formations.
Ross noted the first and third quarters were the key,
"They started going in the third quarter, and they've done that historically, but we stopped them," he noted.
"I feel we came as close as we possibly could to (carrying out) our game plan, which was to control the ball. The fumble (by Goldberg) was the only thing that intercepted it," he explained. "I was pleased with the way our offensive backs ran the ball."
Tailback Peterson carried 19 times for 67 yards, fullback Seaweed lugged the ball 13 times for 62 yards and halfback Darren Morgan led all rushers with 75 yards on seven carries. He ran 52 yards (to the Tiger 24) on a second‑quarter play in a drive that ended in a missed 49‑yard field goal attempt by Preston.
Outside of that, there's not much else to say, But here's a rundown of the Tigers' troubles.
First series: a bad snap on a fourth‑down punt attempt gave Harding the ball at the Tiger 15 and led to their only score, the Tigers started from their own 15 on this possession;
‑ Second series Tigers started from their own 10 after a clipping penalty on the kickoff return: sophomore fullback Bob James fumbled the ball at the Panther 33 after picking up 10 yards and what would have been a first down. Tiger defense forced Harding back to midfield;
‑ Third series: Tigers took over at their own 13 after a clipping penalty on a punt return; a 10‑play drive ended at the Panther 40 with a punt (Tigers had reached 35 but lost five yards); Wright's punt went to the five yard line but Peterson returned it 19 yards to the 24 to get Harding out of a hole;
‑ Fourth series: four plays and a punt (Tigers started from own 20);
‑ Fifth Series: Tigers got the ball at their own 11 following a punt with 55 seconds left before half;
‑Sixth series: Starting from own 27, Offenbecher's third down pass deflected off Marty Guzzetta's hands and was intercepted by Mark Ash at the 42 and returned to the 40;
‑ Seventh series: Tigers took over at their own 13 following a punt; eight straight running plays moved the ball to the Panther 33, a pass from Offenbecher to Strawder was complete but out of bounds on a third and six play; on fourth down, Fred Jones intercepted a Offenbecher pass at the 21 and returned it to the 24; Goldberg fumbled on Warren's ensuing series and Simpson tallied the Tiger' lone score;
‑ Eighth series: Tigers took over at the Warren 29 following a 16‑yard pass interception return by Longshore; four straight in completions gave Warred the ball back;
‑ Ninth series: 10 straight rushes took the ball from Massillon's 22 to Warren's 42; On second and 11, a long pass from Offenbecher to Strawder was intercepted by Tony Battee at the Panther two yard line with 4:09 left in the game; Warren ran out the clock to preserve the tie, but gave the ball back to Massillon (which had no time outs remaining) when they elected to run the ball on fourth down instead of punt; Tigers lined up hurriedly for a 41‑yard yard field goal attempt by Eric Barnard; the kick never got much off the ground (in part because the Tigers didn't have time to get a kicking block onto the field)
Now the Tigers are 7‑0‑1 and play at Canton Timken Saturday at 2 p.m. Harding is now 5‑2‑1 and hosts Niles Friday night.
Massillon is now 3-0-1 in the All‑American Conference and must beat McKinley (4‑0) to win the loop title. Harding is 2‑1-1 in AAC play.
MASSILLON 7
WARREN HARDING 7
Mass. Opp.
First downs – rushing 10 12
First downs – passing 1 1
First downs – penalties 1 0
Total first downs 12 13
Yard, gained rushing 173 243
Yards lost rushing 13 14
Net yds. gained rushing 160 224
Net yds. gained passing 14 33
Total yards gained 174 257
Passes attempted 15 8
Passes completed 3 3
Passes intercepted by 1 3
Yardage on passes intercepted 14 0
Times kicked off 2 2
Kickoff average (yards) 39.0 50.0
Kickoff returns (yards) 21 24
Times punted 2 4
Putting average (yards) 30.0 24.5
Punt returns (yards) 12 19
Had punts blocked 0 0
Fumbles 4 2
Lost fumbled ball 2 2
Penalties 2 7
Yards penalized 25 88
Touchdowns rushing 0 1
Touchdowns passing 0 0
Touchdowns by interception 0 0
Misc. touchdowns 1 0
Total number of plays 51 59
Total time of possession 19:29 28:31
MASSILLON 0 0 7 0 7
HARDING 7 0 0 0 7
H Terrance Peterson 3 run (Dave Preston Kick)
M – Bob Simpson 32 run with fumble recovery (Ron Wright kick).