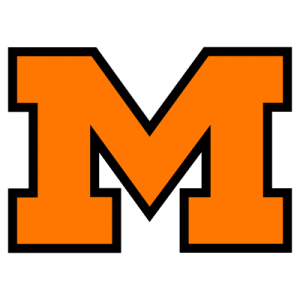 'Superman' Richburg does in Tigers
Panthers run away with game in the second half
ALL-AMERICAN CONFERENCE
Warren 3-0; McKinley 3-0; Niles 2-1;
Massillon 1-2; Steubenville 0-3; Alliance 0-3.
By CHUCK HESS, JR.
Independent Sports Editor
They've got John Henry Ziegler and he's super, but on Friday night Jim Richburg proved to be just as super in his own way and turned the game around for the Warren Harding Black Panthers.
Down 10-8 going into the third period after the Tigers had played great football in the first, Harding head coach Ed Glass turned Richburg loose for 81 net yards, a touchdown and a conversion on electrifying bootleg runs. Richburg, a senior quarterback, got Ziegler, a senior tailback, going and the Panther literally ran away with the Washington High team 35-10 before a packed house of 12,600 at Mollenkopf Stadium in Warren.
THE WIN gave Harding, the state's No. 1 ranked team by the Associated Press and Region 1 computer leader, an 8-0 record and 3-0 All-American Conference slate. Massillon dropped to 4-4 overall and 1-2 in the AAC.
The Tigers do not have the team speed to cope with a team like the Panthers and few teams do. With Richburg racing around the ends and Ziegler darting either off tackle or around the corner with equal speed, the Orange and Black were left as helpless as a cat without claws.
Richburg ended with 102 yards in 10 carries and Ziegler 195 or 211 in 28 carries – depending upon whose statistics you cared to use. The dynamic duo gained either 297 or 311 for the Panther's ground total.
Ziegler, at 2,062 yards for his career, is 49 yards short of the all-time Harding three-year mark set by Paul Warfield. At 1,414 yards he is 80 yards short of Dave Rogers' one-season record and is expected to eclipse both marks next Friday against Canton McKinley.
The performance of Ziegler and Richburg enabled Warren to chalk up the most points it ever had against the Tigers in 49 games and the most points any team had posted against the Orange and Black in the 10-year history of the All-American Conference.
"THERE'S NO doubt Richburg turned it around," Harding head coach Ed Glass said. "We felt we could come outside with Richburg after the first half. We went to a pro formation with a wide flanker and a wide split end and got them spread out and then cracked back. We went to a tight set with an eight-man line and we also ran some balanced line with a split end left which they hadn't seen before."
Glass felt it was also a question of when the Panthers decided they were ready to play, they played.
"And when we decide we're going to play, I don't think there is anybody as good as we are, Glass said. "We have 24 kids out of 55 who run a 4.9 forty or better. It makes for a lot of team offense and defense."
Glass also felt that the Tigers played well during the first half, putting the Panthers in the hole for the first time this season, but tired during the second half. However, Tiger head coach Chuck Shuff didn't agree that they tired.
"We knew they would come in here ready to play," Glass said. "I think Shuff did a great job with his kids. We played 35 people – as we have done every game and that takes its toll. If you look at our scores and what we've done in the third and fourth quarters, this year, it's fantastic. Once you get people tired the holes open up."
Glass then reminded Massillon fans that Shuff has done a tremendous job while not having the "super athletes" to work with. He also pointed out that Shuff, knowing that the Tigers did not have good speed to get around the Panthers, used a pair of split ends in order to get better blocking so that the Tigers could run the ends.
"WARREN IS A real fine football team," Shuff said. "I thought our kids came out and hit well and I think had we been able to put another one in, in the first half, it would have made a real difference for us. They came back and got one in there and tightened it down and that made it real tough.
They have the speed you have to have and a real fine offensive line in front of Richburg and Ziegler. Richburg turned it around alright."
Shuff agreed that once the momentum starts to slide the other way it's hard to stop.
"We'll bring it back," Shuff a former Harding assistant said. "We've got nothing to be ashamed of."
The Tigers rolled 65 yards with the opening kickoff but settled for a 22-yard field goal by Dave Dowd when Harding held on third down. They came close to scoring on a Greg Wood to Eddie Bell pass when Bell made a great catch but landed out of bounds.
Harmon reeled off 21 yards during the drive, the longest run any Harding opponent has gotten this year. He picked up 80 yards in 13 carries, not losing any during the night, as Shuff ran "The Big Bear" more than Glass had expected.
The Tigers' only touchdown came after a bad Harding snap on fourth down. The Orange and Black took over on the Warren 22-yard line and in four plays had a touchdown when Mark Streeter rolled around end on a pitchout on fourth down from the 14. Dowd's kick was good.
THE PANTHERS took the ensuing kickoff and rolled 60 yards after Tyrone Hicks'
39-yard runback, for a score. The drive took five plays and included Richburg's 23-yard run to the Tigers' 33, Ziegler's 13-yard run to the 20 and Richburg's bullet-like pass, sprint on the next play, to Jackie Hudson. Richburg ran the conversion.
In the second quarter the Tigers lost the ball on downs on the Harding 40 and the Panthers drove to the Massillon 21. Richburg was hit by Jeff Lab on a fourth down pass. Tim Gutshall intercepted on the one and returned to the 19.
Hudson ran back the second half kickoff for 23 yards to the 27, Richburg dashed for 25 more and two plays later took off on a bootleg, got caught on the sidelines, reversed his field and ran 44 yrds for the Panthers' go-ahead touchdown with 10:21 left in the third quarter. Richburg's conversion run was halted by Mark Matie.
Keith Ellison intercepted a Tiger pass on the Orange and Black's 45 and in four plays Harding had scored again with Jim Valentine blasting over from four yards out. Ziegler ran the conversion.
Near the end of the third quarter Warren held the Tigers on fourth down on the Panthers' 31. In 11 plays Harding had another score.
VALENTINE BULLED over through the center on fourth down from the one. Hicks' conversion run was short.
The Panthers' final score came with 6:51 left in the game, following a 41-yard, five play drive, started by Hicks' 33-yard punt runback, during which he got away from three tacklers who had him cornered on the sidelines and aided by a personal foul walk off. Guard Tom Zambelli pounced on Ziegler's fumble into the end zone and Richburg kicked a conversion.
With the first team still in, Harding rolled again, this time after Ray Amos had recovered Wood's snap fumble on the Harding 21. Ziegler skirted end for 30 yards during the drive but the clock ran out three plays later with the ball on the Massillon 15.
MASSILLON – 10
Ends – Lemon, Bell, Coates, Gusthall.
Tackles – Lauber, Easter, Rich, Genet, Drobney, Rambaud, Greshen, Matie.
Guards – Snell, Bricker, Parrish, Lightfoot, Dowd, Schumacher, Christoff.
Centers – Nagle, Studer.
Quarterback – Wood.
Halfbacks – Streeter, T. Grizzard, K. Harmon, Pifer, Hoffner, Herring, B. Robinson.
Fullbacks – B. Harmon, Waldrop, Lab.
Punter – Keller.
WARREN – 35
Ends – B. Shunkwiler, J. Hall, Candella, Hudson, J. Shunkwiler.
Tackles – Ennis, Amos, Moshuris.
Guards – Zambelli, Yavorsky, Farah.
Centers – Day, Sporich.
Quarterbacks – Richburg, Wiebusch, S. Porter.
Halfbacks – Ziegler, Machuzak, Adgate, R. Hall, Hicks, Freeman, Ellison, Cassucakis, Angel, R. Robinson.
Fullbacks – Valentine, Dansler, White.
Massillon 10 0 0 0 10
Warren 8 0 14 13 35
SCORING SUMMARY
M – Dowd, 22 field goal; M – Streeter, 4 run (Dowd kick);
W – Hudson, 20 pass from Richburg (Richburg run);
W – Richburg 44, run (run failed);
W – Valentine, 4 run (Ziegler run);
W – Valentine, 1 run (run failed);
W – Zambelli fumble recovery (Richburg kick).
OFFICIALS
Referee – Chuck Lorenz.
Umpire – Brenton Kirk.
Head Linesman – Jim Perryman.
Field Judge – Bill Paolisso.
Back Judge – Wilson Murry.
ATTENDANCE – 12,600.
GRIDSTICK
M WH
First downs – rushing 10 16
First downs – passing 2 1
First downs – penalties 0 2
Total first downs 12 19
Yards gained rushing 190 369
Yards lost rushing 16 16
Net yds. gained rushing 174 353
Net yds. gained passing 34 20
Total yards gained 208 373
Passes completed 4-12 1-3
Passes intercepted by 2 1
Yardage on passes intercepted 18 1
Kickoff average (yards) 3-56.7 6-46.2
Kickoff returns (yards) 107 34
Punt average (yards) 3-18.3 0
Punt returns (yards) 0 33
Had punts blocked 1 0
Lost fumbled ball 3-4 2-5
Yards penalized 5-57 1-15
Touchdowns rushing 1 4
Touchdown passing 0 1
Miscellaneous 1 0
Total number of plays 51 52
Possession time 24:5 123:09